ViCi Gaming Reborn vanquished Virtus.Pro 2:1 during the StarLadder Invitational playoffs. Virtus.Pro has been eliminated. ViCi Gaming Reborn will advance through to the lower bracket small finals. The StarLadder Invitiational playoffs continues on with another lower bracket elimination series featuring Alliance vs OG at 12:30 CEST, followed by lower and upper bracket finals.
2:1 for @ViCi_Gaming!
Next match – @theAllianceGG vs @OGDota2 #Dota2Invitational pic.twitter.com/JOEGp5rMVL

— Dota 2 SLTV (@dotasltv) April 16, 2016
The first series of the day was the elimination set between Virtus.Pro and ViCi Gaming Reborn.
Pushing out all the way to a deciding third game, the elimination series was brimming with top notch coordination and team plays illustrating the true meaning of teamwork. Support players providing clutch plays and sacrifices, impeccable rotations and team fights firmly established the importance of cohesion and communication for success.
ViCi Gaming showed up on the third day ready to play. They were able to just keep themselves one step ahead of the CIS team in their drafting and execution and really applied the pressure and aggression. After securing the second match in a convincing manner, the Chinese stars were able to hone in on their momentum and energy to rally behind a third game victory.
Virtus.Pro's run has ended with a 5-6th place finish, being the third team eliminated.
StarLadder Invitational playoffs: Lower Bracket Round 2 elimination series
The first game was filled of back and forth swings with aggression coming out from both sides. ViCi Gaming had fantastic drafting and lanes but Virtus.Pro were able to take control of the game eventually with some good pick offs and great high ground defense. Capitalizing and punishing on some over-extensions and misplays VP were able to then siege into the ViCi Gaming Reborn base and secure the first game.
#Dota2Invitational
Fight teamfight by @TeamVirtuspro vs @ViCi_Gaming pic.twitter.com/OKWYertZEm

— Dota 2 SLTV (@dotasltv) April 16, 2016

In an incredibly one sided game, ViCi Gaming rebounded in the second game with complete control and dominance. Virtus.Pro were locked up in their base as VG Reborn had been ruthless in their warding and vision game, maintaining a watchful eye on the entire map. Tong "mikasa" Junjie's performance on Puck was flawless and their execution was perfect. Shutting down Sergey Alexandrovich "G" Bragin's Invoker was a fantastic move and helped to secure an easier game. In 30 minutes the Chinese team forced the third deciding game.
ViCi Gaming Reborn really applied the pressure all over the map, making things more difficult for Virtus.Pro as the game progressed. Incredible rotations by VG Reborn displayed on point communication while Ilya "ALOHADANCE" Korobkin clutch swaps displayed Virtus.Pro's stellar coordination. Vici Gaming Reborn's early game lead would be critical for their success as it allowed their entire team to gain so much advantage and items to be able to dominate the team fights. They were able to complete rip through the CIS team, taking it all the way to the victory.
StarLadder Invitational playoffs: Virtus.Pro 1:2 ViCi Gaming Reborn. ViCi Gaming Reborn will continue to advance through the lower brackets. Virtus.Pro has been elimianted.
StarLadder Invitational playoffs
The StarLadder Invitational playoffs will feature a prize pool of $100,000. The event will take place between April 14-17 at the Kiev Cybersport Arena in the Ukraine.
Eight teams will compete, including reigning champions Alliance. OG, LGD, MVP.Phoenix, Na'Vi and Virtus.Pro have been directly invited. Vega Squadron has secured the European qualifier spot and ViCi Gaming Reborn grabbed the Chinese spot through their victories in the H-Cup.
StarLadder Invitational playoffs participating teams
Alliance
OG
LGD
MVP.Phoenix
Na'Vi
Virtus.Pro
Winner of the European qualifier – Vega Squadron
Winner of the Chinese qualifier – ViCi Gaming Reborn
StarLadder Invitational playoffs brackets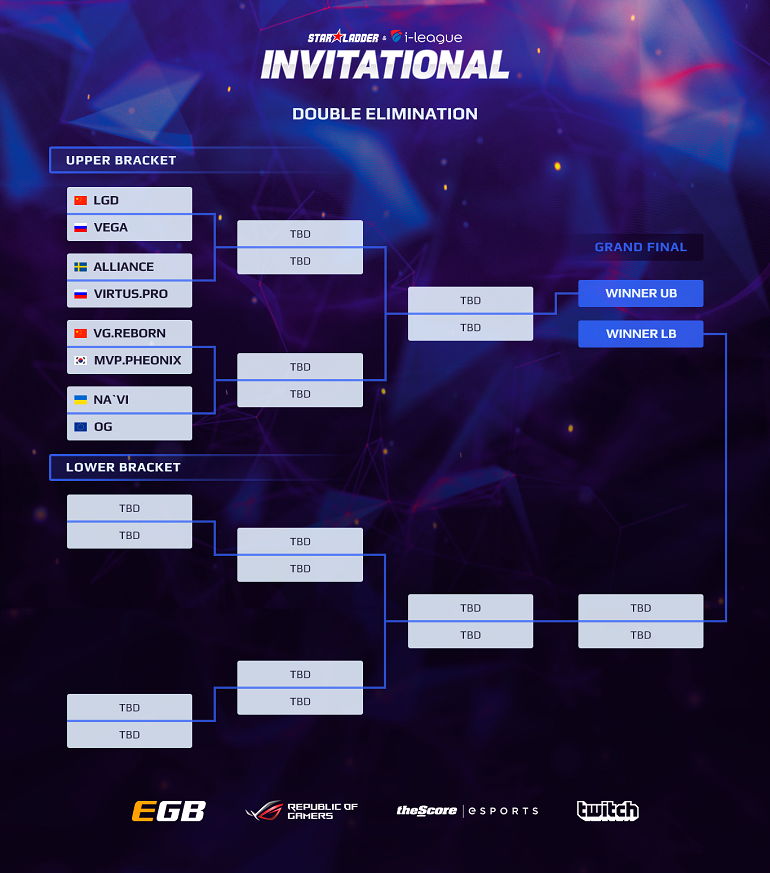 StarLadder Invitational playoffs schedule
Saturday, April 16
08:30 CEST – ViCi Gaming Reborn vs. Virtus.Pro
12:00 CEST – Alliance vs. OG
15:30 CEST – Winner of M9 vs. Winner of M10
19:00 CEST – LGD vs. Na'Vi
Sunday, April 17
14:00 CEST– Loser of M12 vs. Winner of M11
17:00 CEST – Grand Finals
StarLadder Invitational playoffs format
Teams will compete in a double elimination bracket.
All matches are best-of-three series.
Grand Finals are best-of-five series.
Feature image courtesy of StarLadder flickr