OG put an end to Alliance's stint during the StarLadder Dota Invitational playoffs with a 2:1 victory. Alliance has been eliminated. OG will advance through the lower bracket. The StarLadder Invitiational playoffs continues on with another elimination series in the Lower Bracket small finals featuring ViCi Gaming Reborn vs OG at 16:30 CEST, followed upper bracket finals.
2:1 for @OGDota2!
But know they have not so much time for rest because next match – OG vs @MVP_GG#Dota2Invitational pic.twitter.com/4jRoAqhJjX

— Dota 2 SLTV (@dotasltv) April 16, 2016
The European clash between Alliance and OG was the second elimination series of the day.
OG nudged out Alliance 2:1 in a series that brought about much intensity and enthralling, sensational plays. It seemed that OG improved, established a new playstyle and came together even stronger during the course of this event. Alliance have continued to exhibit their proficiency in their strategies and hero selections. The series between these two teams was truly a balanced match up.
OG will continue in the lower brackets, intent on propelling forward through the rest of the lower brackets and emerging in the Grand Finals – a hopeful repeat of their Frankfurt Major journey.
Alliance will leave StarLadder Dota Invitational with a 5-6th place finish as the fourth team to be eliminated.
The first elimination series saw ViCi Gaming Reborn snuff out Virtus.Pro after a 2:1 victory. Virtus.Pro's run has ended with a 5-6th place finish, being the third team eliminated.
StarLadder Dota Invitational playoffs: Lower Bracket Round 2 elimination series
The beginning of the first match was fairly even with a equitable laning phase. 14 minutes in, OG just started to pull ahead with tremendous speed and power. With no real way to punish OG and their robust cores, the Swedish team really struggled to maintain a hold on their barracks and place in the game. Continuing to have difficulties finding openings, they eventually fell around 35 minutes in.
The final fight in the first game @OGDota2 vs @theAllianceGG #Dota2Invitational pic.twitter.com/9fh2SvtIeS

— Dota 2 SLTV (@dotasltv) April 16, 2016

Alliance gave themselves a lot of mobility and set out to apply a lot of pressure all over the map. OG were forced to stick together and not be caught out of position, giving into unnecessary pick offs to fuel Alliances agenda. While OG slowed the pace of the game down, Alliance continued to take objectives and build up their farm. Easily, the Swedish team pressed forward and launched an assault on the barracks to claim the win and force a deciding third match.
The deciding game started out with Alliance in full swing. Taking the first three kills before OG were able to secure their first, Alliance set the tempo and the tone for the early game. OG not only caught up but then tore down Alliance. They responded well to the pushes, took the team fights and initiated fantastic plays. Swinging the gold and experience into their favor, OG then steadily seized each objective and eventually the game.
StarLadder Dota Invitational playoffs: OG 2:1 Alliance. OG will continue to advance through the lower brackets. Alliance has been eliminated.
StarLadder Dota Invitational playoffs
The StarLadder Invitational playoffs will feature a prize pool of $100,000. The event will take place between April 14-17 at the Kiev Cybersport Arena in the Ukraine.
Eight teams will compete, including reigning champions Alliance. OG, LGD, MVP.Phoenix, Na'Vi and Virtus.Pro have been directly invited. Vega Squadron has secured the European qualifier spot and ViCi Gaming Reborn grabbed the Chinese spot through their victories in the H-Cup.
StarLadder Dota Invitational playoffs participating teams
Alliance
OG
LGD
MVP.Phoenix
Na'Vi
Virtus.Pro
Winner of the European qualifier – Vega Squadron
Winner of the Chinese qualifier – ViCi Gaming Reborn
StarLadder Dota Invitational playoffs brackets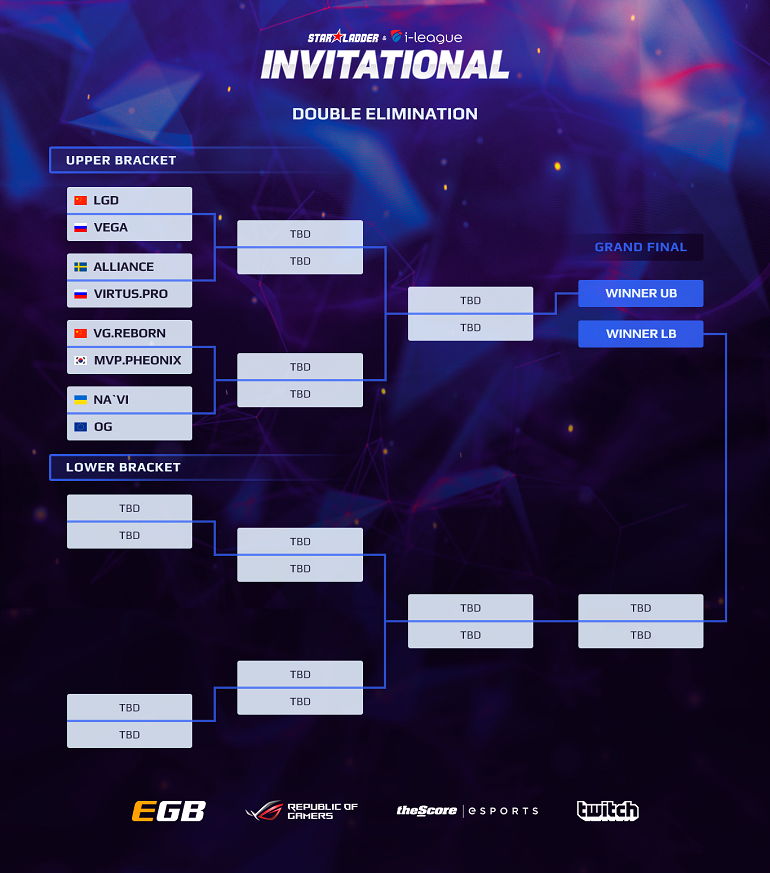 StarLadder Dota Invitational playoffs schedule
Saturday, April 16
08:30 CEST – ViCi Gaming Reborn vs. Virtus.Pro
12:00 CEST – Alliance vs. OG
15:30 CEST – Winner of M9 vs. Winner of M10
19:00 CEST – LGD vs. Na'Vi
Sunday, April 17
14:00 CEST– Loser of M12 vs. Winner of M11
17:00 CEST – Grand Finals
StarLadder Dota Invitational playoffs format
Teams will compete in a double elimination bracket.
All matches are best-of-three series.
Grand Finals are best-of-five series.
Feature image courtesy of StarLadder flickr