ViCi Gaming Reborn bested OG 2:1 during the StarLadder Dota 2 Invitational playoffs. OG has been eliminated. ViCi Gaming Reborn will advance through the lower bracket. The StarLadder Invitiational playoffs continues on with another elimination series in the Upper Bracket finals featuring LGD Gaming vs Na'Vi at 20:00 CEST.
1-2. GL further to @ViCi_Gaming. pic.twitter.com/KFjYW5Tgnt

— OG Dota 2 (@OGDota2) April 16, 2016
The last elimination series of the day featured ViCi Gaming Reborn facing off against OG. After both teams already won one series each earlier in the day, these two hopefuls faced off for one more chance to continue their journey in the StarLadder Dota 2 Invitational playoffs.
Both teams demonstrating they were fully capable of playing offensively and defensively, the series was pushed to a third deciding match. Top notch plays with next level decisions and drafting culminate into riviting and climatic encounters.
In the one hour thrill a moment deciding third game, both teams exerted 100% plus of their talent, skill and energy to be the team to advance. Ultimately, it would be ViCi Gaming Reborn to excel under the pressure and outplay the European squad.
ViCi Gaming have been secured at least a third place finish as they move into the Lower Bracket finals. OG have taken up the fourth place spot.
The first elimination series saw ViCi Gaming Reborn snuff out Virtus.Pro after a 2:1 victory. Virtus.Pro's run has ended with a 5-6th place finish, being the third team eliminated.
The European clash between Alliance and OG was the second elimination series of the day ending with Alliance's departure from the event after being nudged out 1:2 by OG.
StarLadder Dota 2 Invitational playoffs: Lower Bracket small finals
Great rotations by ViCi Gaming Reborn continued as the first game in the series got underway. Seizing the lead after being behind in the initial moments of the game, they continued to build on their advantage and momentum. Building items fast, quick pick offs and complete map control with Xu "fy" Linsen on Bounty Hunter roaming around and scouting have given ViCi Gaming Reborn a considerable lead. Once with the lead, they pulled away and never looked back.
OG were not about to roll over and give in so easily. With Amer "Miracle-" al-Barqawi's amazing Ember Spirit, and a incredible game by Johan "BigDaddy" Sundstein on Lycan, OG were in top form. By about 11 minutes into the game they started taking full control and steamrolled through to the end. Bouncing back once more, OG convincingly took the second match in the series in only 26 minutes and pushed a third game.
#Dota2invitational
Roshan fight in the second game @ViCi_Gaming vs @OGDota2 pic.twitter.com/susIaW8EB7

— Dota 2 SLTV (@dotasltv) April 16, 2016

The third game seemed to give OG more of the upper hand but ViCi Gaming Reborn were never far behind. More fantastic plays coming out fromm Miracle- on WindRanger continued to showcase his talent. ViCi Gaming Reborn executed some unexpected plays to buy more time and swing things into their favor. Exciting engagements and back and forth exchanges would keep this game thrilling and close until the last moments until ViCi Gaming Reborn clinched the win.
StarLadder Dota 2 Invitational playoffs: ViCi Gaming Reborn 2:1 OG. ViCi Gaming Reborn will continue to advance through the lower brackets. OG has been eliminated.
StarLadder Dota 2 Invitational playoffs
The StarLadder Dota 2 Invitational playoffs will feature a prize pool of $100,000. The event will take place between April 14-17 at the Kiev Cybersport Arena in the Ukraine.
Eight teams will compete, including reigning champions Alliance. OG, LGD, MVP.Phoenix, Na'Vi and Virtus.Pro have been directly invited. Vega Squadron has secured the European qualifier spot and ViCi Gaming Reborn grabbed the Chinese spot through their victories in the H-Cup.
StarLadder Dota 2 Invitational playoffs participating teams
Alliance
OG
LGD
MVP.Phoenix
Na'Vi
Virtus.Pro
Winner of the European qualifier – Vega Squadron
Winner of the Chinese qualifier – ViCi Gaming Reborn
StarLadder Dota 2 Invitational playoffs brackets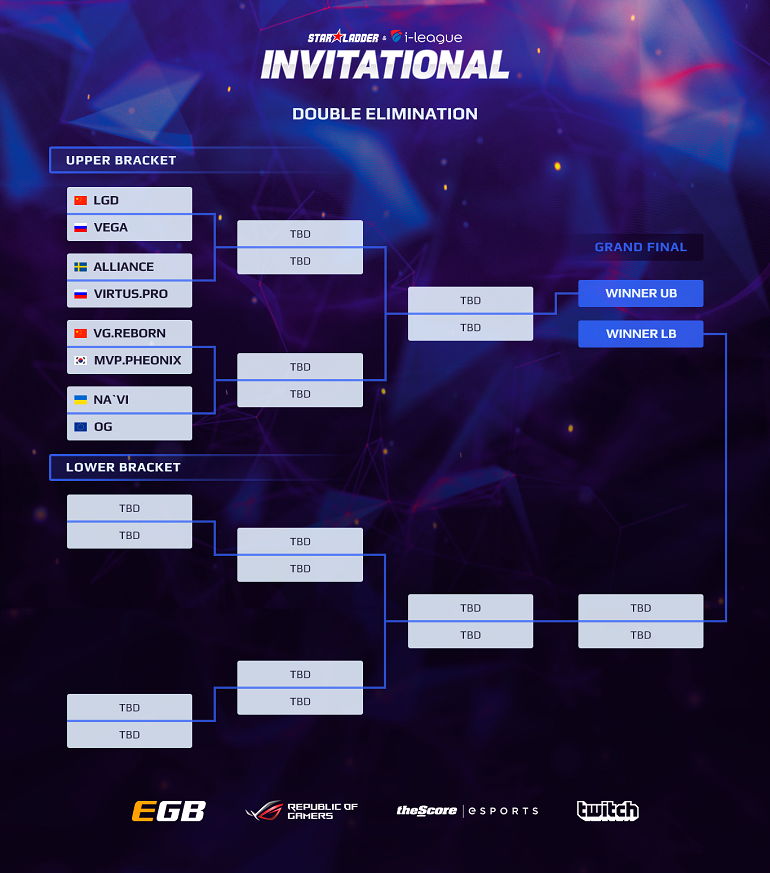 StarLadder Dota 2 Invitational playoffs schedule
Saturday, April 16
08:30 CEST – ViCi Gaming Reborn vs. Virtus.Pro
12:00 CEST – Alliance vs. OG
15:30 CEST – Winner of M9 vs. Winner of M10
19:00 CEST – LGD vs. Na'Vi
Sunday, April 17
14:00 CEST– Loser of M12 vs. Winner of M11
17:00 CEST – Grand Finals
StarLadder Dota 2 Invitational playoffs format
Teams will compete in a double elimination bracket.
All matches are best-of-three series.
Grand Finals are best-of-five series.
Feature image courtesy of StarLadder flickr