The WCA 2015 LAN groupstage continued today with Groups A and B competing to advance to the playoff stage. In a twisting road to the finals four teams were dropped from the tournament -Newbee, Team Secret, Fnatic and YP. Four teams advanced – Team Empire, Wings Gaming, LGD and Leviathan. Sixteen teams total- Team Secret, Wings Gaming, Fnatic, Team Empire, LGD, Newbee, YouPorn, Leviathan, CDEC, TnC, IG, Execration, MVP.Phoenix, Team Liquid, Alliance, and Digital Chaos – had flown to Yinchuan, China to compete for the $650,000 prize pool, between December 17th-21st.

The WCA 2015 LAN playoffs will resume with the playoffs with Wings Gaming vs Leviathan and Alliance vs either CDEC or TnC, both occurring at 03:30 CET, tomorrow, on December 19th.
The 16 teams – Team Secret, Wings Gaming, Fnatic, Empire, LGD, Newbee, YouPorn, Leviathan, CDEC, TnC, IG, Execration, MVP.Phoenix, Team Liquid, Alliance, and Digital Chaos – had been divided into four groups for the WCA 2015 LAN groupstage and playoffs and will be competing between December 17th-20th at the Ningxia International Hall, in Yinchuan, China.
The WCA 2015 LAN groupstage started out yesterday with groups C and D debuting the new 6.86 patch. Teams had adapted to the changes and immediately started adding in new heroes and strategies.
The second day started out business as usual. Then only hours before the event, Newbee forfeit their matches scheduled to start today at 12:00 CET against LGD for groupstage matches. Their withdrawal will result in Group B featuring three teams instead of four as it is too late to seek a replacement.
Team Secret, having lost both games in their series against Wings Gaming and Team Empire, were eliminated from the event much earlier than expected. Team Empire and Wings Gaming were then left to a one game tie breaker for seeding purposes, in which the Chinese teams seized.
After two days of group stages, only eight teams remain, advancing to the playoff stage. Thus far, Team Liquid, Alliance, TnC, CDEC, Team Empire, Wings Gaming, LGD and Leviathan advanced. MVP.Phoenix, Digital Chaos, Execration and Invictus Gaming, Team Secret, Newbee, Fnatic and Team YP have made an early exit.
WCA 2015 LAN Groupstage Recap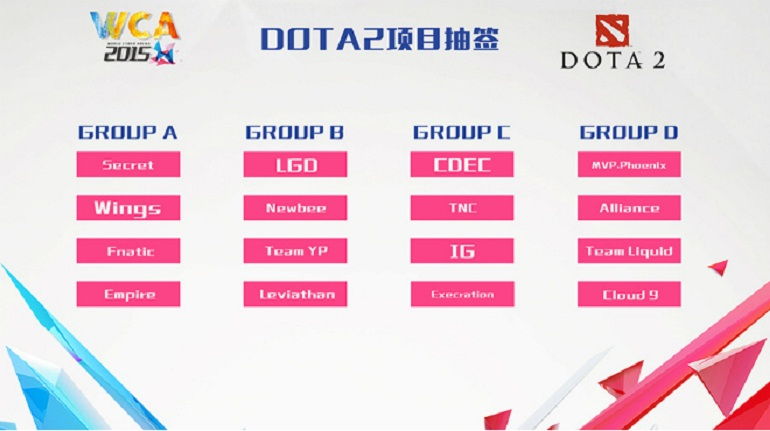 WCA 2015 LAN Groupstage A
Team Secret
Wings
Fnatic
Empire

Team Secret's early departure from the event was one of the most surprising results of the event. As predicted to be an easy "shoe-in" for the playoffs, a shockwave was sent through the air when they lost both the matches in their series against Wings Gaming. The newly buffed Keeper of the Light played heavily against the team in both games and they just seemed to have difficulty overall after the laning phase. Some of the European team member's were clearly upset while the young and green Wings Gaming team were trying to suppress their excitement. The next two games vs Fnatic belonged to the team, but the final two losses against Team Empire delivered the final blow of elimination.
Fnatic continues to struggle in obtaining any results or advancing out of group stages lately. Despite the efforts and shining performances given by Djardel Jicko B. "DJ" Mampusti, the team was unable to grab a series win. They managed to only pull a draw against Team Empire and Wings Gaming and fell flat 0:2 against Team Secret.
Team Empire's renewed roster and life seem to be oozing from the veins of the CIS team. They continue to outplay and outperform against their opponents and look well on their way to being a top team, hoping to land a direct invite to the Shanghai Majors. The squad grabbed the win in the series vs Team Secret and settled for a draw against both Wings Gaming and Fnatic. Losing the tie breaker match against Wings, they will advance into the playoffs in second place.
Wings Gaming has been a dark horse of the tournament. With a relatively inexperienced yet talented roster, the Chinese team has been making waves. After sweeping through the event favorites, Team Secret, they ended in a draw with Fnatic and Empire. Being tied for the top spot in the group, they then were tasked with competing in a one match tie breaker. Wings Gaming went forward with the same level of play and drafting they had been showing and took the victory and first place spot in the groups.
WCA 2015 LAN Groupstage B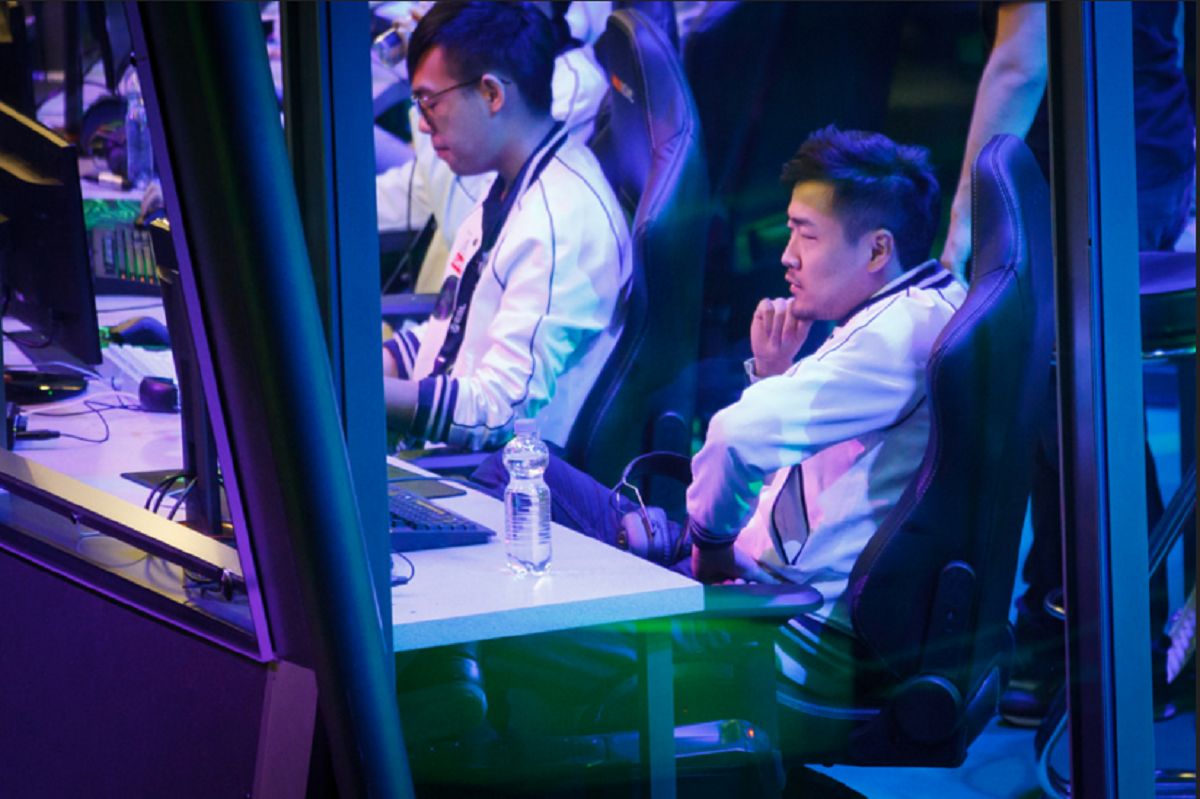 LGD Gaming
Team YP
Leviathan
With the forfeit of Newbee, Group B became a three horse race, giving new hope to the two North American teams.
LGD Gaming defeated Team YP easily and then were able to take the one game tie breaker between them and North American team Leviathan despite the infamous Andrew "Jenkins" Jenkins pudge pick.
Team YP were the only casualties of Group B with Newbee's withdrawal. They lost all of their matches 0:2 against both LGD and Leviathan. The matches were heavily one sided and quick in favor of their opponents n all but the first game against Leviathan. Game 1 vs their North American peers lasted over 65 minutes long. The new and young team were not expected to make much of a splash at the event. This was their first LAN and major tournament.
WCA 2015 LAN playoff schedule
Quarter finals and semi finals are best-of-three format. Third place decider and grand finals are best-of-five. Brackets are single-elimination.
One game tie-breaker to be played between TnC and CDEC at 02:00 CET December 19th to determine seeding.
December 12
Wings Gaming vs Leviathan 03:30 CET
TBD vs Alliance 03:30 CET
LGD vs Empire 06:00 CET
Liquid vs TBD 06:00 CET