The second day of The International 6 main event delivered another day of unforgettable matches. The two best-of-three Upper Bracket series secured both EHOME and Evil Geniuses a top-six finish at TI6 and at least $909,365 of the prize pool. The two teams will continue their journey in the Upper Brackets challenging their opponents to take claim of the Aegis. The TI6 results from the elimination games were intense and astounding as both TnC and Digital Chaos caused magnificent upsets eliminating OG and LGD Gaming respectively. The action resumes at 10:30 PDT/19:30 CEST with lower brackets elimination series between Alliance and Fnatic.
UPDATE (August 13th):
TI6 final standings, updates and highlights – HERE
The TI6 results day 2 created quite a stir. Two teams filled with International debutants – TnC and Digital Chaos have overcome the odds and knocked down giants in a classic David and Goliath fashion.
The Filipino pride that almost wasn't present due to extensive and last minute visa problems have become the sensational world favorites. They eliminated two team so far – ViCi Gaming.Reborn and two time Valve Championship team OG.
Digital Chaos had a pleasantly surprising domination in the group stage to give them a place in the upper brackets. Being bested by Wings 2:1 they dropped into the lower brackets to face possible elimination by the Chinese giants – LGD gaming. Fine tuned precision in rotations, team fights coordination and scouting would lead the newly formed DC to victory.
Both teams will have to face each other next, sending one of these marvels home with $505,203 and a commendable 7-8th place finish. The victor will try again to test their fate and skill as they advance closer to their dream.
In the upper brackets, former and reigning championship teams squared off. TI5 champions Evil Geniuses took on TI 4 champions Newbee for the upper bracket path victory while TI3 champions Alliance had been overpowered by EHOME.
Both Newbee and Alliance will face elimination series heading into day 3 as they lock horns with Team Liquid and Fnatic respectively. EHOME and EG will challenge each other to see which of the two championship team slayers are stronger.
TI6 results day 2
TI6 results day 2 TI6 results day 2 TI6 results day 2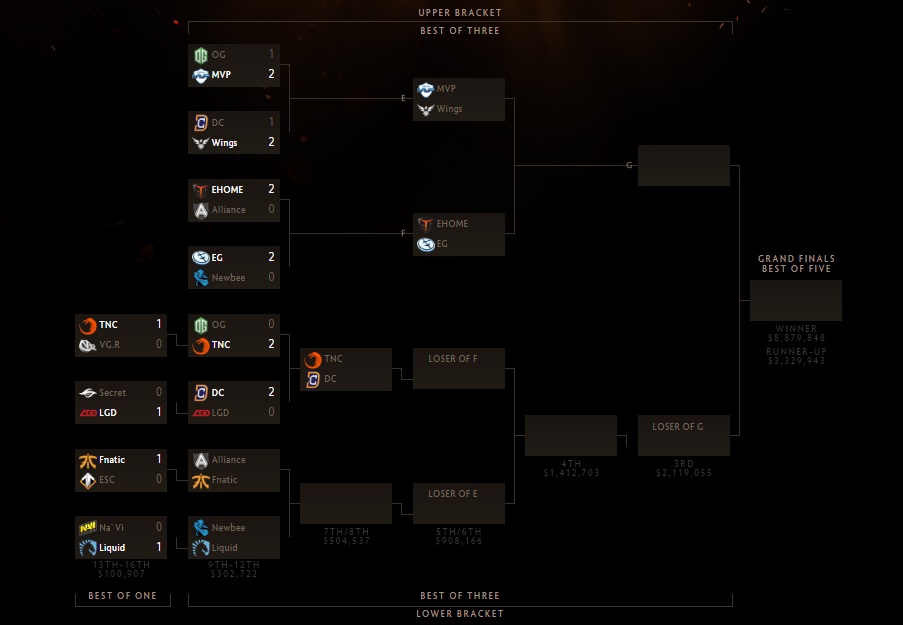 TI6 results day 2 TI6 results day 2 TI6 results day 2
TI6 results day 2: Upper Brackets
EHOME vs Alliance
The TI3 champions graced the main stage of the Internationals together as a full team for the first time in two years. Having come back together at the end of 2015, the Swedish sweethearts have worked their way back up to stardom. EHOME has found stability and success with their latest lineup being formed in March – just in time for the Manila Major.
Both games started out very balanced and even keeled, with Alliance seizing the lead in the first game. It wouldn't take EHOME long, however, to find their opportunity to rip both games wide open. In the first match, the fortuitous moment came along about 25 minutes in with some key burrow strikes by Ren "ELeVeN" Yangwei's Sand King. Having turned the tides, EHOME completely trashed Alliance in the next 10 minutes to claim victory. In the second match it would be a four man wipe around minute 27 followed up by a Godlike streak by Wang "old chicken" Zhiyong only minutes later.
TI6 results day 2 TI6 results day 2 TI6 results day 2
TI6 results day 2: EHOME 2:0 Alliance. EHOME advances through upper brackets. Alliance drops to the lower brackets.
TI6 results day 2 TI6 results day 2 TI6 results day 2
Evil Geniuses vs Newbee
The stage was bursting with prestige as the TI5 and TI4 champions locked horns for the battle of the upper brackets. Both teams have since had peaks and valleys in their results but have maintained overall dominance and presence. Newbee's recent past was decorated with two mind-blowing winning streaks – going 29-0 from qualifiers to finish at EPICENTER Moscow and 21-0 for the Manila Major.
Newbee took an early lead in the first match but Clinton "Fear" Loomis's Sven and Syed Sumail "SumaiL" Hassan's Storm Spirit surged with power – becoming unstoppable. EG clinched the game in just over 30 minutes.
The second victory wouldn't come as easy as the first for EG. With Fear and SumaiL again being at the forefront, Newbee struck out against the North Americans with some incredible shows of force. As the two champions battled it out, Ludwig "zai" Wåhlberg on EG and Damien "kphoenii" Chok would take center stage with their exceptional plays and talent. After 70 minutes, Newbee called GG.
TI6 results day 2 TI6 results day 2 TI6 results day 2
TI6 results day 2: Evil Geniuses 2:0 Newbee. Evil Geniuses advance through upper brackets. Newbee drops to the lower brackets.
TI6 results day 2 TI6 results day 2 TI6 results day 2
TI6 results day 2: Lower Brackets elimination series
TI6 results day 2 TI6 results day 2 TI6 results day 2
OG vs TnC Pro
The two time championship team -OG had fallen from the upper brackets in a surprising upset at the hands of MVP.Phoenix only one day earlier. TnC is the Filipino pride making history and quickly becoming fan favorites after their sensational run in the group stage.
TnC started out the second match on the wrong foot, but their strong drafting and synergy in team fights started to give them the momentum to climb back up into even footing. Having then taken the advantage for themselves, the Filipino team played it smart and safe to walk over OG in the end.
Once again TnC seemed to be straggling behind a bit but it would continue to be their drafting, tenacity, collected approach that would serve them well in the end. Falling behind into a dark hole of what seemed almost impossible to climb out of with David "MoonMeander" Tan's Dark Seer and Johan "N0tail" Sundstein's Tiny -TnC came from behind. 20k in the hole, they went for a 'GG' push right before the game hit the 60-minute mark.
TI6 results day 2 TI6 results day 2 TI6 results day 2
TI6 results day 2: OG 0:2 TnC Pro. TnC advances through lower brackets and sees OG eliminated.
TI6 results day 2 TI6 results day 2 TI6 results day 2
Digital Chaos vs LGD Gaming
Digital Chaos have already shown exceptional coordination and synergy lately – having an outstanding run in the group stage and performance in the Upper Brackets first round. Despite being knocked into the lower ranks by Wings Gaming, Digital Chaos' playstyle and presence has been in top form. Roman "Resolut1on" Fominok had recently disclosed that the team had recently gained the help of a second coach, focusing on communication and relationships and it shows. LGD Gaming had been primed for an incredible run at the event but suffered a set back when integral member Xue "September" Zhichuan was denied his visa. The team turned to substitute player Wang "Banana" Jiao and TI4 champion Wang "Banana" Jiao to fill the gap.
The aforementioned communication improvement was paramount in Digital Chaos' success over LGD in the first game. Great rotations, execution, scouting and patience all hinged on coordination and synergy. The second match LGD took the early lead but DC would outlast them and avoid being baited into unfavorable positions. Intense exchanges and close calls would last well into almost the hour mark. With a 30k gold lead for DC and most of their barracks down, LGD tried a final push that wouldn't be enough. DC's victory eliminates LGD Gaming from the event.
TI6 results day 2 TI6 results day 2 TI6 results day 2
TI6 results day 2: Digital Chaos 2:0 LGD Gaming. Digital Chaos advances through lower brackets and sees LGD Gaming eliminated.
TI6 results day 2 TI6 results day 2 TI6 results day 2
TI6 schedule, day 3, August 10
The third day of the TI6 main event will leave us with 8 contenders – half of the starting amount. According to the TI6 schedule, the day will start off with two lower bracket elimination series: Alliance vs Fnatic followed by Newbee. vs Team Liquid. The spotlight will then move onto the Upper Brackets. The matches are on a rolling schedule and will begin at the conclusion of the previous one.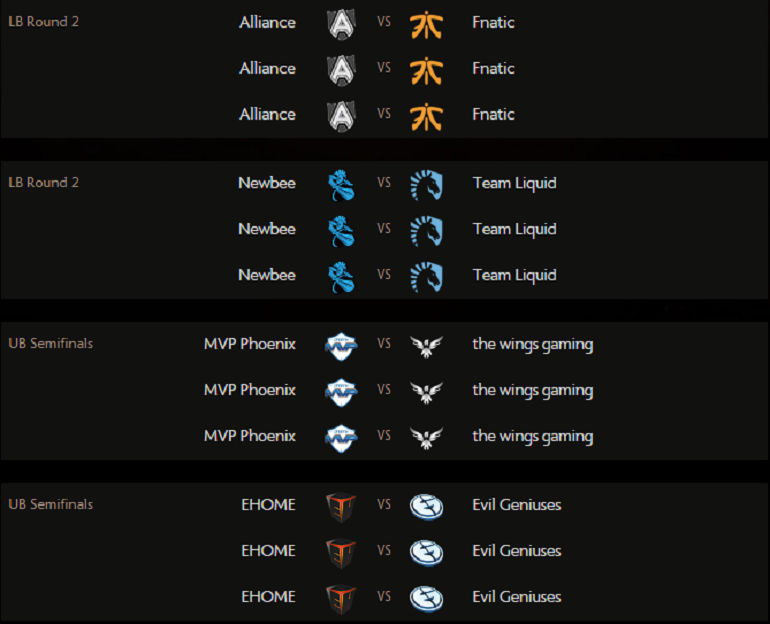 TI6 Main Event: Sixteen teams will battle it out over the course of six days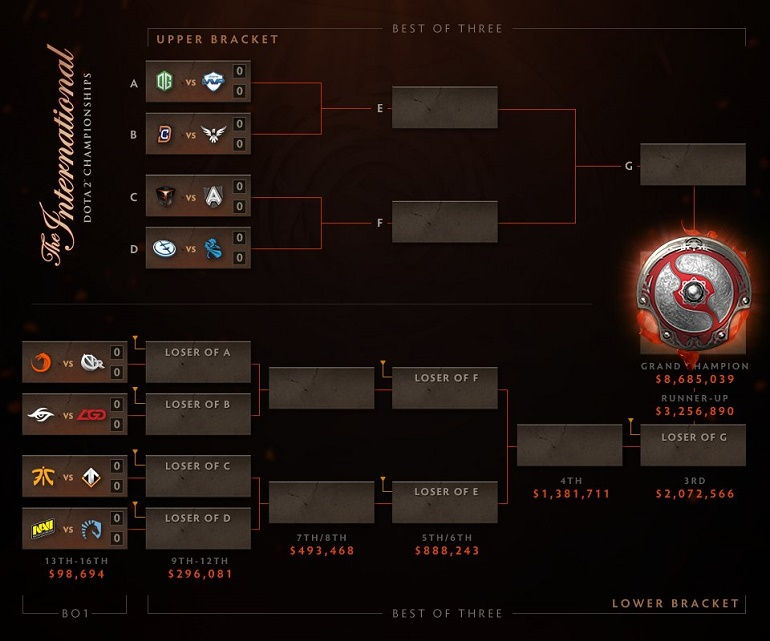 Sixteen teams will play a double elimination bracket, over the course of six days.
Eight teams will start in the Upper Brackets.
The remaining eight teams will start the Main Event in the Lower Brackets.
The first round of the Lower Brackets will be played as a best-of-one elimination series.
All the other encounters will be best-of-three series.
The International 6 Grand Finals will be best-of-five.

TI6 prize pool: Over $20 million on the line, largest fund in esports history

Valve's The International has a long history of setting and breaking esports records – and this year's event has already proven to be no different. Thanks to the Dota 2 community's contributions, the TI6 prize pool has surpassed last year's amount of $18,429,613, thus becoming the largest in esports history.
At 10:00 CEST, on August 10th, the total TI6 prize pool had reached $20,208,121. The community contributed a staggering $18,608,121.

TI6 prize pool distribution

1st place – 44% – $8,891,573
2nd place -16.5% – $3,334,340
3rd place – 10.5% – $2,121,853
4th place – 7% – $1,414,568
5th/6th place – 4.5% – $909,365
7th/8th place – 2.5% – $505,203
9th-12th place – 1.5% – $303,122
13th-16th place – 0.5% – $101,041
How to watch The International 6

TI6 English stream: Main Channel

TI6 Russian stream: Main Channel

TI6 Chinese stream: Main Channel

LIVE ON DOTA2.COM: The games will be broadcast live through Steam Broadcasting on DotaTV. Up-to-date tournament standings and options to track a variety of other stats will be provided.
PUBSTOMPS*: For those who are unable to attend The International 6, Pubstomps are an opportunity to share the excitement in a live setting with other Dota 2 enthusiasts, in various locations around the world. Fans can gather together to celebrate, cheer, and engage in Dota 2 related discussions or activities with others in their area. Fans can search for available TI6 Pubstomps by location. Most event listings include the city, region and venue location, as well as any fees or age restrictions and website information.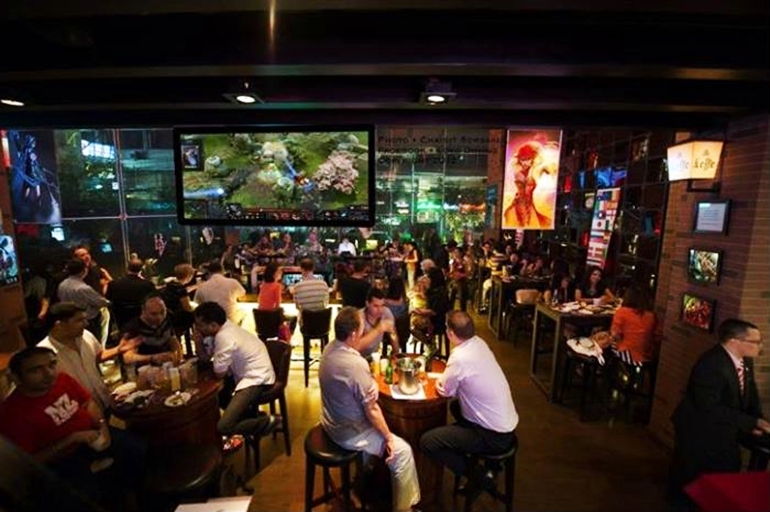 *Check back at the Pubstomp site often, as more events are being added all the time and check out our previous article on TI6 Pubstomps for details on how to register, find and attend events.

DOTA VR HUB: Use Dota VR Theater to watch live matches and replays in SteamVR alone, with friends, or the community to watch the action unfold on an enormous screen surrounded by full-size avatars of the heroes on the battlefield.
YOUTUBE, TWITCH, WatchESPN: In addition to Steam Broadcasting, the entire International 6 tournament will be available live on YouTube, Twitch and WatchESPN.
DVR REPLAYS: Previous TI6 broadcasts will be available, complete with pause and rewind features. The results of each day's games will be kept hidden, in order to avoid any spoilers.

TI6 results day 2 TI6 results day 2 TI6 results day 2