The first day of The International 6 main event was packed with action. The two best-of-three Upper Bracket series secured both MVP.Phoenix and Wings Gaming a top-six finish at TI6 and at least $905,509 of the prize pool. The two teams will continue their journey in the Upper Brackets -inching their way to the Aegis with optimism. The TI6 results after the first elimination games were shocking to say the least as Team Secret bowed out early. The four brutal best-of-one series gave early exits to four teams: ViCi Gaming.Reborn, Team Secret, Escape Gaming and Na'Vi. The action resumes at 10:30 PDT/19:30 CEST with upper brackets preliminaries EHOMe vs Alliance.

UPDATE (August 13th):
TI6 final standings, updates and highlights – HERE
It was a long, emotionally charged first day at the KeyArena, in Seattle. The International 6 was ushered in with beautifully orchestrated opening ceremony featuring Lindsey Stirling -American violinist, dancer, performance artist, singer and composer – and self professed Dota 2 fan.
Outfitted in a Wind Ranger costume, Lindsey's stage presence and performance of the Dota 2 theme song was chilling and mesmerizing. Delivered with poise, grace and beauty the opening ceremony was breathtaking.
The crowd applauded and roared with approval and KeyArena was buzzing with excitement.
With the opening teams settled into the booths, the draft got underway. As the MVP.Phoenix selected their first pick – Void – a full size figure of the hero appeared on stage via hologram-augmented reality. The production value had immediately shot through the roof and the fans went wild.
MVP.Phoenix and OG delivered a sensational opening game for TI6 – a thrilling, heart stopping nail-biter to get the blood flowing. An opening match that couldn't have been more perfect for an already dazzling event.
MVP.Phoenix sent the two time Valve champions to the lower brackets after three matches. OG, who are not unfamiliar with rising up through the ashes of the lower brackets – will need to do so once again this week.
Wings Gaming stayed true to their nature – defying the meta and choosing both Pudge and Techies in the series against Digital Chaos. A three game adventure would end with Wings Gaming soaring through the upper brackets, dropping DC to the lower brackets to continue their fight.
The first survival of the fittest best-of-one series would see ViCi Gaming.Reborn, Team Secret, Escape Gaming and Na'Vi eliminated.
The Filipino pride and new fan sweethearts continued to impress with their performances. Knocking a struggling ViCi Gaming.Reborn out of the event early, TnC continues to strive to make history for their nation.
LGD Gaming had stepped up in the witching hour – something that seems to be a historic trend for the organization and unleashed their fury on Team Secret. Stalling and defending against LGD's advances, the once European giants crumbled eventually for an early exit.
Fnatic's worrisome group performance was transformed into success as they toppled over Escape Gaming for a victory and another chance at advancement.
Na'vi's journey ended early at the hands of Team Liquid – the always seeming antagonists of LAN events. Being heavily favored for the event, it was surprising Team Liquid had dropped into the lower brackets so early to begin with. Pulling themselves together as usual, the European team found themselves another chance and day.
TI6 results day 1
TI6 results day 1 TI6 results day 1 TI6 results day 1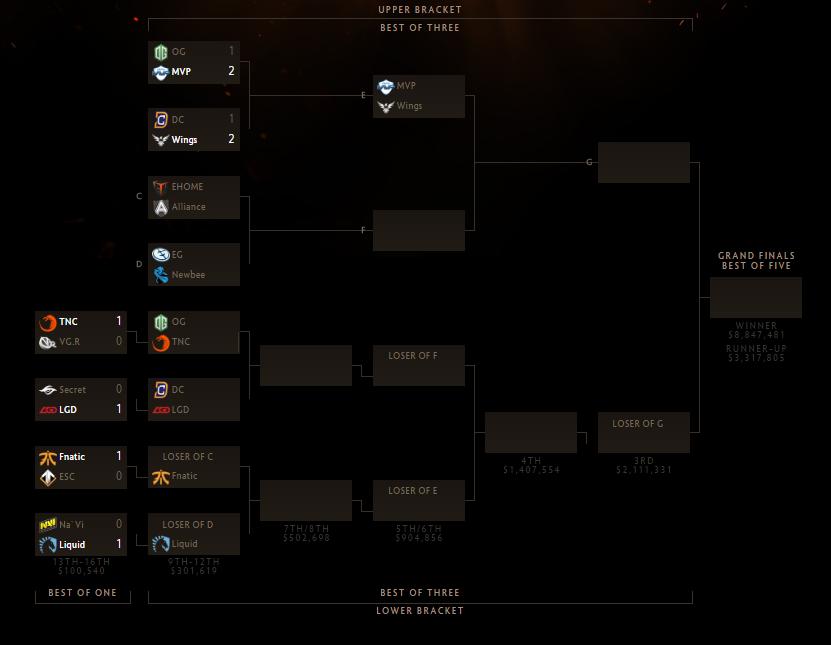 TI6 results day 1 TI6 results day 1 TI6 results day 1
TI6 results day 1: Upper Brackets
OG vs MVP.Phoenix
MVP.Phoenix and OG locked horns with a intense three game first series. The Koreans aggressive and unconventional play style matched up against OG's exemplary synergy and execution created a static storm of electricity.
Starting out with sheer aggression, the opener boasted 20 kills in only 12 minutes. The Korean five melee lineup relying heavily on the RNG PA, Void and Spirit Breaker vs Amer "Miracle-" Al-Barkawi's Timbersaw seemed to be a questionable decision but with luck and skill paid out in the end giving them the first victory.
OG were not deterred by the loss and struck back hard in the second match. Armed with a naga siren to take the lead and control in team fights and another spectacular performance by Miracle- OG had evened out the series and pushed for a third and final game.
The deciding game was more lopsided than expected based on the first two matches. MVP had completely overwhelmed OG, with a 3:22 score in only 23 minutes. Taking full map control, a massive lead and showing no signs of stopping MVP.Phoenix roared to the end as fearsome opponents and seized the series victory. OG were dropped to the lower brackets by a team they had chosen to face.
TI6 results day 1 TI6 results day 1 TI6 results day 1
TI6 results day 1: OG 1:2 MVP.Phoenix. MVP.Phoenix advances through upper brackets. OG drops to the lower brackets.
TI6 results day 1 TI6 results day 1 TI6 results day 1
Digital Chaos vs Wings Gaming
Digital Chaos has shown real growth since their inception only a few months ago, seeming to have come into their own. Already having a roster full of talent, their development has yielded many pleasing and unexpected results. Wings Gaming is already reputed to throw caution, the meta and logic to the wind. The two teams met in the upper brackets for what would turn out to be a three game series with a few surprising twists.
Digital Chaos took an early lead in the first match but couldn't seem to hold on to it. Zhou "bLink" Yang's Mirana would initiate the turnaround for Wings as Chu "shadow" Zeyu's Drow came on board. The Chinese team became too much for DC to handle and claimed the first series.
Pudge and Techies made a surprise appearance in the second match – sending fans into a frenzy. Having reportedly been asked to draft Pudge at the event, Wings Gaming were more than happy to comply despite it costing them the game. It would appear that Wings were confident in their series win, allowing the clowny draft at a time they were more secure to seize the series. Coming into the third match, they destroyed DC leaving the North American team no room to stage a comeback. In 25 minutes, Wings took the series with a 27:9 record.
TI6 results day 1 TI6 results day 1 TI6 results day 1
TI6 results day 1: Digital Chaos 1:2 Wings Gaming. Wings Gaming advances through upper brackets. Digital Chaos drops to the lower brackets.
TI6 results day 1 TI6 results day 1 TI6 results day 1
TI6 results day 1: Lower Brackets elimination series
TnC Pro vs ViCi Gaming.Reborn
ViCi Gaming.Reborn were at a disadvantage from before landing a foot in Seattle. Having been marred with uncertainty and anxiety about visas, their entire lineup was shifted as a result. No significant practice and position changes gave the Chinese team some troubles they had difficulty surmounting. TnC on the other hand – after also experiencing the same suspense had made the journey as full team fueled by the hype and appreciation to participate. The performances told the story perfectly.
TnC continued with their incredible performances and executed their draft beautifully. Marc Polo "Raven" Luis Fausto's Terrorblade would be extremely tanky and top the net-worth charts with 20k gold in only 30 minutes. Continuing on his dominance, Raven would end with a Godlike streak – crushing ViCi Gaming.Reborn's base and run at TI6.
TI6 results day 1 TI6 results day 1 TI6 results day 1
TI6 results day 1: TnC Pro 1:0 ViCi Gaming.Reborn. TnC advances through lower brackets and sees ViCi Gaming.Reborn eliminated.
TI6 results day 1 TI6 results day 1 TI6 results day 1
Team Secret vs LGD Gaming
It was uncertain what to expect from either team in this battle based on their circumstances. Both teams had once been giants and are stacked with talent and experience. LGD Gaming, had been improving their stride and results in recent months but were thrust into a setback with the unfortunate loss of Xue "September" Zhichuan for TI6 due to visa woes. Team Secret's shaky performances since initiating the post Shangahi shuffle and their 9 game losing streak in the group phase had already set the tone for the results to come.
In what would turn out to be a true slug-fest, roller coaster and arguably one of the most intense matches in recent history, LGD would eventually see Team Secret eliminated from TI6 – denying Clement "Puppey" Ivanov a chance to be in the top 8 for the first time since The Internationals.
Well executed rotations, scary item builds and incredibly coordination by LGD would reign supreme at almost 70 minutes. Team Secret's defenses, attempts at staging the comeback of a lifetime and their tenacity would be both commendable and valiant but not enough.
TI6 results day 1 TI6 results day 1 TI6 results day 1
TI6 results day 1: Team Secret 0:1 LGD Gaming. LGD Gaming advances through lower brackets and sees Team Secret eliminated.
TI6 results day 1 TI6 results day 1 TI6 results day 1
Fnatic vs Escape Gaming
The Wild Card contenders – Escape Gaming had delighted fans with their journey and performances in Seattle. Troels "syndereN" Nielsen's drafting the overall feeling of comradery of the team was enjoyable to watch. Fnatic's run was more confusing and frustrating – not even close to reminiscent of their post Shanghai Major emergence.
Escape Gaming started with a bang, taking a slight lead early for the first 10 minutes. Fnatic easily recovered and turned the tables. In less than 30 minutes the Malaysian team would crush Escape Gaming with a flawless game by Zheng "Miduan" Yeik Nai on Templar Assassin.
TI6 results day 1 TI6 results day 1 TI6 results day 1
TI6 results day 1: Fnatic 1:0 Escape Gaming. Fnatic advances through lower brackets and sees Escape Gaming eliminated.
TI6 results day 1 TI6 results day 1 TI6 results day 1
Na'Vi vs Team Liquid
An ever-bearing presence on the podium of the major and premier LANs recently, Team Liquid's drop to the lower brackets so early was unforeseen. The European mix consistently displays a coolness and calm that eventually pays out for them in times of trouble, and finding themselves in an elimination series early would be no different.
Na'Vi's climb back into the top echelon of teams after a turbulent year filled fans with hope. Their aggression, synergy and revitalization seemed to be the fuel driving their success.
Na'Vi were unable to capitalize on their lead from the early game. They started out with all the right moves – first blood, great rotations, early aggression topped off with the first Roshan and aegis. But they were unable to capitalize on the lead as the pace of the game started to slow down a bit. Team Liquid began to launch an assault to gain control through team fights and heavy pushes. A flawless game for Ivan "MinD_ContRoL" Borislavov on Axe and armed with Lasse "MATUMBAMAN" Urpalainen's Naga Siren would seal Na'Vi's loss by 34 minutes in.
TI6 results day 1 TI6 results day 1 TI6 results day 1
TI6 results day 1: Na'Vi 0:1 Team Liquid. Team Liquid advances through lower brackets and sees Na'Vi eliminated.
TI6 results day 1 TI6 results day 1 TI6 results day 1
TI6 schedule, day 2, August 9
The second day of the TI6 main event will leave us with 12 contenders. According to the TI6 schedule, the day will start off with the two remaining best-of-three series from the first round of the Upper Brackets: Ehome vs Alliance followed by Evil Geniuses vs Newbee. The spotlight will then move onto the Lower Brackets, where another two teams will leave the competition. The matches are on a rolling schedule and will begin at the conclusion of the previous one.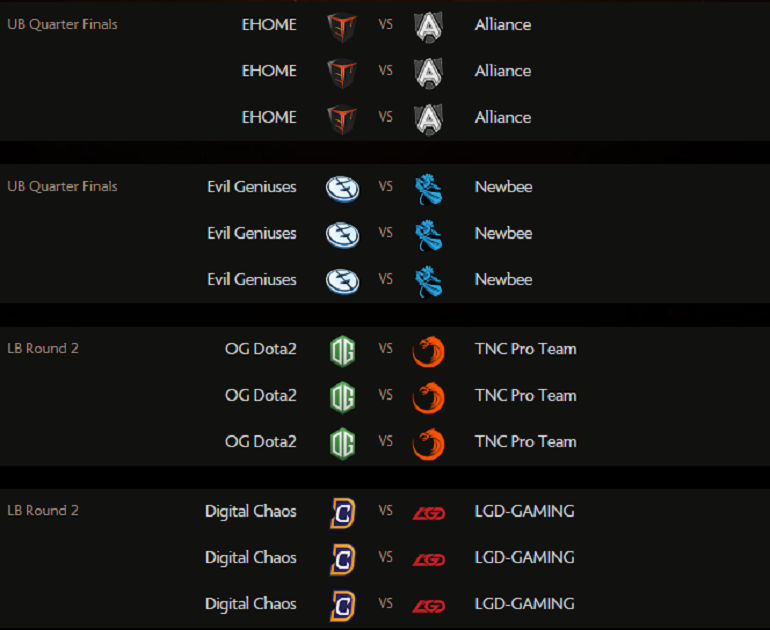 TI6 Main Event: Sixteen teams will battle it out over the course of six days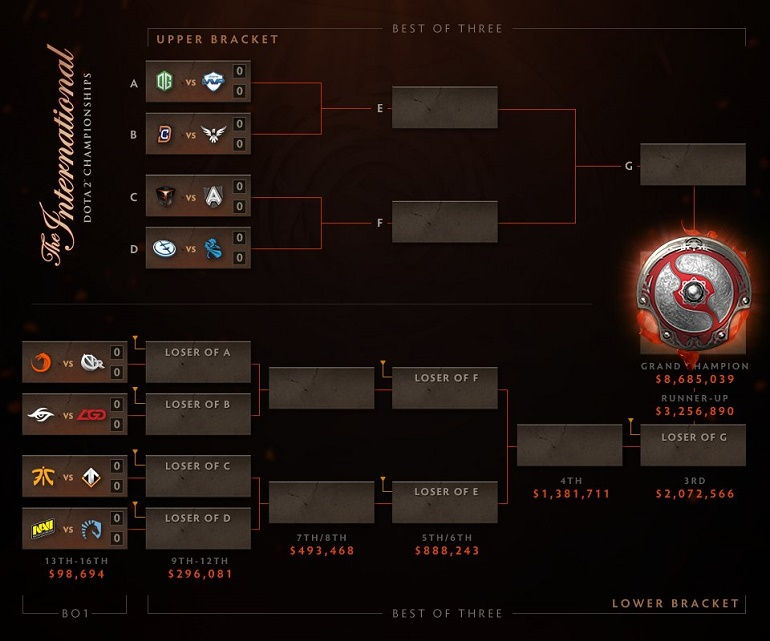 Sixteen teams will play a double elimination bracket, over the course of six days.
Eight teams will start in the Upper Brackets.
The remaining eight teams will start the Main Event in the Lower Brackets.
The first round of the Lower Brackets will be played as a best-of-one elimination series.
All the other encounters will be best-of-three series.
The International 6 Grand Finals will be best-of-five.

TI6 prize pool: Over $20 million on the line, largest fund in esports history

Valve's The International has a long history of setting and breaking esports records – and this year's event has already proven to be no different. Thanks to the Dota 2 community's contributions, the TI6 prize pool has surpassed last year's amount of $18,429,613, thus becoming the largest in esports history.
At 08:00 CEST, on August 9th, the total TI6 prize pool had reached $20,122,425. The community contributed a staggering $18,522,425.

TI6 prize pool distribution

1st place – 44% – $8,853,867
2nd place -16.5% – $3,320,200
3rd place – 10.5% – $2,112,855
4th place – 7% – $1,408,570
5th/6th place – 4.5% – $905,509
7th/8th place – 2.5% – $503,061
9th-12th place – 1.5% – $301,836
13th-16th place – 0.5% – $100,612
How to watch The International 6

TI6 English streams: Main Channel, Stream 2, and Stream 3

TI6 Russian streams: Main Channel, Stream 2, and Stream 3

TI6 Chinese streams: Main Channel, Stream 2, and Stream 3

LIVE ON DOTA2.COM: The games will be broadcast live through Steam Broadcasting on DotaTV. Up-to-date tournament standings and options to track a variety of other stats will be provided.
PUBSTOMPS*: For those who are unable to attend The International 6, Pubstomps are an opportunity to share the excitement in a live setting with other Dota 2 enthusiasts, in various locations around the world. Fans can gather together to celebrate, cheer, and engage in Dota 2 related discussions or activities with others in their area. Fans can search for available TI6 Pubstomps by location. Most event listings include the city, region and venue location, as well as any fees or age restrictions and website information.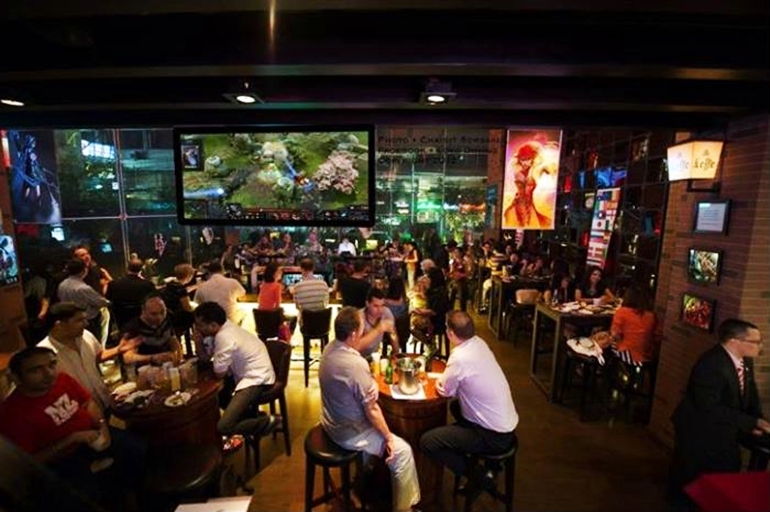 *Check back at the Pubstomp site often, as more events are being added all the time and check out our previous article on TI6 Pubstomps for details on how to register, find and attend events.

DOTA VR HUB: Use Dota VR Theater to watch live matches and replays in SteamVR alone, with friends, or the community to watch the action unfold on an enormous screen surrounded by full-size avatars of the heroes on the battlefield.
YOUTUBE, TWITCH, WatchESPN: In addition to Steam Broadcasting, the entire International 6 tournament will be available live on YouTube, Twitch and WatchESPN.
DVR REPLAYS: Previous TI6 broadcasts will be available, complete with pause and rewind features. The results of each day's games will be kept hidden, in order to avoid any spoilers.

TI6 results day 1 TI6 results day 1 TI6 results day 1
featured image courtesy of Dotabuff