Eight teams were left to fight for the Aegis of Champions trophy after the third day's TI5 results. The previous night's incredible games brought an end to the impressive run of North America's compLexity Gaming and the former International champions Invictus Gaming, after both teams fought valiantly until the bitter end. CDEC and Evil Geniuses have progressed to the Upper Bracket finals, sending LGD and EHOME to the Lower Brackets for another chance to prove their worth. Tonight's Lower Bracket series bid farewell to three more teams. MVP.Phoenix, Team Secret and EHOME ended up being eliminated.
UPDATE (August 9):
Evil Geniuses are your TI5 champions! Grand Finals VODS, summaries, pictures and highlights: here.
The series kicked off with MVP.Phoenix versus ViCi Gaming, followed by Virtus.Pro versus Team Secret. ViCi Gaming then went up against EHOME.
ViCi Gaming swept through MVP.Phoenix using Rubick for Xu "fy" Linsen, an unconventional Morphling for Chen "Hao" Zhihao in the first game and Broodmother for Daryl Koh "iceiceice". They eliminated the Wild Card Korean representatives and advanced to play EHOME later in the evening.
Virtus.Pro eliminated TI5 favorites Team Secret, 2:1, after a remarkable series. They managed to recover from a one-game deficit and shut down Artour "Arteezy" Babaev in the second game and then Gustav 's4' Magnusson in the third game, with beautifully executed plays.
ViCi Gaming went on to sweep through EHOME, 2:0, for their second series of the day. An unconventional Zeus-Pugna combo worked well for them and the Anti-Mage second game would clinch their advancement at TI5.
The TI5 All Star Game between Team BigDaddy and Team ChuaN wrapped up the fourth day of The International 5.
Casted by ODPixel and Capitalist, the TI5 All Star Match was a unique experience, filled with many surprises and much fanfare. An audience chosen 10 vs. 10 setup with teams comprised of five stars and five fans, the game was incredibly action packed. The biggest surprise of the evening occurred when the Pudge cosplayer chosen from the audience to play by Puppey's side on Team ChuaN ended up being Danil "Dendi" Ishutin. In an epic comeback, Team BigDaddy/N0tail won the match.








Click on one of the pictures to open the gallery.
TI5 brackets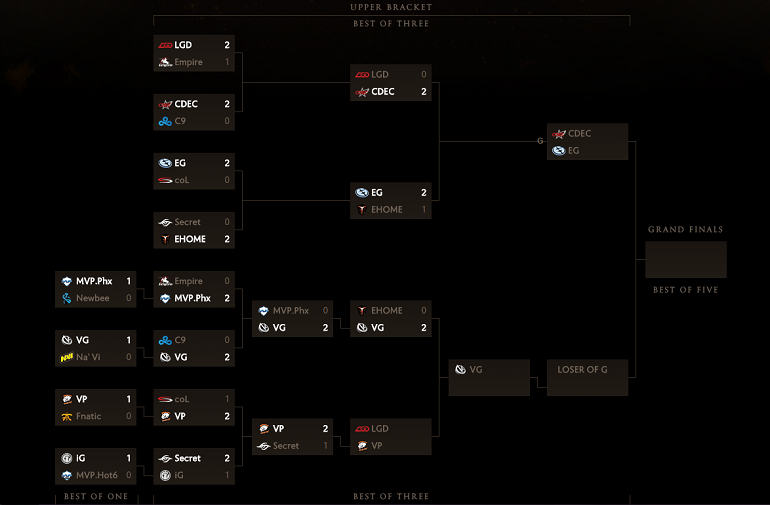 TI5 results and summaries – MVP.Phoenix (0:2) ViCi Gaming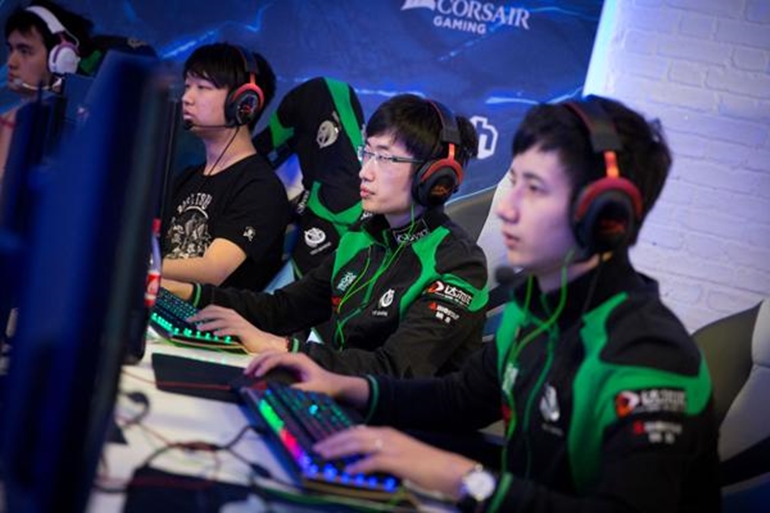 Game 1
For the first game of the best-of-three elimination series, ViCi Gaming chose Rubick for Xu "fy" Linsen – one of his best heroes as demonstrated the other night. They also drafted a Morphling for Chen "Hao" Zhihao, making it the first time the hero has made an appearance at The International 5. MVP.Phoenix took Slark mid for Kim "QO" Seon-yeop – a common selection for the Koreans.
Hao drew first blood on Park "March" Tae-won's Spirit Breaker. ViCi Gaming would take the slight lead until about 23 minutes into the game, when MVP.Phoenix took out four of their heroes and evened out the game.
Only seven minutes later, after an unfavorable team fight, the Koreans would start to slide back down, giving ViCi Gaming the advantage back. Despite the 10K gold difference at minute 37 and the fact that they were behind in objectives, the Koreans tried to take barracks, while ViCi Gaming were attacking theirs.
Unable to do much, MVP.Phoenix were forced to defend bottom and were not able to repel and hold off ViCi Gaming's advances anymore. The match was over at minute 40. Hao had an amazing game on his Morphling – with a score of 13:2:5, and VG ended up with a 20K gold advantage.
VOD: MVP.Phoenix vs. ViCi Gaming (Game 1)
TI5 results: ViCi Gaming take the first game of the series, leaving the Koreans one game away from elimination.
Game 2
In the second game of the series, ViCi Gaming would once again choose another Rubick for fy.
First blood was drawn by VG's Xie "Super" Junhao on QO. By 12 minutes into the game, VG would lead 4:0 in kills. Super snatched three of those kills, while Lu "Fenrir" Chao had three of the assists.
It would be almost 14 minutes before MVP.Phoenix would get their first kill on the board, taking two very important kills on the mid lane. That would slow the game down but it wouldn't be enough. By 22 minutes into the game, VG would be over 10K ahead in gold and had taken many of their objectives, leading 11:3.
Although Naga Siren had finished her Radiance around minute 26, it would do little or nothing to help MVP.Phoenix against the pushing power and damage coming out from the Chinese team. With a split push in barracks and a team wipe, followed by continued dominance and destruction in the base, the Korean Wild Card team would have no choice but to concede to ViCi Gaming.
Another flawless game for Hao on Storm Spirit – 7:0:7 – and an incredible performance by Super on Lina – 12:2:3 – were supported by the amount of space that was created by Daryl Koh "iceiceice" Pei Xiang and the famed support duo Fenrir and fy.
VOD: MVP.Phoenix vs. ViCi Gaming (Game 2)
TI5 results: ViCi Gaming take the series 2:0, extending their run in the tournament and sending MVP.Phoenix home.
TI5 results and summaries – Team Secret (1:2) Virtus.Pro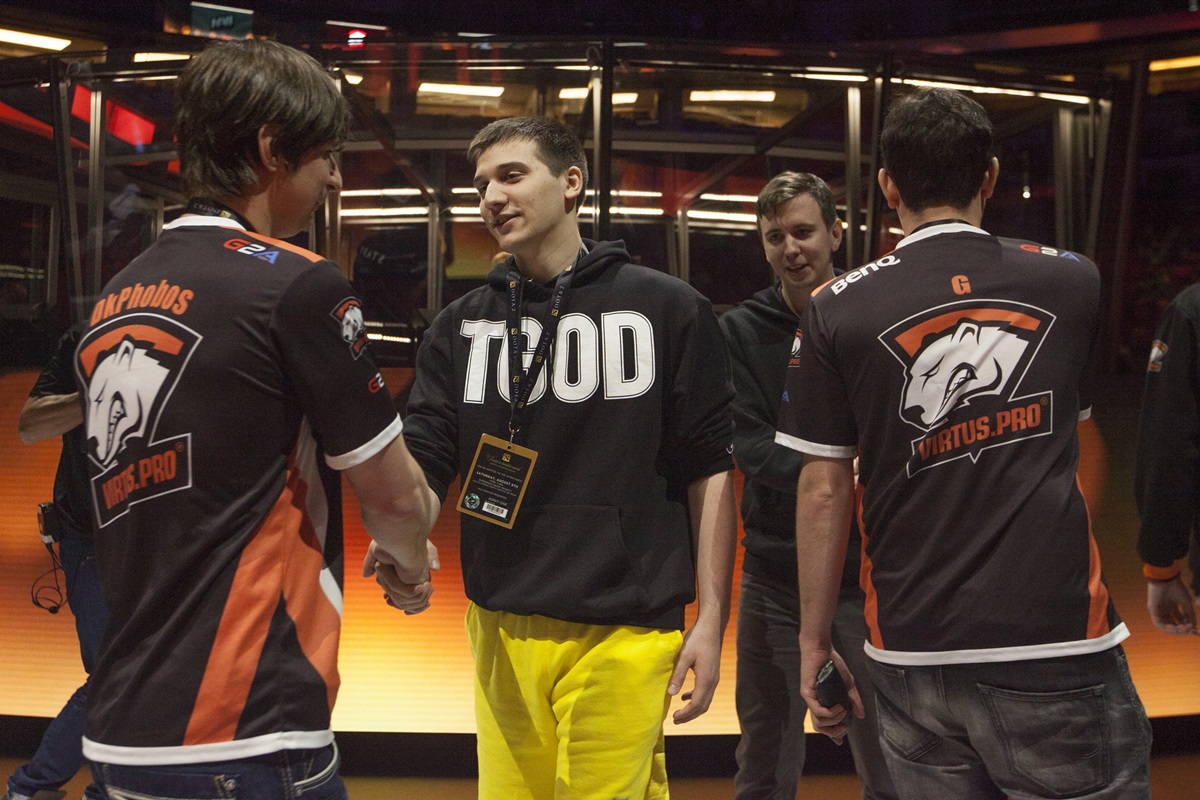 Game 1
The first game of the series started relatively even with Team Secret having the slight advantage after taking first blood and the following kill. Team Secret started pulling ahead after a 4:1 exchange at Virtus.Pro's base. They left nothing for chance and made sure they did create any openings for VP.
At minute 25, a song of the siren caught Kuro "KuroKy" Salehi Takhasomi, but Ludwig "zai" Wåhlberg's vaccum wall grabbed VP in a beautifully executed play and turned the fight around. Team Secret would then wipe out four CIS heroes in front of their base. Virtus.Pro called "GG" at minute 29.
VOD: Team Secret vs. Virtus.Pro (Game 1)
TI5 results: Team Secret take the first game of the series and threaten to eliminate the only CIS hope.
Game 2
Starting off the laning phase, Virtus.Pro went for Lina, Earthshaker, Visage, Storm Spirit, and Silencer, while Team Secret drafted Queen of Pain, Dark Seer, Luna, Shadow Shaman, and Enigma. G drew first blood on Kuroky, which really helped him on mid-lane and put him ahead of s4 in terms of farming. Secret managed a 3:2 trade in their favor minutes later, but VP were keeping up with their rotations. The game was even 9 minutes in, as Secret were a bit ahead in XP, thanks to Puppey, while Virtus.Pro were pulling ahead in gold.
VP did a great job at contesting Arteezy's Luna. He was 0:2:3 at minute 12, sitting at 2.5K in net-worth, near the bottom of the chart. However, the CIS team started showing the first signs of struggle at minute 13, when s4 had purchased his Orchid Malevolence. They did manage to slow s4 down a notch, due to fng's nukes. Meanwhile, Arteezy continued to be incredibly underfarmed. On the other hand, s4's Queen of Pain was topping the net-worth chart, with 8K.
Arteezy had alread gone down for the sixth time by minute 16, this time near Roshan. Virtus.Pro snatched the Aegis. At this point, G was able to jump in, take heroes down and bounce right back, while DkPhobos had picked his Blink Dagger and had a level two Echo Slam on top. Towers kept falling on both sides, but VP always seemed to come out on top, taking a comfortable lead in both XP and gold. Secret found an opening at minute 27, when s4 managed a big pick-off, taking down God and Illidan. Secret headed for Roshan and bounced back in terms of XP.
Virtus.Pro needed to start establishing dominance before Arteezy – who now had his BKB – caught up. And that was precisely what they did. Completely outplayed, Secret got wiped in their own base, with no buybacks, at minute 36, and VP walked away with a double set of racks. By this point, G's Storm Spirit had his hex on and was topping the chart in net-worth, with 20K. Minutes later, Secret called the "GG". Virtus.Pro had evened out the elimination series.
VOD: Team Secret vs. Virtus.Pro (Game 2)
TI5 results: Virtus.Pro manage to take the second game and keep themselves alive in the tournament.
Game 3
No summary can do justice to this deciding third game. Team Secret drafted their comfort heroes – Dark Seer, Rubick, Queen of Pain, Shadow Fiend, and Dazzle – while Virtus.Pro went for a little bit more pushing power, with Lina, Earthshaker, Visage, Storm Spirit, and Drow Ranger. zai drew first blood on fng. Despite picking off the first blood, Secret gave up a kill on Puppey to Illidan. Ten minutes in, the game was still incredibly close.
A beautifully executed TP-out came from Illidan, around minute 14, when Secret tried to gank him at Roshan. Everything started to slowly fall apart for Secret. They did not have a counter for Storm Spirit, and G was getting closer to a critical blood stone.
At minute 27, after a few favorable pick-offs for Secret, the game was once again even. Virtus.Pro could have wrapped up the series one minute later, if they had had a better positioning. They managed to knock down Arteezy, but lost God instead. They won another important fight minutes later and went for Roshan, securing a 5K swing from that alone.
Secret had no buybakcs on the heroes that mattered and lost four of them at minute 33, only to bounce back into the game and pick off four of VP's heroes, minutes later. However, they were unable to come through whenever VP gave them the opportunity and the CIS team had taken down two sets of racks by minute 47. With G continuing to snowball, Virtus.Pro were merely one fight away from taking the game – 20K ahead in gold and 15K ahead in XP.
Team Secret were afraid to leave their base. VP came out on top of a complete bloodbath at minute 50. Four minutes later, they would get the final set of racks and force mega creeps. Secret called their final "GG" and their banner faded from the KeyArena.
VOD: Team Secret vs. Virtus.Pro (Game 3)
TI5 results: TI5 favorites Team Secret were eliminated a lot earlier than anyone could have predicted. Virtus.Pro will advance into the Lower Brackets, where they will go up against LGD.
TI5 results and summaries – EHOME (0:2) ViCi Gaming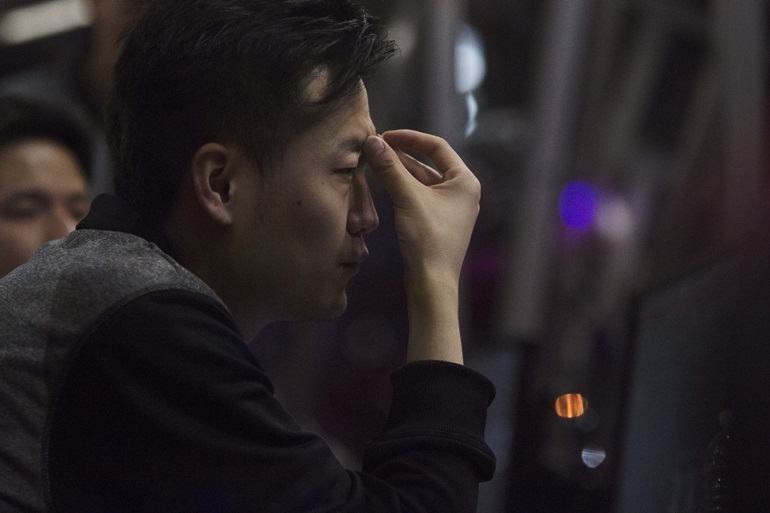 Game 1
ViCi Gaming took a surprise Zeus offlane and combined it with a Pugna. The two core roles worked out very well for VG as they were able to put constant pressure on EHOME.
Chen "Cty" Tianyu played an insane early game on Lina, grabbing kills and surviving with low HP almost all of the time. It was just not enough for EHOME, as the other members were constantly being picked off in team fights.
This game was based more on nuke damage than on the heavy carry-based game that has been more typical. With VG's high magic damage and pushing power lineup, they were able to slowly chip away at EHOME's base. After almost one hour, the game was over with ViCi Gaming taking the first victory.
TI5 results: ViCi Gaming seized control of the first game, giving EHOME a slow but sure loss to start the series.
Game 2
The second game started with early aggression coming out from both teams. There were a lot of rotations by the cores on both teams moving in and joining fights by 10 minutes into the game. Some of Yang "Zyf" Pu's Gyrocopter rotations didn't pay off and got him killed especially in early game, limiting his ability to gain farm and items quickly.
Although EHOME had a better early game, it didn't go that well for them overall and they would start to lose it as mid-game approached. The game went back and forth and many fights broke out. EHOME were able to hold themselves strong and even win some of the fights with four-man wipes on ViCi Gaming. It looked as if they might have been able to stage a comeback and created exciting moments in the match.
This would end up being one of the string of unfortunate Storm Spirit versus Anti-Mage games that AM would take victory for. Xie "Super" Junhao had a really great game going 14:2:14 and managed to grab the core items on him really quickly, creating a lot of space for Chen "Hao" Zhihao's Anti-Mage.
TI5 results: ViCi Gaming took the series in a clean sweep, eliminating EHOME from the tournament. ViCi Gaming will continue in the Lower Brackets tomorrow.

















ViCi Gaming at TI5





















Click on one of the pictures to open the gallery.
TI5 schedule, day 5, August 7
The five remaining teams will fight to stay alive until the last day of the main event. According to the TI5 schedule, the fifth day will kick off with the second Lower Bracket Round 4 series, followed by the Upper Bracket Finals and the fifth round of the Lower Brackets.

TI5 main event format
Sixteen teams compete in a best-of-three double-elimination bracket, with a best-of-five grand final. Bracket placements were decided through group stage results. The first four Lower Bracket confrontations were best-of-one elimination series.
TI5 results, main event, day 1: LGD, CDEC thrive, Na'Vi, Newbee, Fnatic, MVP.Hot6 eliminated
TI5 results, main event, day 2: Empire and Cloud 9 eliminated, Secret sent to the Lower Brackets
TI5 results, main event, day 3: Invictus Gaming, compLexity eliminated; CDEC, EG advance to the Upper Bracket finals
TI5 prize pool breakdown
The TI5 prize pool has reached a staggering total of $18,150,117.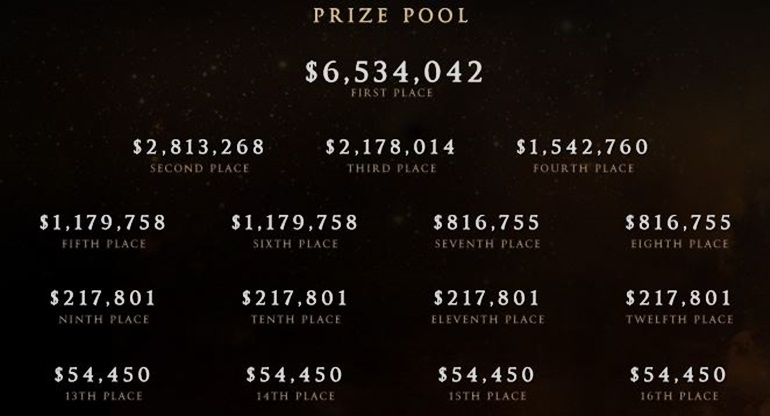 TI5 main event streams*
*According to the TI5 schedule, the Main Event broadcasts start every day, August 3rd through 8th, at 19:00 CEST.