Twelve teams were left with the chance to seize the Aegis of Champions, after yesterday's surprising TI5 results. The second day of The International 5 main event started off with the two remaining best-of-three series from the first round of the Upper Brackets. The spotlight was then shifted onto the Lower Brackets, where two more teams were knocked out of the competition.
UPDATE (August 9):
Evil Geniuses are your TI5 champions! Grand Finals VODS, summaries, pictures and highlights: here.
Evil Geniuses managed to upset compLexity Gaming, 2:0, and will advance into the Upper Brackets, where they will go up against EHOME next.
Group stage revelation – North American team compLexity Gaming, were sent to the Lower Brackets, where they will face Virtus.Pro, on August 5th.
The series was unfortunately interrupted by a 90-minute-long pause, due to alleged DDoS attacks.
In a surprising turn of events, odds favorites, fan favorites, and every analyst's sweetheart, Team Secret, were sent to the Lower Brackets by TI5 Chinese qualifier winners EHOME, with a convincing 2:0 score. Secret are now forced to overcome Invictus Gaming, in order to remain in the competition.
EHOME have advanced into the Upper Brackets, where they will square off EG next.
In dramatic confrontations, both Team Empire and Cloud 9 were eliminated, 2:0.
MVP.Phoenix and Vici Gaming will move forward to face off each other in the Lower Brackets.
TI5 brackets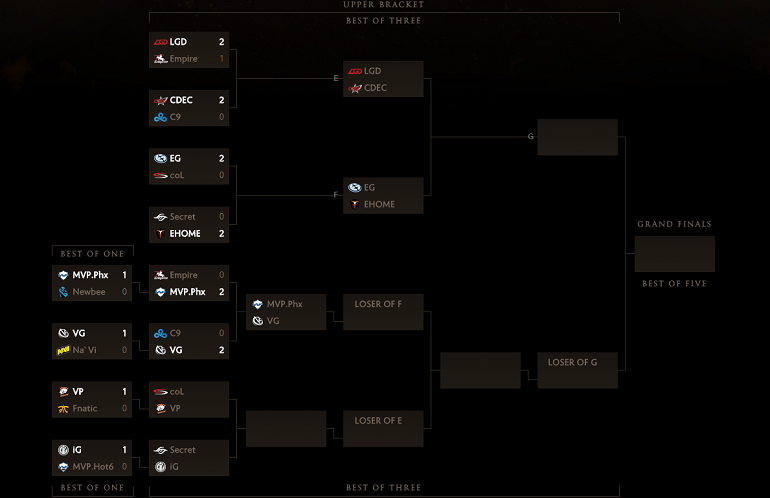 TI5 results and summaries – Evil Geniuses (2:0) compLexity Gaming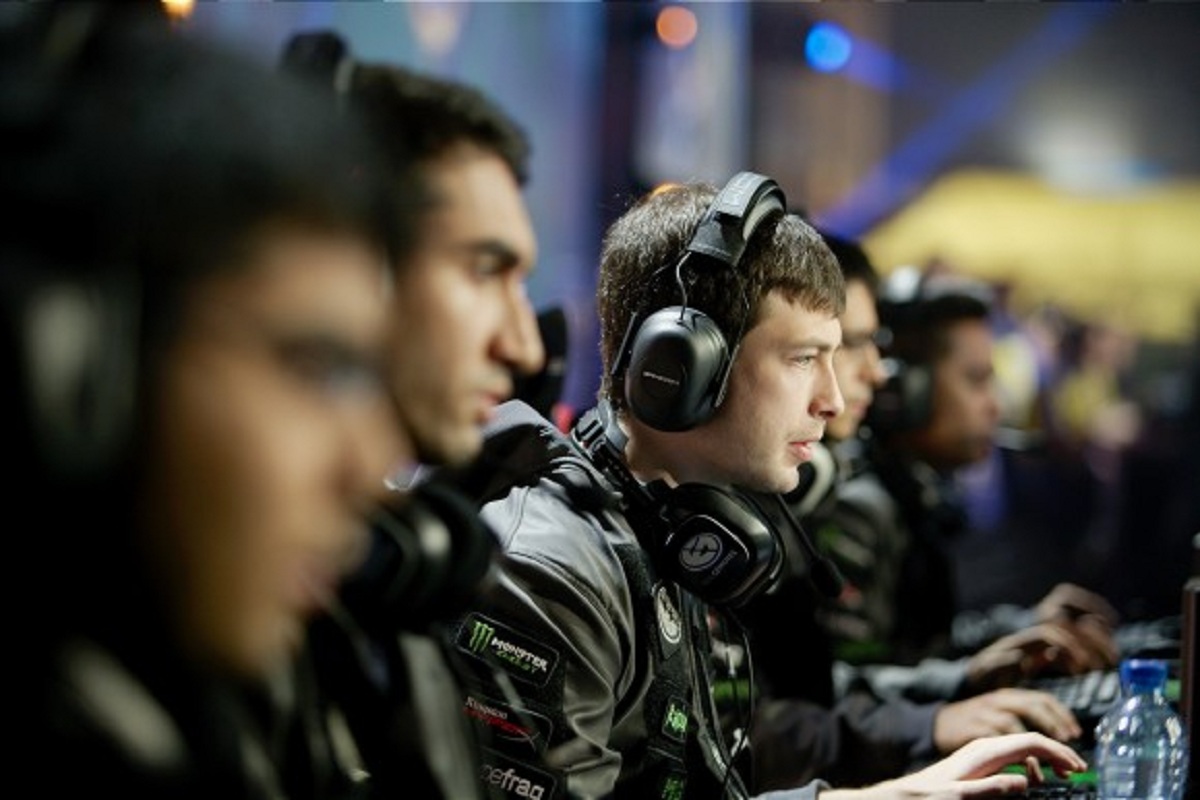 VOD: EG vs. coL
Game 1
At the beginning of the first game, three of compLexity's heroes ganked Syed "SumaiL" Sumail Hassan on the mid-lane. The creeps got the kill credit, and an additional collective kill on SumaiL followed soon afterwards. compLexity were making all the moves on the map, while EG were merely reacting to their initiations.
Kyle "swindlemelonzz" Freedman's Queen of Pain was beautifully executed, and managed to win on the mid-lane against SumaiL. EG's SumaiL is usually very aggressive when he gets the farm he needs. During the early game though, he fell behind.
compLexity's Queen of Pain got aghanim's scepter by minute 13. compLexity got their first Roshan, however, their lineup was completely geared towards early game. It became obvious they did not want the game to go into late game, because their Clinkz was not going to be able to be a match for EG's Anti Mage. After aghanim's scepter, swindlemelonzz went for a soul booster – an unusual item build. Later on, without Orchid on QoP or Clinkz, coL would struggle to stop Fear from split pushing. On top of that, Universe got his dagger and began creating some space for SumaiL to farm, so he slowly but steadily started to come back in the game.
Although compLexity did well in the early game, an extended 90-minute-long pause due to alleged DDoS attacks completely disrupted their momentum. Upon resuming, they did not have the tools to fight back Clinton "Fear" Loomis on Anti Mage. EG took full barracks with ease, even though compLexity refused to surrender until the bitter end.
TI5 results: Evil Geniuses take game 1.
Game 2
compLexity claimed first blood right out of the gate on the bottom lane and followed up with another kill on the top lane, on Fear's Razer. Evil Geniuses would reply to compLexity's aggression fairly quickly, with favorable fights and kills of their own.
SumaiL had an incredible game. An astounding amount of damage came out of his Ember Spirit, eradicating heroes with minimal hits. By the end, he reached a total score of 22:3:12.
Evil Geniuses were able to run through compLexity's lineup. Even when compLexity managed to remove Ember Spirit from the equation, they were not able to break through Evil Geniuses' team-play and skill. A fight on the mid-lane around minute 38 would kill SumaiL with no buyback available, opening up the opportunity that compLexity needed to turn the game around. A fantastic snowball by Saahil "UNiVeRsE" Arora would result in a team wipe on compLexity instead.
Evil Geniuses were able to head down mid and take the barracks and the second victory.
TI5 results: Evil Geniuses bested compLexity Gaming, 2:0, and will move forward into the Upper Brackets. compLexity Gaming have dropped into the Lower Brackets, where they will go up against Virtus.Pro tomorrow.
TI5 results and summaries – Team Secret (0:2) EHOME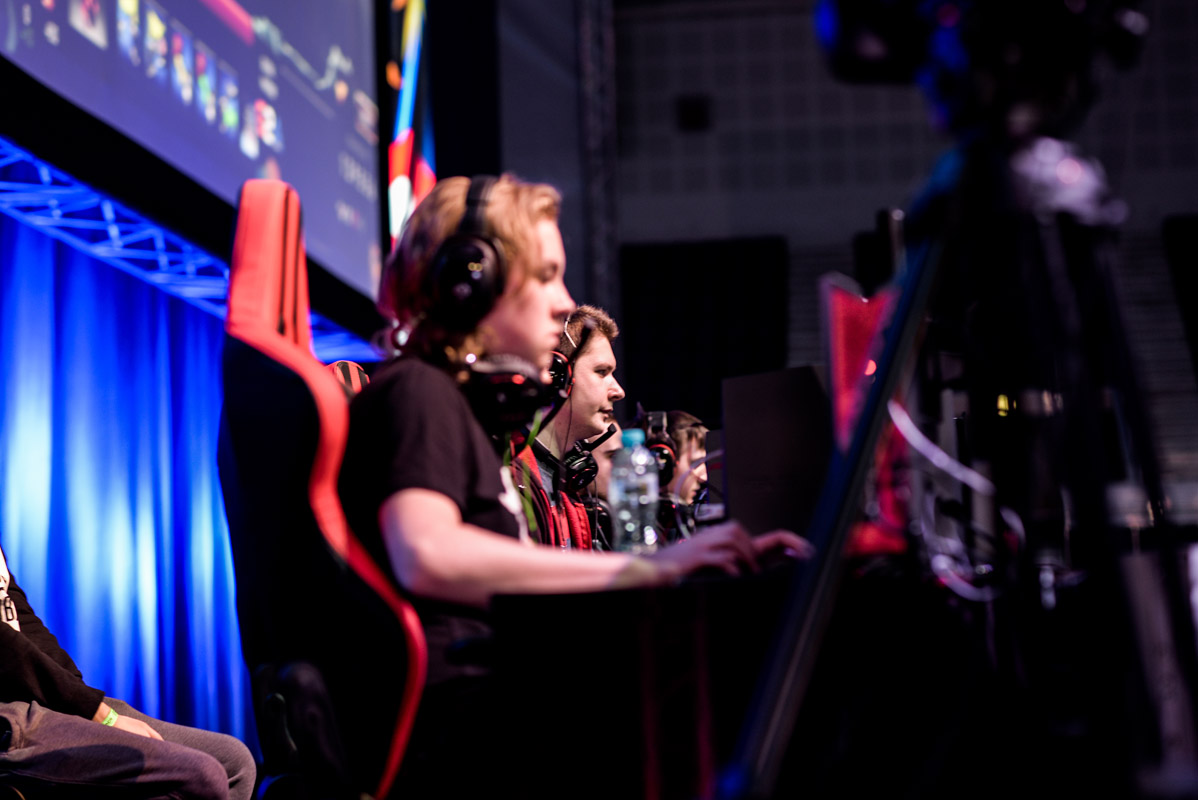 VOD: Secret vs. EHOME
Game 1
EHOME started off with a lineup packed with heroes fit to push fights: Gyrocopter, Winter Wyvern, Bounty Hunter, Storm Spirit, Phoenix. Secret took a rather unusual approach draft-wise: Shadow Fiend, Dazzle, Bane, Spirit Breaker, Viper. Early aggression kicked off the first game of the series from the very first minute, when Kuroky drew first blood. It ended up being a relatively even trade-off, as EHOME got a kill on Secret immediately afterwards.
Secret started to pull ahead early on, by staying on top of the farming charts. EHOME were having a difficult time killing Secret's lineup early on, because of the natural tankiness of all their heroes. By minute 10, Secret were ahead in net-worth by 4K gold and 3K experience. They kept galloping throughout the map, showing no mercy and taking objective after objective. Their counter-initiations were incredibly strong during the early game. At minute 16, Arteezy reached level 16 and finished his BKB. Secret's Shadow Fiend was immune at this point in the game, 3K ahead of any other hero on the map. They marched down on Roshan, while EHOME were desperately trying to push up lanes.
At minute 22, EHOME found their first good fight that would prove game changing in the long run. Secret managed to salvage the fight and turn it into a 3:2 trade. However, EHOME would start to hunt Secret down. A momentful shift occurred around minute 31, when EHOME – with all their late-game items on – started evening out the game. The map control that Secret had been scrapping throughout the entire game was wiped out at minute 39, when EHOME came in on top in a fight. That was all it took for the Chinese to snowball. Their Storm Spirit-Bounty Hunter combo was too much for Secret to deal with. EHOME continued to muscle in and take racks, while the KeyArena crowd chanted their name. Secret called "GG" at aminute 47, after getting team-wiped.
TI5 results: EHOME lead Team Secret, 1:0.
Game 2
EHOME started the second game of the series with a very balanced and versatile draft: Gyrocopter, Dark Seer – one of rOtk's signature heroes – Rubick, Templar Assassin, and Night Stalker. Secret went for Shadow Fiend, Anti Mage, Dazzle, Witch Doctor, and Axe. It became apparent from the very beginning that it wasn't going to be an easy game for zai's Axe. Secret took the first blood 30 seconds into the game. EHOME's Cty started winning his lane slowly, but steadily, during the early game. Secret pushed it to the limit with their farming advantage and EHOME capitalized on every single vulnerability they showed. However, Secret kept bouncing right back every time. It seemed like they were inviting EHOME to come to them – slighlty shying away of engaging and initiating.
By minute 12, EHOME had already taken the lead. While Secret managed some decent engages, the Chinese had the stronger fighting lineup and were helped by the fact that they had full control of the map, as opposed to Secret, who had fallen behind in the vision department. EHOME were superior in almost every aspect of the game – vision, hero movement, smokes, rotations – and were ready to rumble. rOtk – the man of the game, kept his team on top in every team fight. At minute 17, EHOME increased their advantage after picking off three of Secret's heroes.
Around minute 24, Secret went in a team fight with overall good placement and were able to come out on top and start taking some map control back. However, EHOME kept farming consistently and were still ahead by 9K. Secret wanted to shove in the lanes, and extend the game and the team fights for as lon as they could. On the other side, EHOME didn't want to risk getting picked off, since Arteezy could go for split push at any time. Thirty minutes in, it still could have been anyone's game. Two minutes later, however, EHOME executed three of Secret's heroes in their own base and started to zero in a crushing 2:0 upset. Secret were running out of options and were forced to call "GG" at minute 38. The crowd chanted "EHOME" as the teams exited the pods and Team Secret was sent to the Lower Brackets.
TI5 results: Chinese qualifier winners EHOME took down TI5 odds-on favorites Team Secret, 2:0. EHOME will continue their International 5 journey in the Upper Brackets, while Team Secret were sent to the Lower Brackets, where they will face Invictus Gaming.
Secret is the number one team in the world and we are only a young team. This is very exciting for us. We trained every day, we came in early every morning and watched every replay. We tried our best to learn how to defeat Secret. And then we did.

– rOtk, during the post-game interview
TI5 results and summaries – Team Empire (0:2) MVP.Phoenix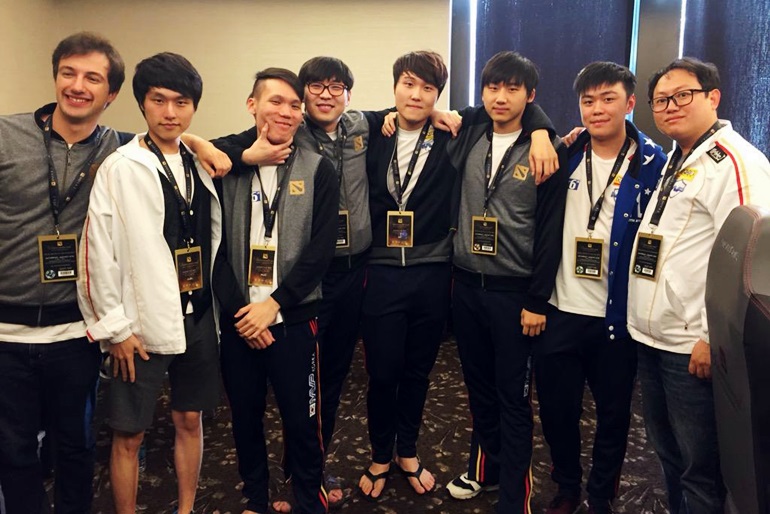 Game 1
MVP.Phoenix kicked off the first game of the best-of-three elimination series with an exciting Io – Bristleback combo, followed by Lion, Templar Assassin, and Lina. Team Empire seemed to have dedicated three heroes to countering MVP's Io. The Russians drafted Queen of Pain, Winter Wyvern, Witch Doctor, Razor, and Shadow Fiend. Empire started out on top and drew first blood, followed by a second consecutive kill. Nine minutes into the game, they were leading by 9:2.
First indication that the faith of the game was about to turn came around minute 14, when Empire started to show vulnerability in a back and forth team fight. MVP's Io bought back to help Bristleback, and the Koreans started to even out the game. Two minutes later, they managed a fantastic performance in their own jungle, taking down three of Empire's heroes. The Koreans headed for Roshan and began closing in. Another favorable team fight for MVP, at minute 20, turned into a massive breakaway for them, as they ended up stealing the lead. Their over-charged Templar Assassin was extremely good at pushing towers. However, Team Empire concentrated a lot on dealing with the Io, and somewhat neglected the TA.
The Koreans pulled ahead after taking another Roshan and managed a full team-wipe on Empire, at minute 30. Buybacks came out from Empire as they started chasing MVP's QO – who responded with spectacular plays. Flat out outplayed, Empire started to fall apart. "GG" was called 34 minutes into the game.
TI5 results: MVP.Phoenix first took down defending champions Newbee, yesterday, and are now leading Team Empire 1:0 in the best-of-three elimination series.
Game 2
In the second game of the knockout series, MVP.Phoenix started off with Bounty Hunter, Spirit Breaker, Witch Doctor, Phantom Lancer, and Lina, while Team Empire drafted Undying, Tusk, Templar Assassin, Bane, Anti Mage. The Koreans drew first blood almost immediately after the game kicked off. It would be another eight minutes until other kills were added to the scoreboard. Both teams focused on farming, while avoiding each other on the map.
Around 9 minutes into the game, MVP's QA started to show signs he was going to repeat the stellar performance from the previous game, this time on Lina. Minutes later, MVP started to clearly pull ahead, by out-numbering Team Empire in team fights, running them down, killing them off.
At minute 15, Team Empire came back into a fight and managed to get a fare few kills onto the board. It was enough for them to start closing in on MVP's 10K early game lead. It wouldn't be long until the Russians took control of the game, thanks to incredible performances by Silent and Yoky. They got a massive win under their belt, plenty of kills, Undying was getting a lot of items, the charts were back to even.
Empire's efforts were not enough to counter QA's Lina and NuTz' Witch Doctor. After getting team wiped at minute 40, Empire called "GG", becoming the fifth team to leave the competition.
TI5 results: MVP.Phoenix eliminated Team Empire, 2:0, and will be moving forward into the Lower Brackets. The Koreans are already guaranteed a top-8 finish (at least +$800,000).
We're not taking this like it's The International, we're here to enjoy and play some good Dota. The pressure's off. (…) Before leaving for Seattle, I told my parents in a jokingly manner that I would give them half my money, but I'm starting to reconsider, I didn't think we would get so far. (laughs) Now since we're in top eight, we might as well go for top four. We're here anyway. (laughs)

– March, during his post-game interview
TI5 results and summaries – Cloud 9 (0:2) ViCi Gaming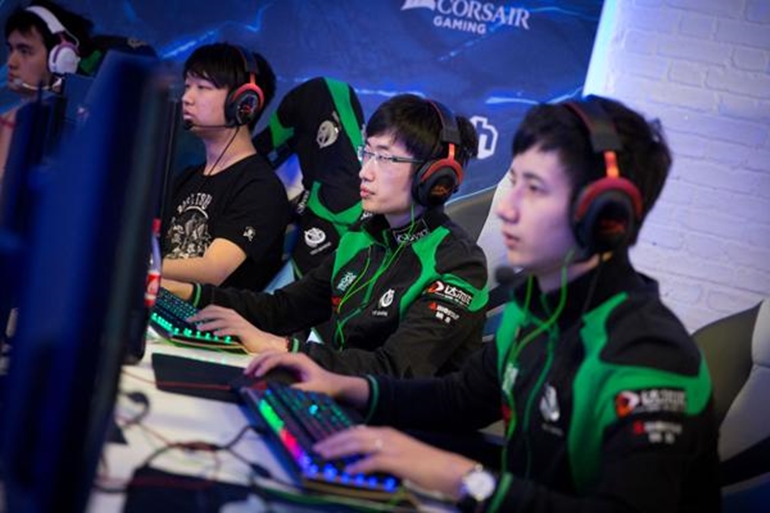 Game 1
The first game of this survival of the fittest series would see Vici Gaming giving Xu "fy" Linsen his signature Rubick, while Cloud 9 drafted Johan "BigDaddy" Sundstein his notable Io. After an even laning phase, this first game would turn into a thrill-and-kill game, minute by minute. With back and forth aggression, even exchanges and heart stopping plays, there would be over 40 kills on the board by 25 minutes into the game. At minute 30, Cloud 9 were leading by over 15K net-worth and had already broken high ground.
Vici Gaming continued to play aggressively, looking for opportunities and attacking with incredibly synchronized combos. At minute 38, one of many amazing plays by fy would almost completely wipe out Cloud 9 and threaten their lead. With fy now stealing Super Nova into nightmare, VG took another favorable team fight and gained 6.6K gold. After stealing three consecutive game changing ultimates, Chen "Hao" Zhihao would gain the farm and the momentum he needed to shoot up towards the top of the net-worth charts and become an incredible threat.
By outplaying Cloud 9 in all of the team fights and thanks to some unbelievable spell steals coming out from fy, Vici Gaming made their way back into the game. Over one hour into the game, VG had a 10K gold lead – a gain of over 25K in the previous 30 minutes. Around minute 70, Cloud 9 went for a base race. They went for a hail mary play, attacking the throne, but ended up getting three-man wiped with no available buybacks, giving Vici Gaming the opening to end the game.
TI5 results: ViCi Gaming would make an epic comeback to take the first game from Cloud 9 and lead 1:0 in the best-of-three elimination series.
Game 2
The second game would see the return of Sniper on Vici Gaming's lineup – who would definitely make his presence known in the game once again and pay off later for the Chinese team. Paired with Hao on Gyrocopter, Vici Gaming's late game started to look very threatening straight from the beginning. They started very aggressively, trying to ensure an early advantage. Hao took first blood on Jacky "Eternal Envy" Mao on bottom lane and a nice rotation by Lu "Fenrir" Chao on his praised Earthshaker would help secure a second kill on Adrian "FATA-" Trinks' Shadow Fiend, on the mid lane.
An incredible wall-vacuum-fissure coordination on the mid lane was executed to perfection by Vici Gaming, demonstrating just how synchronized this team can be. With spot on timings, team fights consistently ended in their favor. Vici Gaming dominated every aspect of the game and took the victory in 29 minutes, with a total score of 33:11.
TI5 results: Vici Gaming eliminated Cloud 9, 2:0, and will be moving forward in the Lower Brackets. Vici Gaming is already guaranteed a top-8 finish (at least +$800,000).
TI5 schedule, day 3, August 5

TI5 main event format
Sixteen teams compete in a best-of-three double-elimination bracket, with a best-of-five grand final. Bracket placements were decided through group stage results. The first four Lower Bracket confrontations were best-of-one elimination series.
TI5 prize pool breakdown
The TI5 prize pool has reached a staggering total of $18,048,880.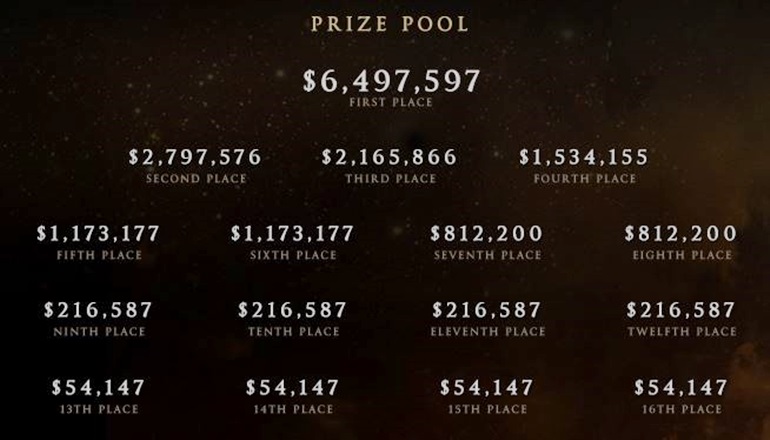 TI5 main event streams*
*According to the TI5 schedule, the Main Event broadcasts start every day, August 3rd through 8th, at 19:00 CEST