OG continue to prove they are one of the most versatile and adaptable teams in the scene as they are the first to advance to the grand finals of Elimination Mode 3.0. The two time Major winning team will represent Europe in the final showdown – hoping to claim a second victory in the popular tournament mode. OG bested EG 3:2 in the last iteration back in November. The Americas are still playing out their brackets tonight and tomorrow. The grand finals will be on February 17th at 18:00 CET.
2-0. We advance to the Grand Finals later this week! pic.twitter.com/soPAknzkEz

— OG (@OGDota2) February 13, 2017
Elimination Mode 3.0 will bear witness to OG representing Europe in the Grand Finals.
This will be the second time the team has advanced into the unconventional tournament series – taking the championship title in November after defeating Evil Geniuses 3:2.
Eight teams – four from NA and four from EU starting out competing for the $25,000 prize pool and to claim regional dominance once and for all.
OG dominated over Alliance in the first round with a 2:0 sweep, then continued to outplay Ad Finem 2:1. Although Alliance fought valiantly through the lower brackets to seek revenge on the European mix, they were once again no match for OG as they failed to claim a single victory against them.
North America is still in the early stages of the series. No teams have been eliminated yet, with tonight marking the first as Team Freedom takes on WanteD to keep their hopes alive.
Team Onyx and compLexity Gaming will battle it out in the upper brackets as the matches continue to progress.
In the end, on February 17th, it will be a best-of-five series between EU and NA – proving which region is truly king.
Elimination Mode
Moonduck Studios, in partnership with Twitch TV, has announced another iteration the studio's fun and offbeat tournament – Elimination Mode. The event is played in an alternative game mode, in which heroes can only be banned or picked once per series.
Community bans will return once again. This time 30 heroes will be removed instead of 10 each day – excluding the grand finals. The first poll will open 36 houurs before the first match starts.
Elimination Mode 3.0 teams
OG
Alliance
Ad Finem
NiP
Team Freedom
Onyx
compLexity Gaming
WanteD
Elimination Mode 3.0 brackets

Elimination Mode 3.0 schedule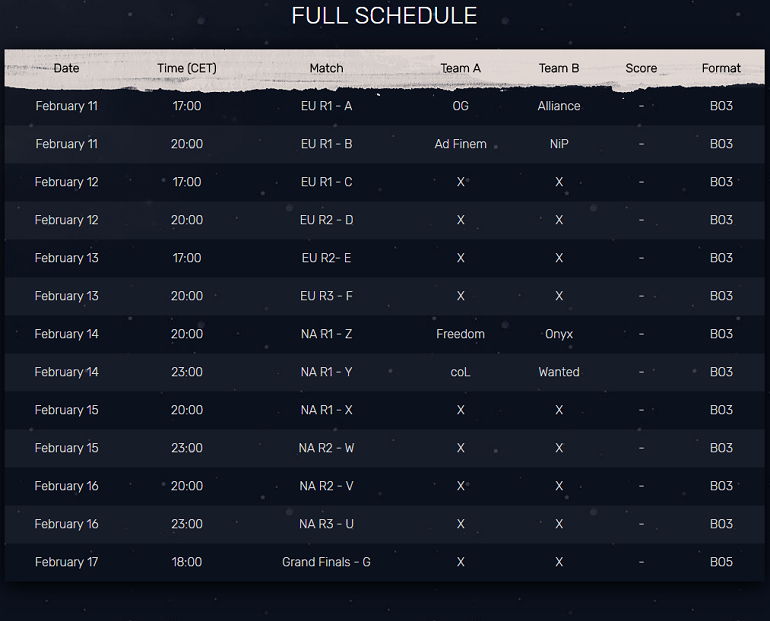 Elimination Mode 3.0 prize pool
The total prize pool of $20,000 will be split as follows:
1st place: $10,000
2nd place: $6,000
3rd/4th place: $2,000