Over 160 teams from the North American region checked in for the ESL One New York Open Qualifiers, yesterday. Only 16 remained by the end of the day and will move forward to the quarter finals. The remaining teams will compete for one of the four available spots in the ESL One New York North American Main Qualifiers.
We reach the end of the first day of #ESLOne NY NA Open Qualifiers! Check who made it until RO16 here: http://t.co/3bBEq5EnKX

— ESL Dota2 (@ESLDota2) August 30, 2015
Many known teams and mixes of professional players have been vying for a chance to become one of the three teams to advance to the ESL One New York North American Main Qualifiers and then hoping to continue to be the one to represent the region in the main event.
The main event will take place at the Madison Square Garden, on October 3rd and 4th, with a base prize pool of $250,000.
Last weekend the European and SEA open qualifiers were held. Artur "Goblak" Kostenko's stack, "newteam123123″, Golden Boys (formerly London Conspiracy) and Abraxas claimed the three spots for Europe.
In the SEA region Soundblaster BackTick from Malaysia, Kingdom from Singapore, Team B from the Philippines and Team Underminer from Malaysia were the four teams to advance.
ESL One New York North American Open Qualifiers: Round of 16 teams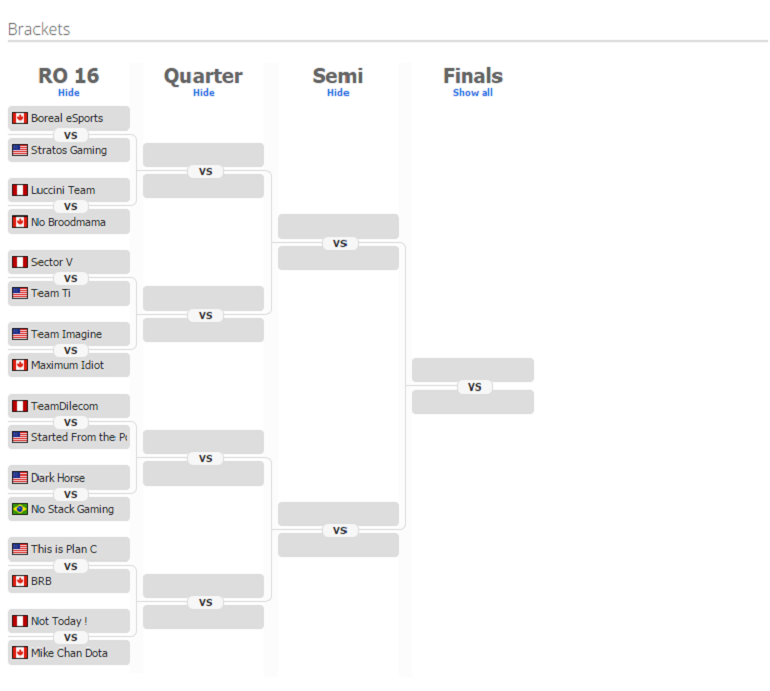 Familiar teams and players include:
Boreal Esports – the Canadian team that has had a strong presence in the NA region. They participated in the TI5 North American Open Qualifiers and came in second place in the Dota 2 Canada Cup Season 5.
Team Imagine – formerly Team Leviathan, the North American team was picked up earlier in August by the LOL organization.
Not Today – Only announced yesterday, the composition of the team participating in the open qualifiers includes five new, un-named players.
Sector V – Juan "VaNn" Tito, Freddy "SmAsH" Sina, Steven "StingeR" Vargas have recently left the Peruvian team Not Today and are currently playing in the open qualifiers along with other former Not Today members – Ricardo "Mstco" Román and Alex "Masoku" Dávila.
Team Dark Horse – Arif "MSS" Anwa, raxton "Brax" Paulson, Theeban "1437" Siva, and "ritsu" have been playing as a stack, giving some credibility to the rumors of the players forming a new team. There has been no official word from any of the players nor official announcement from either Team Archon or Summer's Rift about the departure of MSS or Brax.
Mike Chan Team – Steven "Korok" Ashworth appears to be playing in this new Canadian stack, however there has been no official word from Team Archon or Steven.
Team Dilecom – appears to be a mix of former Union Gaming players including Benjamin "Benjaz" Lanao Barrios, Diego "Jericho" Rivera, Leonardo "LeoStyle" Sifuentes plus Bruno "Darky" Vieira from Brazil
ESL One New York Open Qualifiers: North America
Dates: Saturday, August 29th – Sunday, August 30th
Teams need to sign up in order to compete in the Open Qualifiers.
Structure: Single elimination
Top 4 teams will advance to the ESL One New York North American Main Qualifier.
All games before the Round of 16 will be played on Saturday, August 29th, as best-of-one series. The games from Round of 16 to the finals will be played on Sunday, August 30th, as best-of-three series.
Each team has 15 minutes to show up to a match (match date +15 minutes). Showing up after 15 minutes results in a default loss.
Teams are not allowed to change players after the start of a match.
The use of stand-ins is allowed. All players must be registered on the ESL website and assigned to the team they are playing for (including stand-ins). The use of unregistered players on a match may result in a default loss.
In the same game, the total pause time can't be longer than 10 minutes.
If a player drops or is lagging duo to a DDOS attack, the pause rule is applied. There are no exceptions for DDOS attacks. It's the player's responsibility to protect himself against DDOS attacks.
Other rules are available here.
ESL One New York
ESL One New York will be held between October 3rd and 4th at the Madison Square Garden. This year's event will feature a starting prize-pool of $250,000, almost double the final amount of last year's prize fund. Team Secret has been the first team to be invited so far. Other invited teams have not yet been announced, although many expect to see the reigning champions ViCi Gaming in attendance.