The Manila Major SEA Qualifiers kick off on Tuesday, May 3rd, at 04:00 CEST. The eight invited teams, along with two qualified ones, will compete over the coveted spot at the Dota Major of the spring season.

Get up to speed with the Manila Major SEA Qualifiers schedule, participating teams, format, groups, and streams!

Ten teams – Mineski, Rave, Orange Taring, WarriorsGaming.Unity, Acion Arena, Signature.Trust, Execration, The Mongol, TnC and Next-Gen Gaming – will be competing to represent Southeast Asia at the Manila Major.
The Manila Major will be held between June 7-12, at the Mall of Asia Arena, in Manila, Philippines, with a set prize-pool of $3,000,000. Sixteen teams will compete in the main event hosted by PGL and Valve.
Team Secret, Team Liquid, Evil Geniuses, MVP.Phoenix, Wings Gaming, ViCi Gaming Reborn, Fnatic, OG, compLexity Gaming, Alliance, Na'Vi and LGD Gaming have already been directly invited to the event.

Manila Major SEA Qualifiers format

The ten teams have been divided into two Round Robin groups of five.
Top two teams will advance to a double elimination bracket.
Round robin first place teams will face the second place from the other group.
Grand Final is Best-of-five.
The first place team from the Manila Major SEA Qualifiers will advance to the main event in Manila, Philippines.

Manila Major SEA Qualifiers groups

Group A
Rave
Signature.Trust
Execration
First Departure
TnC eSports (Winner of SEA Open Qualifiers #1)
Group B
Mineski
Orange Taring
WarriorsGaming.Unity
Action Arena
Next-Gen Gaming (Winner of the SEA Open Qualifiers #2)


Manila Major SEA Qualifiers schedule

Tuesday, May 3rd

04:00 CEST –WG.Unity vs. AcA
04:00 CEST – Taring vs. NGE
06:30 CEST – Mski vs. Taring
06:30 CEST – NGE vs. WG.Unity
09:00 CEST – Trust vs. TNC
09:00 CEST – XctN vs. Mongolz
11:30 CEST – WG.Unity vs. Mski
11:30 CEST – AcA vs. NGE
14:00 CEST – TNC vs. XctN
14:00 CEST – Rave vs. Trust

Wednesday, May 4th

04:00 CEST – Mski vs. AcA
04:00 CEST – Taring vs. WG.Unity
06:30 CEST – Mongolz vs. TNC
06:30 CEST – XctN vs. Rave
09:00 CEST – Mski vs. NGE
09:00 CEST – AcA vs. Taring
11:30 CEST – Trust vs. XctN
11:30 CEST – Rave vs. Mongolz
14:00 CEST – Rave vs. TNC
14:00 CEST – Mongolz vs. Trust

Manila Major Regional Qualifiers Streams

Manila Major Regional Qualifiers streams: English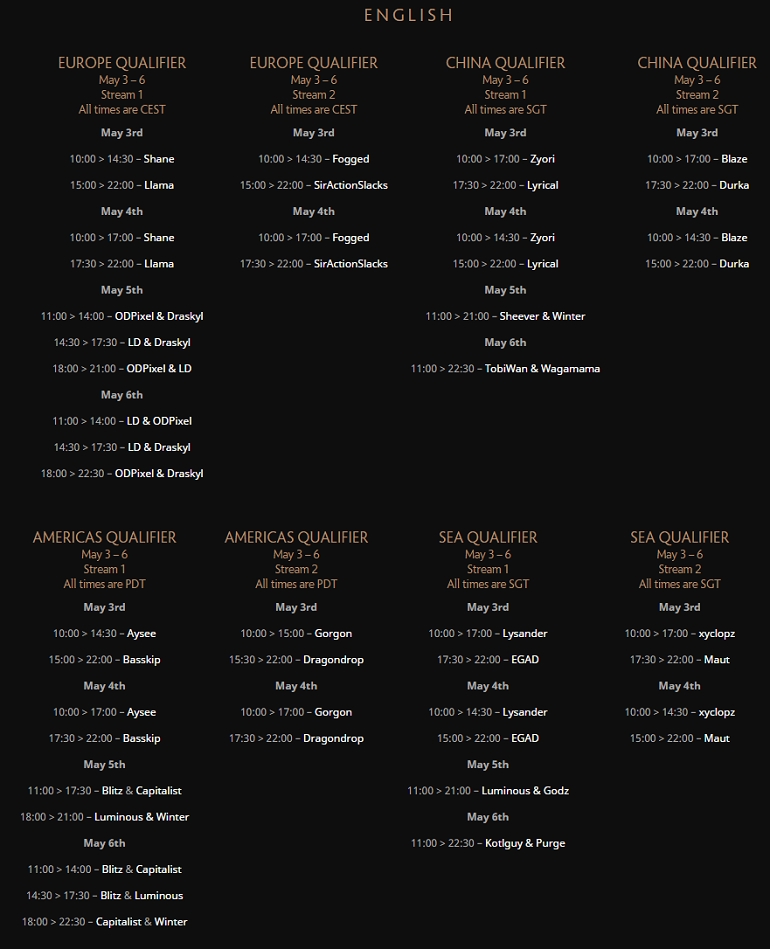 Manila Major Regional Qualifiers streams: Russian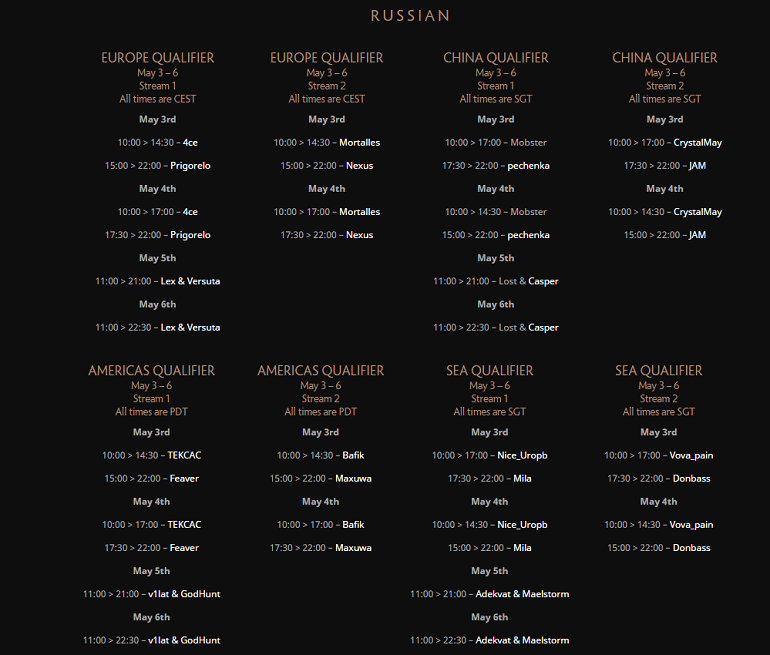 Manila Major Regional Qualifiers streams: Chinese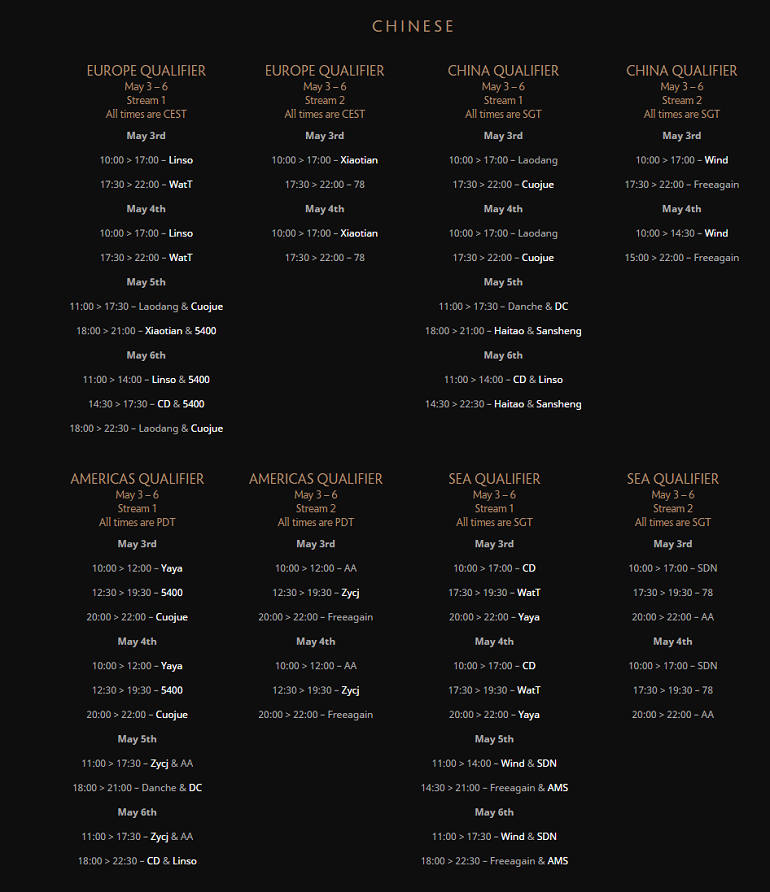 Manila Major SEA Qualifiers teams

TnC Gaming

TnC Gaming, a Dota 2 team from the Philippines, was founded in 2013. On February 2, 2015 TnC announced that their new team was participating in its first major tournament.
The team won first place in Corsair Gaming Arena 2 and 3 and qualified for the MPGL Season 7 LAN finals, where they were eliminated by G-Guard in the Lower Bracket Round 2.
BTS Series 3 SEA came to a spectacular finish at the end of February in an epic decisive fifth game when TnC triumphed over MVP.Phoenix in the last moments.
They were unable to surmount Fnatic's fearsome winning streak and performances in BTS Series 4 SEA as they fell to the Malaysian squad in the grand finals 3:0.
TnC Pro Gaming – the first team to grab a spot in the Manila Major SEA Regional Qualifiers – registered for the open qualifiers when they became ineligible for a direct invite into the Regional Qualifiers for SEA. The Filipino team had brought on board Carlo "Kuku" Palad after the rosters became locked for the new season. Kuku was recruited on April 13th to fill in the shoes of Gio "WinterGSmallSon" de Ocampo who is now inactive due to health reasons.
TnC roster:

Nico "eyyou" Barcelon


John "teehee" Linuel Abanto


Sam "sam_H" Hidalgo


Marc Polo Luis "Raven" Fausto


Carlo "Kuku" Palad


Gio "WinterGSmallSon" De Ocampo – /Sub


Claurice "Klo" Mendoza Sta.Ana – /Sub

Mineski

In the winter season leading up to the Shanghai Major, Mineski was consistently besting the SEA giants, Fnatic, for the qualifier spots in LANs. They were quickly rising to the top in the region and making an international name for themselves. Unable to lock up any major achievements, the Filipino team experienced some roster changes, welcoming Benhur "Ben" Lawis and Jun "Bok" Kanehara to the mix.
In an effort to grow the local scene and showcase regional talent, a local Filipino Dota 2 team was given their own set of qualifiers for ESL One Manila to determine one team to compete alongside some of the best Dota 2 teams in the world. Mineski was able to best their regional rivals, TnC Gaming, 3:1, in the best-of-five grand finals, seizing the place in the main event for the Philippines.
Mineski roster:

Ryan Jay "Bimbo" Qui


Benhur "Ben" Lawis


Jessie Cristy "JessieVash" Cuyco


Jun "Bok" Kanehara


Julius "Julz" De Leon

Signature.Trust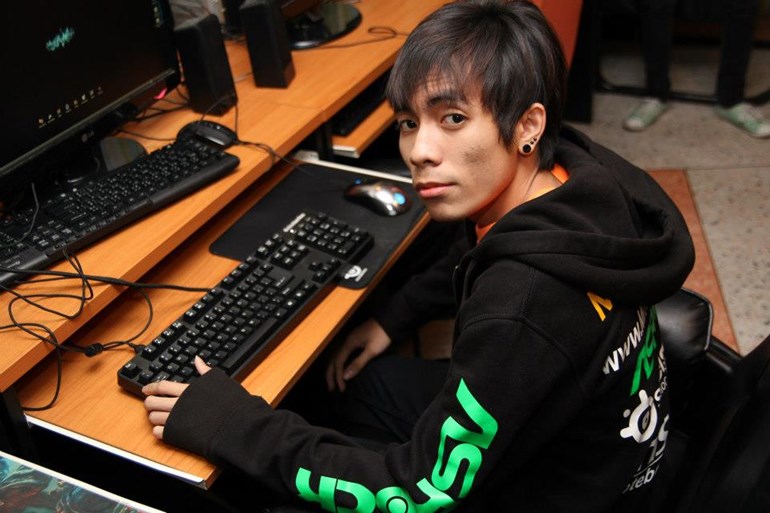 Signature.Trust Esports is a Thai gaming organization. Until January 20th, they played under the MiTH.Trust banner. The team continues to participate in almost all regional events and qualifiers, being a strong force in the area.
Signature.Trust roster:

Pipat "LaKelz" Prariyachat


Kittikorn "MyPro"


Chanon "aabBAA" Chiwpreecha


Anucha "Jab-Kaneki" Jivarong


Anurat "boombell" Praianun

Team SatuDuaTiga/Taring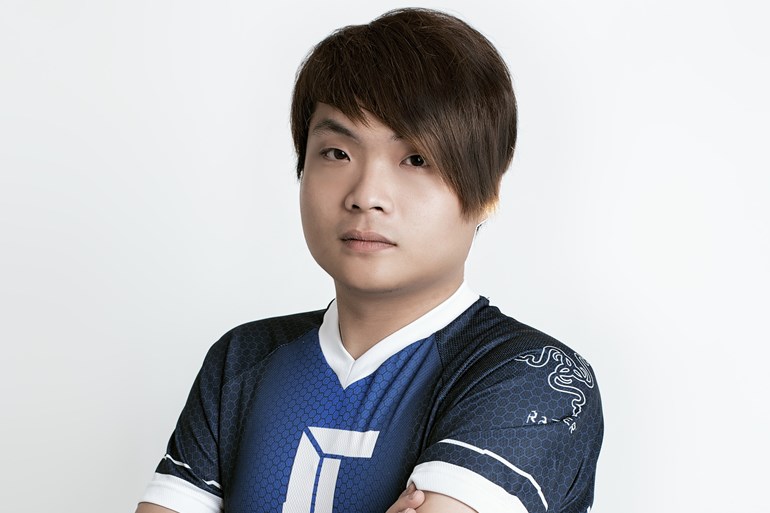 Team SatuDuaTiga was formed in mid June 2015 from mostly from ex-G Guard Esports members. Although they had a few roster changes between their inception and November when they registered for the Majors, the team had quite a bit of success in a short amount of time. They had started to become a strong presence in the region and were creating a lasting image and place for themselves.
On December 13th at the Malaysia Cyber Games 2015, Team SatuDuaTiga triumphed over 63 other Malaysian teams competing for the opportunity and honor to assume the identity of Team Taring.
The winning roster at the event was pronounced Team Taring and received financial support, sponsorship, management team, training and facilities as part of becoming the representatives of Malaysia in Dota 2.
Taring is a Malay word which means fangs. It represents the Tiger in everyone and is the the national animal of Malaysia.
Taring roster:

Chua "Ice" Chee Cai


Ng "YamateH" Wei Poong


Kie "Syeonix" Zizihen


Law Chee "nj" Hoong


Sim "ling" Woi Cheong

Execration

Execration, abbreviated XctN, is a Filipino Dota 2 team.
Execration have undergone some roster issues that made them unstable and unable to attain higher level achievements. They have a strong presence in the local scene and continue to try various compositions for success.
As with Mineski-X, one of their players Mark Adrian "BYB" Gavin was involved in matchfixing in 2014. Valve has required that he be replaced with one of their two substitutes in order to the team to retain their regional qualifier spot and compete for the Manila Major.
Execration roster:

Fernando "Nando" Mendoza


Mark "Shanks" Redira


Kimuel "Kim0" Rodis


Ralph Richard "RR" Peñano


TBD

Rave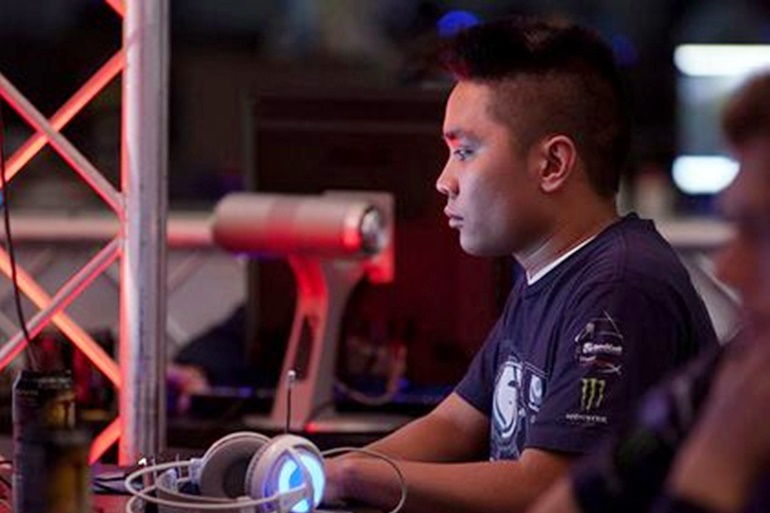 Despite their strong performances in the SEA region and in international tournaments, Rave-Dota disbanded soon after they were eliminated, 0:2, by MVP.Phoenix in the Lower Bracket finals of the TI5 SEA qualifiers.
Later in June, Rave-Dota announced that the organization would be inactive for a period of time.
The organization went on a hiatus for six months before returning. On November 27th, the organization announced their new lineup, featuring all new and local talent from the Philippines.
Their first roster since June 2015 did not produce any achievements and results and, on February 19th, the Filipino team announced the Rave reform via Facebook. To fans' delight, the team will be including former members Michael "Ninjaboogie" Ross, Ryo "Ryoyr" Hasegawa and Jio "Jeyo" Madayag at the end of February and March.
Rave roster:

Ryo "Ryoyr" Hasegawa


JFrederico Micko B. "Derp" Mampusti


Michael "Ninjaboogie" Ross


Rafael "Rapy~" Sicat Palo


Jio "Jeyo" Madayag