The first round of the BTS Americas tournament has come to a conclusion, and the first eight teams have been eliminated from the competition. The two qualified teams – EgamersX and Snakes, have been eliminated along with Union Gaming, Isurus Gaming, Pain, VoidBoys, Boreal and eHug. The remaining teams will continue to compete over the next two weeks.
BTS Americas kicked off on July 1st with Sixteen North and South American teams competing for a $10,000 prize pool, over the course of three weeks.
BTS Americas first round
It is no Surprise to see the TI5 Americas qualifier winner, compLexity, advance, as they swept through EgamersX, 2:0.
Leviathan and Summer's Rift swept through Union Gaming and ISG, respectively.
Peter "Waytosexy" Nguyenteam's Waytostack bested the Canadian team Boreal, 2:1.
The TI5 Americas open qualifier winners Unknown.xiu advanced after defeating Pain/Rebelde, 2:1.
The well known Peruvian team Not Today is still looking strong after sweeping through Void Boys and eliminating them.
The newly branded TI5 wildcard winners, Archon, formerly NARv2, swept through Snakes.
Root Gaming eliminated eHug in a 2:0 sweep.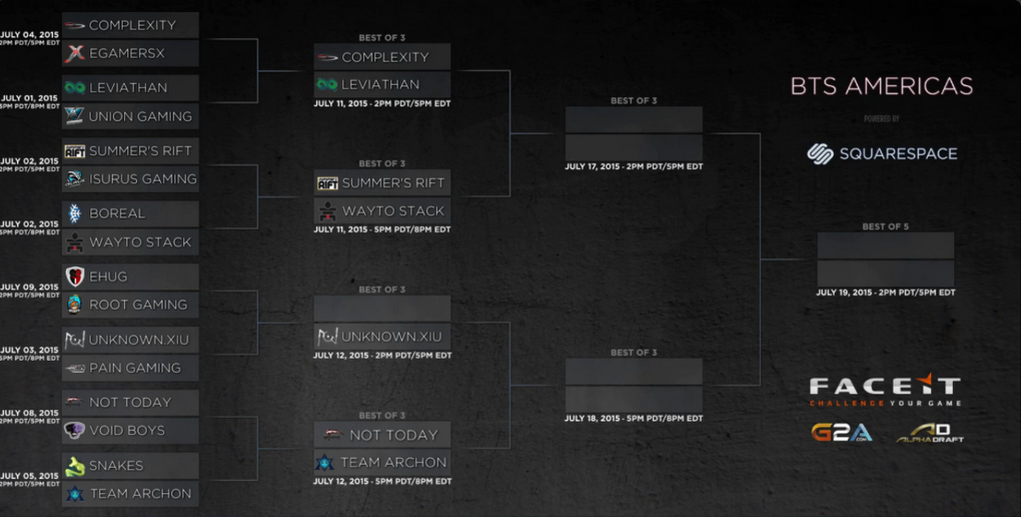 BTS Americas
Fourteen top teams from the Americas were directly invited: compLexity (TI5 Americas Qualifiers winners), North American Rejects (which claimed the TI5 Americas Qualifiers Wild Card slot), Boreal, eHuG, Not Today, Leviathan, Unknown.xiu, Summer's Rift, Isurus, VoidBoys, Union Gaming, Root Gaming, wayto stack (featuring well-known player Waytosexy), and EgamersXRebelde. Teams Rebelde and Snakes qualified through the Open Qualifiers.
BTS Americas prize pool
1st place – $4,500
2nd place – $2,750
3rd place – $1,000
4th place – $1,000
Open Qualifier 1st place – $500
Open Qualifier 2nd place – $250
BTS Americas broadcast
English coverage is available on the Beyond the Summit Twitch channel.