Never at a loss for ideas to support crowdfunding for TI5 prize pool, Valve has released the Aegis of Champions collector's reward for owners of TI5 Compendiums reaching level 1000. . The long awaited Immortal Treasure III is expected to be delivered by the end of the week.
The Collector's Aegis of Champions for Level 1000 Compendium owners http://t.co/Lpx34xzTlA #Dota2 #TI5 #Collectibles pic.twitter.com/xODxG5kJ8h

— Dota 2 (@dota2updates) July 9, 2015
Valve announced the exclusive reward, the 2015 Collector's Aegis of Champions, for those whose Compendiums are level 1000.
The Collector's Aegis is a 1/5th scale alloy replica – with antique brass plating, of the winner's trophy at The International. Inscribed on the back with the year and a gold finished insignia signifying this year's theme, the Collector's Aegis is a symbol to reward those whose Compendium Level has reached 1000.
The Aegis will be shipped after the Grand Finals of The International to all players meeting the level requirement. Compendium owners have right until the last moments of the Grand Finals to secure themselves the reward. Once the compendium reaches level 1000, owners need to register and provide their shipping information.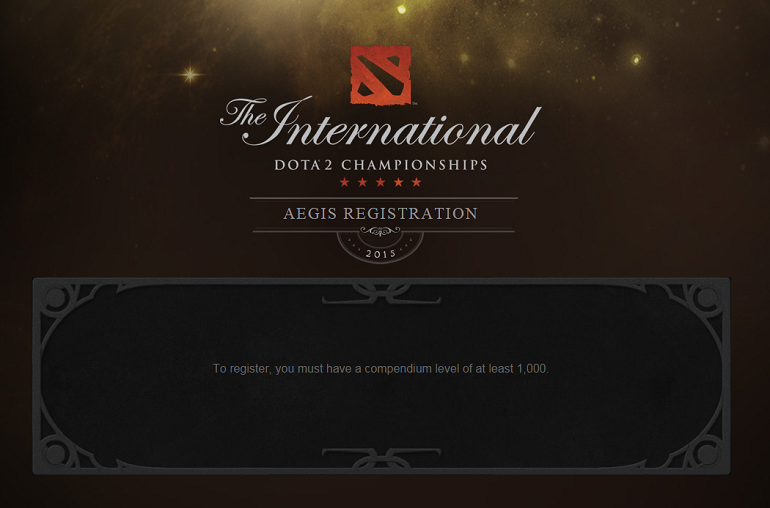 As an additional reward, "when in a Dota match, the Aegis of Champions in the player's fountain will have a special glow effect that lasts until the next International."
TI5 prize pool
The International 2015 has become the biggest event in Dota's history, and one of the largest events in competitive gaming. This wouldn't be possible without the continued support and passion from everyone in the Dota community.
The cost to level a compendium up to 1000 is approximately $420. Fans can expect to see a spike in the prize pool with the release of the new reward and potentially new stretch goals, as the current prize fund is now over a staggering $15,500,000.

TI5 Immortal Treasure III
Valve has also stated that the long awaited Immortal Treasure III is almost ready for release. Compendium owners can expect it to be delivered by the end of the week.