DreamHack Moscow day 1 of the Game Show Global eSports Cup has ended with MVP.Phoenix being the first team eliminated. Team Empire have advanced to the Grand Finals, while Vega Squadron and 4CL will fight to advance to face Team Empire in the Grand Finals. The action resumes from DreamHack Moscow tomorrow with the Lower Bracket best-of-three finals between Vega and 4CL, followed by the Grand Finals featuring Team Empire.
Days ago, Game Show Global Esports Cup studio Lan in Vilnius had come to a close. 4CL, Team Empire, Vega and MVP.Phoenix headed to Dreamhack in Moscow to compete in the finals.
The four qualified teams started out the weekend battling for the $125,000 first place prize money and the championship title. Only three teams will continue to advance tomorrow, as MVP.Phoenix were eliminated by Vega Squadron 0:2.
4Clovers & Lepricon swept through MVP.Phoenix in the first round of the Upper Bracket matches 2:0. The first match was complete devastation for MVP.Phoenix as the European team easily took the victory in 30 minutes. The second match was a bit more even and back and forth. In the end, 4CL would take the victory with Per Anders Olsson "Pajkatt" Lille having two flawless games in the series.
The second series of the day was a clash of the CIS teams. The first match was an intense 50 minute go around with Alexander "XBOCT" Dashkevich strutting his stuff on Gyrocopter and claiming the victory. The second match was much more one sided in favor of Team Empire with another great performance by XBOCT. Team Empire swept through Vega Squadron 2:0, sending their CIS counterpart to the lower brackets.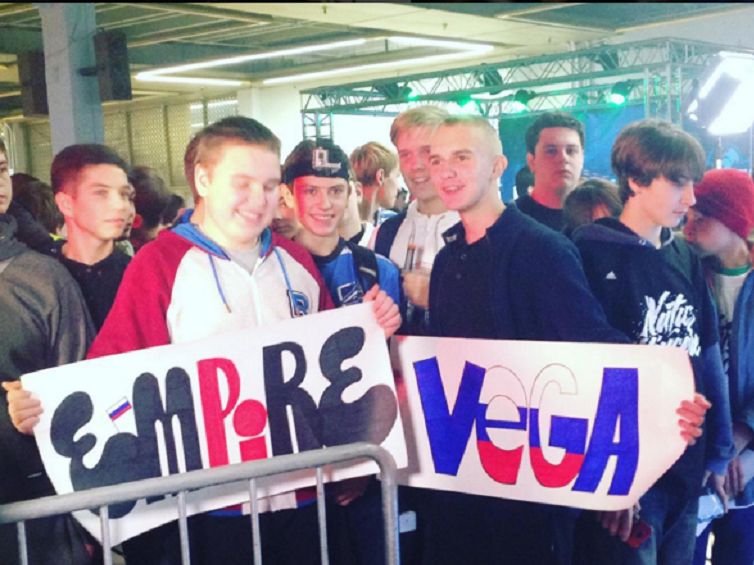 The day continued in the Upper Bracket finals between Team Empire and 4CL. 4CL were able to cinch the first game. Team Empire completely destroyed 4CL in the second match, again with XBOCT at the head of the net-worth charts and fantastic game, along with a perfect game by Gleb "Funn1k" Lipatnikov. After they were able to tie up the series, they went ahead and grabbed the victory for the third game, besting 4CL 2:1. Team Empire were able to secure themselves a spot in the Grand Finals.
DreamHack Moscow finals participating teams
Team Empire (CIS region winner)
Vega Squadron (CIS region winner)
MVP (SEA region replacement for TnC)
4 Clovers & Lepricon (EU region winner)

Game Show Global eSports Cup format

The Game Show Global eSports Cup was played out in six distinct stages. Open Qualifiers, two Group stages and Regional Qualifiers are held in five regions: North America, Europe, CIS, China and SEA. The last two phases of the event will feature Studio LAN playoffs and the Grand Finals to be held at the DreamHack LAN event in Moscow, Russia.

Game Show Global eSports Cup Studio LAN playoffs

Six teams from the various regions will compete in the fifth phase of the event series. The Studio LAN playoffs will take place between November 30 – December 3 in Vilnius, Lithuania. Only four teams will reach the Grand Finals of the tournament.

Game Show Global eSports Cup LAN finals

The top four teams from the Studio LAN playoffs will participate in the Grand Finals, which will run within DreamHack Moscow. The event is scheduled to take place between December 5-6.

Game Show Global eSports Cup prize pool distribution

Grand Finals DreamHack Moscow

1st place — $125,000
2nd place — $65,000
3rd place — $35,000
4th place — MVP.Phoenix – $25,000

The studio LAN playoffs (Lithuania)

1st-4th places — the allotted portion from the grand final
5th-6th places — compLexity Gaming/No Logic Gaming – $15,000 total