Elite Wolves have lost their carry player Juan Carlos "vanN" Tito Carrizales. With only three days left in the team registration period for the Shanghai Majors, Iwo "IWO" Bejar Kalinowski has registered for the team as a primary player. There has not been an announcement by vanN nor information on his future plans.
Bryan Freddy "SmAsH" Machaca Siña announced earlier on his facebook that the carry player Juan Carlos "vanN" Tito Carrizales would be departing the team. There were no reasons given for the separation.
I'm not gonna deny that causes me sadness the departure of vann with the team, he is a great player and has earned the respect of all through these months. I know you well and I look forward to seeing your face in a LAN either in Peru or in another country.
Good luck, Juan
While SmAsH did not announce a replacement, Iwo "IWO" Bejar Kalinowski has already registered for the team on the Dota 2 Roster registration page.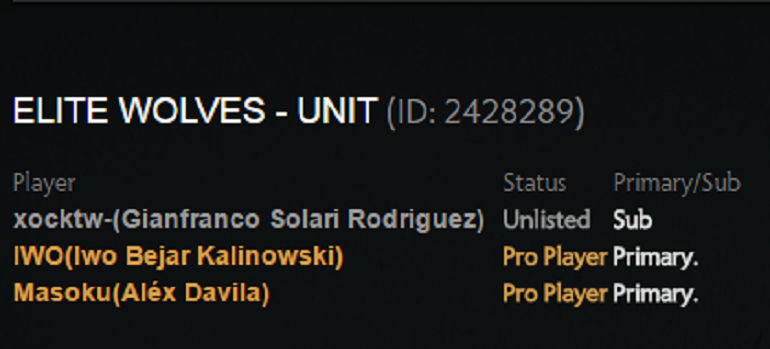 IWO was the carry player in NoT Today and had played with SmAsH, Alex "Masoku" Dávila Matallana, and Ricardo "mstco" Román in the past.
Elite Wolves
As part of the post-TI5 shuffle at the end of August, Juan "VaNn" Tito, Freddy "SmAsH" Sina, Steven "StingeR" Vargas left the Peruvian team Not Today and teamed up with previous Not Today members Ricardo "Mstco" Román and Alex "Masoku" Dávila under the name Sector V, for the ESL One New York Open Qualifiers.
The team was signed by Elite Wolves – a new South American Organization – on September 30th.
The Peruvian team was invited to Frankfurt Major Regional Qualifiers. They had topped their group in the first stage and were able to advance into the main brackets having had impressive matches. The Peruvians would however, fall flat to Team Unknown in the semifinals and then were eliminated by Digital Chaos.
EWolves roster:

Iwo "IWO" Bejar Kalinowski


Freddy "SmAsH" Sina


Steven "StingeR" Vargas


Alex "Masoku" Dávila


Ricardo "mstco" Román
Featured image courtesy of BTS Flckr