Valve has recently sent out invitations to the TI5 casters, analysts and hosts. Understandably, there were only a few slots to fill. Many more well-deserving Dota 2 casters and community contributors were unfortunately overlooked.
There are many Dota 2 casters, analysts, and content creators who have been working long hours with an enormous amount of dedication. Some of them are already extremely famous, others are perhaps less popular, but just as hardworking, nonetheless. All of their efforts and strides helped the industry and community develop. Even though they did not receive a nod from Valve this year, they deserve recognition and their work and accomplishments should not be neglected. We thank them for their hard work and hope to see a lot more of them in the near future!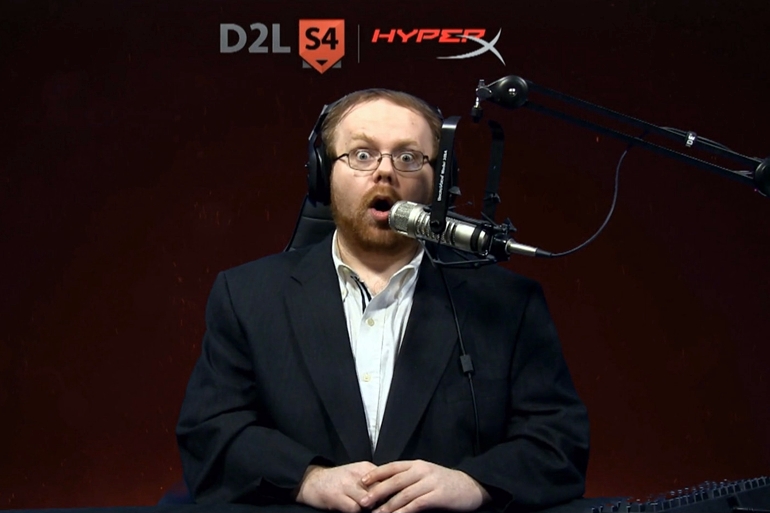 Ayesee: "GREETINGS AND SALUTATIONS!" Best known for his professionalism and notable voice, Aaron "Ayesee" Chambers has been working in esports since early 2011. He made the switch to Dota 2 in 2012, and was one of the six broadcasters to provide commentary for The International 2012. He was invited to cast both TI3 and TI4. Currently, he works full time for GGA/Twitch and casts the RaidCall Dota 2 League. Fans had the pleasure to hear him cast during the TI5 Qualifiers this year.
Soembie: One of the most beloved hosts and creative contributors to the Dota 2 scene, Soe "Soembie" Gschwind-Penski is working for Freaks 4U Gaming as a commentator, host, interviewer and media designer. Her art and creativity have been showcased in several JoinDota projects. Fans loved her in "X Marks the News", "Items of Interest" and "Matchmaking". Some of her hosting achievements include: ESL One Frankfurt 2014, MLG Pro League in both Columbus, Ohio and at X-games, in Austin, Texas. Most recently, she was the host for ESL One Frankfurt 2015.
Durka: Gareth "Durka" Bateson is a commentator for joinDOTA. Before making the move to Berlin, he was a co-commentator for the last two years and had casted with TobiWan on LAN at the IESF 6th World Championship. In addition, he was the main caster for ESL's events in the UK. Durka has a very British dry sense of humor and sarcasm that many enjoy in his casts. Although he typically stays at the studio to keep things in check while his co-workers are attending the major LAN tournaments, Durka was able to be present at the TI5 qualifiers Hub in Romania. His commentaries have improved tremendously in a relatively short period of time and we're looking forward to seeing him as a main caster more often.
Maelk: Jacob "Maelk" Toft-Andersenis is a caster and retired Danish player, regarded by many as one of the most influential players in the history of DotA. He retired from competitive play in 2013 to take a managerial role in Evil Geniuses organization. The same year, he attended The International as part of the analyst desk. He is currently the project manager at JoinDota and has been providing analysis at the main desk for events such as ESL One Frankfurt 2015.
H4nn1: Well known for his professional player career, former mid player of team Fnatic Kai "H4nn1" Hanbückers has recently made the switch to commentating and casting. He retired from his latest team, 4 Clovers and Lepricon, in May and has since been active as a commentator. He took part in the TI5 Qualifiers Hub and the ASUS Play it Cool invitational. Most recently, we saw him at the main desk at ESL One Frankfurt. In his relatively short time as a commentator, he has made remarkable strides in his development.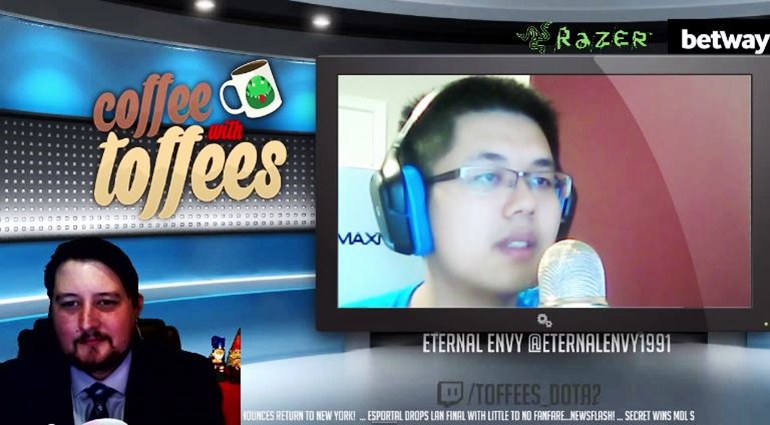 Toffees: Steve "Toffees" Pierce is the creator of DotaFM, host of Coffee with Toffees, general host, interviewer, and caster. His presence has been prominent in the community, with his versatile and broad range contributions. His morning show has had many notable guests, including Jacky "Eternal Envy" Mao of Cloud 9 and Toby "TobiWan" Dawson. Discussions generally circle around the significant events within the community.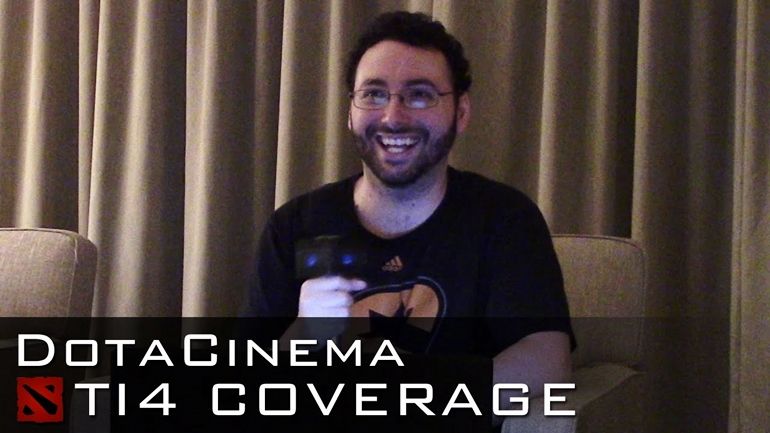 SUNSfan: Shannon "SUNSfan" Scotten is a caster and content creator, co-owner of DotaCinema. Although he started out as a caster in HoN, when Dota 2 was released he put his casting career on hold and started producing original content for DotaCinema. Shannon provided commentary for major tournaments, such as the XMG Captains Draft Invitational and The International 2014 qualifiers, casting for TI4, as well, where many loved him on the noobcast. SUNSfan has a large fan base and is well known for his humor.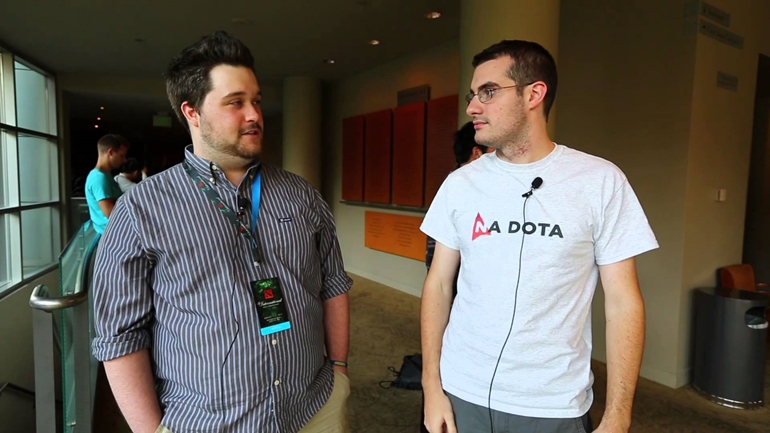 Maut: One of the main broadcasters for NEODota, Travis "Maut" Bueno also worked as one of the producers and frequent contributors for the talk show Much Ado About Dota. He has been casting the DotaPit matches. As a caster/founder of HighGround.TV, he has collaborated with Beyond the Summit, JoinDota, DotaTalk, and Starladder. Maut was invited to cast for The International 4 and his contribution to the TI5 qualifiers was well received by fans and viewers.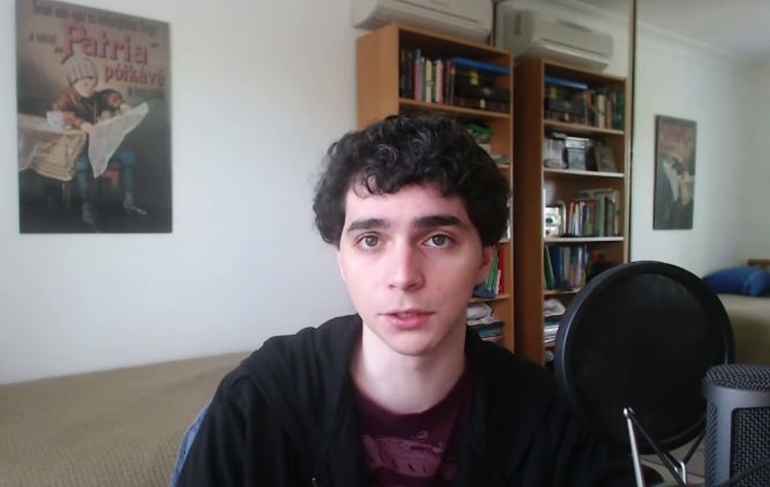 Basskip: One of the most well known English Dota 2 casters in the SEA/Chinese region, Cameron "Basskip" Scott is a freelance Dota 2 commentator and analyst. He has done plenty of work for both DotaTalk and Beyond the Summit, including the 2013 season of WPC-ACE league, as well as Sina Cup Season 2. His knowledge of the "lesser known" SEA region is superb and he works hard to be well prepared during his casts. He was part of the TI4 qualifiers casting team and then later was invited to TI4 as a caster. Most recently, fans got to see him at the TI5 qualifiers Hub.
Luminous: David "Luminous" Zhang has many achievements as founder of DotaCommentaries and as a Dota 2 commentator. He was a primary caster during The International 2012 and he casted at TI3. Having a relatively quiet year, Lumi was one of the lounge hosts at the TI5 qualifiers Hub. He also provided commentary and analysis at the Dreamleague Season 3 LAN Finals, at Dreamhack Summer.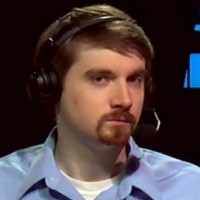 blazecasting: Another freelance Dota 2 broadcaster that works very hard and has a rising popularity is David "BlazeCasting" Dillon. Hailed by David "LD" Gorman as a "caster who covered more games than almost ANYONE over the past year and a veritable encyclopedia of knowledge about teams' playstyles", Blaze is well-known for casting The Premier League and having casted at times for 10 hours straight. Being as versatile as he is, Blaze was also an observer for the Russian stream at The Summit 3, despite not knowing Russian. He has stated: "It was a challenge, but honestly my casting experience made the observing flow more than anything."
Shaneomad: Shane "shaneomad" Clarke is the playful Irish Dota 2 personality that always has some type of antics up his sleeve. Fans loved his contribution to the noob stream at TI4 and were able to get a large dose of him during DreamLeague Season 3 and at the TI5 qualifiers Hub. He's most loved by his fans for his relaxed, good natured and expressive personality.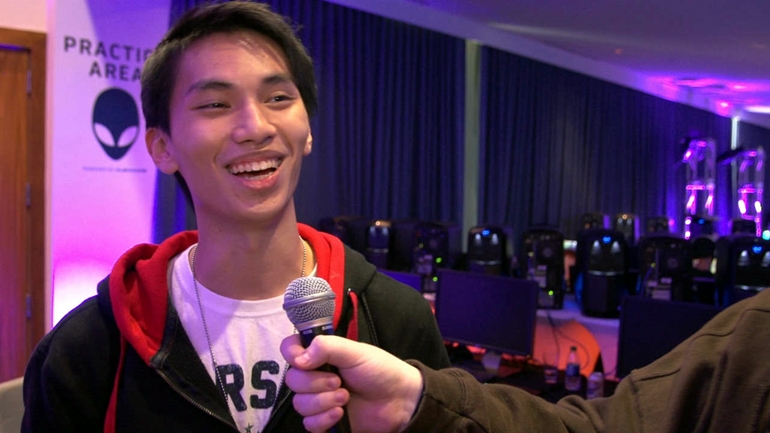 Lysander: Lysander "Lysander" Xonora is a DotA 2 commentator from Singapore. He collaborates with Beyond the Summit, usually focusing on the SEA region. A student of Mass Communication who focuses on qualities such as public speaking, Lysander was able to secure his place in the BTS team quickly. Lysander was also fortunate enough to be able to cast at The International 4.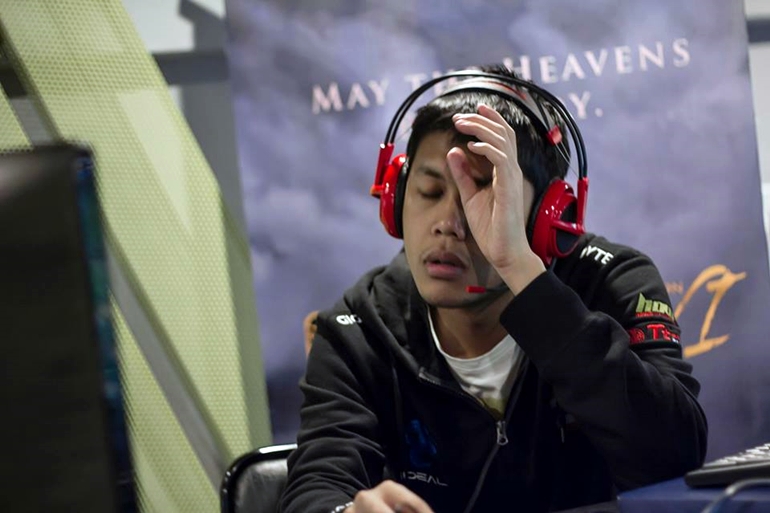 Xyclopz: Perhaps one of the most polarizing Dota 2 casters in recent times, Treephob "Xyclopz" Tiangtrong is well known in the SEA Dota 2 scene. He got into casting in late 2012, when he could not find an English caster for a tournament he was hosting, and ended up casting it in English himself. Xyclopz has had a busy year casting a over 250 games for BTS, StarLadder and Synergy League. He is regarded by both David "Godz" Parker and David "LD" Gorman as very entertaining and funny.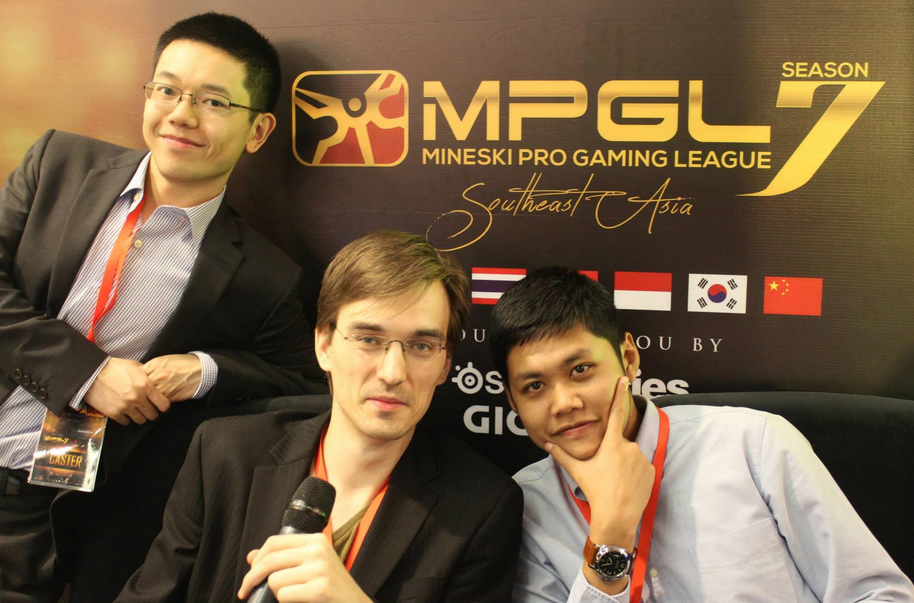 Heflamoke: Sebastian "Heflamoke" Läger is an E-sports manager, founder of HeflaTV, caster, event organizer and talent scout who has been in the industry for approximately 14 years now. Primarily known for being the beacon of broadcasting for the majority of Tier 2 events and tournaments, Heflamoke has put together a team of incredibly dedicated people (Mikelorus and Danelie should be singled out) who cast 90% of the tier 2 games with best possible quality in a non-studio setting, and without payment or sponsorship. Heflamoke's mission is to try to grow Tier 2 tournaments and help them evolve into bigger events, bring new talents into the scene and bring Dota to countries where it doesn't exist yet or needs to be developed. Recently, his casting team has traveled to Malaysia for the MPGL Season 7 tournament, being the only Western representation there.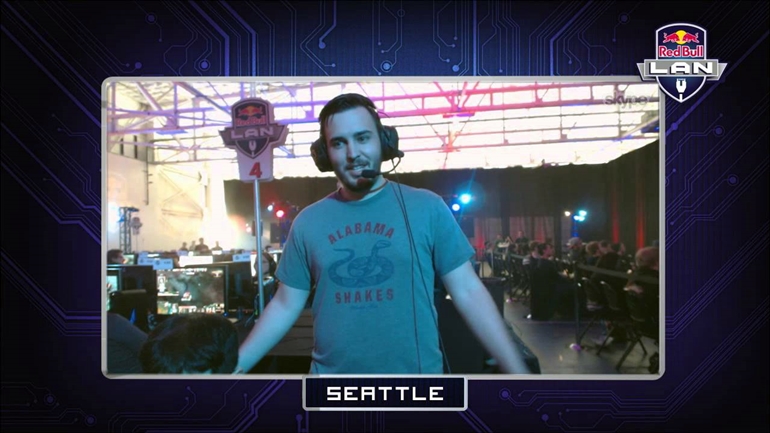 kpoptosis: Bryan kpoptosis Herren is the statsman for Beyond the Summit. He was the statsman for TI4 and for the TI5 qualifiers. Most notably and perhaps under-recognized for, Bryan is the inventor of the fight recap tool that is used in the Dota 2 game client, a tool that provides incredible information during and after matches.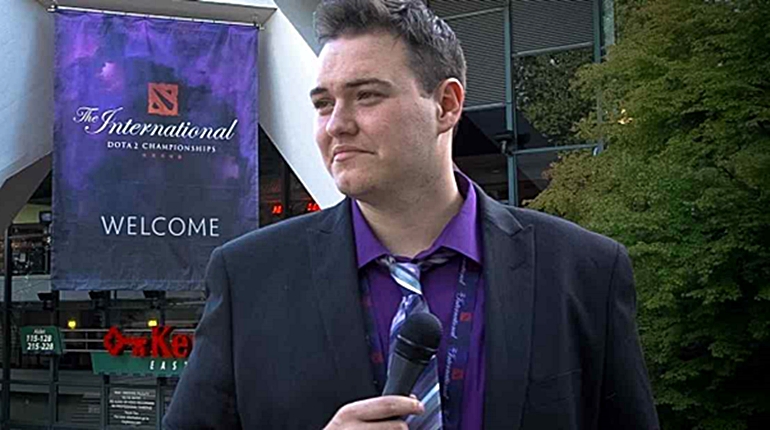 SirActionSlacks: SirActionSlacks is a streamer, YouTuber, content creator and caster. Although his casting repertoire includes Canada Cup with HighGround TV, Clutch Con, Dirtmaul, and the Amateur Dota League, he is most known for his YouTube series "Stupid Voices in Dota". He is notorious for colorful antics and creative content. SirActionSlacks attended The Summit 3, giving fans an amusing show on the stream. Even though he is often clowning around, he is very generous with others in the community. He is often leading stream raids to help other streamers get exposure and donations and was a significant part of the Golden Ticket contest designed to give content creators in the community a chance to attend TI5.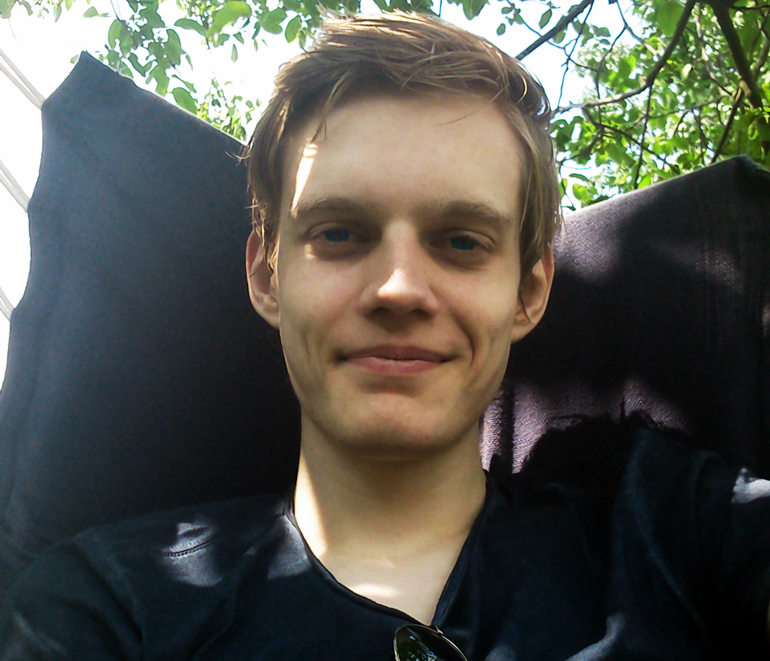 PimpmuckL: Starting as an observer for the SEA-based DotaTalkTV, PimpmuckL can now be seen working with the likes of joinDOTA, Beyond the Summit and HighgroundTV. He is most known for the work he does at Dota Pit as a caster with top production capabilities and superb camera work, being referred to by LD as a world-class observer. His hard work and skills gave him the opportunity to be the dedicated observer during the TI5 Qualifiers and for ESL One Frankfurt 2015.
The list is not exhaustive. The order is random.