A true Cinderella story in the making, CDEC has gone from rags to riches in the course of less than two weeks. Without having a single championship title in their career, they have become the first team to secure themselves a spot in the Grand Finals. With a minimum prize pool earning of $2,842,192 for second place and the potential of $6,601,219 for the Aegis of Champions, the Chinese rising stars have already won more than they could have imagined.
UPDATE (August 9):
Evil Geniuses are your TI5 champions! Grand Finals VODS, summaries, pictures and highlights: here.
For the first time in the history of The International, a Wild Card team has advanced into the grand finals. Having convincingly taken their spot in the main event, they continued to show brilliance in the group stages and tie for the top position in their group. So far the Chinese team has been undefeated in the Main Event stage of TI5 and shows no signs of letting anyone get in their way.
The dark horse team CDEC managed the biggest upset of day 5, when they convincingly defeated Evil Geniuses, 2:0, becoming the first International 5 Grand Finalists.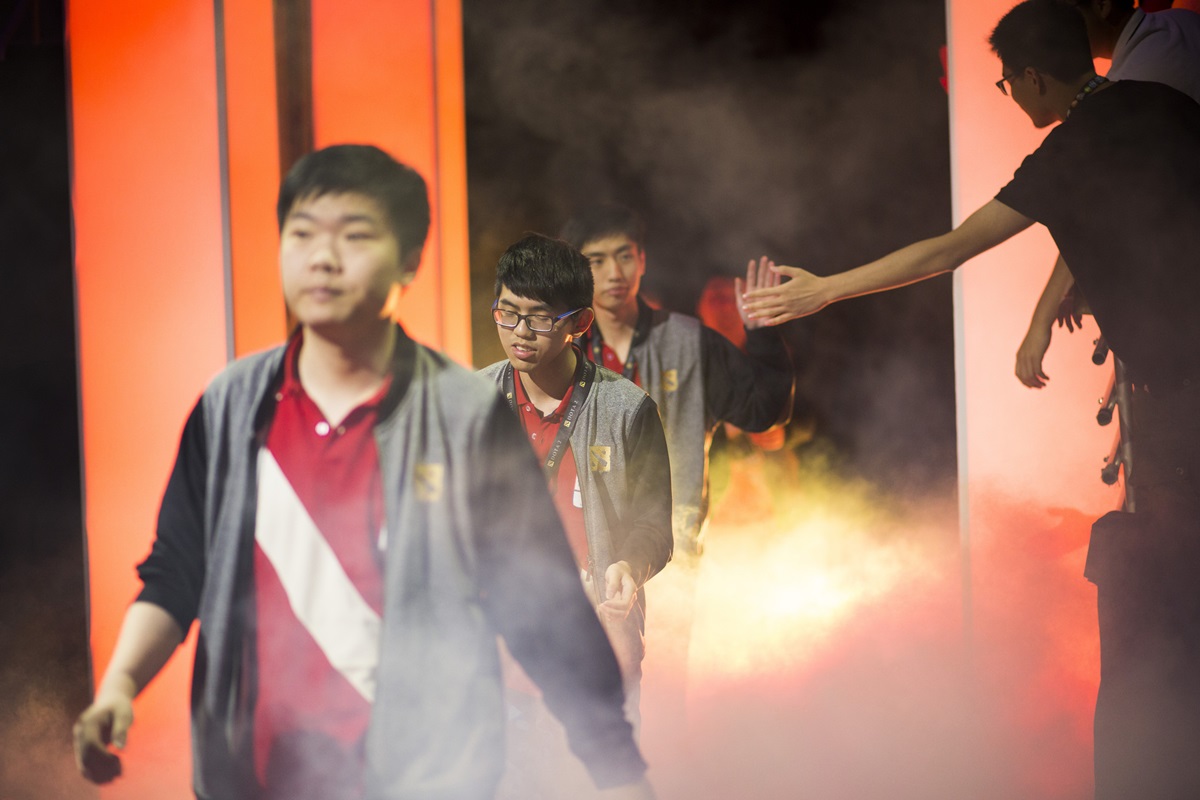 A brief history
Starting as a youth squad under the iconic Chinese team LGD in April 2014, the team was named LGD.CDEC. Initially captained by Lu "Maybe" Yao, currently on LGD, they received a spot in the TI4 Chinese Qualifiers, However,the new team, consisting of three of their current members, was eliminated in the group phase during the fourth place tiebreaker.
Following the qualifiers, the squad competed in two major tournaments, placing 5th-8th in the World E-sport Championships 2014 and i-league. The following month, the team would separate from their organization to head out on their own with their roster intact to forge a new identity.
CDEC enjoyed a helping hand to acclimate into the professional Dota 2 scene with the assistance of retired veteran Tong "Mikasa" Junjie (former Tyloo and ViCi Gaming player), as a temporary stand-in and coach after taking a disappointing 13-16th place at DAC and losing teammates. With Mikasa, the team took fourth place in the Dota 2 League Season 5 and CDEC then proceeded to place third at MSI Beat It 2014 and second in the National Electronic Sports Open 2014 and G-League 2014.
Mikasa went back to LGD Gaming in March 2015 and rejoined the staff as a coach, while CDEC added Huang "Shiki" Jiwei and Chen "Xz" Zezhi to their roster. After these final roster changes, they didn't participate in any major tournaments until May 2015, when they competed in the MarsTV Chinese Qualifiers. They took third place and ended up with the chance to participate in the event's LAN playoffs.
After their impressive run in the TI5 Chinese qualifiers, they then finished 5th-8th at the MarsTV Dota 2 League 2015, where they were eliminated by ViCi Gaming.
CDEC then seized second place at ECL 2015, only having fallen to Chinese giants Invictus Gaming, and other two similar results in the WCA 2015 Pro Qualifiers and G-League 2015.
TI5 Chinese Qualifiers
After sweeping through Energy Pacemakers in the Lower Bracket Finals of the TI5 Chinese Qualifiers, CDEC moved on to the Grand Finals to face EHOME. They ended up falling to EHOME in the finals, 1:3, and grabbed the TI5 Wild Card series slot.
While three of the players from the TI4 Chinese Qualifiers are still on the roster, the two newer members would make their International debut in the TI5 Wild Card Series.
TI5 Wildcard Series
CDEC secured their spot into the Main Event of TI5 after defeating Vega Squadron 2:1 and MVP.Phoenix 2:0.
Although they would drop the second game to Vega Squadron, the games were filled with exciting and strong performances, indicating they were a force to be reckoned with. Capitalizing on their leads, turning games and fights around and managing perfect positioning and coordination they would advance in the upper brackets to face MVP.Phoenix.
Not being deterred by slower starts, CDEC would take control of their games, dominating the map, taking objectives and winning in their team fights. With stellar supports, space was always created to generate enough farm and their aggressive style allowed them to bully their way through to their end goal. They easily swept the Koreans and secured themselves their place in the Main Event.
Both Huang "Shiki" Jiwei and Sun "Agressif" Zheng would start to make names for themselves and CDEC would begin to become the team that everyone's eyes became glued on as they advanced to the group stage.
TI5 Group Stage
The Chinese Wildcard winners would move into the Group Stage phase of the Main Event, continuing their strong performances. They would end up being tied for first position with Evil Geniuses – having a total of 13 points for the seven series they played.
CDEC had swept MVP.Hot6ix, Team Empire, Newbee, and ViCi Gaming 2:0. They tied their series verses EHOME 1:1 and lost both their games 0:2, to Evil Geniuses and to Virtus.Pro
The team's wins were enough to place them in the upper brackets for the main event and to give them new found respect and credibility for their astounding skill and dominance.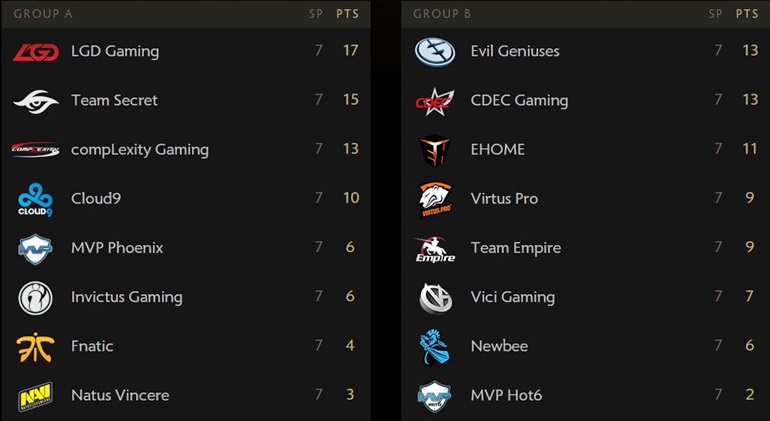 TI5 Main Event
CDEC defeated the likes of some of the best teams in the world including Cloud 9, LGD Gaming and Evil Geniuses without wavering or hesitation.
Since the first game on the main event stage, CDEC would demonstrate their skill and talent as they convincingly took the first game from Cloud 9. Their rotations and strong aggressive plays would end up becoming a signature style for the team that would continue to lead them to victories throughout the entire series.
In the first day, they swept through Cloud 9 easily, setting themselves up for another run in the upper brackets for day 3 of the event.
Day three would showcase just how far the "youth" team had come since separating from the LGD banner and striking out as their own club. Facing those who had previously provided them guidance and support, CDEC were able to embrace the cliche of the student surpassing the teacher by outplaying and countering all advances. Clutch plays, team wipes, and uncommon draft choices were all executed flawlessly, allowing CDEC to sweep through LGD and continue in the upper brackets once again.
The fifth day would pit them against the North American giants, Evil Geniuses, in the upper bracket finals. Despite the fact that Evil Geniuses were heavily favored to be in the grand finals and were favorites of the fans, CDEC went in to the first game full of confidence and courage. Their first game would once again highlight their clutch plays and team fight synergy, as well as their signature aggressive style. They were able to turn around team fights and easily take control of the game. The second game was even more convincing, by minute five, topping the net-worth chart with 2.5k gold, 36 last hits and 22 denies on Ember Spirit. At 20 minutes Evil Geniuses would call the fastest "GG" of the TI5 main event.
With the last series win, CDEC advanced into the Grand Finals without suffering a single defeat.
CDEC roster:

Sun "Agressif" Zheng,

Huang "Shiki" Jiwei,

Chen "Xz" Zezhi,

Liu "Garder" Xinzhou,

Fu "Q" Bin
Sun "Agressif" Zheng
Sun "Agressif" Zheng started his Dota 2 career in April 2014, playing for the LGD youth squad, alongside teammates Q and Garder. He transitioned with the squad when they left the organization to become CDEC, in October 2014.
During The International 5 he has had consistent, impressive performances on his Ember Spirit, Gyrocopter and Phantom Lancer. With incredibly fast farming ability and aggressive and well coordinated pick offs, he often topped the net-worth and kill charts in the games.
Huang "Shiki" Jiwei
Huang is one of the longer playing members of the newly formed team. He started his professional career in the summer of 2013 and played for a team called New Element for almost one year. He then went to Immortal Magneto Gaming for several months, back when the team was first founded, in September of 2014. In March 2015, Huang "Shiki" Jiwei joined CDEC.
Shiki has been stunning the TI5 crowd with flawless performances on Storm Spirit and with amazing plays on his signature hero Lina. Quite often winning his lane and leading in kills, his aggressive and risky plays often pay off.
Chen "Xz" Zezhi
Chen "Xz" Zezhi started his Dota 2 career as a part of team New Element, in February of 2014. He played alongside current teammate Shiki and left the team when Shiki moved to IMG. At that time, Chen "Xz" Zezhi joined LAI Gaming. He remained on the team until March, when he joined CDEC.
Xz has really given some thrilling moments at TI5 with various clutch plays, saving his teammates and turning the team fights around.
Liu "Garder" Xinzhou
Liu "Garder" Xinzhou is a relatively new face to the Dota 2 scene. He was discovered by LGD Gaming and became a part of their youth squad, in April 2014, along with Q and Agressif. Garter remained on the squad after they left the LGD organization to become CDEC.
Garder's impeccable rotations and set-ups are exemplary of a support player's worth and talent. Often sacrificing himself and being available for the core heroes, he has taken his role to the next level at TI5 and provided the space needed often for the team to move ahead.
Fu "Q" Bin
Fu "Q" Bin also kicked off his professional Dota 2 career playing for the LGD youth squad in 2014. He transitioned with his teammates when the squad decided to go solo, under the CDEC tag. Fu "Q" Bin is CDEC's captain.
Q has outdrafted even the best teams in the world at TI5. His selections and leadership for execution is flawless. There is little doubt that his team respects and follows his calls and foresight.