E-Home defeat CDEC, 3:1, and become the first team to qualify for The International 5 in Seattle. CDEC will participate in the Wild Card series, competing against the other runner up teams for a chance to attend the main event.
UPDATE (August 7):
Stay on top of the TI5 main event: results and brackets, schedule, fixtures, streams, broadcast times.
E-Home advanced directly to the grand finals yesterday after defeating CDEC, 2:0, in the Upper Bracket finals. After sweeping Energy Pacemakers in the Lower Bracket Finals, CDEC moved on to the Grand Finals to face E-Home.
TI5 Chinese Qualifiers Lower Bracket finals
CDEC vs. Energy Pacemakers
Game 1
The game started very aggressively with a fight in the radiant jungle. Drow got the first blood but died immediately afterwards in a 2:1 exchange in CDEC's favor. The dual lane on the bottom for EP with Leshrac and Sand King was not working well for them, so they changed Leshrac to a roaming support instead. Failed attempts at rotations from EP were costing them more than anything as they were not able to farm or get kills. At minute 16, CDEC tried to sneak a Roshan but EP noticed it and CDEC retreated. Three minutes later though, they went back again for it and took the Roshan successfully. As soon as they got the Roshan, they started to group up to push the towers and started to slowly take them one by one and get pick offs.
CDEC had the lead, went into the barracks and took bottom racks and a few kills. They were a bit greedy though and headed for mid racks, ending up dead and giving a free Roshan to EP. The gold lead for CDEC started to drop. CDEC attempted highground at minute 36 but lost one hero and were repelled. EP were able to stabilize the game, as Sniper started to farm, got picks offs, and the Aegis. At 42 minutes into the game, CDEC took Roshan with Aegis and cheese and, after a few minutes, they started to split push to base. EP attempted to hold them off, and were able to get a few kills at the high cost of some of their own heroes. CDEC started taking down barracks and "GG" was called.
CDEC took the first game.
Game 2
CDEC took thw first blood and an aggressive lead. At 5 minutes into the game, CDEC had rotated their lanes to let Void farm. Energy Pacemakers started well enough with a gank on mid lane on Viper. Lycan was getting good farm and EP they managed to sneak a Roshan at minute 12. However, EP's awkward rotations were starting to make things more difficult for them. By 16 minutes in, there was a break even trade on the mid lane, with a chaotic fight in which they lost Lycan and the Aegis. At minute 19, CDEC was starting to find the advantage again, taking good fights and it seemed that EP were over-extending and making questionable decisions.
Following a great sonic wave and fissure combo from EP, CDEC's Rubick had a quick steal on the sonic wave and used it to turn the fight, gaining a 3:1 trade and taking down Lycan. Another bad fight for EP at minute 30 allowed CDEC to take Roshan, pushing their lead even further ahead. CDEC continued to reach all objectives, taking down towers, taking multiple Roshans, stopping Lycan and getting pick offs. EP were not ready to give up on their hopes to win the game, as they continued to push the lanes, trying to move into high ground. However, they were getting further away from being able to turn the game. A die-back on Lycan at minute 46 was enough to end the game.
CDEC took the second game.
Energy Pacemakers were eliminated, while CDEC moved on to the grand finals to face E-Home.
TI5 Chinese Qualifiers Grand Finals
E-Home vs. CDEC
Game 1
E-Home took first blood on the mid lane with the help of Lion and "LaNm" Zhang Zhicheng's EarthShaker. "Cty" Chen Tianyu's Leshrac was able to score a first blood which was really important because it set Dragon Knight back. Another kill on Dragon Knight mid from Cty and Lanm and at minute seven Lanm and Cty had taken five kills together. At minute 10, E-Home grouped up to take mid tower, which they needed for map control, and with a Pugna pick it was really necessary to force out the towers.
At minute 12, they took two tier 1 towers and Leshrac had a 16 minute bloodstone. At minute 20, Lanm zoned the Dragon Knight with a great fissure and managed to bring him down. CDEC over-extended with two heroes and tried to get the kill on Cty but he ended up killing them both. Even though the Brood Mother sounded promising at the beginning of the draft, it did not accomplish much, except taking two towers. With both Leshrac and Gyrocopter, the BroodMother had no place in the game. At minute 39, CDEC had some amazing plays with a four-man wipe at E-Home's base. Upon respawning, E-Home went straight for CDEC's base and took the mid barracks at minute 44.
Cty committed a suicide with bloodstone to save Gyrocopter, helping him heal so he could take the barracks. At minute 51, after a pick off on Dragon Knight E-Home headed down for the bottom barracks but ended up dying with three heroes, aegis and cheese. At minute 62, a four-man wipe on CDEC seemed like the way to go but they just went near their base, forced buybacks and retreated to take Roshan. At minute 64, there was a four-man wipe on CDEC with no buybacks and they called "GG" giving the first victory of the grand finals to E-Home.
Game 2
In a fight for the top rune before the game started, "rOtK" Bai Fan was put on the cliff by Rubick and had to stay there for a good minute until he could bring a TP even without the flying courier. There was interesting laning by CDEC, as they but Bristleback on mid lane instead of Shadow Fiend. Both teams had really good fighting heroes, but with the mekanism purchase on SF things became harder than expected for CDEC, as they had to waste a lot of resources to kill him and ended up paying with some of their own deaths. Both teams were trying to farm, take Roshan and reach their objectives.
At minute 22, CDEC's attempt to search for a gank got three of their heroes killed without any death in return, thanks to Treant's Heals and the Mekanism. This was a big setback for CDEC, as they were struggling to flash farm and their heroes were better suited for early mid-game aggression. A few minutes later, as E-Home were searching for a gank, they took three of CDEC's heroes out again and then followed up by taking Roshan. Right after that, they headed for the middle barracks and managed to kill another three of CDEC's heroes, crushing any potential for farm or turning the game around.
E-Home were able to successfully take mid barracks at around minute 34. Desperate for a gank or a way to create an opening, CDEC ended up getting killed again and they tapped out with no hopes to change the course of the game.
E-Home were able to gain a second win.
Game 3
E-home went with a Gyrocopter pick for the third game in a row, but it seemed that CDEC was expecting it and had it under control this time. The game started pretty even for both teams. E-Home tried to lane Zeus versus Dark Seer on the bottom lane, but CDEC switched lanes and put Dark Seer on the safe lane instead. Zeus was not able to offer a lot in the game as he was 0-3 by minute 7. A lot of things were not going in E-Home's way this game, including a few failed early smoke ganks. Meanwhile, CDEC's rotations were always spot on.
At minute 20, the first two heroes on the net-worth graph were CDEC's Ember Spirit and Queen of Pain. The game was pretty intense with a lot of back and forth kills on both sides, but CDEC had a more mobile line-up which made them a bit harder to kill. At minute 28, the score was 6:16 in favor of CDEC. Queen of Pain had a "Godlike" streak at minute 29, when CDEC took Roshan. With not much left to do, E-Home were forced to stay in base for the most part. At minute 35, they managed to take down Queen of Pain and take the "Godlike" streak, but it was Ancient Apparition who would take the kill, so the team did not get the maximum potential use of the gold. A deadly fight occurred 38 minutes into the game and two E-Home cores had to buy back to save the racks and then lost the Roshan, which was the deciding factor in this game.
CDEC then successfully took mid racks and headed towards bottom at minute 45. A smoke gank managed to give CDEC the victory, as they got a four-man wipe from it. CDEC was able to extend their run in the series and took the third game, forcing a fourth one.
Game 4
E-Home drew first blood with Lanm helping Cty take down Invoker on the mid-lane. CDEC had a failed smoke gank mid but no kills were exchanged and the teams continued to farm and lane. E-Home did however have a successful smoke gank on mid at minute 8, with Cty getting the kill on Invoker again. That action helped to secure E-Home's lead and keep Invoker behind. CDEC took their fist kill on top lane on AXE, who was already behind on his farm. Both teams were getting pick offs and ganks and things were fairly even by minute 18, even though E-Home were leading in kills.
A smoke gank by CDEC at minute 23 surprised E-Home and resulted in a four-man wipe on the unsuspecting team. CDEC then continued to push bottom and take the tower before retreating. Both teams smoked up at minute 25. CDEC came out ahead in the fight with a 5:1 trade and then moved on to take Roshan. At this point, CDEC were leading in everything across the board. CDEC started to push mid but retreated as soon as they took the tier 2 mid tower. Still armed with Aegis and a 12k gold lead, CDEC continued to farm around the map.
Two bad team fights for CDEC on top lane were enough to start evening things out again and giving E-Home the momentum and hope they needed. A team wipe on CDEC at minute 44 gave E-Home the top tier 2 tower and more confidence. After the fourth bad fight near the Roshan pit at minute 46, CDEC had lost their advantage. A desparate smoke gank at minute 49 from them resulted in yet another four-man wipe and E-Home marched into the bottom barracks, taking the tower and barracks and the mid base tower. Last team fight at minute 53 at CDEC's base was enough to end the game.
E-Home secured the last win they needed for the series.
E-Home roster

"Yang" Yang Pu


"Cty" Chen Tianyu *officially listed as being on "loan" from team DK


"rOtK" Bai Fan


"LaNm" Zhang Zhicheng


"DDC" Liang Faming
CDEC roster

"Agressif" Sun Zheng


"Shiki" Huang Jiwei


"Xz" Chen Zezhi


"Garder" Liu Xinzhou


"Q" Fu Bin
The International 5
E-Home is the first team to qualify for The International 5 and will join the already invited teams to compete for the most prestigious title of the year.
10 teams have received TI5 direct invites:
ViCi Gaming
Evil Geniuses
Team Secret
Invictus Gaming
LGD Gaming
Cloud 9
Team Empire
Virtus.Pro
Newbee
Team Malaysia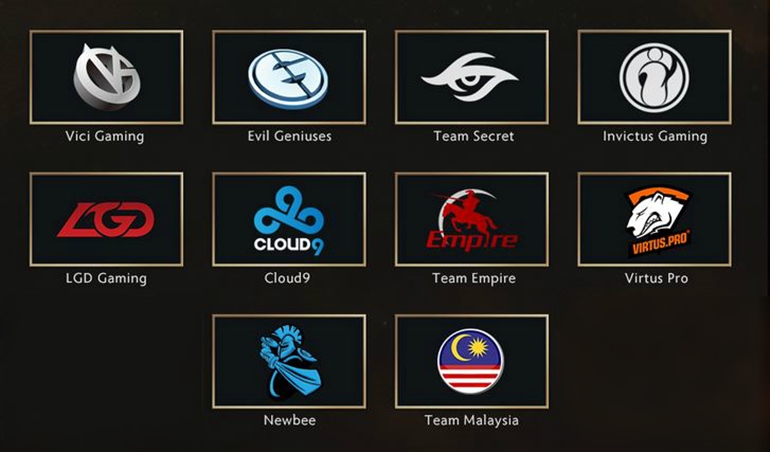 The International 5 will take place August 3rd through 8th at the Key Arena, in Seattle, Washington, the same venue as last year. The Key Arena has a total seating capacity of over 17,000. The total prize-pool has so far reached $9,225,890 ($7,625,890 added).