Swedish professional player, streamer and caster, Niklas "Wagamama" Högström, and Russian professional player, Ivan "VANSKOR" Skorokhod have parted ways with 4 Clovers & Lepricon. They are both currently seeking new teams and Wagamama will be playing as a stand-in for an undisclosed team at an upcoming LAN. Former Alliance player Per Anders Olsson "Pajkatt" Lille will be standing in for 4CL in tonight's MSI Dragon Battle.
With all the post-TI5 shuffle, I'm also out of 4CL. Now the real question, did anyone even know I was in 4CL?

— WagaGaming (@WagaGaming) August 19, 2015
As same as @WagaGaming , i am out of 4C&L. Now i am free agent, looking for team!

— Ivan Skorokhod (@true_vanskor) August 19, 2015
Niklas "Wagamama" Högström and Ivan "VANSKOR" Skorokhod both announced on Twitter earlier today that they are parting ways with their team, 4 Clovers & Lepricon. No specific reasons have been given for their decisions, but both players are planning on continuing to play competitively and are actively seeking new teams.
I just parted with 4CL and have not talked with other teams and I am currently teamless. I look to change that and find an ambitious team that can work through hardships and put down long hard hours to improve, question is still with who.

– Niklas "Wagamama" Högström
Wagamama joined 4CL when Kai "H4nn1" Hanbückers retired from competitive play to pursue casting and other endeavors in early May.
VANSKOR stepped in when captain and founder Artur "Goblak" Kostenko walked away from the team, on May 2.
Both players participated with the team in the TI5 European Open Qualifiers, but failed to advance further.
Wagamama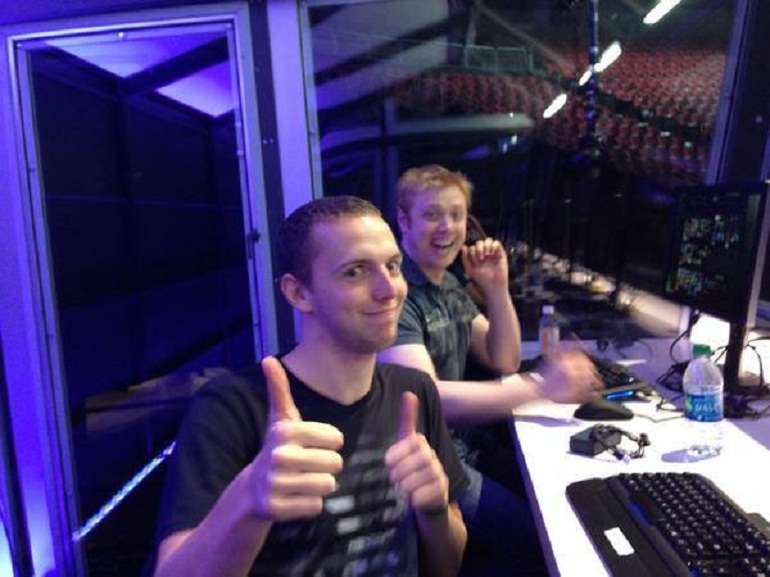 Wagamama is a popular professional Dota 2 player who is known for his casting, his streaming, professional career and writing guides for Dota 2 such as his "Guide to better Dota".
He started playing Dota 2 in 2004 and played with a variety of teams, with some success in minor and a few major tournaments. His most notable teams include Team Infused, QPAD and 4 Clovers & Lepricon.
The Swede casted The International 3 alongside Toby "TobiWan" Dawson, TI4 and most recently was part of the analyst desk and talent at The International 5.
VANSKOR
VANSKOR is a well known Russian support player who made his competitive debut in Dota 2 in 2013, playing with RoX.kis. He left the team in early August 2013 and went to Team Empire for approximately one year.
He then played with Na'Vi until the big CIS reshuffle in April 2015, when his status was changed to inactive at the time that Gleb "Funn1k" Lipatnikov and Ivan "ArtStyle" Antonov returned to the team. VANSKOR joined 4CL in May.
4 Clovers & Lepricon
In late March, after Goblak left Na'Vi, he put together a new team with some other known teamless professional players. 4 Clovers & Lepricon made a strong and impressive debut, claiming the Esportal Open Qualifier #3 LAN spot, after defeating 4 Anchors and Sea Captain, on April 15. However, following that performance, the team was defeated by m5, on April 19, in the first round of the Yard Festival and by YES on April 28th in the first round of the DreamLeague Qualifiers #4.
Less than one month after forming 4 Clovers & Lepricon, captain and founder Artur "Goblak" Kostenko parted ways with the team. There has been no statement about the reasons surrounding his short lived affiliation with 4CL. Ivan "Vanskor" Skorokhod stepped in to take the support role, although still being listed as a reserve/inactive player for Natus Vincere.
Only three days after Goblak's departure, Kai "H4nn1" Hanbückers announced his retirement from the competitive scene. Swedish player Niklas "Wagamama" Högström would take his place on 4 Clovers & Lepricon.
4CL did not advance beyond the first day of the TI5 open qualifiers and only a few days later the team faced its third roster change in less than two months, with the addition of Jerry "EGM" Lundkvist and Omar "w33" Aliwi.
4 Clovers & Lepricon current roster:

Alaan "SexyBamboe" Faraj


Jerry "EGM" Lundkvist


Omar "w33" Aliwi