The first day of the TI5 SEA qualifiers has come to an end with MVP.Hot6ix and Rave leading their groups. 5Eva and Signature.Trust have lost all of their matches so far. The second day of the Round Robin group stage will pick up again tomorrow, at 04:00 CEST.
UPDATE (August 7):
Stay on top of the TI5 main event: results and brackets, schedule, fixtures, streams, broadcast times.
Match Points
Matches are best-of-two series.
If a team wins 2-0, they are awarded 3 points.
If the match goes 1-1, each team is awarded 1 point.
Top two teams will advance to a double elimination bracket.
TI5 SEA Qualifiers day 1 results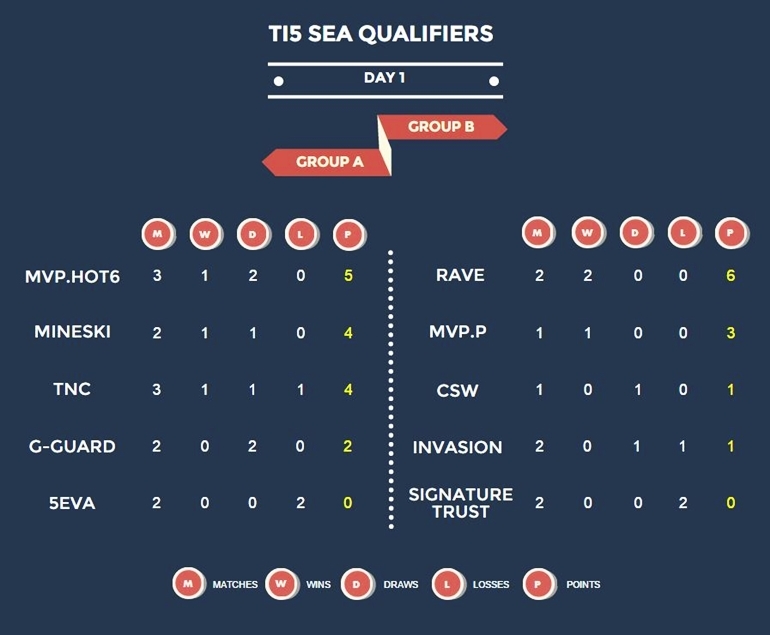 TI5 SEA Qualifiers streams
The TI5 SEA qualifiers are broadcast in English as part of the "Mega Hub" coverage provided by Twitch and the PGL studios. The Mega Hub coverage brings 35 Dota 2 personalities under the same roof.
The following Twitch channels provide 24/7 coverage of all the matches:
The TI5 SEA Qualifiers series will end on June 1.
TI5 SEA Qualifiers, day 1, Group A
MVP.Hot6ix vs. G-Guard
The game was fairly even overall except that the pushing power of MVP.HOt6ix was greater and they were able to apply more pressure on G-Guard. After a few bad fights for G-Guard, MVP.Hot6ix managed to increase their advantage. "GG" was called after 29 minutes.
Winner: MVP.Hot6ix
Second game started with the first blood going to MVP.Hot6's Leshrac, when a three-hero gank on him was turned around with a counter-gank. The game progressed evenly and quietly until both teams started to trade team wipes back and forth and attempt to destroy each other's barracks. Base race ended the game with Leshrac and Lina trying to take down the tower and barracks while G-Guard were taking down the base at the same time.
Winner: G-Guard
Points: MVP.Hot6ix 1, G-Guard 1
5Eva vs. TnC
First blood went in favor of 5Eva, when Morphling killed Gyrocopter on the bottom lane. The early game was even. Many good rotations and early aggression from TnC started to move the game into their favor, especially thanks to their Gyrocopter, which had a really good start. TnC continued to come out on top in fights and engagements. The game ended in only 26 minutes.
Winner: TnC
In another short and one-sided game, TnC were able to once again come out on top in the series. Despite the Queen of Pain having a good game, the other heroes struggled to have safe place to farm, as they were getting killed non stop. Leshrac snowballed, while Sniper was feeding and the game ended with a 12k gold advantage for TnC.
Winner: TnC
Points: TnC 3, 5Eva 0
TnC vs. MVP.Hot6ix
Even though the Bloodseeker picks recently have not been very strong, this game was able to utilize the pick well he played an amazing game with a score of 14:1. With three of the TnC cores picking up BKBs there was not much MVP.Hot6ix could do as all of their lineup except Juggernaut was magic based damage. TnC was able to win the first game in this series.
Winner:TnC
The second game was quick. MVP.Hot6ix picked BloodSeeker. Even though TnC tried to counter MVP.Hot6ix's magic lineup by purchasing BKBs, they were not effective, as most of the ultis from MVP.Hot6ix's heroes usually go through BKBs. The game was back and forth but in the end MVP came out on top.
Winner: MVP.Hot6ix
Points: TnC 1, MVP.Hot6ix 1
G-Guard vs. Mineski
Mineski was leading throughout the game, as G-Guard's Lone Druid-Drow lineup took a long time to come on line. A couple of mistakes coming out from Mineski allowed the Druid-Drow combo to show how dreadful they can be. Even though they never had the lead, G-Guard were able to finish the game quickly and secure the win.
Winner:G-Guard
Mineski once again was leading the game but this time they were able to retain their lead and close out the game after only 35 minutes. Their pick was very well constructed, having enough damage, bursts and disables. Once the Tiny-Io combo started to snowball it was very difficult to stop them.
Winner: Mineski
Points: G-Guard 1, Mineski 1
Mineski vs. TnC
This was perhaps the shortest game of the entire qualifiers for all regions so far. The game lasted only 14 minutes. Mineski's Bloodseeker had a great start (he ended up 7:0 to Slark, who was 0:5) and left TnC's Gyrocoptor and Slark with no safe place to farm. TnC had no way to come back and called "GG" at minute 14.
Winner: Mineski
The second game was much better for TnC. Meepo wasn't able to keep up with a lot of cores coming out of the dire side. The game was slightly in favor of Mineski, but as the game progressed it was getting harder and harder for TnC, who were forced to call "GG" and end the game at minute 47.
Winner: Mineski
Points: Mineski 3, TnC 0
MVP.Hot6ix vs. 5Eva
The very early game and laning phase were fairly even until about minute 8, when 5Eva were able to start to build their advantage. MVP.Hot6ix's Bloodseeker destroyed all enemy heroes combined with a lot of magic burst coming out from the rest of the team. 5Eva were not able to execute anything, even though they had the infamous Drow pick.
Winner: MVP.Hot6ix
Another quick game in this series. MVP.Hot6ix executed the Drow the way it was supposed to be played. Lina had an amazing game as well, shutting down Tide and having a lot of farm with a score of 13:3. The Phoenix support did not work out well for 5Eva versus an offlane Weaver. MVP.Hot6ix easily took the second game in the series.
Winner: MVP.Hot6ix
Points: MVP.Hot6ix 3, 5Eva 0
TI5 SEA Qualifiers, day 1, Group B
MVP.Phoenix vs. Signature.Trust
MVP.Phoenix completely dominated Signature.Trust in the first game, with a quick victory to start the TI5 SEA qualifiers. The game ended after 23 minutes with a score of 24:5. Signature.Trust opened the game with a smoke gank going top which backfired with the first blood going in the way of MVP.Phoenix on Leshrac. A five vs. five team fight on the mid-lane would give Signature.Trust two kills. However, they were still getting run over, with Storm Spirit having 15 charges on bloodstone and a beyond "Godlike" streak. The game was called when MVP marched into base and started to take kills and barracks.
Winner: MVP.Phoenix
Both teams were farming away in their lanes and woods during the laning phase and early game. The game started to quickly pull away from Signature.Trust and, at minute 30, MVP was breaking high ground. A mid-lane fight three for none with AM buy back allowed MVP.Phoenix to once again take Roshan. After that, they quickly went bottom, mid and then top, forcing a four-man wipe on Signature.Trust.
Winner: MVP.Phoenix
Points: MVP.Phoenix 3, Signature.Trust 0
Invasion vs. Rave
Things were relatively even between the two teams until minute 27, when a team wipe on Invasion with a bloodstone suicide by Leshrac as the last team member alive, pushed things into Rave's advantage. At 33 minutes into the game, Rave were entering Invasion's base, killing two heroes before retreating. Both teams smoked and went for Roshan at minute 41, with Rave killing four of them and taking the Aegis, immediately upon reveal. Rave applied pressure from all lanes on the barracks. Pick off on Rubik and Sand King made everything easy and a four-man wipe secured the win.
Winner: Rave
The early game was fairly even with Invasion having a slight lead in the laning phase and farm. A few trade pick-offs kept Rave's advantage to a manageable level for Invasion. At about minute 20, Invasion went in for the Roshan and Rave came in with Earthshaker, blinking into the pit, stunning the four heroes with his fissure and causing a two for three trade. QOP came in to clean up with Earthshaker using fissure again perfectly to block Weaver from escaping. QOP used Orchard to kill him. Rave were able to keep the game going long enough to give Phantom Lancer the needed farm. The pushing power of Phantom Lancer and the strength of the heroes' damages were too much for Invasion, who called "GG" after a four-man wipe.
Winner: Rave
Points: Rave 3, Invasion 0
Invasion vs. Can't Say Wips
Shadow Fiend on CSW had a good game despite being laned up against the Tiny-Io combo. Invasion had to deal with Slark farming on the safe lane. The game was very one-sided and CSW took the first win easily.
Winner: Can't Say Wips
The second game was very even for both teams until the late game, when things started to change and CSW started to make mistakes. CSW were not able to deal with the overwhelming heals coming out for Invasion from mekanism and wisp. Invasion moved ahead to tie up the series.
Winner: Invasion
Points: Can't Say Wips 1, Invasion 1
Rave vs. Signature.Trust
The game was pretty even at the beginning until mid-game, as both teams were simply farming away and trying to get their needed items. Problems started to hit after mid-game, when the Tiny-Io combo became difficult to deal with and Bristleback became really farmed. Signature.Trust started to fall apart and give up kills, quickly losing after that.
Winner: Rave
The pushing lineup coming out from Rave proved to be the right choice, as Signature.Trust did not have the best five vs. five heroes and were more oriented to pick-offs. Rave played really well around their own lineup to not allow Signature.Trust heroes to have any impact on the game. Signature.Trust ended up giving up a lot of towers and feeding many kills to Leshrac, who was 16:3 at the end of the game, while the mid player for Signature.Trust was 2:7.
Winner: Rave
Points: Rave 3, Signature.Trust 0
TI5 SEA Qualifiers Day 2