The first day of the TI5 Chinese qualifiers has come to an end. EHOME top Group A, while HGT are first in their group.
UPDATE (August 4):
Stay on top of the TI5 main event: results and brackets, schedule, fixtures, streams, broadcast times.
Two of TongFu's teams, the main squad and OldBoys, have ended the day without any wins. In Group A, E-Home, followed by Energy Pacemakers, have a comfortable lead for the first two spots, while in Group B HGT is in the lead, followed by a tie between Wings and CDEC.
Match Points
Matches are best-of-two series.
If a team wins 2-0, they are awarded 3 points.
If the match goes 1-1, each team is awarded 1 point.
Top two teams will advance to a double elimination bracket.
TI5 Chinese Qualifiers, day 1, Group A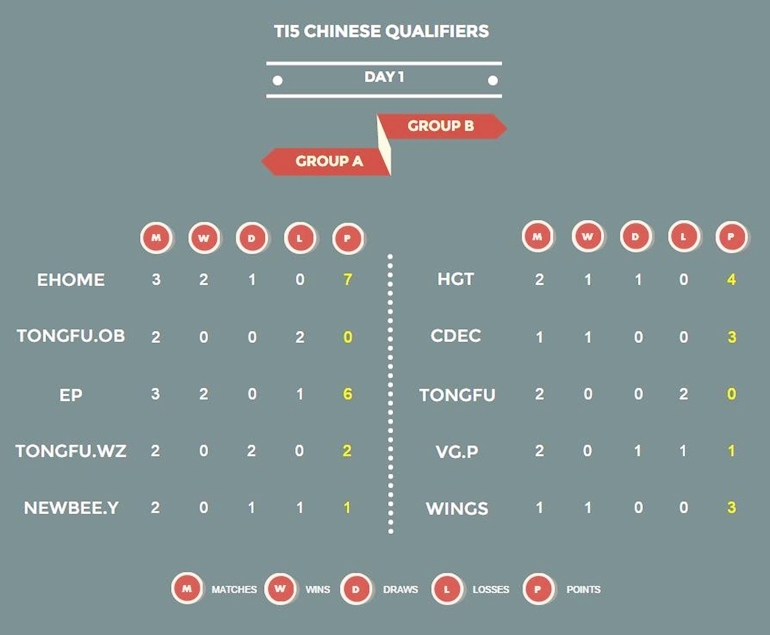 E-home vs. TongFu.Wanzhou
E-Home took the first game. The game started out very even until about 12 minutes in, when TongFu.Wz managed to pull ahead with a slight advantage until the late mid game. E-Home turned the game and, with some incredible plays by "Cty" Chen Tianyu, including a "Beyond Godlike" streak, they became unstoppable and closed out the first game in 33 minutes.
Winner: E-Home
TongFu.Wz were able to secure first blood but immediately gave a kill in return. Good rotations by E-Home helped them set the game in motion in their favor. Surprisingly, a big opportunity for TongFu.Wz to open things up and turn the game occurred at the 18-minute mark, when they got a four-man wipe with no deaths, and managed to take an easy uncontested Roshan. About ten minutes later, they took a second Roshan. The game became very entertaining, with many mistakes and many incredible plays. The game ended after 66 minutes.
Winner: TongFu.Wanzhou
Points: E-Home 1, TongFu.Wz 1
TongFu.Old Boys vs. Energy Pacemakers
Energy Pacemakers drew first blood in the first game of the best-of-two series. The game heavily one-sided, with Old Boys not being able to secure a kill until a fight in dire woods when they killed the Spirit Breaker. They were able to force a buyback on him and the overall fight was in their favor and helped them to make up for some of the deficit, but it wasn't enough, as EP continued to dominate and push their way through. TongFu.OldBoys called the game after one "Beyond Godlike" streak from "FaN" Yixuan Fan.
Winner: Energy Pacemakers
EP was able to pick up first blood again in the second game and continue their momentum from the first game, wiping TongFu.OldBoys easily in only 28 minutes, with a score of 26:4.
Winner: Energy Pacemakers
Points: Energy Pacemakers 3, TongFu.OldBoys 0
Energy Pacemakers vs. E-Home
E-Home drew first blood on top lane about three minutes into the game. The game was even, as both teams were splitting farm but E-Home's execution was better than Energy Pacemakers'. After they took Aegis on Gyrocopter, they managed to seal the game.
Winner: E-Home
EP secured first blood but the rest of the game was very one-sided, as E-Home had the better draft, and dominated every lane. Templar Assassin dominated over Shadow Fiend on mid, so the game became harder, as EP had to dedicate resources and support to SF, with heroes such as Rubik which are not suited to do well against TA. Energy Pacemakers were unable to control Templar Assassin, Gyrocopter and Undying. The game ended in 26 minutes.
Winner: E-Home
Points: E-Home 3, Energy Pacemakers 0
TongFu.Wz vs. Newbee.Young
First game starts with a 1:1 trade on bottom lane. Despite the game being even until about 13 in, Newbee.Young started to snowball with kills after kills. The game ended in 32 minutes, with a 23k gold lead in their favor. Morphling had a flawless game, with 11 kills, 0 Deaths and 8 assists.
Winner: Newbee.Young
In the second game, Newbee.Young took the lead with an extremely farmed Shadow Fiend. It seemed like TongFu.Wz had no hope to win the game, as their only farmed hero was Brood Mother, which in late game stages can have little impact. However, the Ancient Apparition support was able to hit multiple targets with his ulti, always being spot on and making team fights very difficult for Newbee.Young. After a few misplays on the part of Newbee, the game slipped from their hands, as Storm Spirit, Gyrocopter and Brood Mother started to lead in net-worth by at least 5k gold difference.
Winner: TongFu.Wz
Points: TongFu.Wz 1, Newbee.Young 1
Newbee.Young vs. Energy Pacemakers
First blood went to Newbee.Young's Weaver, on the offlane Windrunner. Both teams started to farm in order to obtain their items. After 21 minutes in, there was a huge fight where Newbee.Young came out ahead. After an attempt to take the top tower by EP at minute 27, EP supports died and gave a free Roshan to Newbee.Young. 42 minutes into the game, a huge team fight occurred. Four-man wiped, Newbee.Y gave up a free Roshan to EP. Both teams started to split push and farm, trying to get their items and find an opening to pull ahead. At minute 46, Leshrac caught EP off guard and destroyed their bottom barracks. There were many team wipes back and forth. The first Divine Rapier of the qualifiers was purchased by Newbee.Young. The game lasted over an hour before Energy Pacemakers emerged victorious.
Winner: Energy Pacemakers
The game was pretty even in the beginning with both Newbee.Young and Energy Pacemakers sharing farm until Storm Spirit started to grab a few kills and surviving team fights. After that, he had so much farm that Newbee.Young had no way to stop him. Orchard on Queen of Pain was useless against Storm Spirit, because of the BKB he had. The only reliable way to stop Storm Spirit was the Dragon Knight stun, which was not enough. The game was over in less than 45 minutes.
Winner: Energy Pacemakers
Points: Energy Pacemakers 3, Newbee.Young 0
E-Home vs. TongFu.OldBoys
Although early game was very even between the teams, a five-man smoke gank attempt on Shadow Fiend and Ancient Apparition lost the game for Old Boys as they ended up getting four-man wiped with Naga Siren being the only survivor. That gave E-Home a huge XP/Gold lead. E-Home stomped TongFu.OldBoys in the first game of the series. The game ended in 25 minutes, with a score of 23:12.
Winner: E-Home
The Naix pick seemed to be really powerful for E-Home, because Old Boys had nothing to counter it with and as he started to snowball early, it made the game difficult. Although Old Boys had some trade-offs during team fights, they always seemed to come up on the losing end. After a Roshan pick up from E-Home, they took mid barracks. Shortly after that, Old Boys called "GG".
Winner: E-Home
Points: E-Home 3, OldBoys 0
TI5 Chinese Qualifiers, day 1, Group B
HGT vs. TongFu
HGT defeated TongFu in a very heavily one-sided first game. Although TongFu had the early advantage in the first few minutes, HGT took control starting around minute four and maintained it throughout the game, despite attempts from TongFu to even things out. With a score of 42:16, the game lasted for 40 minutes.
Winner: HGT
If game one was one-sided in favor of HGT, the second one would prove to be even more so. Hyper Glory Team had the advantage from the start of the game and never once gave TongFu the opportunity to do anything about it. The game just snowballed from the start and ended in 19 minutes with a score of 19:3.
Winner: HGT
Points: HGT 3, TongFu 0
CDEC vs. VG.Potential
CDEC stomped over ViCi Gaming Potential with a score of 15:0.
Winner: CDEC
The second game was a bit more even between the two teams, with ViCi Gaming Potential starting out with a slight advantage briefly and then maintaining it for the most part. However, after about 13 minutes, CDEC was able to turn the game and began to run over the youth squad. The second game lasted 25 minutes and ended with a score of 26:6.
Winner: CDEC
Points: CDEC 3, VG.P 0
ViCi Gaming.Potential vs. HGT
HGT's draft was well rounded with fight and pushing potential. A perfectly executed smoke rotation from ViCi Gaming Potential helped to create balance between the teams, but HGT was able to use their draft effectively to push and kill, allowing them to easily claim the first game, in 36 minutes.
Winner: HGT
HGT secured first blood when Phoenix was caught out of position. The game was not very successful for HGT, even though Sven and Dragon Knight seemed to be getting a bit of farm. ViCi Gaming Potential was having the same level of farm on their heroes. After fights began, HGT was not able to really come out on top having to contend with Leshrac and Bristleback.
Winner: ViCi Gaming Potential
Points: HGT 1, VG.P 1
TongFu vs. Wings Gaming
The match was the first for Wings Gaming in the series, while TongFu had already faced HGT and lost both games. Wings drew first blood close to five minutes into the game and then continued to move ahead. An initiation by Wings resulted in TongFu's heroes all TPing in and turning things around with a four-man wipe on Wings. The game continued to be back and forth through the mid and early late game, when Wings Gaming shot ahead around minute 34 and continued to maintain control and advantage until the end.
Winner: Wings Gaming
The second game was fairly even, slightly in favor of Wings Gaming, early on. Although they lost some momentum, they were able to regain it shortly afterwards. A team wipe on TongFu at minute 25 outside of dire base ensured their lead. Minutes later, TongFu called "GG".
Winner: Wings Gaming
Points: Wings Gaming 3, Tongfu 0
TI5 Chinese Qualifiers, day 2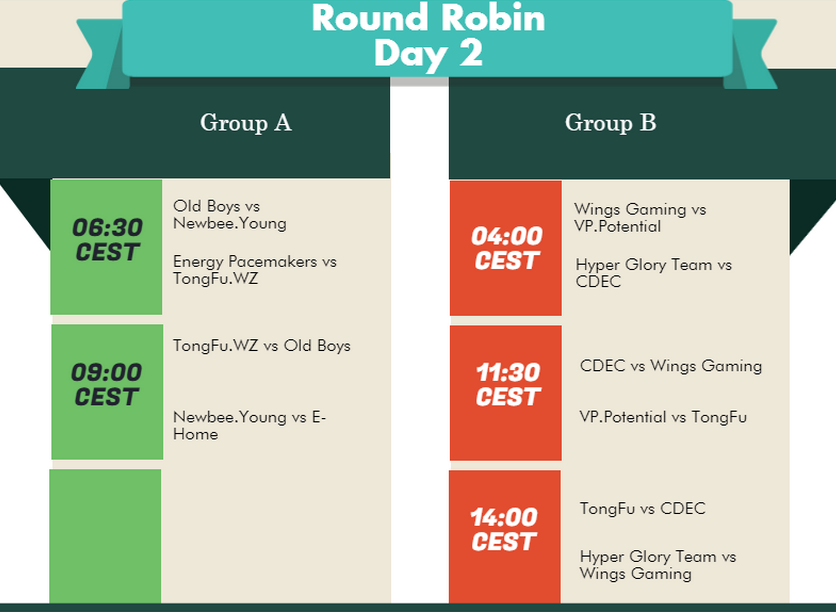 TI5 Chinese Qualifiers streams
The TI5 Chinese qualifiers will be broadcast in English as part of the "Mega Hub" coverage provided by Twitch and the PGL studios. The Mega Hub coverage will bring 35 Dota 2 personalities under the same roof.
The following Twitch channels will provide 24/7 coverage of all of the matches:
Chinese coverage can be found here.