The first day of the TI5 American Qualifiers has come to an end. North American Rejects top Group A, while Mousesports and Complexity Gaming share the second group's first place, with four points each.
UPDATE (August 3):
Stay on top of the TI5 main event schedule, brackets, fixtures, streams, broadcast times.
In Group A, North American Rejects lead the way, while Leviathan have ended the day without any wins. Mousesports are tied with compLexity in Group B, with four points each, while eHug and, surprisingly, Root Gaming haven't managed to secure any wins yet.
Match Points
Matches are best-of-two series.
If a team wins 2-0, they are awarded 3 points.
If the match goes 1-1, each team is awarded 1 point.
Top two teams will advance to a double elimination bracket.
TI5 American Qualifiers day 1 results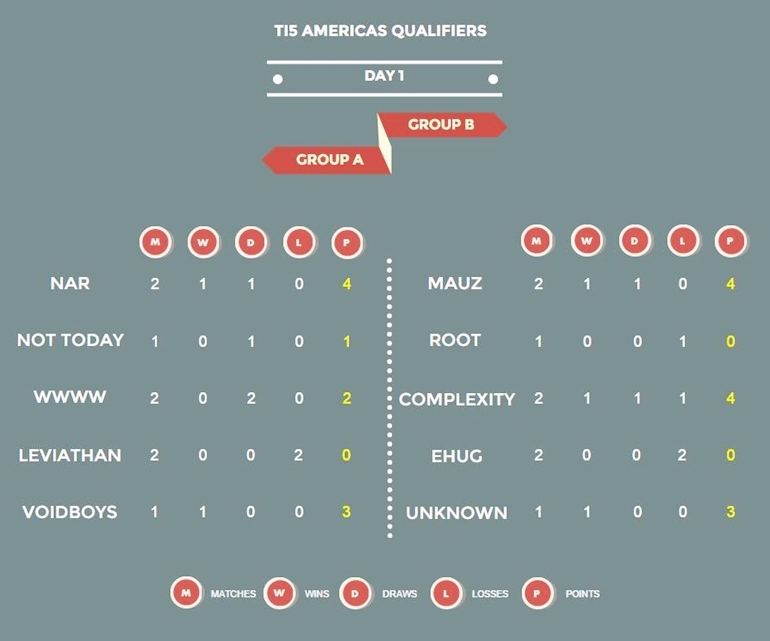 TI5 American Qualifiers, day 1, Group A
North American Rejects vs. Leviathan
NAR scored first blood before the creep spawn. 23 minutes into the game, they were able to kill Gyrocopter. Leviathan were unable to capitalize, and NAR managed to keep their lead throughout the game.
Winner: North American Rejects
NAR were able to once again secure first blood. Ten minutes into the game, NAR were ahead, 4:0. After getting on the board, Leviathan still had difficulty catching up. 41 minutes into the game, Leviathan lost Tinker twice, while NAR were pushing the barracks.
Winner: NAR
Points: NAR 3, Leviathan 0
Not Today vs. Wheel Whreck While Whistling
Not Today secured the first blood during a skirmish at the bottom bounty rune and Wheel responded by sniping the courier on its way to the middle lane. About 7 mins in, the game paused for a second time, due to lag issues. Players complained that the game was unplayable, but several minutes later they resumed it and hadn't reported any further troubles. 34 minutes into the game, the gold advantage was only 3k. Wheel was able to eventually win the game after 55 minutes.
Winner: Wheel Whreck While Whistling
Not Today grabbed first blood about four minutes into the game but almost immediately gave up a kill to Wheel. One of the few players that purchased dagger without finishing treads on Slark Juan "VaNn" Tito showed an amazing performance with great rotations, making Wheel hug together and fear going solo and getting ganked. At minute 20 he had blink dagger, BKB and midas completed. With him putting pressure all over the map, and Dragon Knight finishing up towers, seemed to be the key to success for this game for the Peruvans. Although the kill score difference was close, slark almost single handedly won the game.
Winner: Not Today
Points: Wheel Whreck While Whistling 1, Not Today 1
Wheel Whreck While Whistling vs. NAR
Wheel was able to grab first blood mid lane and the early game advantage with lead in kills and gold until about eleven minutes into the game, when NAR started to catch up a bit and took four kills to even things out. Both teams were farming and working on objectives. Around 26 minutes into the game, NAR got a five-man wipe near their base, thus significantly increasing their lead in gold and experience. Both teams full disconnected halfway through the game, but came back online in just a few minutes. Another big fight around minute 30 with a five-man team wipe in favor of NAR pushed them further ahead. WWWW killed Roshan, in a good attempt to get back into the game. WWWW weren't able to regain the lead or even things out and they eventually lost the game.
Winner: Wheel Whreck While Whistling
Wheel was able to once again take first blood, this time on top lane. They managed to keep their early game advantage, further securing it with two Roshan kills and other objectives. 30 minutes into the game, NAR killed four heroes as they were entering base, starting to close the gap in experience, kills and gold. Roshan attempt by Wheel resulted in a big team fight. WWWW ended up losing the fight and the aegis, turning the game completely for NAR. In just under one hour, NAR was able to finish the game with a win.
Winner: NAR
Points: Wheel Whreck While Whistling 1, NAR 1
Leviathan vs. Void Boys
Void Boys dominated Leviathan. An amazing static storm 13 minutes into the game set the ball in motion for Void Boys to roll over Leviathan in only 35 minutes, with a devastating 30:7 kill score.
Winner: Void Boys
The second game was almost identical in progression, score and length of time. Void Boys stomped Leviathan, 29:7, in 35 minutes.
Winner: Void Boys
Points: Void Boys 3, Leviathan 0
Void Boys vs. Wheel Whreck While Whistling
Void Boys secured first blood on Zeus in the Dire woods, before the creep spawn, followed by a second kill less than a minute later. Wheel was able to counter with four kills and the game started to become more even until Void Boys started to pick off heroes. They were then able to take Roshan around minute 16 and continue to achieve objectives pushing towards the end, and taking the win.
Winner: Void Boys
The second game was filled with back and forth gains and losses for both teams. Things were very close for the entire game and could have, and often did, swing in favor of either team. 76 minutes into the game, while Wheel were defending the base, they managed to get three kills on Void Boys and stun the other heroes with Magnus. Wheel immediately went to Void Boys' base and an intensely insane base race ensued with both teams hitting the throne with nearly the same progress in destroying the health status. Surprisingly, Wheel were able to finish first, mostly due to the empower on Magnus. Void Boys played very well ,but Wheel's late lineup was much more difficult to handle.
Winner: Wheel
Points: Wheel 1, Void Boys 1
NAR vs. Not Today
NAR easily took the first game, with Shadow Fiend and Gyrocopter snowballing early. At 20 in, they were able to take a five-man wipe and GG was called with a score of 22:4 in favor of NAR.
Winner: NAR
NAR had the early game lead, but by 40 minutes into the game Not Today was already taking barracks. NAR managed to outpace the Peruvians after a big fight in base killed Drow with no buyback. NAR immediately went down mid to the Tier 4 towers and killed the Ancient, ending the game in their favor.
Winner: NAR
Points: NAR 3, Not Today 0
TI5 American Qualifiers, day 1, Group B
Mousesports vs. eHug
Mousesports started the qualifiers with a solid bang, as they dominated eHug. eHug's mid and offlane struggled a lot with the Nyx Assassin being level one for a long time with no creep kills and viper died several times. With the heavy losses of these two lanes, eHug could never recover and the game ended in 22 minutes.
Winner: Mousesports
The second game went slightly better than the first one for eHug, even though Mouseports were in the lead all throughout the game. Great early game rotations by Mousesports gave them a huge advantage. At minute 26, eHug took Roshan, which gave them a little bit of momentum, as they were able to farm more efficiently. Not too long after though, at minute 37, Mousesports took the aegis, grouped up as and started to push highground. The third Roshan was attempted by eHug and cost them the game, as they got five-man wiped.
Winner: Mousesports
Points: Mousesports 3, eHug 0
Root Gaming vs. compLexity
The first game was one-sided since the very beginning for compLexity, as they pushed through achieving objectives after objectives. Their draft was easier to execute, as Root went with a Sven-Kotl rare pick which did not seem to serve them well.
Winner: compLexity
Second game started with first blood in favor of compLexity on BroodMother, with a follow up kill on the same hero. By minute 11, Jaron "monkeys-forever" Clinton on Brood Mother was killed yet again, for the third time. At minute 12, Root Gaming took their first kill when Spirit Breaker over extended to kill Witch Doctor. compLexity had a solid play and managed to take the game.
Winner: compLexity
Points: compLexity 3, Root 0
compLexity vs. Mousesports
Teams kept letting Mousesports have their comfort pick Bounty Hunter. Bounty Hunter was responsible for winning at least two lanes, as he applied much pressure and forced opponents to commit significant resources in countering him. compLexity weren't able to get ahead because of the track kills. Invoker and Gyrocopter led the net-worth by almost twice the amount of the third ranked hero, Leshrac. compLexity started to fall apart slowly, losing tower after tower and kill after kill. By minute 35, they called "GG" with only 8 kills on the board versus Mousesports' 28.
Winner: Mousesports
compLexity banned Bounty Hunter in the second game. The game started off more even between the teams before compLexity were able to pull ahead around minute 17 and managed to maintain control until the end.
Winner: compLexity
Points: Mousesports 1, compLexity 1
eHug vs. Unknown
Unknown drew first blood on eHug. There were several trade-offs around the map between the two teams with a score of 3:2 at around three minutes into the game, which quickly escalated to 8:3 in favor of Unknown. The game continued to progress in the same manner and ended in 25 minutes.
Winner: Unknown
The second game between Unknown and eHug proved that the Peruvians were the stronger team. Although they fell behind in the early game, they managed to win a Roshan fight and secure an advantage for the entire game, which only lasted 19 minutes. NA team eHug would end the day with no wins, after also losing both games versus Mousesports.
Winner: Unknown
Points: Unknown 3, eHug 0
TI5 American Qualifiers Day 2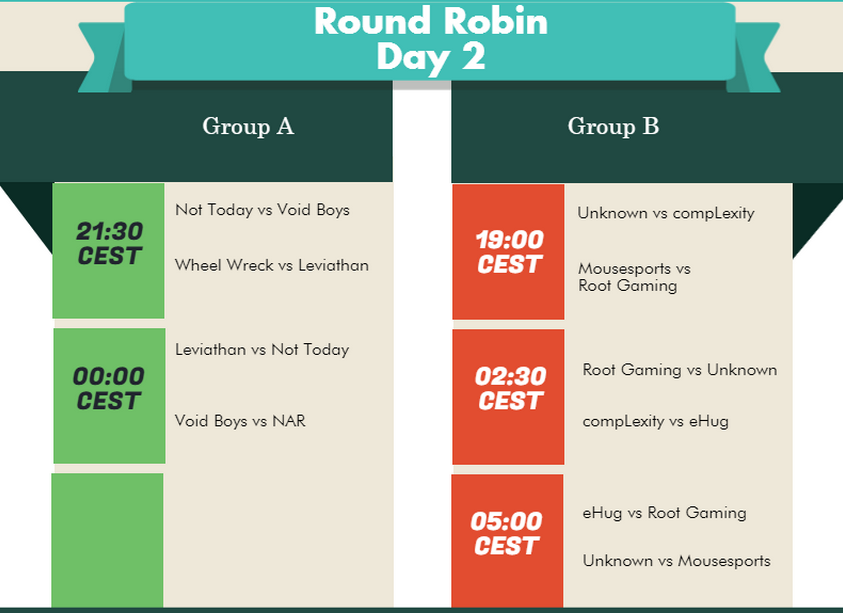 TI5 American Qualifiers streams
The TI5 American qualifiers are broadcast in English as part of the "Mega Hub" coverage provided by Twitch and the PGL studios. The Mega Hub coverage brings 35 Dota 2 personalities under the same roof.
The following Twitch channels provide 24/7 coverage of all the matches:
The TI5 American Qualifiers series will end on May 29.