With only days until the event begins, the schedule and groups for The Summit 3 have now been announced. The event kicks off on Wednesday, May 13, in LA at the Beyond the Summit house.
As The Summit 3 is getting ready for its third season, preparations are underway at the BTS house. Known for its relaxed broadcasts and playful antics, The Summit is also considered to be one of the players' favorite tournaments to participate in because of the intimate setting, laid back atmosphere and high level of competition. Fans and players alike are eager for the games to begin.
The Summit 3 format
The first phase of the tournament includes a double elimination bracket within each group. All games in this phase are best-of-three. The top two teams from each of the groups will advance.
The playoffs will be held as a four-team double elimination bracket. The games will be best-of-three. The remaining two teams will advance to the Grand Finals, which will be played as best-of-five series.


The Summit 3 groups
The eight teams have been split into two groups, each group containing four teams. The groups were balanced out by dividing up the teams which qualified from the same region.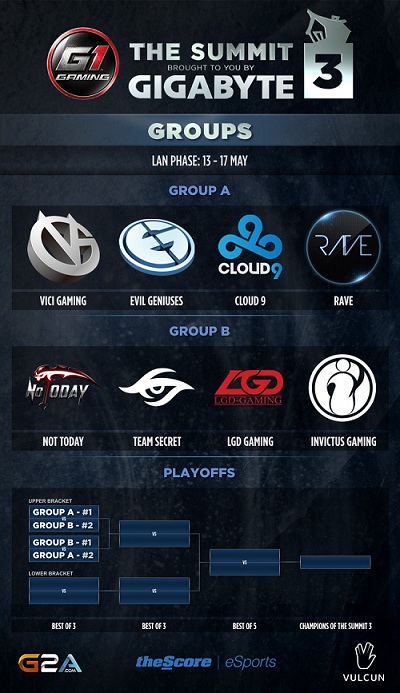 All of the teams have previously announced they have already received their visas and will begin to travel to LA during the next few days. Team Secret and Invictus Gaming will be finishing the Red Bull Battle Grounds Grand Finals on Sunday, May 10th, in San Francisco and then will head south to LA for The Summit 3.
The Summit 3
Dates: May 13 – 17
Prize Pool: $100,000 base prize pool; community contributions brought the total prize pool to $265,890
8 teams will take part in the Summit 3:
One invited: Vici Gaming (winner of Season 2)
One team from China: LGD Gaming
One team from SouthEast Asia: Rave
Two teams from Europe: Team Secret and Cloud 9
Two teams from the Americas: Evil Geniuses and Not Today
One Redemption team: Invictus Gaming
The Summit 3 tickets
Tickets: Online ticket and compendium bundle are available for $9.99; 20% of the proceeds of each sale contributes to the tournament prize pool
The Summit 3 coverage
Full coverage and broadcast: Beyond the Summit