It's that time of the year again when the top favorite teams break free from traditional constraints and start campaigning for compendium owners' Redemption Vote for the final and exclusive spot to The Summit LAN event.
Beyond the Summit's goal was to create a "behind the scenes" oriented tournament, inspired by TakeTV's Homestory Cup in StarCraft 2. The format was designed to give fans an inside peek into their favorite players' personalities and experience an entirely different capacity, while still providing quality production and matches. The tournament takes place inside the BTS house, as a way to further enhance the intimacy and laid back environment.
While fans love the unusual and unscripted production, the teams enjoy a break from the traditional pressures, in a relaxed atmosphere.
Sergey "God" Alexandrovich Bragin (ASUS.Polar) pleads for mercy:
Best teams in the world playing in a laid back, intimate atmosphere, that's why the best players want to get there, that's why it attracts so many fans. I really wanted to get there since the first iteration of this wonderful tournament. I enjoyed every broadcast. I got that opportunity at the Summit 3, but I couldn't seize it, I couldn't. Nevertheless, no need to grow desperate. You, our dear fans, can push us through to the Summit 3 with the redemption vote. The redemption vote is all we can rely on now.
As part of the strategy to offer a completely different event and to change the way teams are able to secure a spot, BTS introduced the Redemption Vote, an opportunity for the community to engage in the fun and a final chance for the teams to lay their hands on a LAN spot.
With setting up the Redemption Vote, a new culture was born, as the teams are forced to put up a sweat in order to convince the community to give them their votes.
PSA: All compendium owners need to RE-VOTE during the runoff phase for the redemption vote. Selecting just one team! pic.twitter.com/zk40MizKRs

— BeyondTheSummit (@BeyondTheSummit) April 14, 2015
With Phase I completed, only three teams remain in the running: Na'Vi, The Alliance and Invictus Gaming. The teams will stop short of nothing to pile up the Summit 3 redemption votes and secure their place at the LAN party in LA. Here's what some of them have been up to:
Invictus Gaming
Costume Cross Dressing Cosplay: Who doesn't want to see these Chinese stars all dolled-up?
ChuaN says iG will do a maid cosplay if they win #TheSummit 3 Redemption Vote. Oh lord …. pic.twitter.com/SvgmXc3UBi

— Wykrhm Reddy (@wykrhm) April 14, 2015
The Alliance
Getting a little help from friends: Nice to have friends in high places, like Jacky "Eternal Envy" Mao from Cloud 9 willing to do the dirty work for you!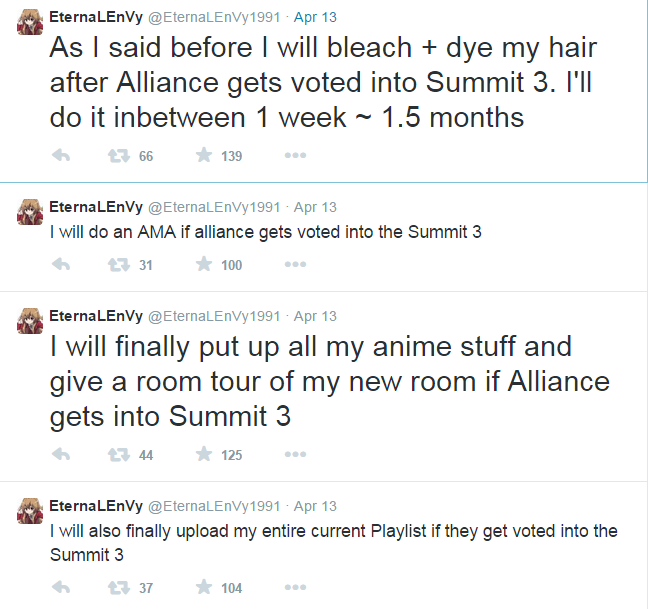 Na'Vi
On a more serious and relevant note: Showing fans they are ready to commit and dedicate themselves to the game. Na'Vi have also launched a dedicated website. The Ukrainians are also trying to encourage fans to cast their Summit 3 redemption votes by giving away 10 Arcanas, on their social media channels.
We promised a giveaway and we always keep our word! http://t.co/ckZj2WkZ3n #naviraffles #RedemptionVote pic.twitter.com/YfRB4kNY5K

— Natus Vincere (@natusvincere) April 13, 2015
Honorable mention
Team Empire
Or should it be Team Empire Twitter Guy's campaign? It's impossible to ignore the valiant effort made by everyone's favorite twitter guy.
Okay so if Team Empire gets a slot at #TheSummit3 – i will bleach my hair, rap over Eminem song and take over BTS twitter if they let me!

— Team Empire (@team_empire) April 12, 2015
How about stormtroopers invading @BeyondTheSummit house during #TheSummit3? Make it happen boys #VoteEmpire pic.twitter.com/VZgczJyXGw

— Team Empire (@team_empire) April 14, 2015
You can root for them kiddos in PJs or for real men who won't back down pic.twitter.com/YDs7RBwR0I

— Team Empire (@team_empire) April 3, 2015
You can root for the captain without a ship or for a man of his word and working hard for his country pic.twitter.com/udsWpzmF6Q

— Team Empire (@team_empire) April 3, 2015
The Summit 3 Redemption Vote ends in only four days. The winner will join the invited defending champions ViCi Gaming and the sixqualified teams: Team Secret, Cloud 9, Rave, LGD, Evil Geniuses, and Not Today. As of April 1, 2015, the total prize pool for The Summit 3 is $203,513. The Event kicks off on May 17.