DAC 2017 qualifiers for SEA have concluded with a powerful and tidy victory for Team Faceless over WarriorsGaming.Unity 2:0 in the grand finals. The Singaporean based team will head out to Shanghai, China in late March to compete as one of 12 teams for the $500,000 base prize pool. European qualifiers will conclude tonight, followed by the Americas and CIS – giving three more teams a much coveted spot in the main event.
Faceless are going to #DAC2017. Congrats. pic.twitter.com/rpFx6zGoNh

— Wykrhm Reddy (@wykrhm) February 10, 2017
Team Faceless once again have claimed a coveted spot for the region – taking hold of their place in DAC 2017 March 28-April 4th in Shanghai, China.
After the DAC 2017 SEA qualifier group stage played out as expected – Team Faceless and TnC Pro claimed the top place positions after a flawless run. WarriorsGaming.Unity and Mineski slid into the second place positions, granting them a place in the playoffs as well.
Team Faceless toppled over Mineski 2:0 while WarriorsGaming.Unity upset TnC Pro and then Team Faceless 2:1 to be the first to advance into the Grand Finals. However, Team Faceless were bent on advancing further and knocked TnC Pro out of the lower bracket finals with a 2:0 sweep. Emerging at the Grand Finals, they sought out vengeance against the Malaysian team. After a hard earned victory in the first match, Team Faceless crushed their opponents in 16 mins, forcing WG.Unity to call GG with a 5:0 score.
European qualifiers will conclude tonight – a fierce battle expected to take place between B)ears, Team Liquid and Cloud 9.
American and CIS DAC 2017 qualifiers will conclude on Sunday, February 12th and Monday, February 13th respectively.
Only three more teams will join the four Chinese teams which already earned their battle scars and places – Invictus Gaming, iG.Vitality, VGJ and LGD.ForeverYoung and Team Faceless.
Four teams – Evil Geniuses, OG, Wings Gaming and Newbee have been directly invited to participate.
DAC 2017 teams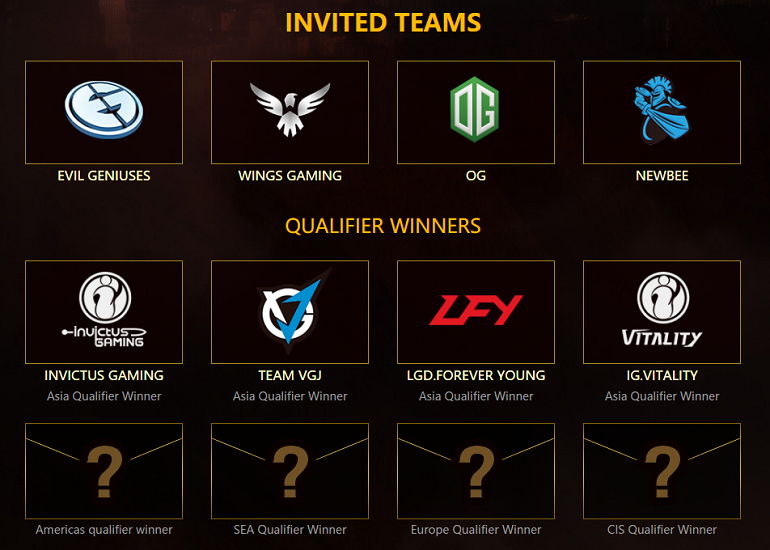 DAC 2017 prize pool
The starting prize pool amount is $500,000. It is expected that the prize pool will be supplemented with crowd funding as DAC 2015 was. The starting prize pool for DAC 2015 was set at $250,000 USD, but viewers are able to increase it via Compendium purchases. As of February 9th, 2015, the prize pool was $3,057,519.
1st place – $200,000 (40%)
2nd place – $75,000 (15%)
3rd place – $60,000 (12%)
4th place – $45,000 (9%)
5/6th place – $30,000 (6%)
7th/8th place – $15,000 (3%)
9-12th place – $7,500 (1.5%)