Alliance continue to excel during the SL iLeague Invitational, overwhelming Virtus.Pro, 2:0. The CIS team will now drop to the Lower Brackets, while Alliance will move forward in the Upper Brackets. No teams will be eliminated today. The SL iLeague Invitational continues with ViCi Gaming Reborn vs. MVP.Phoenix, at 15:30 CEST, and one other quarterfinals series.
2:0 for @theAllianceGG!#Dota2Invitational pic.twitter.com/UGjvAXANJ0

— Dota 2 SLTV (@dotasltv) April 14, 2016
The series between Virtus.Pro and Alliance got off to an incredibly strong and promising start for the Swedish stars. Tapping into their synergy of yester-years as TI3 champions, Alliance once again demonstrated superior cohesion and unity.
Virtus.Pro's shaky first game was compensated by their incredible ability to adapt and then diligently draw out the second game into an incredibly close ending. The match that lasted for almost one hour.
The first day of the SL iLeague Invitational kicked off with the series between LGD and Vega Squadron. Both teams gave fantastic performances but in the end LGD advanced in the Upper Brackets, as they took a convincing 2:0 sweep over the CIS team.
SL iLeague Invitational: Upper Bracket Quarterfinals
The first match of the series began with Virtus.Pro securing first blood. Alliance wouldn't allow for VP to set the tempo of the game and struck back hard. Alliance were able to secure kills, take towers and get all of their items online quickly, taking a substantial lead in the early-mid game. Focusing on their signature teamwork skills, they were able to coordinate with excellent precision and execute their strategy perfectly. In 26 minutes, the Swedish team completely ran over Virtus.Pro and took the first game.
Virtus.Pro were not ready to bow out and came out in the second game ready to fight. The CIS team were able to gain the advantage and lead in the laning phase and early game. Losing their grasp on it around minute 17, they persevered and fought hard to finally gain their lead again at around 50 minutes in. It wasn't enough, as Alliance managed to ultimately surpass them at the end of the one hour long match. Alliance clinched the series with their victory.
SL iLeague Invitational results: Virtus.Pro 0:2 Alliance. Alliance will continue to the Upper Bracket Semifinals, while Virtus.Pro will drop to the Lower Brackets.
SL iLeague Invitational
The SL iLeague Invitational will feature a prize pool of $100,000. The event will take place between April 14-17 at the Kiev Cybersport Arena in the Ukraine.
Eight teams will compete, including reigning champions Alliance. OG, LGD, MVP.Phoenix, Na'Vi and Virtus.Pro have been directly invited. Vega Squadron has secured the European qualifier spot and ViCi Gaming Reborn grabbed the Chinese spot through their victories in the H-Cup.
SL iLeague Invitational participating teams
Alliance
OG
LGD
MVP.Phoenix
Na'Vi
Virtus.Pro
Winner of the European qualifier – Vega Squadron
Winner of the Chinese qualifier – ViCi Gaming Reborn
SL iLeague Invitational brackets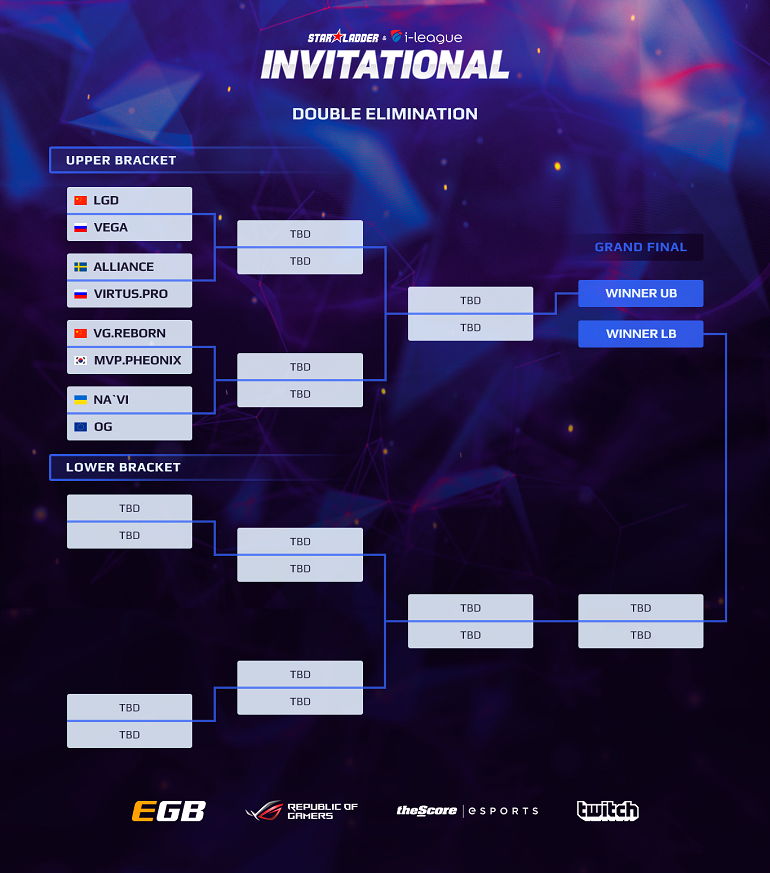 SL iLeague Invitational schedule
Thursday, April 14
Friday, April 15
08:30 CEST – Loser of M1 vs. Loser of M2
12:00 CEST – Loser of M3 vs. Loser of M4
15:30 CEST – Winner of M1 vs. Winner of M2
19:00 CEST – Winner of M3 vs. Winner of M4
Saturday, April 16
08:30 CEST – Winner of M5 vs. Loser of M8
12:00 CEST – Winner of M6 vs. Loser of M7
15:30 CEST – Winner of M9 vs. Winner of M10
19:00 CEST – Winner of M7 vs. Winner of M8
Sunday, April 17
14:00 CEST– Loser of M12 vs. Winner of M11
17:00 CEST – Grand Finals
SL iLeague Invitational format
Teams will compete in a double elimination bracket.
All matches are best-of-three series.
Grand Finals are best-of-five series.