The Shanghai Major Group B continued with the group stages of the event early this morning. Just like Group A -Group B was played out in it's entirety today. Alliance and Fnatic were seeded into the upper brackets and ViCi Gaming and Team Spirit were seeded into the lower brackets for the main event. Group C will start with OG vs Team Archon and LGD Gaming vs Newbee at 02:00 CET. Both series will be played simultaneously.
Shanghai Major Group B had another eventful day, bursting with extended delays and unexpected and sudden release of James "2GD" Harding as host. However, the most important take away from the day was the spectacular Dota 2 that was played and some of the surprising results and continued upsets that have been prominent thus far.
Southeast Asia has been pulling some major upsets at the Shanghai Major and showing up with their A Game. MVP.Phoenix managed to upset both EHOME and Team Secret to lead the way for Group A yesterday. Today, Fnatic showed up to with dominating and fantastic games, upsetting ViCi Gaming with a well polished clean wipe out of the Chinese team. They were then able to best Team Spirit in order to take their spot in the Upper brackets of the main event, joining their SEA counterparts on the high road.
Alliance takes down @FNATIC 2-0, and advance to the Winner's Bracket with a 4-0 record! #ShanghaiMajor pic.twitter.com/ONXlj84zxA

— Alliance (@theAllianceGG) February 26, 2016
Alliance continued to please fans and confirm that they had reignited their TI3 form. With a perfect 4-0 record in the Shanghai Major Group B, the Swedish team have been seeded into the upper bracket.
ViCi Gaming's struggles seeded them into the lower brackets for the main event.
Team Spirit showed all those questioning their recent performances and status that they are indeed a team that is able to synchronize well, outdraft and outplay their opponents. As well as they played, they were still seeded into the lower brackets to fight for their survival.
Shanghai Major Group B results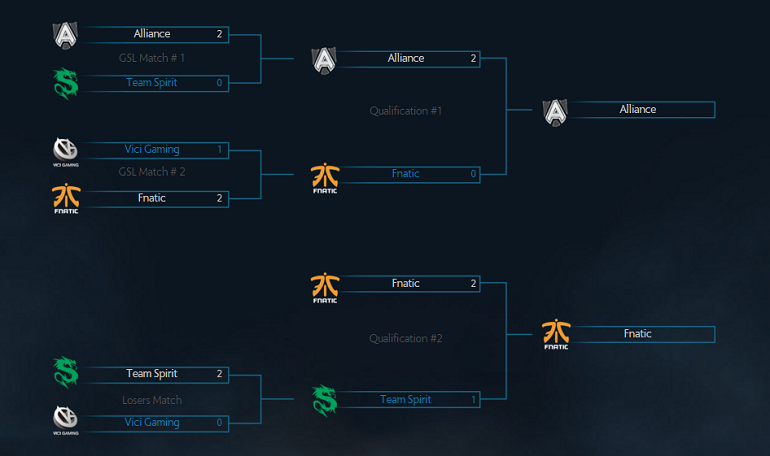 Shanghai Major Group B recap
Shanghai Dota Major – Group B
Alliance
Fnatic
Team Spirit
ViCi Gaming
Alliance vs Team Spirit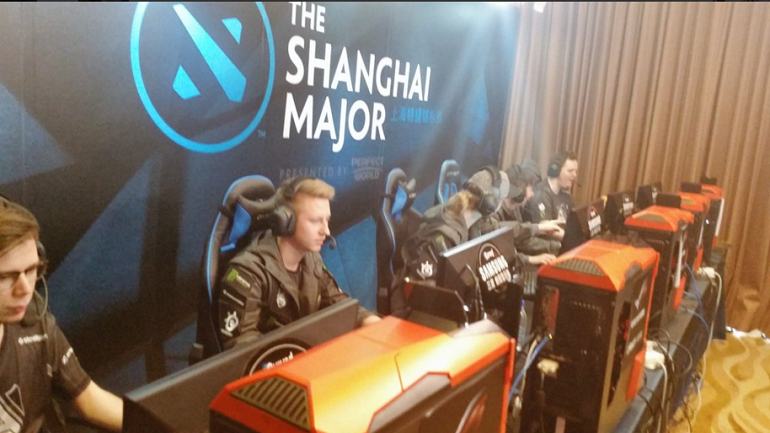 The first series of the day between Alliance and Team Spirit started off with Alliance completely being in control and taking the game from the start, securing the first four kills. A fantastic play by Roman "Ramzes" Kushnarev, followed up by Andrey "ALWAYSWANNAFLY" Bondarenko wasn't enough to give Team Spirit the lead or momentum they needed. Gustav "s4" Magnusson had an extraordinary game on Queen of Pain. The second game saw a Warlock pick and an incredible game for Jonathan "Loda" Berg. Although the game was more evenly matched, but in the end Alliance were able to still grab the victory for a clean sweep.
Shanghai Major Group B: Alliance 2:0 Team Spirit . Alliance advance in the upper brackets of the group stage, Team Spirit plays loser match
ViCi Gaming vs Fntaic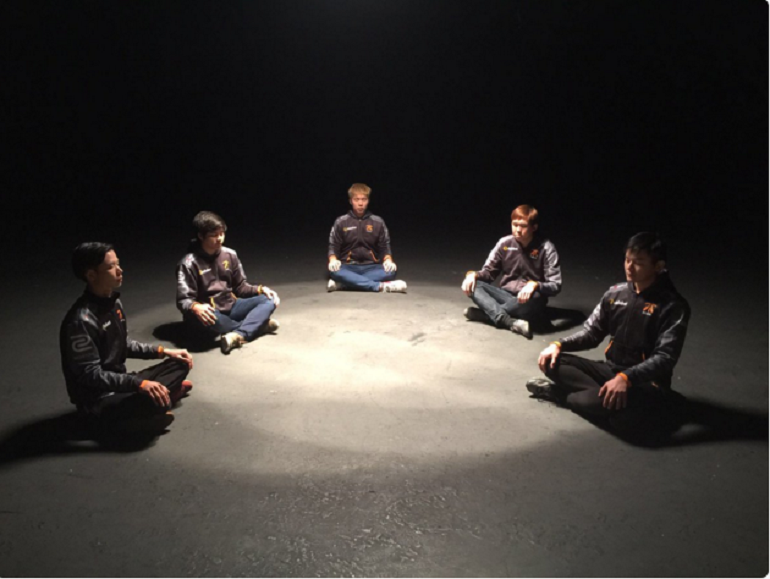 The series between ViCi Gaming and Fnatic turned out to be another surprising upset for the Shanghai Majors. Fnatic appeared to be in top form today with their plays and coordination. Despite having a Tusk, Sven and Invoker in the lineup, Fnatic were not able to be subdued for long. Starting out the first game with the lead, ViCi Gaming was able to only snatch it away for a short period of time before Fnatic were able to swipe it back from them at the 50 minute mark. The second game was more one sided and played out how most viewers were expecting of this lineup. An elder titan pick for Daryl Koh "iceiceice" Pei Xiang shook things up a bit. ViCi Gaming dominated the game just outside of the laning phase and claimed the victory with perfect games by Xu "BurNIng" Zhilei and Xie "Super" Junhao. The Chinese team were able to force a deciding third game. However, the third game ended up being a complete annihilation by the Malaysian based squad on VG. In only 21 minutes with a score of 16:3, they were able to easily destroy ViCi Gaming and secure themselves further advancement in the upper brackets.
Shanghai Major Group B: ViCi Gaming 1:2 Fnatic. Fnatic advance in the upper brackets of the group stage. ViCi Gaming plays the loser match.
Team Spirit vs ViCi Gaming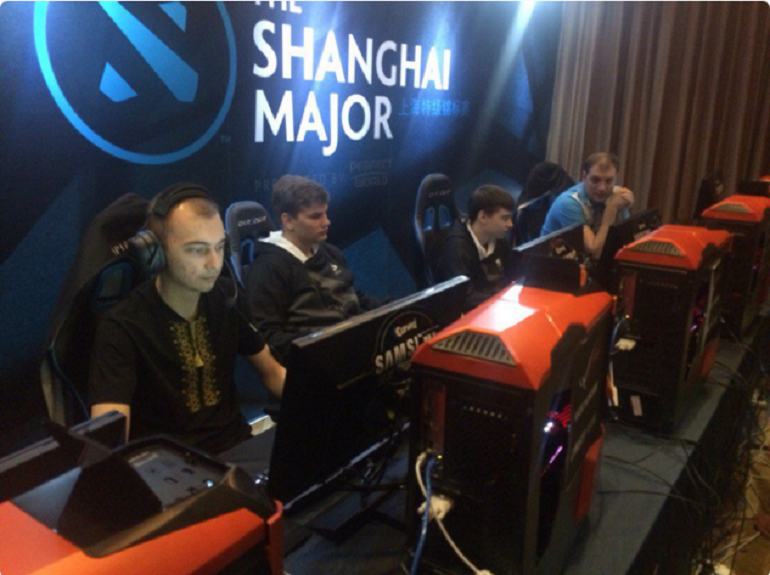 Team Spirit and ViCi Gaming series started off with an extended delay of more approximately 2 hours before the creeps even spawned. Team Spirit started out strong and took the first two kills and began aggressive. Armed with a Level 1 Roshan, 2 bottles on the Tiny-Io combo and the runes, Team Spirit also took first blood killing Super in the middle lane. Leveling things off a bit ViCi Gaming started to come back, but after an over extending, they quickly lost all ground they had gained. Team Spirit secured their win and sent ViCi Gaming to the lower brackets.
Shanghai Major Group B: Team Spirit 2:0 ViCi Gaming. Team Spirit will continue in the upper bracket group stage. ViCi Gaming starts in the lower bracket for the main event.
Alliance vs Fnatic
The first game of the series started out fairly even with a slight advantage for Fnatic. While both teams were playing well, Alliance was able to make a 22k gold comeback 57 minutes into the game and take the first victory.
The second game started with Alliance securing the first kill and taking down the first tower in the game by eight minutes. The Swedish team continued to steamroll over Fnatic, taking objectives and kills all over the place. Great plays by s4 and an incredible performance by Henrik "AdmiralBulldog" Ahnberg on Weaver helped to lead the team to their second victory of the series in an easy sweep.
Shanghai Major Group B: Alliance 2:0 Fnatic. Alliance advances to the upper bracket of the main event. Fnatic will continue to compete in the group stage for their bracket placement.
Team Spirit vs Fnatic
The last series of the day pitted Team Spirit against Fnatic for the final seeding decisions. Team Spirit came out strong, taking the lead early on. However, Fnatic were able to grab hold of the lead for some time and turn the tides, only to lose it again.
The second game gave Fnatic a chance to fight back and work their way into a deciding third game. The game was very one sided thanks to the coordination and great plays by Zheng "Miduan" Yeik Nai and a perfect game by Chong "Ohaiyo" Xin Khoo on Phoenix.
Pretty cute and probably first blood securing play from Mushi: Planted a tree and immediately ate it to regen through the harass

— Skim (@SkimGaming) February 26, 2016
Fnatic started the last game off with first blood. They were able to build their lead right from the beginning and always seemed to be in control and maintain their grip on the map and game. Miduan once again demonstrated his fantastic skills, this time on the Templar Assassin. Despite having two of the three Spirits – Earth Spirit and Ember Spirit – Team Spirit had difficulties being able to find their advantage and openings.
Shanghai Major Group B: Team Spirit 1:2 Fnatic . Fnatic advances to the upper bracket. Team Spirit starts in the lower brackets of the main event.
Shanghai Major Group C schedule
Shanghai Major Groupstage
Format
The Shanghai Dota Major group stage will be played in a classic GSL format.
The 16 participating teams will be split up into four groups of four.

In each group, the teams will play a total of five best-of-three matches, as shown below:

Match #1: Team A vs. Team B
Match #2: Team C vs. Team D
Winners' match (WM): Winner of Match #1 vs. winner of Match #2 – winner advances to the Upper Bracket
Losers' match (EM): Loser of Match #1 vs. loser of Match #2 – loser drops to the Lower Bracket
Decider match: Loser of WM vs. winner of EM – winner advances to the Upper Bracket and loser drops to Lower Bracket

The group stage will determine the seeding for the Shanghai Major main event.
Eight teams will be seeded into the main event Upper Brackets, while the remaining eight will start the main event in the Lower Brackets.
No teams will be eliminated in the group stage.
Shanghai Dota Major group stage schedule
The Shanghai Major group stage will take place over the course of four days, between February 25th-28th. Group A will be played on February 25th, Group B on February 26th, Group C on February 27th and Group D on February 28th.
09:00 BJT / 02:00 CET – two best-of-three matches
12:30 BJT / 05:30 CET – Losers' Match
16:00 BJT / 09:00 CET – Qualification #1
19:30 BJT / 12:30 CET – Qualification #2
No public access will be permitted during the Shanghai Dota Major group stage.
Shanghai Dota Major streams