KeyTV has been fired by Valve after two days of incessant production problems disrupting the Shanghai Major Groupstage. The list of problems includes – significant starting delays, hours of downtime, horrible sound quality, bad lighting, technical issues, and lack of communication. The pronouncement comes one day following the dismissal of James "2GD" Harding as host.
Gabe has decreed that KeyTV has been fired, meaning the English stream has no production team/panel. Raw streams now pic.twitter.com/CTEep8v2Fz

— Toby Dawson (@TobiWanDOTA) February 27, 2016
An official post on reddit from Gabe Newell, co-founder and managing director of Valve addressed the issue. In his statement, Newell affirms that the production company, KeyTV, has been fired and that Valve plans to find a replacement before the main event.
The decision comes right on the heels of the unexpected and sudden dismissal of the Shanghai Major host, James "2GD" Harding.

KeyTV was hired to be responsible for the English production of the Shanghai Major. Since the first day, the event has faced severe technical difficulties, including major delays, audio problems and stream stoppages. On Friday, the second series featuring Team Spirit against Vici Gaming was delayed for more than two hours.
On staff member, Bonnie Elvira, who was hired by the production company to translate between the crew and the English panel shed some light on production debacle. She revealed some of the details surrounding the behind the scenes infrastructure.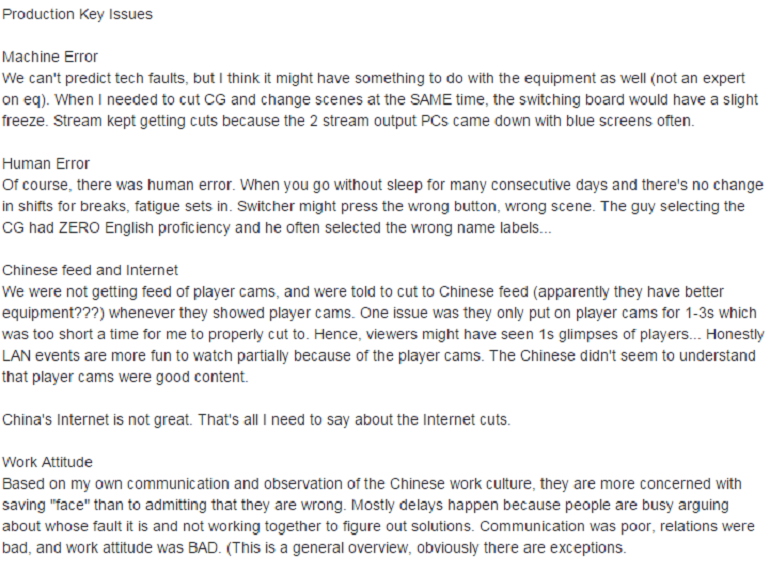 The loss of production crew on such short notice means there will be no panel for the Shanghai Major Group C games scheduled for today. The broadcast will be streaming the raw footage only. There has been no official announcement on the specific replacement company or when it will be resolved. The main event begins on March 2nd.
The Russian coverage is unaffected as the Dota 2 Russian Hub is their own production crew, bringing teams, equipment and talent themselves.
Shanghai Dota Major streams
KeyTV
KeyTV is a Shanghai based esports content producing company, focused on creating high quality esports content such as tournaments, team videos, gaming livestreams and rebroadcasted content. The Chinese company employs a team of highly experienced videographers, pre/post-production editors, writers and directors, casters and models. "KeyTV aims to be the first place fans think of to get their daily dose of eSport content."
KeyTV's most recent event was the Nanyang Dota 2 Championships. KeyTV had hosted their first Dota 2 championship LAN, Nanyang Championship, in Singapore from October 26th to November 1st.
The company was also involved in VPGame Professional Invitational, with a prize pool of $24,500. ViCi Gaming claimed the championship title in April. Additional events include, but are not limited to: assistance during DAC, MSI Beat it, and WEC.