Evil Geniuses and Fnatic have both confirmed their participation in Nanyang Championships season 2. The event is reported to be scheduled July 6th-10th and will be held in China instead of Singapore, where the first season was hosted. Team Secret was the first directly invited team to announce its participation.
Evil Geniuses has received a direct invitation to compete in the second @NYChampionships in July. #BleedBlue pic.twitter.com/uWyMsOGgDZ

— Evil Geniuses (@EvilGeniuses) May 11, 2016

Third invite to Nanyang Championships S2 goes to @Fnatic. @Mushi_Chai #NanyangChampionships

— NanyangChampionships (@NYChampionships) May 13, 2016
Evil Geniuses has announced via Twitter that they have accepted their invite to Nanyang Championships season 2 while the organization has confirmed Fnatic's acceptance of their invite.
Three days ago Team Secret revealed they were returning to the event to defend their Championship title during Nanyang Championships season 2.
joinDOTA has reported that the tournament will take place between July 6th-10th, in Shanghai, China, instead of Singapore, where the previous edition was held.
No further information has been made public by the tournament's organizers. The nanyang.gg website has been down for several days and the organization hasn't shared anything on social media since December 2015.
The event is organized by KeyTV, the original partners hired for the Shanghai Major. KeyTV were fired after two days of incessant production problems disrupting the Shanghai Major Groupstage.
Nanayang Championship season 1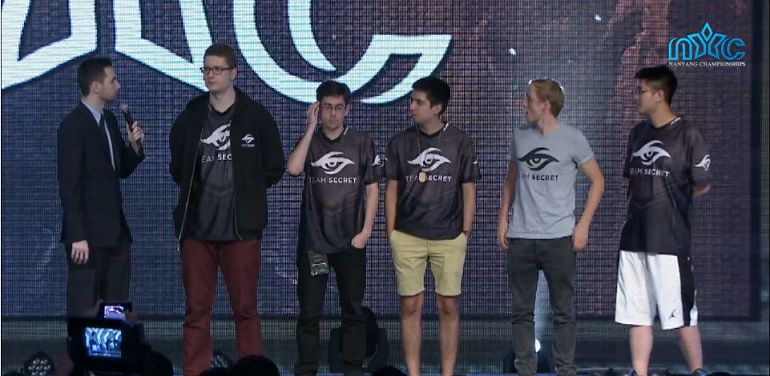 Team Secret seized the Nanyang Championships LAN title, after besting ViCi Gaming, 3:2, in Singapore, on November 1st, 2015.
The Nanyang LAN was considered the biggest tournament in the Southeast Asian region at the time. It took place between October 26th – November 1st, at the Suntec Convention and Exhibition Centre, in Singapore. Ten teams – six invited and four qualified ones – competed for the $220,077 prize pool.
Nanyang Dota 2 Championships prize pool breakdown
1st place – Team Secret $100,000 + 48% crowdfunded amount
2nd place – ViCi Gaming $50,000 + 24% crowdfunded amount
3rd place – EHOME $25,000 + 12% crowdfunded amount
4th place – Team Liquid $10,000 + 8% crowdfunded amount
5-6 place – Virtus.Pro/CDEC $7,500 + 4% crowdfunded amount
KeyTV
KeyTV is a Shanghai-based esports content producing company, focused on creating esports content such as tournaments, team videos, gaming livestreams and rebroadcasted content. The Chinese company employs a team of videographers, pre/post-production editors, writers and directors, casters and models. "KeyTV aims to be the first place fans think of to get their daily dose of eSport content."
KeyTV's most recent event was their brief stint with the Shanghai Major and prior to that the Nanyang Dota 2 Championships. NYC was their first Dota 2 championship LAN.
The company was also involved in VPGame Professional Invitational, with a prize pool of $24,500. Additional events include, but are not limited to: assistance during DAC, MSI Beat it, and WEC.