The Nanyang Championship Americas Qualifiers have already begun featuring eight invited teams from the Americas – Digital Chaos, Cloud 9, ROOT Gaming, Fire, Sector V, Void Boys, Union Gaming and Pain. The teams have completed the first round of the Upper Brackets and will continue to battle until September 14th for the one regional spot allocated for the $200,000 tournament. The main event is scheduled to be held in Singapore between October 26th and November 1st.
The North American Qualifiers will be kick-starting Nanyang Championships in about 12 hours! Here is the schedule! pic.twitter.com/cpFbsnCrte

— NanyangChampionships (@NYChampionships) September 7, 2015
Thus far, Digital Chaos has bested ROOT Gaming 2:1, Sector V sent Void Boys to the lower brackets after their 2:1 series, Cloud 9 swept through Union Gaming 2:0 and Pain Gaming defeated Fire 2:0.
The Nanyang Championship Americas Qualifiers are the first of the four regional qualifiers to be taking place to fill the remaining four spots for the main event. Six teams have been directly invited to the event – Fnatic, Virtus.Pro, Team Secret, ViCi Gaming, LGD Gaming, and CDEC. The dates and teams for the remaining three regions have not been released yet.
Nanyang Championship Americas Qualifiers
Teams
Eight teams from the Americas were directly invited to participate in the Americas Qualifiers
Digital Chaos – The newly formed team featuring Kurtis "Aui" Ling, Sam "BuLba" Sosale, Tyler "TC" Cook, Yawar "YawaR" Hassan, Dat "Biryu" Quoc Ha.
Cloud 9 – the reformed, NA based team featuring Theeban "1437" Siva, Arif "MSS" Anwar, Braxton "Brax" Paulson, Ravi "Ritsu" Kodippili, SVG
ROOT Gaming – the new roster including Niklas "Wagamama" Högström, and most recent line-up member Jaron "monkeys-forever" Clinton.
Fire – the recreated FireDota team with founding members Brian "FLUFFNSTUFF" Lee and Jio "Jeyo" Madayag
Sector V – the newly created South American team featuring Freddy "SmAsH" Sina, Steven "StingeR" Vargas and previous Not Today members Ricardo "Mstco" Román and Alex "Masoku" Dávila.
Void Boys – the North American team with new members Jingjun "Sneyking" Wu and Tairan "SHANKS" Wang joining Zheng "PatSoul" Yukai
Union Gaming – The Peruvian team with two new members and original founding member Benjamin "Benjaz" Lanao Barrios
paiN Gaming – The Brazilian team featuring three new members after the reshuffle following their failure to qualify for TI5.
Format
Lower Bracket Round 1 and 2 matches are Best of 1
Grand Final is Best of 5
All other are Best of 3
Nanyang Dota 2 Championship teams
Directly invited teams: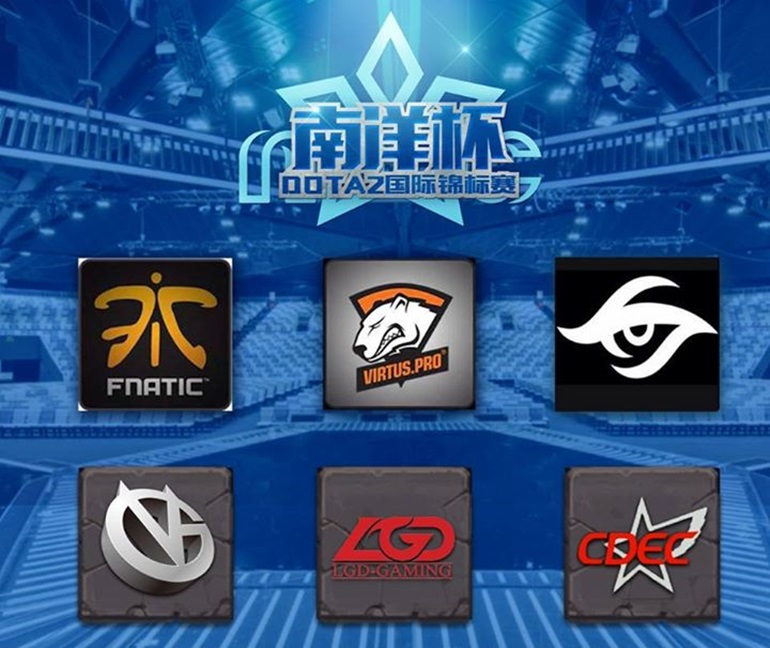 Fnatic
Virtus.Pro
Team Secret
ViCi Gaming
LGD Gaming
CDEC
Qualified teams:
Winner of the Chinese qualifiers
Winner of the European qualifiers
Winner of the Americas qualifiers
Winner of the Southeast Asian (Korea included) qualifiers
Nanyang Dota 2 Championship format and schedule
Group stage: October 26 – 27
The 10 teams will be split into two groups of five. The group stage will be played in a best-of-two Round Robin format. At the end of the group stage, eight teams will advance into the playoffs: the top two teams from each group will be seeded into the Upper Bracket, while the 3rd and 4th place teams will start the playoffs in the Lower Bracket.
Playoffs: October 28 – 30
The eight remaining teams will compete in a Double Elimination format. The first two rounds of the Lower Bracket will be best-of-one games. All the other matches will be best-of-three series. The playoffs will be followed by a "rest day", on October 31st.
Grand Finals: November 1st
The Nanyang Dota 2 Championship LAN Grand Finals will be played as best-of-five series, without any winner's advantage.
Nanyang Dota 2 Championship in-game ticket
The Nanyang Dota 2 Championship in-game ticket is available for $1.99. 25.0% of the proceeds of each sale contributes to the tournament's prize pool.
Nanyang Dota 2 Championship prize pool breakdown
1st place $100,000 + 48% crowdfunded amount
2nd place $50,000 + 24% crowdfunded amount
3rd place $25,000 + 12% crowdfunded amount
4th place $10,000 + 8% crowdfunded amount
5-6 place $7,500 + 4% crowdfunded amount
About KeyTV
KeyTV is a Shanghai based esports content producing company, focused on creating high quality esports content, such as tournaments, team videos, gaming livestreams and rebroadcasted content. The Chinese company employs a team of highly experienced videographers, pre/post-production editors, writers and directors, casters and models. KeyTV's most recent event was the VPGame Professional Invitational, with a prize pool of $24,500. ViCi Gaming claimed the championship title, in April. Additional events include, but are not limited to: assistance during DAC, MSI Beat it, and WEC.
Further information is available on the Nanyang Dota 2 Championship website.