Jio "Jeyo" Madayag will be standing in for the Philippine teams Mineski at The Summit 4 in Los Angeles on December 9-13. The North American based Filipino player will be in place of Ryan Jay "Bimbo" Qui. The mid laner has not been able to secure his visa and as a Canadian citizen, Jeyo will not have trouble traveling to California.
Mineski announced earlier today that the team has been hit with visa issues, preventing the drafter and midlaner, Ryan Jay "Bimbo" Qui from being able to travel.
Jio "Jeyo" Madayag will make the trip to LA to stand in for the Philippine team. Although Jeyo is Filipino, he is already living in Canada and is not affected by visa issues for entry to the United States.
"I'm very excited and grateful for the opportunity. Playing for a Pinoy team does bring back good memories. It will be a lot of fun and I'll do my best."

-Jio "Jeyo" Madayag
Philippine government and visas
Jeyo and the Philippine players are no strangers to the visa issues that continue to plague the professional Dota 2 scene. He was a member of Rave who had multiple issues with visas over the course of the last year. When confronted with various visa issues, the team publicly acknowledged the situation and reported it, however maintained a level of professionalism while expressing their frustration. They received public support from national media and government, leading to a meeting with government officials to collaborate on the matter and find a solution.
Philippine team, TnC Gaming had to withdraw earlier his month from Game Show Global Esports Cup playoffs in Lithuania due to visa issues.
Philippine eSports Association (PESPA), along with Senator Bam's help have still been actively working on addressing the issues and working closely with the teams.
After years of working on it, Senator Bam Aquino has successfully ratified the Philippine Competition Act, opening up a free market, allowing more competitors to enter the internet/telecommunications industry.
"Historic, game-changing for our economy," Sen. Bam Aquino describes the Philippine Competition Act after its ratification.
Better competition usually leads to improvement in the quality of goods and services provided at lower prices.
Sen. Aquino was also paramount in Team Rave's visa woes.
Mineski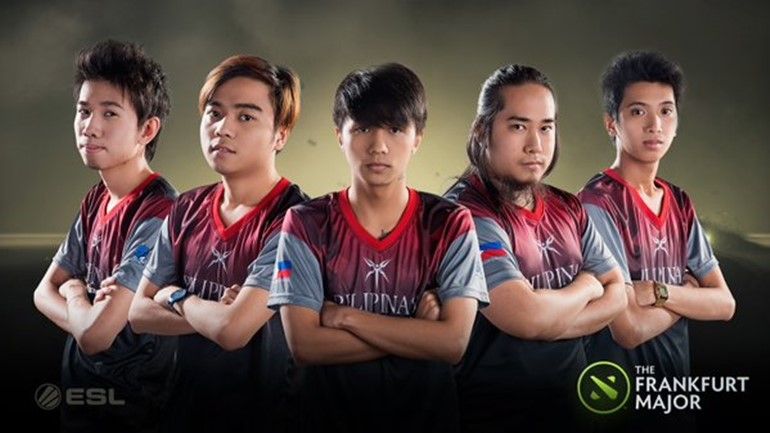 Mineski is a gaming organization focused on building the Philippine Esports scene by providing coverage and events within the Philippines. The Mineski organization was founded in 2004. Over the past 10 years, the organization branched out into other areas in SouthEast Asia. Their CyberCafé franchise is called Mineski Infity. They have two DOTA teams. In 2014, three team members came forward and admitted to being involved in match-fixing and were removed from the team.
After many reshuffles, the last roster changes came in March, when Mineski added Jessie Cristy "JessieVash" Cuyco and Carlo "Kuku" Palad. In August, the team added Ryo "ryOyr" Hasegawa, formerly of Rave Dota.
This season, Gigabyte.Mineski qualified for the Nanyang Championships, after taking down Signature.Trust, 3:0, in the Southeast Asian qualifiers' finals.
After upsetting the Frankfurt Major SEA qualifiers' favorites, Fnatic, by 2:1, Mineski grabbed the first main event spot. Ultimately they took a commendable 10th place and demonstrated a magnitude of talent and potential.
Philippine team, Mineski, qualified for the solo SEA Regional spot for The Summit 4 after besting Fnatic 3:2 in the best-of-five grand finals of the qualifier.
Mineski current roster:

Ryan Jay "Bimbo" Qui


Carlo "Kuku" Palad


Jessie Cristy "JessieVash" Cuyco


Ryo "ryOyr" Hasegawa


Julius "Julz" De Leon