The Manila Major SEA Qualifiers results for day 1 are in. TnC/Signature.Trust and WG.Unity are sitting at the top of their groups. Execration and Orange Taring are sitting in the second spot in Group A and Group B. Both Rave and Mongolz are last in Group A, each with no wins. The second day of the Round Robin group stage will pick up again on May 4th, at 04:00 CEST.
The Manila Major SEA Qualifier Day 1 Standings. pic.twitter.com/6ikqOm6RLC

— Wykrhm Reddy (@wykrhm) May 3, 2016
The Manila Major SEA Qualifiers results are in after a long and eventful day in the group stage segment of the competition.
WG.Unity has taken the lead over both their own group and the region. After playing a whopping six matches, the most played for SEA, they dropped only one match and are in the lead with 5 points. The Malaysian team has only one more match scheduled for tomorrow, against Taring.
Rave has been unable to secure a single win so far but still have three more two-game series scheduled for tomorrow.
The matches resume on May 4th, at 04:00 CEST, and are expected to be intense, as the teams continue their quest towards the second stage of the qualifiers – the double elimination brackets.
Manila Major SEA Qualifiers results, day 1
Manila Major SEA Qualifiers results, day 1: Group A
TnC Gaming may have been forced to participate by taking the long road through the open qualifiers, but they have shown full strength in the opening day of the main qualifiers. The Filipino team tied for the first place spot with Signature.Trust – each losing only one match to each other. TnC swept through XctN, 2:0, while Signature.Trust wiped out Rave.
XctN were able to gain their two wins versus The Mongolz, to claim the second place position in the group.
Both Rave and The Mongolz had a difficult start to the event, unable to claim a single win. Rave's struggles are surprising, considering they have reformed the team to most of what it was prior to TI5, when they had a strong and notable presence.
Manila Major SEA Qualifiers results, day 1: Group B
WarriorsGaming.Unity have taken their place to lead both Group B and the region. They swept through Acion Arena, 2:0, and Next-Gen esports, then took their only loss when they split the series with Mineski, 1:1.
Mineski's only loss was to WG.Unity. They swept through Orange Taring to take second place in the group. Mineski's Alchemist pick seems to still be a key factor in their success with Benhur "Benhur" Lawis continuing to dominate with the hero.
Benhur Alchemist is a beast

— MasterRamen (@ramenfirdaus) May 3, 2016
Orange Taring swept through Next-Gen Gaming, 2:0, in their only series of the day.
Both Acion Arena and Next-Gen Gaming are tied for the last position with only one point. They each were able to seize one match off of each other, but dropped their other two matches against their opponents.
Manila Major SEA Qualifiers format
The ten teams have been divided into two Round Robin groups of five.
Top two teams will advance to a double elimination bracket.
Round robin first place teams will face the second place from the other group.
Grand Final is Best-of-five.
The first place team from the Manila Major SEA Qualifiers will advance to the main event in Manila, Philippines.
Manila Major SEA Qualifiers groups
Group A
Rave
Signature.Trust
Execration
First Departure
TnC eSports (Winner of SEA Open Qualifiers #1)
Group B
Mineski
Orange Taring
WarriorsGaming.Unity
Action Arena
Next-Gen Gaming (Winner of the SEA Open Qualifiers #2)
Manila Major SEA Qualifiers schedule
Wednesday, May 4th
04:00 CEST – Mski vs. AcA
04:00 CEST – Taring vs. WG.Unity
06:30 CEST – Mongolz vs. TNC
06:30 CEST – XctN vs. Rave
09:00 CEST – Mski vs. NGE
09:00 CEST – AcA vs. Taring
11:30 CEST – Trust vs. XctN
11:30 CEST – Rave vs. Mongolz
14:00 CEST – Rave vs. TNC
14:00 CEST – Mongolz vs. Trust
Manila Major Regional Qualifiers Streams
Manila Major Regional Qualifiers streams: English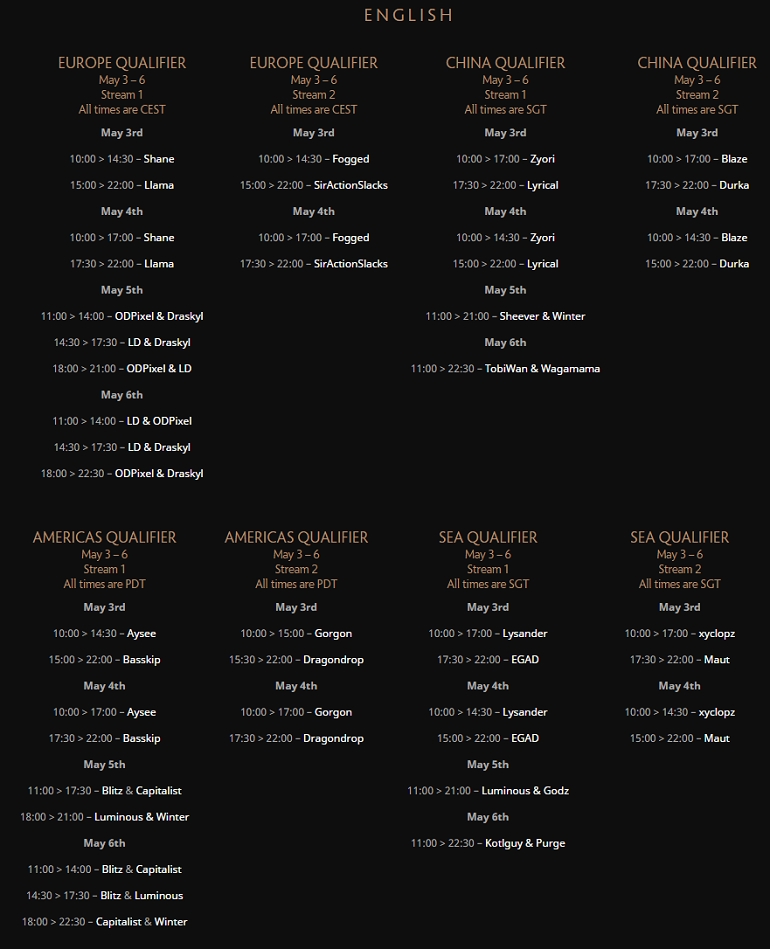 Manila Major Regional Qualifiers streams: Russian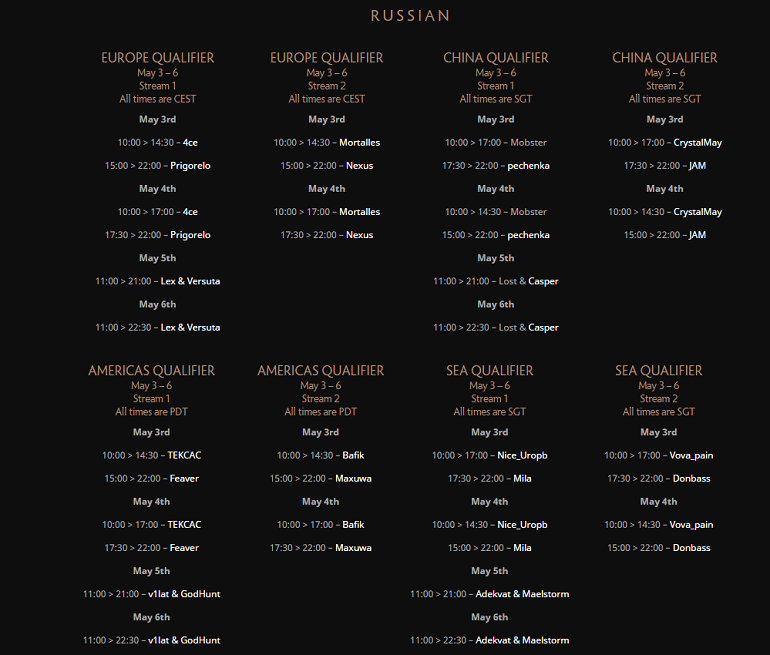 Manila Major Regional Qualifiers streams: Chinese