The Manila Major Chinese Qualifiers results for day 1 are in. EHOME/IG.Vitality and Invictus Gaming are sitting at the top of their groups. CDEC and ViCi Gaming are tied for the second spot in Group A, while Newbee and CDEC.Y are tied for second in Group B. Both FDT B club and Newbee.Youth are sitting at last place in their groups, each with no wins. The second day of the Round Robin group stage will pick up on May 4th, at 04:00 CEST.
The Manila Major China Qualifiers Day 1 Standings. pic.twitter.com/KwVjbmB7ls

— Wykrhm Reddy (@wykrhm) May 3, 2016
The Manila Major Chinese Qualifiers results are in after a long and eventful day in the group stage segment of the competition.
EHOME have dominated the competition so far, being the only team to not drop a single match in the entire day. ViCi Gaming's veteran lineup had a difficult start to the day, losing four matches and taking two wins against the rookie team FTD.B.
The matches resume on May 4th, at 04:00 CEST, and are expected to be intense as the teams continue their quest towards the second stage of the qualifiers – the double elimination brackets.
Manila Major Chinese Qualifiers results day 1
Manila Major Chinese Qualifiers results day 1: Group A
EHOME appears to be the strongest team in their group. Easily wiping through all of their opponents – CDEC and IG.Vitality in their matches today, the Chinese team takes the first spot in Group A without a single defeat.
old eleven, 4th item Refresher Orb on Gyrocopter

> That just happened

— Skim (@SkimGaming) May 3, 2016
IG.Vitality is tied for first place in Group A, but played one extra series today and dropped two matches total. They swept through FTD.B, 2:0, and ViCi Gaming but failed to take a match against EHOME.
CDEC Gaming seized both of their matches against ViCi Gaming. ViCi Gaming was able to only take two wins against FTD.B, having lost their other four matches of the day.
FTD.B is looking rather grim, sitting in last place. The squad consisting of newer players to the scene was unable to grab a single win in their four matches played.
Manila Major Chinese Qualifiers results day 1: Group B
Invictus Gaming came out of their group sitting at the top, and appearing to be the strongest team in Group B so far. The team split their series against TongFu and swept through Newbee.Youth, 2:0.
Newbee hasn't dropped a single match, but only played one series so far, in which they wiped through CDEC.Youth.
Newbee.Young continues to struggle. Having entered into the qualifiers through the second Chinese open qualifiers, they lost all four of their matches and sit in last place.
Manila Major Chinese Qualifiers format
The ten teams have been divided into two Round Robin groups of five.
Top two teams will advance to a double elimination bracket.
Round robin first place teams will face the second place from the other group.
Grand Final is Best-of-five.
The first place team from the Manila Major Chinese Qualifiers will advance to the main event in Manila, Philippines.
Manila Major Chinese Qualifiers groups
Group A
EHOME
CDEC
IG.Vitality
FTD Club.B
Vici Gaming (Winner of the CN Open Qualifiers #1)
Group B
Newbee
CDEC.Youth
Invictus Gaming
TongFu
Newbee.Young (Winner of the CN Open Qualifiers #2)
Manila Major Chinese Qualifiers schedule
Wednesday, May 4th
04:00 CEST – CDEC vs. iG.Vit
04:00 CEST – EHOME vs. FTD.B
06:30 CEST – TongFu vs. NewB.Y
06:30 CEST – iG vs. NewB
09:00 CEST – EHOME vs. VG
09:00 CEST – FTD.B vs. CDEC
11:30 CEST – NewB vs. TongFu
11:30 CEST – CDEC.Y vs. iG
14:00 CEST – NewB vs. NewB.Y
14:00 CEST – TongFu vs. CDEC.Y
Manila Major Regional Qualifiers Streams
Manila Major Regional Qualifiers streams: English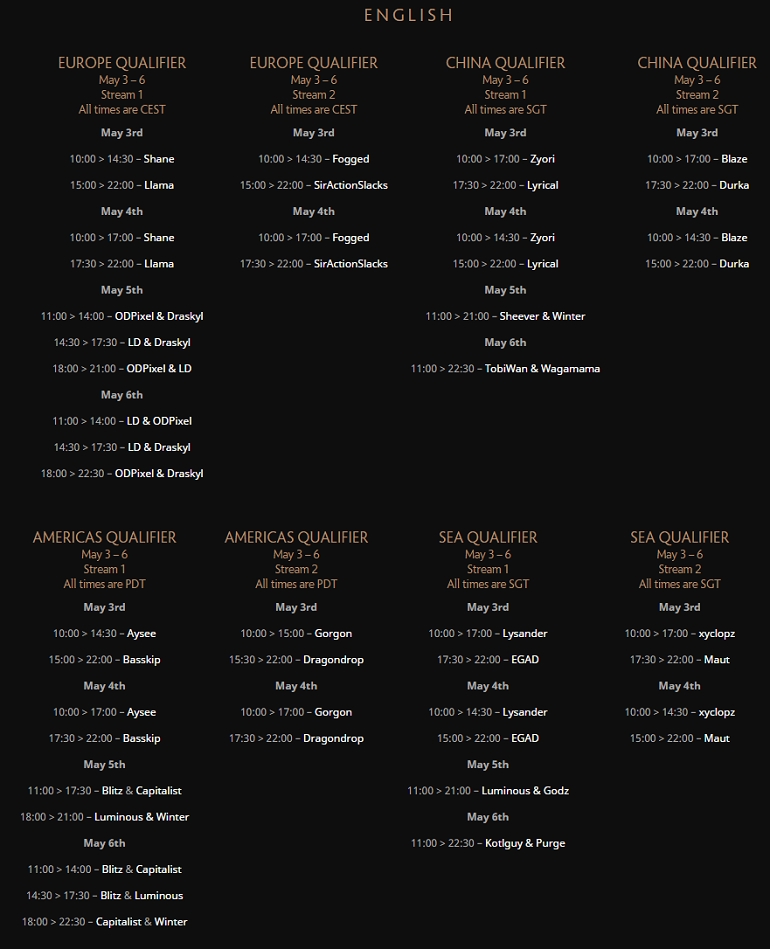 Manila Major Regional Qualifiers streams: Russian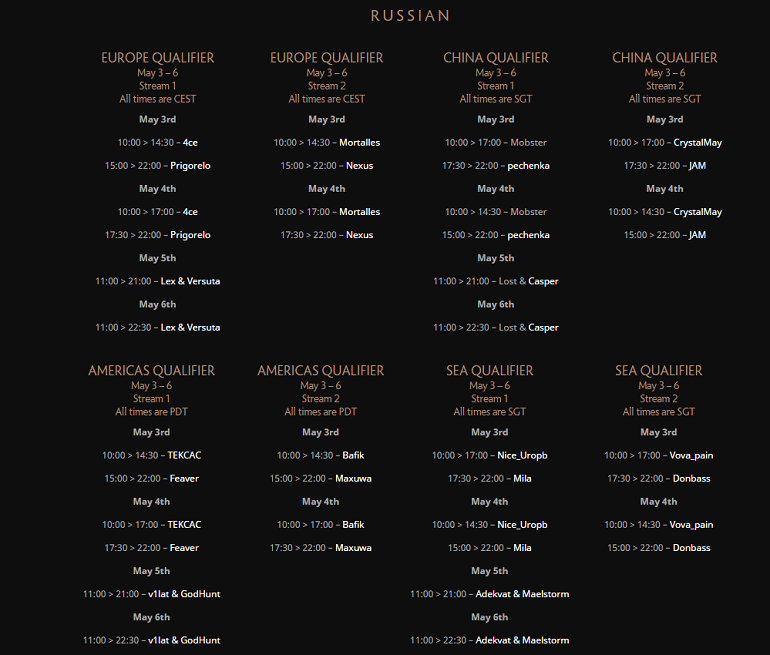 Manila Major Regional Qualifiers streams: Chinese