The Manila Major Qualifiers SEA results for day 3 are in. Mineski and TnC Pro Gaming have advanced in the upper brackets, Orange.Taring is in the lower brackets and Execration has been eliminated. The double elimination brackets will kick off tomorrow May 6th, at 05:00 CEST
Execration is eliminated as Taring keeps the dream alive. TnC and Mineski going strong in the Upper Bracket. pic.twitter.com/BdMs1UpLLX

— Wykrhm Reddy (@wykrhm) May 5, 2016
Manila Major Qualifiers SEA results
Mineski was the first team to advance further in the upper brackets when they bested Execration 2:1. Mineski seized the first win of the series in a very convincing manner. Looking strong heading into the second game, Execration lashed out about 17 minutes into the match and turned the tides in their favor. Riding on their momentum and new lead, they ran through to the end with the victory forcing a deciding third game. The last match of the series was very quickly over, in less than 30 minutes the Malaysian team stomped through their opponents giving them no chance to contest it.
Manila Major Qualifiers SEA results: With their victory, Mineski advanced in the upper brackets, dropping Execration to the lower brackets elimination series.
TnC ProGaming continued to dominate with their new roster that had forced them to participate via the open qualifiers. In a convincing manner, the Filipino team swept through Orange.Taring to declare their victory. The second game was a complete wipe out as TnC destroyed the Malaysian team in 22 minutes with a 20:2 score.
Manila Major Qualifiers SEA results: TnC advanced the upper bracket finals and Taring dropped to the lower brackets elimination series.
Execration and Taring squared off to live another day in the event. Taring took the both their matches of the series after approximately an hour of play in each game. Both matches each team gave their all but it would be the Malaysian team that would prevail in the end.
Manila Major Qualifiers SEA results:Orange.Taring advance in the lower bracket finals and eliminated Execration from the event.
The matches resume on May 6th, at 05:00 CEST, and are expected to be intense, as the teams continue their quest within the second stage of the qualifiers – the double elimination brackets and Grand Finals. Only one team will claim the regional spot for the Manila Major
Manila Major SEA Qualifiers format
The ten teams have been divided into two Round Robin groups of five.
Top two teams will advance to a double elimination bracket.
Round robin first place teams will face the second place from the other group
Grand Final is Best-of-five.
The first place team from the Manila Major SEA Qualifiers will advance to the main event in Manila, Philippines.
Manila Major SEA Qualifiers schedule
Friday, May 6th
05:00 CEST – TnC Pro Gaming vs. Mineski
08:30 CEST – Loser Upper Brackets finals vs. Orange.Taring
12:00 CEST –Winner Upper Brackets finals vs. Winner Lower Brackets finals
Manila Major Regional Qualifiers Streams
Manila Major Regional Qualifiers streams: English: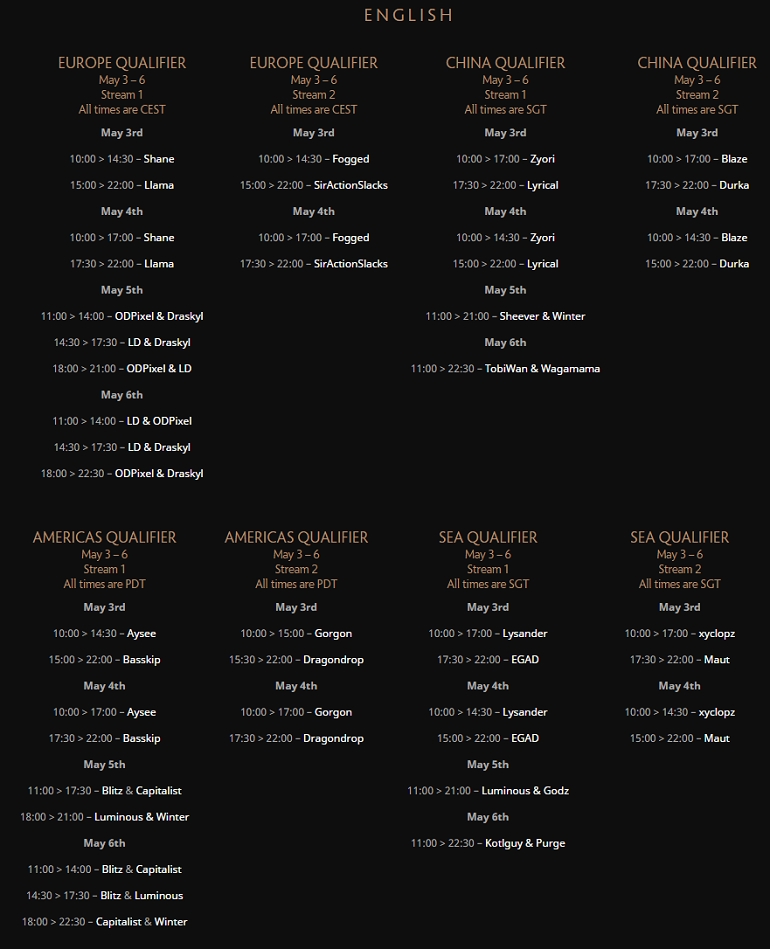 Manila Major Regional Qualifiers streams: Russian: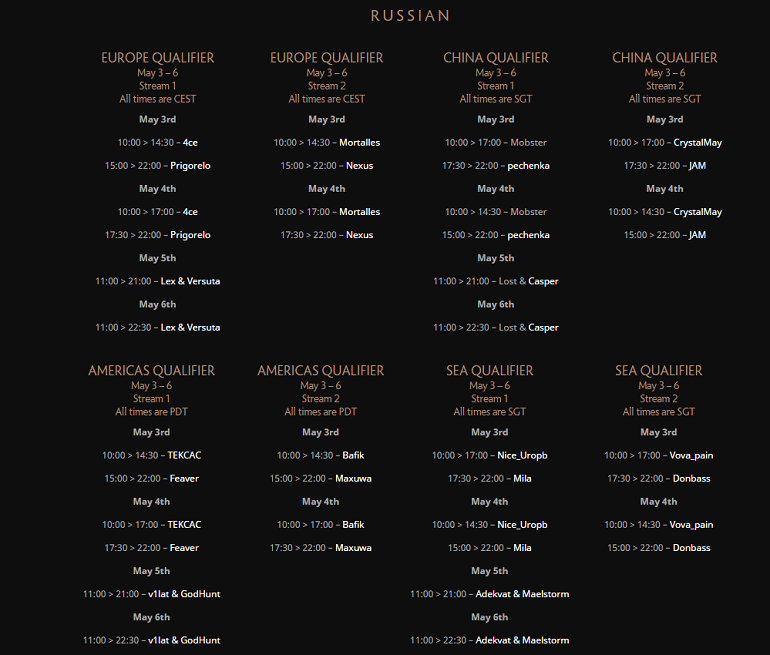 Manila Major Regional Qualifiers streams: Chinese: