The Manila Major NA Qualifiers results for day 3 are in. Digital Chaos and Shazam have advanced in the upper brackets, Dragneel is in the lower brackets and FDL has been eliminated. The double elimination brackets will kick off tomorrow May 6th, at 20:00 CEST
12 left. 4 will make it to Manila. The final teams for the event will be decided today. The matches are underway. pic.twitter.com/HP50hURSMR

— Wykrhm Reddy (@wykrhm) May 6, 2016
Manila Major NA Qualifiers results

Shazam triumphed over FDL 2:0 for their spot in the qualifiers. The first match was heavily one sided with a perfect game by Arif "MSS" Anwar on Invoker with a staggering 19:0:10 score at the end. The second game took a whopping 75 minutes of back and forth action and intense plays. It wasn't until around minute 70 that Shazam seized their opportunity and enough of a lead to charge through to the victory.
Manila Major NA Qualifiers results:Shazam advanced to the upper brackets, while FDL dropped to the lower brackets.
Digital Chaos absolutely shellacked Dragneel in both of their matches, taking the 2:0 victory. The first game Dragneel managed to slide a few kills in and hold out for 32 minutes. The second game ended in 10 minutes and a score of 10:0. The qualified NA team was no match for the newly formed NA/European mix that has been plowing over their opponents.
Manila Major NA Qualifiers results:Digital Chaos advance through the upper brackets. Dragneel drop to the lower brackets elimination series.

After coming off their devastating series against Digital Chaos, Dragneel were able to regain their composure and rebound back into the event. After losing the first match to FDL, the qualified team then easily swept through the last two matches to secure their survival.
Manila Major NA Qualifiers results: Dragneel bested FDL 2:1 and took the spot in the lower bracket finals. FDL has been eliminated.
The matches resume on May 6th, at 20:00 CEST, and are expected to be intense, as the teams continue their quest within the second stage of the qualifiers – the double elimination brackets and Grand Finals. Only one team will claim the regional spot for the Manila Major.
Manila Major NA Qualifiers format
The ten teams have been divided into two Round Robin groups of five.
Top two teams will advance to a double elimination bracket.
Round robin first place teams will face the second place from the other group
Grand Final is Best-of-five.
The first place team from the Manila Major NA Qualifiers will advance to the main event in Manila, Philippines.
Manila Major NA Qualifiers schedule
Friday, May 6th
20:00 CEST – Shazam vs.Digital Chaos
21:30 CEST – Loser Upper Brackets finals vs. Dragneel

Saturday, May 7th

03:00 CEST –Winner Upper Brackets finals vs. Winner Lower Bracket finals
Manila Major Regional Qualifiers Streams
Manila Major Regional Qualifiers streams: English: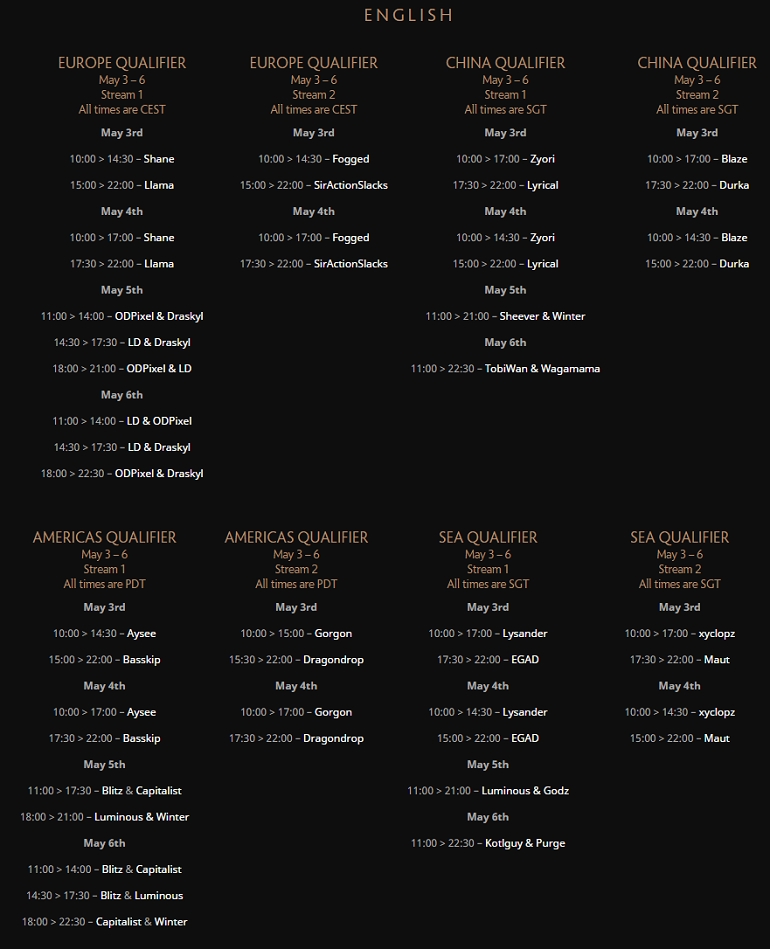 Manila Major Regional Qualifiers streams: Russian: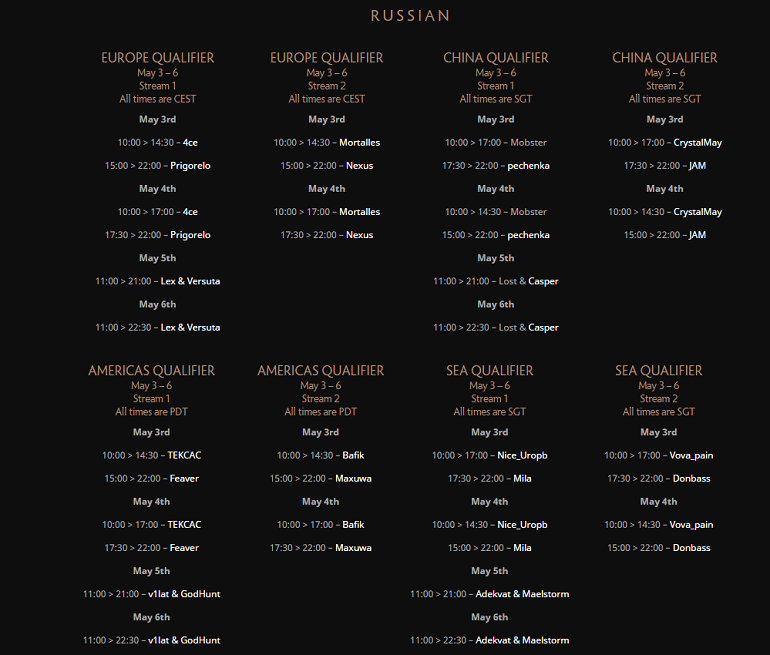 Manila Major Regional Qualifiers streams: Chinese: