The Manila Major EU Qualifiers results for day 3 are in. No Diggity and Ad Finem have advanced in the upper brackets, Team Empire is in the lower brackets and Vega Squadron has been eliminated. The double elimination brackets will kick off tomorrow May 6th, at 11:00 CEST
#RuHub #ManilaMajor
Empire остаются в игре, а вот Vega вылетают с квалификаций. Судьба слота в Европе решится завтра pic.twitter.com/6bOtYYzJwH

— Dota2 RuHub (@dota2ruhub) May 5, 2016
Manila Major EU Qualifiers results
No Diggity was the first EU team to advance to the upper bracket finals. They convincingly swept through Vega Squadron with impressive plays and show of force. The CIS team appeared to struggle finding their synergy and No Diggity's chemistry and coordination shined.
Manila Major EU Qualifiers results:No Diggity advanced to the upper brackets, while Vega Squadron dropped to the lower brackets.
Sometimes you get the perfect Black Hole setup. No Diggity DECIMATE Vega pic.twitter.com/QJMOHZXDjT

— Beyond the Summit (@BeyondTheSummit) May 5, 2016

Ad Finem are on a roll with solid and impressive performances over the last few months. The Greek squad crushed the CIS team with relative ease. Both Omar "Madara" Dabasas and Dmitris "ThuG" Plivouris had perfect games in the second match. With a 2:0 wipe Ad Finem will continue on their journey in the upper brackets. Manila Major EU Qualifiers results: Ad Finem advance to the upper bracket finals while Team Empire drop to the lower brackets elimination series.
Team Empire and Vega Squadron went head to head in a CIS elimination challenge. Team Empire completely shutdown Vega Squadron in the first match, but Vega lashed back with a crushing response in the second game as Rostislav "fn" Lozovoi's AntiMage was too much to handle. With their victory, Vega forced a deciding third match. The last game was a nail-biting thrill a minute experience. The both teams fighting for their survival the stakes were high and the plays were intense. Vega Squadron had taken the lead early on but lost it to Team Empire. After 80 minutes of play, Team Empire had turned the tides in their favor and clinched the series and lower bracket spot.
Manila Major EU Qualifiers results: Team Empire bested Vega Squadron 2:1 and took the spot in the lower bracket finals. Vega Squadron has been eliminated.
The matches resume on May 6th, at 11:00 CEST, and are expected to be intense, as the teams continue their quest within the second stage of the qualifiers – the double elimination brackets and Grand Finals. Only one team will claim the regional spot for the Manila Major.
Manila Major EU Qualifiers format
The ten teams have been divided into two Round Robin groups of five.
Top two teams will advance to a double elimination bracket.
Round robin first place teams will face the second place from the other group
Grand Final is Best-of-five.
The first place team from the Manila Major EU Qualifiers will advance to the main event in Manila, Philippines.
Manila Major EU Qualifiers schedule
Friday, May 6th
11:00 CEST – No Diggity vs.Ad Finem
14:30 CEST – Loser Upper Brackets finals vs. Team Empire
18:00 CEST –Winner Upper Brackets finals vs. Winner Lower Bracket finals
Manila Major Regional Qualifiers Streams
Manila Major Regional Qualifiers streams: English: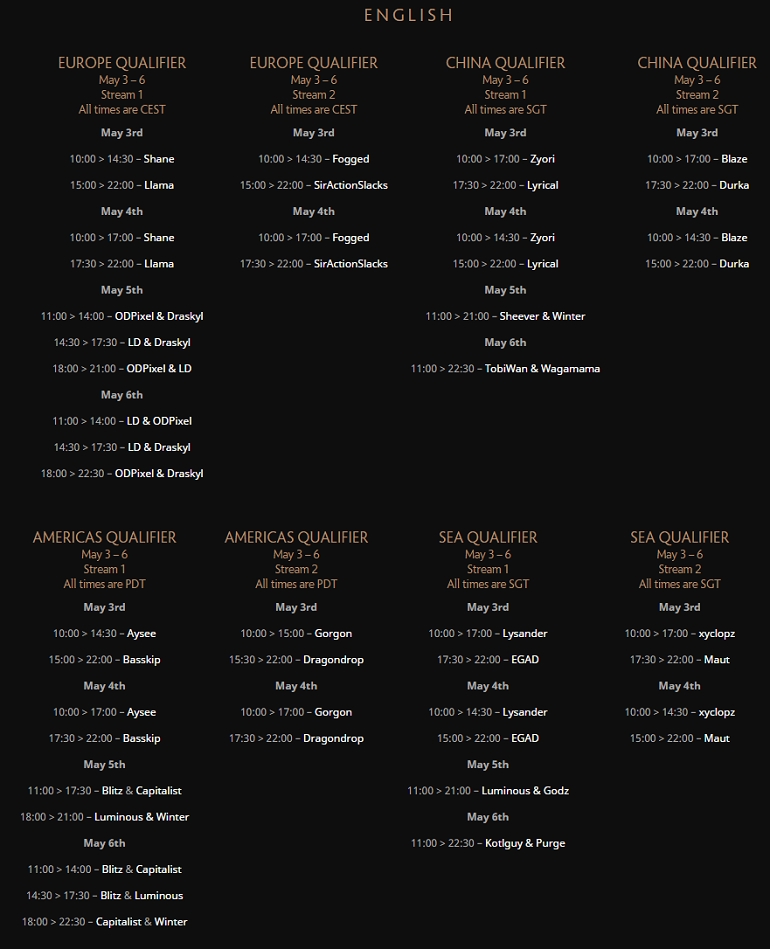 Manila Major Regional Qualifiers streams: Russian: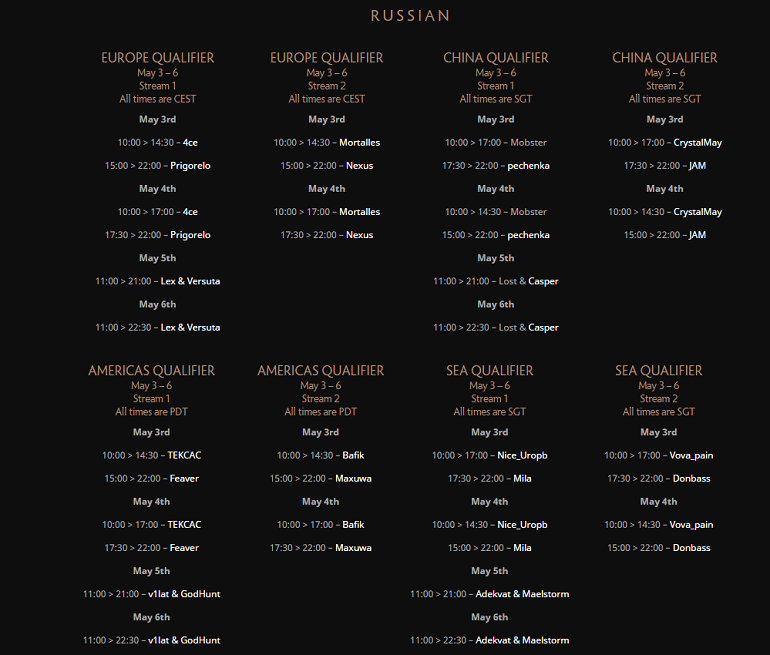 Manila Major Regional Qualifiers streams: Chinese: