ESL One has changed the format for the upcoming summer tournament being held between June 20-21 in Frankfurt, Germany. The change includes seeding matches for the eight teams that will be attending.
As to the reason for the seeding matches, organizers have stated:
Single elimination tournaments provide a different set of challenges for teams and setting the right match-ups is very important. Performing well in the seeding matches can potentially grant a team a less difficult matchup in the first day of the tournament.
#ESLOne Frankfurt will have a seeding bracket this year! All the details can be found here: http://t.co/xcHoiw6Dqv pic.twitter.com/hgoZHbgvSL

— ESL (@ESL) May 21, 2015
ESL One Frankfurts Seeding Matches
The eight teams will compete on June 18th to determine their seeding for the main event. For this seeding phase of the event, teams will be sorted by their JoinDota ranking, two weeks prior to the event, on June 4. Seeding matches will be strictly used for the purpose of placement in the main event, so there will be no eliminations during this phase. All seeding games will be best-of-one series.
After completion of the seeding matches, the top 3 seeds will select their opponent from the teams seeded 5 through 8. Seed 4 will face off against the unpicked team. The team seeded first will receive the first option to pick, the second team – second option, third team – third option. Teams will select their opponents for Saturday's matches in Frankfurt, live from the ESL Studios in Cologne, Germany!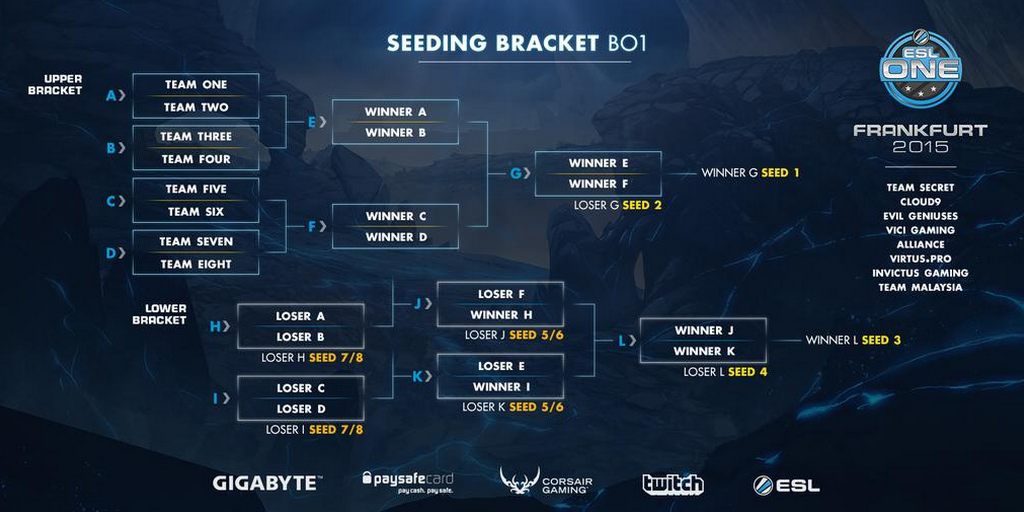 ESL One Frankfurt Attending Teams

ESL One Frankfurt Invited Teams
Three teams were directly invited to the main event.
ViCi Gaming
ViCi Gaming placed first at ESL One New York.
ViCi Gaming roster

Chen Zhihao "Hao"


Xie Junhao "Super"


Daryl Koh "iceiceice"


Lu Chao "Fenrir"


Xu Linsen "fy"
Evil Geniuses
Evil Geniuses placed second at ESL One New York.
Evil Geniuses roster

Clinton "Fear" Loomis


Syed Sumail "Suma1L" Hassan


Saahil "UNiVeRsE" Arora


Kurtis "Aui_2000" Ling


Peter "ppd" Dager
Team Secret
Team Secret placed third at ESL One New York.
Team Secret roster

Artour "Arteezy" Babaev


Gustav "s4" Magnusson


Ludwig "zai" Wåhlberg


Clement "Puppey" Ivanov


Kuro "KuroKy" Salehi Takhasomi
ESL One Frankfurt Qualified Teams
Five teams were granted LAN spots through battling out to be the representatives from three regions. Europe was given three spots, while China and SouthEast Asia one each.
Alliance
The Alliance bested Na'Vi, 2:0, in the European ESL One qualifier, becoming the first team to qualify for the LAN event.
The Alliance roster

Per Anders "Pajkatt" Olsson


Jonathan "Loda" Berg


Joakim "Akke" Akterhall


Sébastien "7ckingMad" Debs


Henrik "AdmiralBulldog" Ahnberg
Virtus.Pro
Virtus.Pro earned the second spot for the ESL One Frankfurt main event after a solid 2-0 victory over Team Empire.
Virtus.Pro roster

Ilya "Illidan" Pivcaev


Sergey "God" Bragin


Alexander "DkPhobos" Kucheria


Artem "fng" Barshak


Ilya "Lil" Ilyuk
Team Malaysia
Team Malaysia have qualified for ESL One Frankfurt by defeating Mineski, 2:0
Team Malaysia roster

"kYxY" Lee Kang Yang


"Kecik Imba" Fadil bin Mohd Raziff


"Ohaiyo" Chong Xin Khoo


"JoHnNy" Siong Tait


"Mushi" Chai Yee Fung
Invictus Gaming
The defending champions of ESL One Frankfurt 2014 will return to Germany to defend their title and try to claim the prize. Invictus Gaming triumphed over Newbee, 2:0, in the best of three regional grand finals.
Invictus Gaming roster

Luo Feichi "Ferrari_430"


Wong Hock Chuan "Chuan"


Yinqi Luo "Xi"


Zeng Hongda "Faith"


Zhilei Xu "burning"
Cloud 9
Cloud 9 was the last team to qualify for the event in Germany, attaining their spot after defeating Na'vi 2:0
Cloud 9 roster

Jacky "Eternal Envy" Mao


Adrian "FATA-" Trinks


Pittner "bOne7" Armand


Johan "BigDaddy" Sundstein


Rasmus "MiSeRy" Filipsen
ESL One Frankfurt Main Event
Eight teams will compete at Commerzbank-Arena – one of the biggest stadiums in Germany, with a capacity of more than 52,000 – between June 20-21, for a $250,000+ prize pool. The teams will be fighting in a best-of-three single elimination format. Grand Finals will be best-of-five series.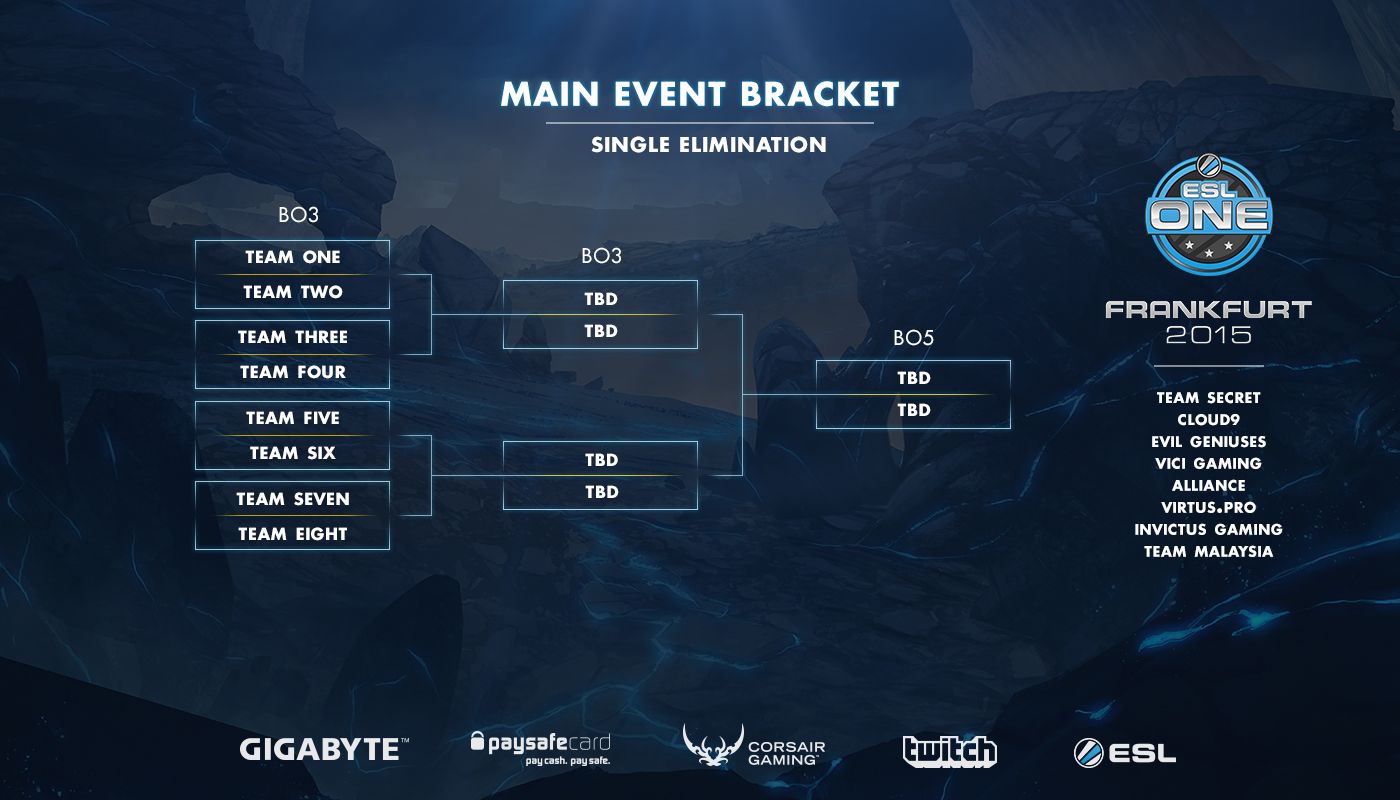 Hosts, talent and casters
Hosts, talent and casters were announced last week.
William "Chobra" Cho will host his first ever Dota 2 event in Frankfurt with the help of Ben "Merlini" Wu, Jacob "Maelk" Toft-Andersen and Kai "H4nn1" Hanbückers, who will be providing the in-depth insight and game knowledge before and after the matches.
Toby "TobiWan" Dawson and Austin "Capitalist" Welsh will be the commentators, with Troels "Synderen" Nielsen and William "Blitz" Lee providing live analysis of the games.

Hosting duties will be shared between Sean Charles and Salome "Soe" Gschwind-Penski.

Tickets for seeding and main event
All seeding matches as well as main event matches will be viewable through the DotaTV ESL One Event ticket which will be available for $1.99. Online coverage will be provided on selected matches from the ESL Studios, with other matches streamed by selected streaming partners and community streamers.
ESL One Frankfurt tickets are still on sale, at prices ranging from 19.90 EUR to 2,999 EUR.
Photo Credits: ESL