ESL One Frankfurt 2016 schedule and groups has been released with less than a month to go for the big event. The competition will begin behind closed doors on June 17th with the group stage before progressing to Commerzbank-Arena in Frankfurt for the playoffs on June 18 and 19th.
Announcing the groups and schedule for #ESLOne Frankfurt 2016! https://t.co/qImeXcj6nN #Dota2 pic.twitter.com/htHuy7RIOY

— ESL (@ESL) May 25, 2016
The ESL One Frankfurt 2016 schedule and groups have been released as the event gets ready to begin in less than one month. The tournament closes out ESL's $1,000,000 pledge to Dota 2 and brings the festivities back to Germany this June with eight of the best teams from around the world fighting for a $250,000 starting prize pool.
The event will unfold over the course of three days, between June 17-19. The closed group stages that will determine the seeding will be played on June 17th, followed by the main event scheduled to take place on June 18th and 19th at the Commerzbank-Arena in Frankfurt, Germany.
Eight teams – three directly invited (Alliance, OG, Team Liquid), two qualified from Europe (Na'Vi and Vega Squadron), one qualified from China (LGD Gaming), one qualified from the Americas (compLexity Gaming) and one qualified from SEA (Fnatic) – will compete in a single elimination best-of-three bracket, with best-of-five Grand Finals. The format features a classic GSL style group stage ahead of the playoffs.
ESL One Frankfurt 2016 groups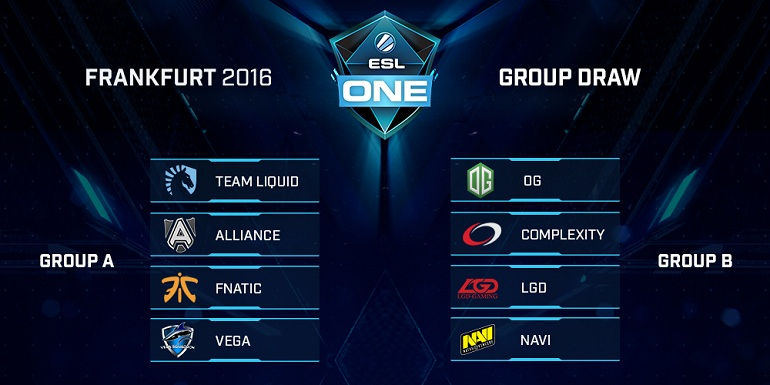 ESL One Frankfurt 2016 schedule
Friday, June 17th
10:30 CEST – Team Liquid vs. Vega/Alliance vs. Fnatic
13:45 CEST – OG vs. Na'Vi/ coL vs. LGD
17:00 CEST – Group A winners' match
20:15 CEST – Group B winners' match
Saturday, June 18th
10:30 CEST – Group A elimination match
13:45 CEST – Group B elimination match
17:00 CEST– Group A decider match
20:45 CEST – Group B decider match
Sunday, June 19th
10:30 CEST – Semifinal one
13:45 CEST – Semifinal two
17:45 CEST – Grand final
ESL One Frankfurt 2016 participating teams
Alliance – direct invite
OG – direct invite
Team Liquid – direct invite
Fnatic – SEA qualifiers
compLexity Gaming – Americas qualifiers
Vega Squadron – European qualifiers
Na'Vi – European qualifiers
LGD Gaming – Chinese qualifiers
ESL One Frankfurt 2016 tickets
Tickets are available on Ticketmaster.de, at prices ranging from €29 to €2,999.
Rank Seating – €29 (Sit on the rank seats, while at the same time saving a bit on the ticket cost. Access to the festival remains the same.)
Infield Seating ticket – €39 (Free seating on pitch level. Ticket holders are free to move around as they please. They will still have access to all the festival activities.)
Premium ticket – €249 (Seating right in front of the stage with exclusive signing sessions, exclusive Secret Shop premium ticket, unlimited food and drinks and a bonus surprise to be announced soon.)
The Aegis Experience – €2,999 (Access to a private lounge for a group of five. All the premium perks apply plus front of the line access to signing sessions and venue entry.)
ESL One Frankfurt 2015
Team Secret won ESL One Frankfurt 2015, after taking down Evil Geniuses, 3:1, in the Grand Finals.