Team Empire is the second team to qualify for Nanyang Championships s2 – representing the European region. The fully revamped squad crushed Virtus.Pro 3:1 in the EU regional qualifiers. China and SEA qualifiers have finish and will have one spot each at the main event. Nanyang Championships s2 is scheduled July 6th-10th and will be held in China instead of Singapore, where the first season was hosted. Eight teams – four qualified and four invited teams will be competing for the title and a piece of the $250,000 prizepool. Team Secret, Evil Geniuses, Fnatic and Newbee have all confirmed they will be on hand.
Team Empire 3:1 VP

Shangai second try with more secured keyboard for @ramzesdoto

— Team Empire (@team_empire) May 28, 2016
Team Empire is the second team to qualify for the second iteration – Nanyang Championships s2. The CIS squad triumphed over Virtus.Pro 3:1 in the Grand Finals for the one regional spot. They placed first in their group after winning all three of their series and ending with a 6:2 score.
Virtus.Pro placed at the top of their group dropping only the series against Ad Finem, finishing with a 6:4 record.
The two CIS teams were the two teams to go head to head in the only playoff series scheduled to determine the one team to qualify to represent EU at Nanyang Championships s2.
Nanyang Championships s2
Team Secret, Evil Geniuses, Fnatic and Newbee have all confirmed their participation in Nanyang Championships s2.
The event is organized by KeyTV, the original partners hired for the Shanghai Major. KeyTV were fired after two days of incessant production problems disrupting the Shanghai Major Groupstage.
Nanayang Championships season 1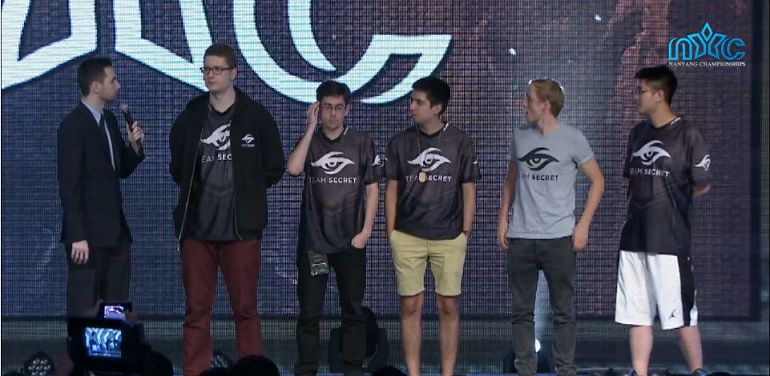 Team Secret seized the Nanyang Championships LAN title, after besting ViCi Gaming, 3:2, in Singapore, on November 1st, 2015.
The Nanyang LAN was considered the biggest tournament in the Southeast Asian region at the time. It took place between October 26th – November 1st, at the Suntec Convention and Exhibition Centre, in Singapore. Ten teams – six invited and four qualified ones – competed for the $220,077 prize pool.
Nanyang Championships prize pool breakdown
1st place – Team Secret $100,000 + 48% crowdfunded amount
2nd place – ViCi Gaming $50,000 + 24% crowdfunded amount
3rd place – EHOME $25,000 + 12% crowdfunded amount
4th place – Team Liquid $10,000 + 8% crowdfunded amount
5-6 place – Virtus.Pro/CDEC $7,500 + 4% crowdfunded amount
KeyTV
KeyTV is a Shanghai-based esports content producing company, focused on creating esports content such as tournaments, team videos, gaming livestreams and rebroadcasted content. The Chinese company employs a team of videographers, pre/post-production editors, writers and directors, casters and models. "KeyTV aims to be the first place fans think of to get their daily dose of eSport content."
KeyTV's most recent event was their brief stint with the Shanghai Major and prior to that the Nanyang Dota 2 Championships. NYC was their first Dota 2 championship LAN.
The company was also involved in VPGame Professional Invitational, with a prize pool of $24,500. Additional events include, but are not limited to: assistance during DAC, MSI Beat it, and WEC.