compLexity Gaming rose to the top of NA and into the Elimination Mode 3 Grand Finals after besting Team Onyx 2:1. The North American team will now face OG in the grand finals tonight, February 17th at 18:00 CET in a best of five battle of the regions.
Redemption! #coLDota secures the bo3 victory against Onyx to win the NA Bracket of #EliminationMode! Grand Finals tomorrow vs @OGDota2! pic.twitter.com/SmM7v5N3dc

— compLexity Gaming (@compLexityLive) February 17, 2017
Despite the unfortunate and disappointing news of Antonio "canceL" Mihai stepping down from the active roster of compLexity Gaming earlier in the day, the team had a bit more to celebrate by the end of the night.
compLexity emerged from the lower brackets on to the Elimination Mode 3 Grand Finals after exacting revenge on Team Onyx in the NA finals 2:1. The team will now face OG, attempting to usurp the European's place on the throne.
Eight teams – four from NA and four from EU starting out competing for the $25,000 prize pool and to claim regional dominance once and for all.
Earlier in the week OG dominated over Alliance for a second time with a 2:0 sweep to advance to the Grand Finals.
Tonight, February 17th marks the end of the event – rounding out with a best-of-five series between EU and NA.
Tune in at 18:00 CET HERE to catch the ultimate showdown for regional dominance of versatility.
Elimination Mode
Moonduck Studios, in partnership with Twitch TV, has announced another iteration the studio's fun and offbeat tournament – Elimination Mode. The event is played in an alternative game mode, in which heroes can only be banned or picked once per series.
Community bans will return once again. This time 30 heroes will be removed instead of 10 each day – excluding the grand finals. The first poll will open 36 houurs before the first match starts.
Elimination Mode 3.0 teams
OG
Alliance
Ad Finem
NiP
Team Freedom
Onyx
compLexity Gaming
WanteD
Elimination Mode 3.0 brackets

Elimination Mode 3.0 schedule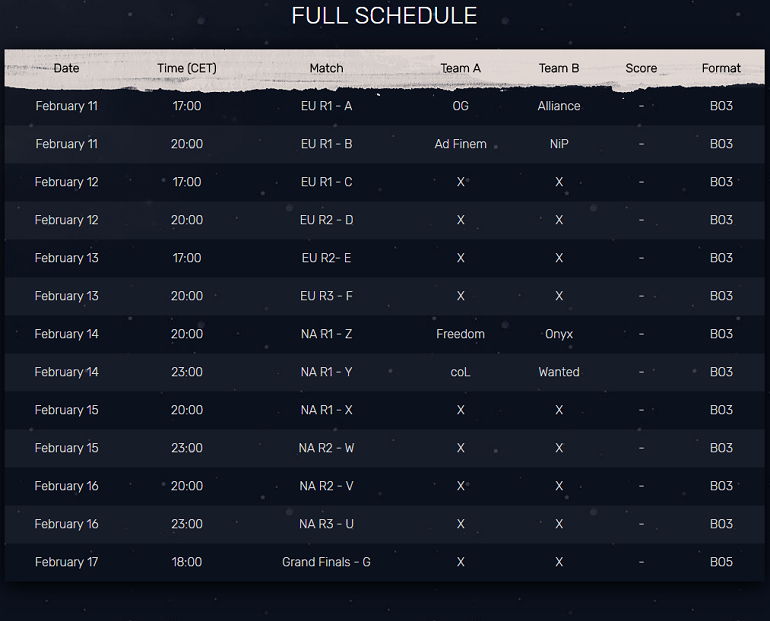 Elimination Mode 3.0 prize pool
The total prize pool of $20,000 will be split as follows:
1st place: $10,000
2nd place: $6,000
3rd/4th place: $2,000 – Team Onyx/Alliance