DreamLeague replace Mamas Boys with the all Greek squad Ad Finem just ahead of the start of DreamLeague Season 5. The full schedule for the League Play has also been released, with the first match starting tonight at 18:30 with the best-of-two series between Vega Squadron and Ad Finem, followed by No Diggity vs Ad Finem. Niklas "Wagamama" Högström will be the first of the weekly guests to make an appearance.

Ad Finem replaces Mama's Boys in DreamLeague Season 5, Some slight changes in the schedule to be find at: https://t.co/8TJkaOX5dL

— DreamLeague (@DHDreamLeague) March 21, 2016
DreamLeague replaced Mamas Boys with Giorgos "SsaSpartan" Giannakopoulos, Omar "Madara" Dabasas and company for the season's League Play. Ad Finem will get an immediate start on things as they will kick off the opening night with a double header. They will first play against Vega Squadron before turning their sights on No Diggity – a mix currently comprised of Zai, SyndereN, Yapzor, Era, and qojqva.
The first week guest will be Niklas "Wagamama" Högström as he joins the hosting and commentating desk beginning tonight.
DreamLeague Season 5 new format
DreamLeague Season 5 had announced earlier that it will get underway by the end of the month on March 21st with a new format. The playoffs will take place between May 21-22 at the Monster Energy DreamHack Studios in Stockholm, Sweden.
Defending champions OG have been directly invited to the offline playoffs. Eight other teams – Virtus.Pro, Vega Squadron, Team Empire, Natus Vincere, Team Spirit, Ad Finem, London Conspiracy, and No Diggity have been invited to compete in the League Play. Three of them will advance in the offline playoffs to compete against OG for a share of the $100,000 prize-pool.
The League segment, however, will have a prize-pool of its own: for each series won during the League Play, teams will be awarded $1,000. A total of $56,000 will be allotted to the League Play segment alone, separate from the playoffs' $100,000 prize fund. Therefore, DreamLeague Season 5 offers a combined total of $156,000 in prize money.
In addition, DreamLeague organizers are offering the teams that qualify for the playoffs a chance to stay in Stockholm for the week to bootcamp for the Manila Major. Accommodation, practice facilities and overall assistance will be provided.
DreamLeague Season 5 schedule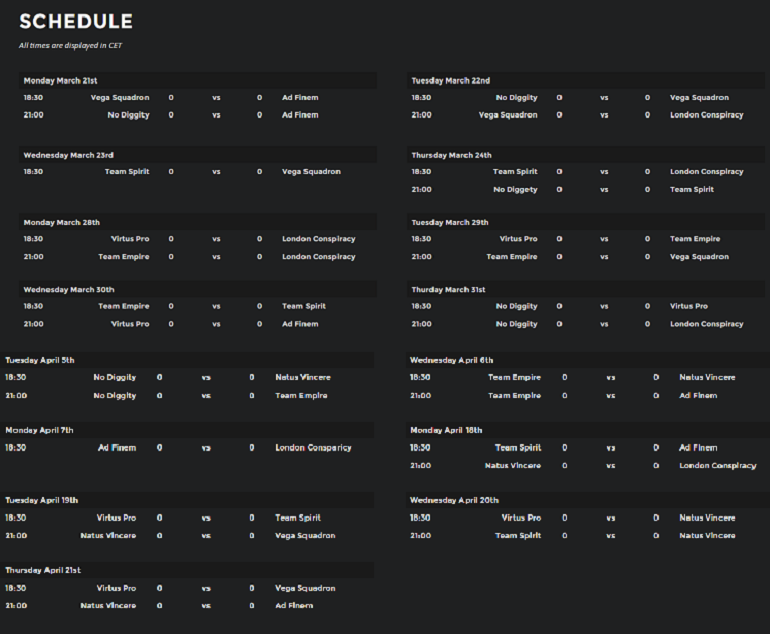 DreamLeague Season 5 League
League start: Monday, March 21st; full schedule to be announced
Teams: 8
Playoff spots: 3
Format: Round Robin Bo2, one point per game
Prize-pool: $56,000 – each game in the League Play awards $1,000 to the winning team
DreamLeague Season 5 Playoffs
Dates: May 21-22
Teams: 4
Location: Monster Energy DreamHack Studios, Stockholm, Sweden
Format: Double Elimination Bo3 bracket./li>
Grand Finals: Bo5
Prize-pool: $100,000
Travel support: $3,000 per team