Zakari "Zfreek" and Kyle "swindlemelonz" Freedman exemplify the bonds of brotherhood, extending and capitalizing on their relationship to bring success in their professional gaming careers. After multiple achievements together in Heroes of Newerth, the Freedman brothers set out to exceed their previous accomplishments in Dota 2. Within no time, these brothers have already topped the attempts of many players by qualifying for The International 5 and placing in the top four in their group stage. In Zak and Kyle's TI5 player profiles, their parents give an intimate look into their family bonds and the characteristics that led to their success.
Whatever Kyle and Zak have always done in their lives – from playing with toy dinosaurs, as children, to competitive gaming – they have done it together. These two rising stars are glued together through thick and thin.
When swindlemelonz first started playing Heroes of Newerth competitively, Zfreek was still playing a lot of other different games and had yet to start his career.
Swindlemelonz needed a fifth player for his team that had already secured a place at the DreamHack LAN, and convinced his 16-year-old brother to try out for the available spot.
Kyle had won five consecutive major HoN LAN titles before he decided to take a break from competitive gaming.
After seeing his previous Heroes of Newerth teammate, Peter "ppd" Dager, place third at The International 2014, swindlemelonz became motivated to play Dota 2.
The Freedman brothers would reform their former team, "stay Green", and transition into Dota 2.
Their parents beam with pride when talking about how talented and dedicated Zfreek and swindlemelonz are. They strive to be number one and their track record speaks for itself. Their father talks about the money that Dota 2 is generating as a way to make a living.
They went on to win everything in that game and then they were looking to go transition into Dota where it's a bigger pond and bigger prize pool.
So Zfreek and swindlemelonz set out to form a very dedicated team that would reflect their own hard work ethics and dedication. They wanted to find teammates who would share their vision and values and were determined not to settle for anything less. They tried out approximately 47 players before finding the right fit.
For Zfreek and swindlemelonz, the entire past year was focused on their main goal: The International 5. With an astounding amount of drive, swindlemelonz has become known as quite the visionary leader. The team shocked the whole world when they won the TI5 Americas qualifiers, with no previous track record.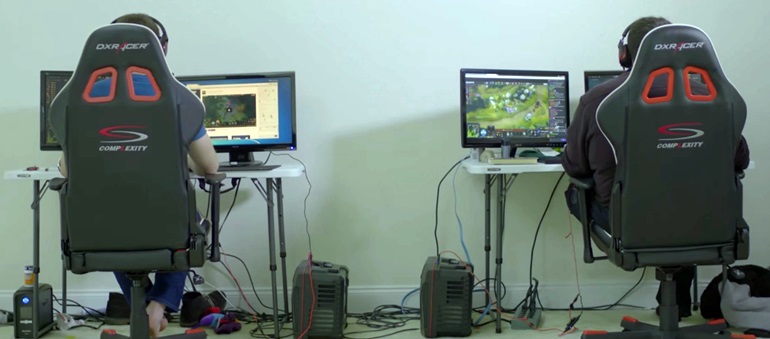 compLexity Gaming are considered the underdogs and perhaps the least likely to win The International 5. However, Zfreek and swindlemelonz are not concerned with the public's perceptions. They have faith in their team, their abilities and their potential. For them, it is a matter of making sure that they win every game. Anything less than taking home the Aegis of Champions will be a disappointment for them.
That's pretty much how we like it, because it gives us more motivation to show everyone how wrong they are and show that we are actually a good team and we're gonna be contending for TI.

– Tal "Fly" Aizik, member of compLexity Gaming
Watch Kyle "swindlemelonz" Freedman and Zakari "Zfreek" Freedman's player profiles:
Read an in-depth profile feature about coL: With an unproven track record, compLexity hopes to catch teams off-guard at TI5