Hitbox Challenger by Razer has come to an end, crowing Burden United the champions of the series. Burden United swept through London Conspiracy, 3:0, in the grand finals – a fitting finale for their undefeated record.
In the days leading up to TI5, eight invited teams – Burden United, Lemondogs, 4ASC, London Conspiracy, Taco Life, Yellow Submarine, Scaryfacezzz and Team Alternate – competed in the Hitbox Challenger by Razer tournament, for a prize pool of $5,000.
With a unique twist on the prize pool breakdown and format, Hitbox Challenger by Razer distributed the $5,000 prize pool to teams in $300 increments, based on their victories.
Winning teams were given the chance to choose their next opponents in a format that proved to be a refreshing change from the traditional tournament structure and help keep things fresh leading into TI5. The event took place from July 19-July 25th.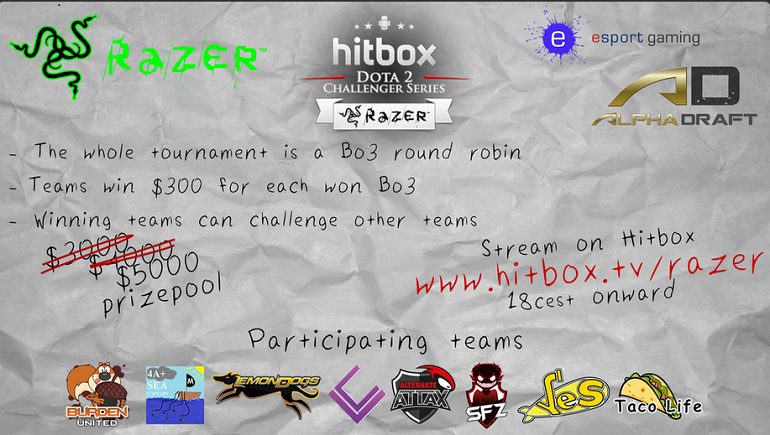 Results
Burden United swept through London Conspiracy in a convincing and fitting 3:0 victory to seal their championship title. Having outdrafted and outplayed their Greek opponents, BU were simply on top of their game.
Burden United had an undefeated record going into the grand finals, having won all six of their series over the course of the week. The team won almost half of the total amount of the prize pool, grabbing $1500 in series wins and another $800 for the grand finals.
Despite the team having disbanded in June, Burden United participated in the event with a different lineup, consisting of several core players and a variety of stand-ins. Alexandru "ComeWithMe" Crăciunescu, Ivan "MinD_ContRoL" Borislavov and Danil "Bignum" Shehovstov were the most consistent players on the roster for the tournament, leading their mixed team to victory after victory.
London Conspiracy was next in line, having secured only 50% of their matches with an even 3:3 result.
Photo Credits: Na'Vi Gaming