After 192 physical hours of nonstop game play and a whirlwind of excitement, disappointment and exhaustion, The International 5 qualifiers have ended, leaving us with a couple of lessons to embrace.
1. Qualifiers should be LAN instead of online
The qualifiers should be LAN instead of online for the sake of equality of outcome and opportunity, if for nothing else. Although it can be argued that a LAN in each region would be quite expensive and logistics such as visas, determining suitable location, host and coordination would be too arduous, these issues are not insurmountable. Among the other favorable arguments one can hold, equality is the most crucial and important.
MVP traveled to Singapore to maximize their chances
MVP Phoenix & Hot6ix had just arrived in Singapore earlier today. They'll play the SEA qualifiers from SG where the ping is much lower.

— Tiffani Oling Lim (@babyolingg) May 27, 2015
MVP spent $13,000 for both of their teams to travel for a few days and compete in the TI5 SEA qualifiers from Singapore. In Singapore, the ping can be as low as 5ms and averaging at around 30-60ms. This is considerably better than the 100-160ms in South Korea, where they typically play from. The ping advantage that they gained could be massively relevant during certain plays.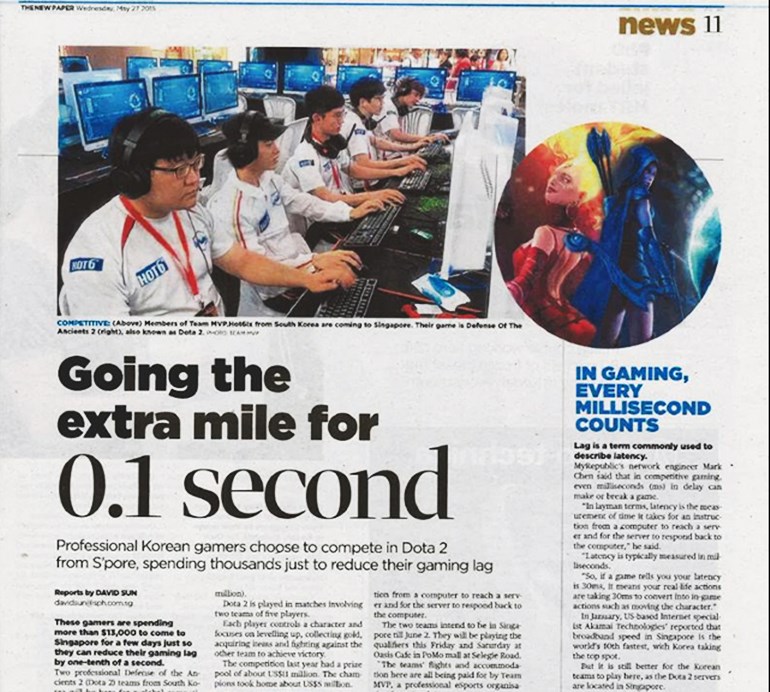 BMVP.Hot6ix qualified to compete in the TI5 main event, while MVP.Phoenix has qualified to participate in the Wild Card Series for the chance to compete for one of two remaining spots in the main event.
Rave's connection problems
Rave played from their team house in South Korea, where the ping ranges from 100-160ms. Although the team is from the Philippines, their contract and team house is located in South Korea. Despite the higher ping and potential lag, it was still the better choice for them, since the Philippines have much worse conditions.
Unfortunately, it was not just the typical ping and lag that affected the team during the TI5 qualifiers. According to manager Pyung Kwon, a ladder truck pulled the cable outside Rave's team house and the Internet kept disconnecting and constantly had packet losses.
Rave were eliminated by MVP.Phoenix in the lower bracket finals, 0:2.
Wheel Whreck While Whistling, "unplayable" game due to Internet issues
Wheel Whreck While Whistling's game versus Void Boys was "unplayable", with multiple disconnects and pauses. They had taken so many pauses, that they were warned by admins they could not take any additional ones, even when they needed one again towards the end of the match.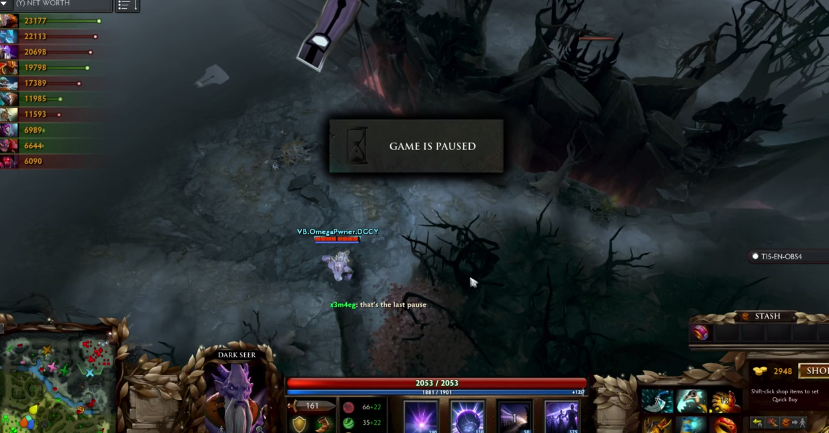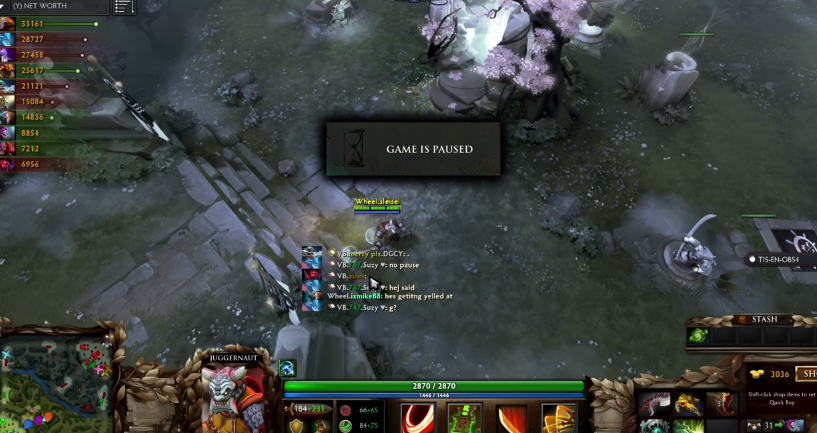 Impact on players' emotional and mental focus
During the TI5 American qualifiers playoffs , the lower bracket finals were delayed by two hours, due to ISP internet connectivity issues.
Hey @TWC any eta? We have a player waiting to compete for millions of dollars here.

— KotLGuy (@KotLguy) May 28, 2015
Arif "MSS" Anwar had prepared himself to play at a relative's house in an area outside his provider's zone. Although in the end the issue was solved before he changed locations, the situation may still have a significant impact on the emotional and mental focus of a player and the rest of the team.
China's example
The TI5 Chinese qualifiers were held offline at the Automobile Exhibition Center in Shanghai, China. In addition to the fan fare and environment of intense competition for the players, it also kept things on equal footing for all of the teams.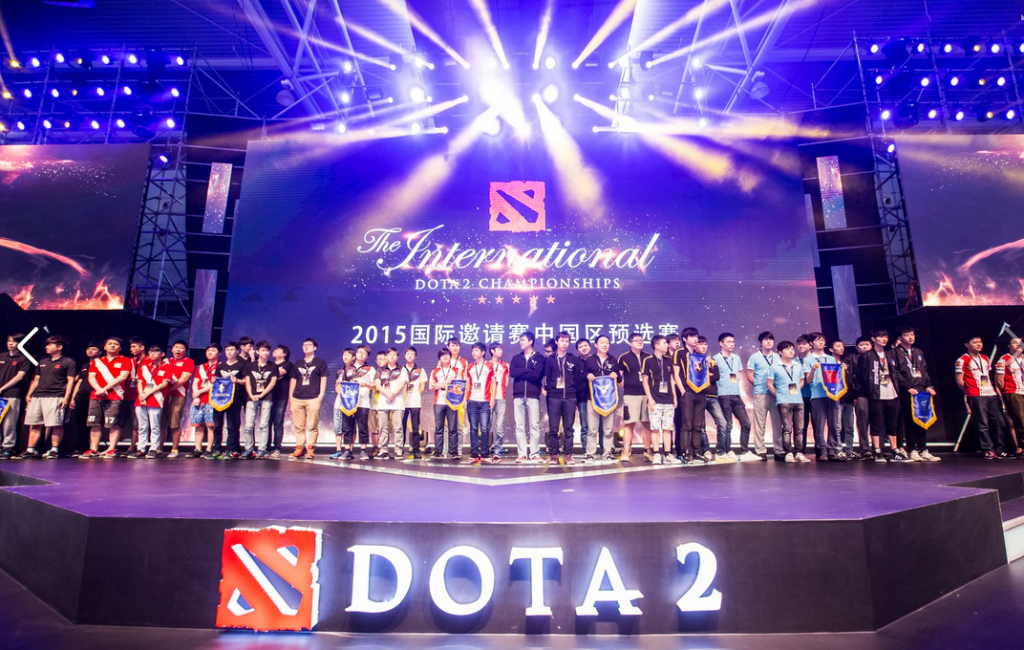 2. There is such thing as too much Dota
The TI5 Qualifiers schedule was horrendous. Not only was it an exhausting marathon of games, but many of the matches were conflicting with each other, making it impossible for anyone to follow them all.
Each region played all of the Round Robin matches in two days – a total of 40 games per region
Two days for the best-of-three playoffs and best-of-five grand finals – could range from 12-15 games per region
A grand total of approximately 208 games
Time zone differences and overlapping:
Two regions playing at the same time
Chinese games started at 04:00 CEST and were overlapped by the American ones which would begin at 19:00 CEST and not end until after 05:00 CEST, causing four matches to be played simultaneously
SEA games started at 04:00 CEST and overlapped the European games starting at 12:00 CEST, resulting in four matches happening simultaneously
In order to provide adequate coverage of the event, the TI5 Qualifier Mega Hub included 35 casters, hosts and talent and four twitch.tv channels. The hub was on air for 24/7 the entire 8 days.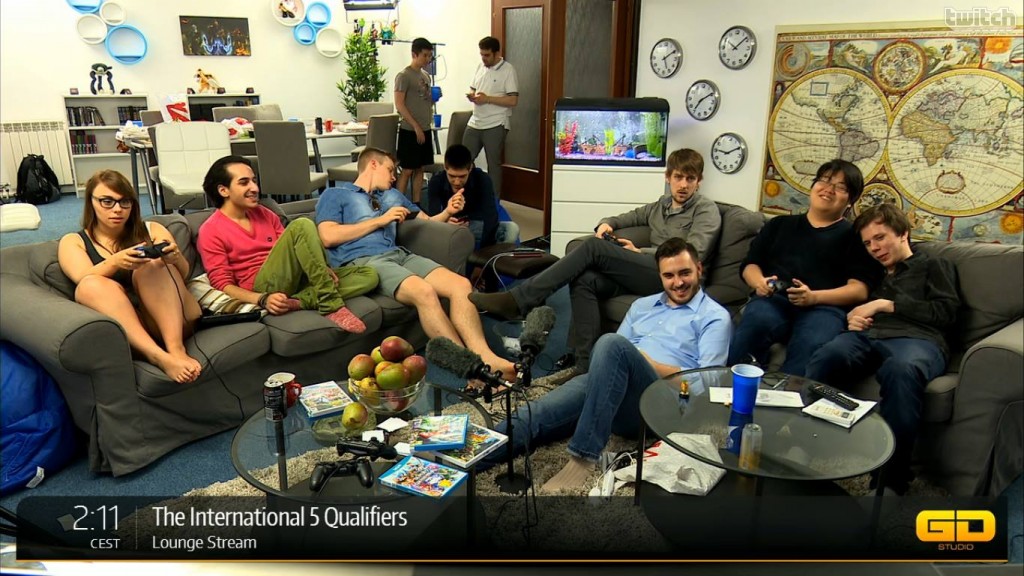 3. Most Dota 2 enthusiasts only watch The International
More than 20 million people watched The International 4, last year. Based on this alone, it appears that most of the Dota 2 enthusiasts only watch TI and nothing else on the side.
The European qualifiers grand finals featuring Natus Vincere were watched by:
80K people on the EN stream
156K people on the RU stream
100K people in-game
4. Na'Vi are one of the few teams that can pick themselves up and make surprising comebacks
El Clásico legends Natus Vincere bested Vega, 3:1, in the TI5 European Qualifiers grand finals. The Ukrainians will attend The International 5 in August, representing the EU region. Na'Vi advanced directly to the grand finals, after defeating 4ASC, 2:1, in the Upper Bracket finals.
In Group B, Na'Vi advanced to the playoffs, with 9 points. After a rough start to the series, losing their first two games to London Conspiracy in the first day, Na'vi then managed to pull off a stomp in their next match versus HellRaisers and then an incredible 80 minute game following. They ended up going to the top of their group, without losing a single game after their loss to LC.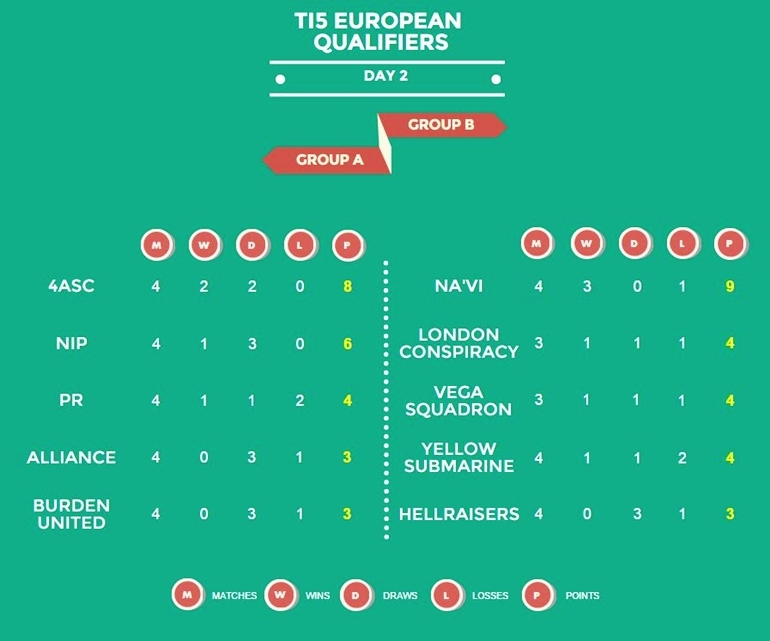 Due to the numerous recent roster changes and inconsistent performances, Na'Vi did not receive a TI5 direct invite. The organization has always been an ever present fixture at the event. Na'Vi won first place at The International 1, and second place at TI2 and TI3. Last year, at TI4, the team slipped to 7th-8th place.
Their last roster change occurred on April 5, when they welcomed back Gleb "Funn1k" Lipatnikov and Ivan "ArtStyle" Antonov and the team had recently been bootcamping in order to improve their performances and team cohesion.
5. Professional Dota is now more than ever a level playing field
The professional scene has grown a lot since last year and we can now can say it is a level playing field, with new-comers gaining popularity through amazing plays and performances and underdogs surprising fans and teams alike.
Open Qualifiers winners performances
With the announcement that TI5 would hold open qualifiers for the first time, many were apprehensive about the results and quality of the teams that would compete as a result.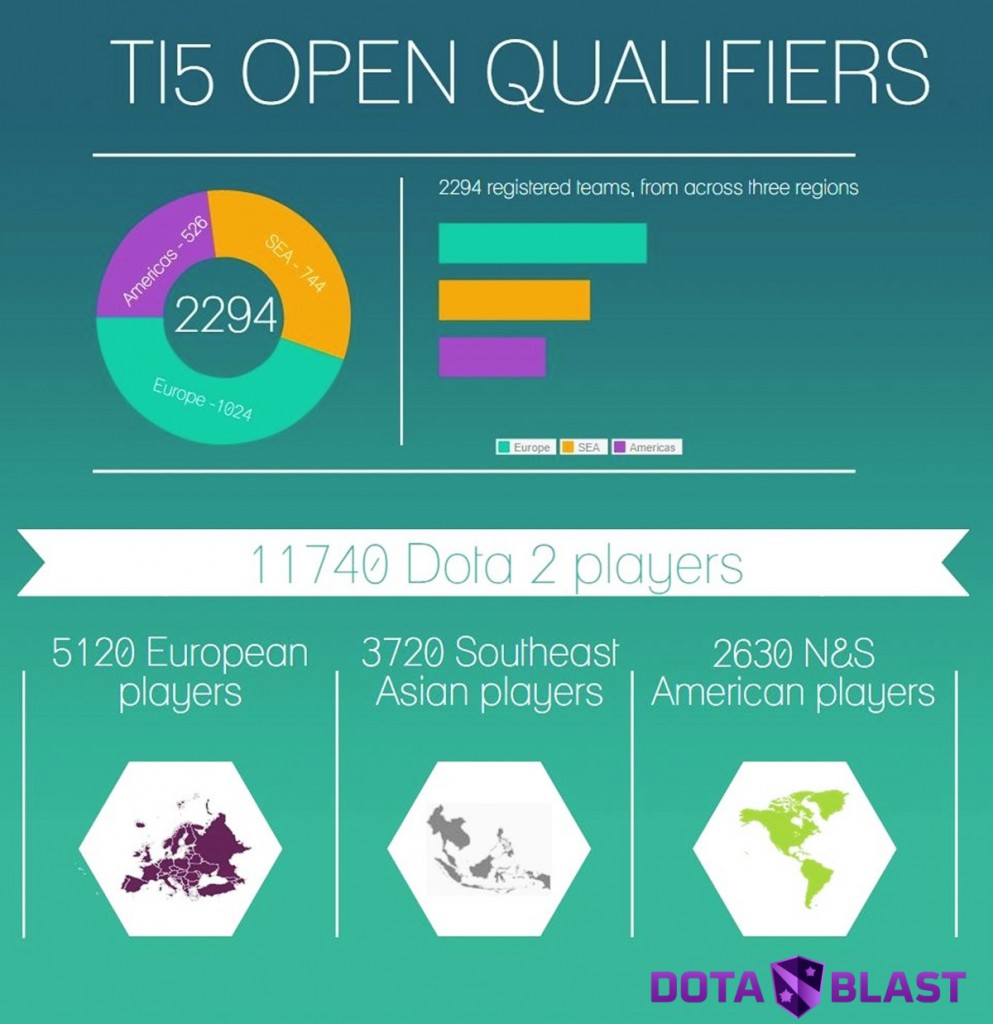 2294 teams competed for only four slots and things became both hectic and surprising. Favorites such as Basically Unknown and 4Clovers & Lepricon and Summer's Rift were knocked out of the competition. The winning teams – Yellow Submarines, Wings Gaming, Unknown and Invasion moved forward to the main regional qualifiers.
YeS quickly became popular as they really wowed viewers and pro players with their aggression and skilled plays. They were tied for second place at the end of the first day of main qualifiers, having won three out of their four games, sweeping through London Conspiracy and taking a win from Hell Raisers.
Wings Gaming proved to be amazing contenders for the TI5 Chinese qualifiers. They surprised everyone when they placed second in their group phase, topping HGT and TongFu. The team advanced to the playoffs, but were eliminated by Energy Pacemakers in the lower bracket finals, 1:2.
Underdog upsets
CDEC proved to be amazing contenders for the spot. Going into the series, they were the lowest ranked in their group in terms of win-rates and successful encounters against the other teams they would compete with. However, they would surprise everyone. CDEC topped their group with 12 points. They went undefeated through the entire group phase of the qualifiers and managed to advance into the Grand Finals and take the Chinese Wild Card slot.
compLexity was in the same group as both Mousesports – the utmost favorites, and Root Gaming – who had high hopes with veteran players Brian "FLUFFNSTUFF" Lee and Tyler "TC" Cook. compLexity lost only one game in the group stage and swept NAR, 3:0, in the Grand Finals.
6. Teams, players, organizations don't seem to have long term plans
"Post TI reshuffle" is infamous for creating havoc within the teams that did not fare as well as they would have liked to during the event. When the dream falls apart, so does everything else. Most often teams will change rosters or completely disband.
This year, the changes started even earlier, after the Open Qualifiers.
Teams, players, organizations are still chaotic and don't seem to have long term plans. Organizations will pick up teams with the hopes of having representation at the event and have little interest in supporting them through the rest of the year. Players look for a team that may not be suited for them in the best way, but has potential with individual skill or fame, resulting in internal conflicts and lack of cohesion.
Despite forming under these types of circumstances, teams and players often expect to win the qualifiers and disband if they don't, instead of sticking together to increase their chances for the next TI. They continue to shuffle around and repeat the pattern again the following year.
4 Clovers & Lepricon have already seen their roster change immediately following the open qualifiers.
Summer's Rift failed to advance to the main regional qualifiers and then underwent yet another roster change.
Basically Unknown disbanded merely days ago, citing that they had all chosen to go in different directions and the split had been amicable.
Hi everyone, we are sad to say that Basically unknown is no longer. It has been a great time, thank you to everyone involved with us!

— Basically Unknown (@BU_Dota) June 2, 2015
5Eva had announced that they were disbanding after they failed to qualify for TI5.
The team's probably not gonna stay together and I'll probably take a short 2 weeks break before playing. Thanks for supporting team 5eva! 🙂

— Meracle (@Meraclee) May 30, 2015
Can't say wips disbanded after Darcy "Godot" Jose parted ways with the team within a day of the TI5 SEA qualifiers finals.
Mousesports' Qojqva announced that he would be taking an indefinite leave of absence from competitive gaming.
DotaBlast sources close to Yellow Submarine confirm that there is a significant roster change occurring within the team, with only half of the TI5 qualifying team staying together. Replacements have already been approached and some plans seem to be in the making to reform the team.