Wings Gaming fought hard and confidently against ViCi Gaming.Reborn in The Summit 5 Chinese qualifiers to be the first team to qualify for the main event. Taking down ViCi Gaming.Reborn 3:2, Wings secured their spot to be one of eight teams – four qualified and four invited – to compete in the The Summit 5 main event. The annual event will be held at the Summit House in Los Angeles, California from July 13-17.
Congratulations Wings Gaming Now get a twitter handle 😀

— LyricalDota (@LyricalDota) May 26, 2016
Wings Gaming bested ViCi Gaming.Reborn after a decisive five game grand finals in The Summit 5 Chinese qualifiers. Their victory granted them the first spot of eight in the highly coveted intimate event held yearly at the Summit House in Los Angeles, California.
Wings Gaming started their journey in the second phase of the event. They swept through Newbee 2:0 in the first round but were dropped to the lower brackets shortly thereafter by ViCi Gaming.Reborn when they were defeated 2:1. In the lower brackets, Wings then re-matched against Newbee to once again bore through the star studded team 2:0. Reaching the Grand Finals, they faced off once again against ViCi Gaming.Reborn and exacted their revenge on their opponents, seizing the victory and The Summit 5 Chinese qualifiers spot.
Wings Gaming
The Chinese team made a clean sweep over Team Liquid, 3:0, in the ESL One Manila Grand Finals. After qualifying for the event, Wings walked away with their first championship title as a team and the $100,000 first place prize at the end of April.
After TI5, the roster made a 100% turnover and has welcomed all new players. The team has stuck together ever since.
They took 4th at WCA 2015, where they demonstrated impressive skill and talent and began to win over fans worldwide. They were the first team to take two games from Team Secret in the group stage of the event and quickly made a name for themselves. Having minimal official games on record, they stunned many when they snatched the ESL One Manila Chinese qualifier spot by sweeping Vici Gaming Reborn, 3-0.
Once again the team showed remarkable drafts, plays and precision in their execution during The Summit 5 Chinese qualifiers – keeping fans excited for their next LAN performance.
Wings Gaming roster:

Zhou "bLink" Yang


Zhang "bian" Ruida


Chu "Shadow" Zeyu


Zhang "Innocence" Yiping


Li "iceice" Peng
The Summit 5
Eight teams (top teams from the open qualifiers and directly invited teams) will compete in Los Angeles, July 13-17th for The Summit 5 $100,000 minimum prize pool.
The Summit 4
The Summit 4 was deemed a success by fans and players alike. The five day event stirred up its share of commotion between flashy plays, cheeky builds and hero selections and a dramatic five game grand finale. With a noticeable absence of the traditional "Bathtub interviews", the antics and shenanigans including the BTS cribs segment and the exclusive Ice Frog Interview more than satisfied viewers.
Evil Geniuses edged out Virtus.Pro in a decisive fifth game in the grand finals and walked away with almost $50,000 in prize money. The Summit 4 was EG's fourth championship title of the, bringing their 2015 tournament winnings close to 8.7 million dollars.
The base prize pool of $100,000 reached $114,866 through crowd funding.
1st place: $48,818 (42.5%) – Evil Geniuses
2nd place: $25,845 (22.5%) – Virtus.Pro
3rd place: $14,933 (13%) – ViCi Gaming
4th place: $11,487 (10%) – OG
5th place: $4,020 (3.5%) – Team Liquid
6th place: $4,020 (3.5%) – EHOME
7th place: $2,872 (2.5%) – Mineski
8th place: $2,872 (2.5%) – Digital Chaos
BTS Summit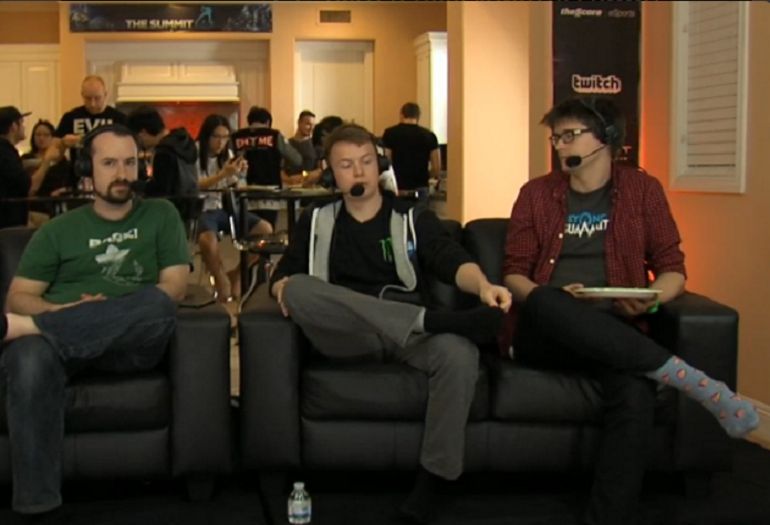 Beyond the Summit's goal was to create a "behind the scenes" oriented tournament, inspired by TakeTV's Homestory Cup in StarCraft 2. The format was designed to give fans an inside peek into their favorite players' personalities and experience an entirely different capacity, while still providing quality production and matches. The tournament takes place inside the BTS house, as a way to further enhance the intimacy and laid back environment.
The Summit tournaments have been taking place since June 2014, starting with a base prize pool of $50,000, which has now doubled to $100,000. It has since grown into a cult-like classic, becoming one of the most fan and player favorite events.