The first day of the WESG Europe and CIS LAN finals group stage came to an end well after midnight this morning. No surprise to see the favorites at the top of their groups so far – Fantastic Five, Horde, Que la Famille, Team Ukraine, Team Romania, Alliance and Ne Rus all ended the group stage day 1 undefeated. The group stage concludes today moving the top three teams in each group – 12 total into the playoffs. Eight teams will receive a share of the $75,000 prize and qualify for the main event in Shanghai, China in December. In China, they will battle it out for a share of the $1.5 million prize pool
The WESG Europe and CIS LAN finals group stage standings are in for the first day. After a full day of matches and delays – with games taking place well after midnight the four groups have settled into their standings.
Not many surprises were in store for fans with the star packed favorite national teams cruised along the series.
Several teams have been unfortunate to already know their fate does not lay in the playoffs brackets – having lost all of their matches so far and taking bottom positions in their groups.
Other teams have already secured a place in the playoffs but will need to determine their seeding still.
The majority of the teams, however, will have fierce competition today as the final matches are played out and each team will battle for the coveted playoff spot. Only twelve teams will remain standing at the end of the day.
Twenty qualified national teams from from 15 different countries around Europe and CIS have gathered at Stereo Plaza in Kiev, Ukraine between October 6 – 9th.
On the line is $75,000. Only eight teams will advance to the main event featuring a $1,500,000 prize pool in China during the month of December.
WESG Europe and CIS LAN Finals: Group stage day 1 results
Group A
Horde (the Swedish lineup featuring Akke) and Fantastic Five both topped the group with a 2:0 record – easily taking down their opponents on the first day. Denmark featuring the veteran Danish players including Maelk are sitting in third with a 1:1 tie. They dropped one game to Horde and will have two more matches today. The team from Czech Republic – NecroRaisers took one victory over the Norwegian team Zeta Pegasi – which finished last with no wins. Zeta Pegasi has no chance to advance.
Group B
One of the two Ukrainian teams – Ne Ru (featuring ARTES) topped their group with a 2:0 victory. They took down the two other strongest opponents in their group – Commanche and the Serbian team Lvlup. Both Commanche and Lvlup are tied in second place with a 1:1 record. Both Wombat Gaming from Germany and XENEX Gaming from Great Britain failed to clinch their one game each and will need to scramble today to get on the charts for the playoffs.
Group C
The French team -Que la Famille led by 7ckngMad defeated both of their opponents Paragon and Zero Hoots Given to take the top spot in their group. Team Romania and Ukraine both outplayed their opponents (Paragon and Zero Hoots respectively) in the one match for the day. The three top teams still have yet to face off against each other today, poised for intense competition and final playoff results.
Group D
The Polish squad ATN topped their group 2:0 – defeating the Spanish team -Butterfly Effect and upsetting Alliance's new roster. Imperial played the most games in the event yesterday with a whopping three matches. They are currently sitting in second place with a 2:1 record after overpowering Woof (sexybamboe and singsing stack) and Butterfly Effect and dropping a game to Alliance. They have one game remaining today and high hopes to secure their place in the playoffs. Both Woof and Alliance are tied with 1:1 score and will be battling through the remainder of their matches for their playoff spot. Butterfly Effect ended the day 0:3 and have no chance to advance.
WESG Europe and CIS LAN Finals: Group stage day 1 standings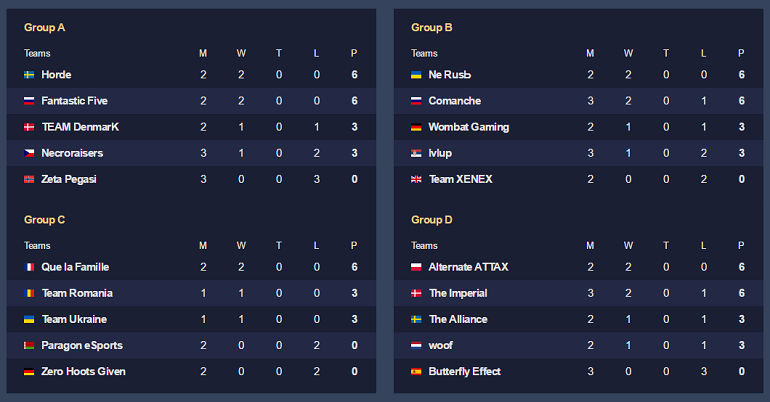 WESG Europe and CIS LAN Finals: Group stage schedule
All times are listed in local time (GMT + 3)
Friday, October 7th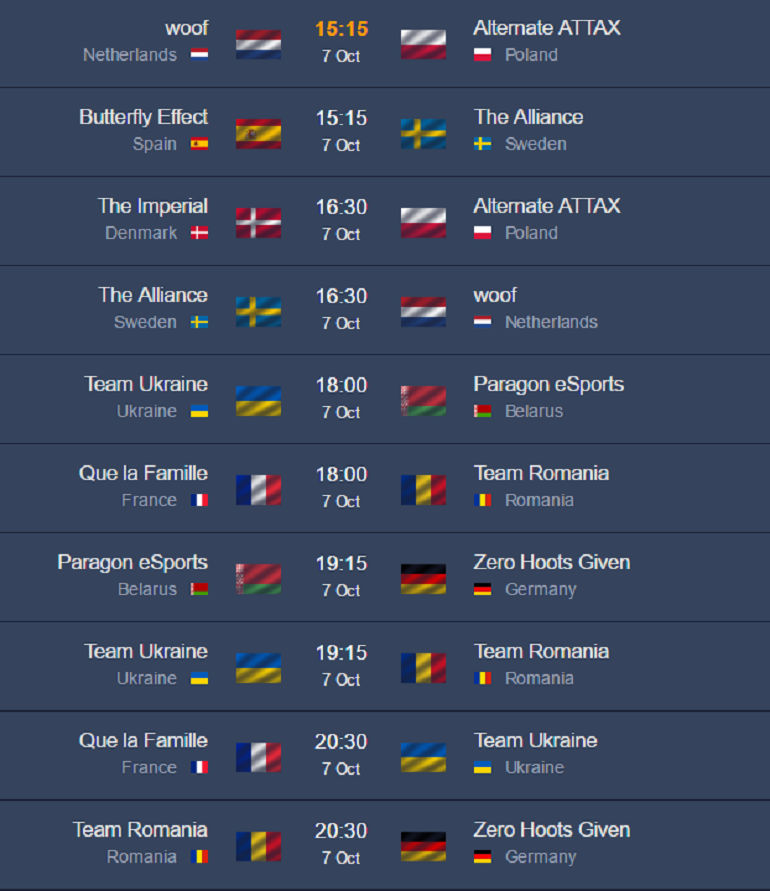 WESG Europe and CIS LAN Finals: Participating Teams
British, Irish and Icelandic Qualifier: XENEX Gaming (meepor, whatsonwater, Mute242, 1cHiGo_, wonka)
Northern European and Post CIS Qualifier: Paragon eSports (tpecyh4uk1, Lasthero-, PoMaLL1Ka, wejustzik, Palantimos)
South-Eastern European Qualifier: Team Romania (ComeWithMe, bOne7, Ar1sE, Masakary, iLLusionisT)
Benelux Qualifier: woof (Wingblade, SingSing, Bushi, SexyBamboe, Seleri)
Central European Qualifier: NecroRaisers (Mambos, Tipek, craNich, ShapeYourMind, Hssiss)
Adriatica Qualifier: lvlUP (Chivava, kole, pwN, BAJA, Buktop)
Swedish Qualifier #1: Horde (Excalibur, Kefka, Solitude, Pablo, Akke)
Swedish Qualifier #2: Alliance (Loda, Limmp, jonassomfan, EGM, Handsken)
German Qualifier #1: Zero Hoots Given (Jabbz, Chill-, Stormstormer, EDE, HoviteY)
German Qualifier #2: Wombat Gaming (fohu, Winou, ReiGn, Archangel, Arya)
Russian Qualifier #1: Comanche (Chappie, iLTW, XaKoH, Chuvash, Misha)
Russian Qualifier #2: Fantastic Five (Illidan, Bzz, L0lik_O, rmN-, yol)
Ukraine Qualifier #1: Ukraine (Resolut1on, Dendi, GeneRaL, ALWAYSWANNAFLY, ArtStyle)
Ukraine Qualifier #2: Ne RusЬ (ARTES, Pikachu, bd1sh, orbita, CaptainLove)
Danish Qualifier #1: The Imperial (Ace, 13abyKnight, HeStEJoE-RoTTeN, NoiA, Ryze)
Danish Qualifier #2: Denmark (AngeL, Maelk, Fawh, Solen, MasterRisk)
Norwegian Qualifier: Zeta Pegasi (SaloiG, jOOOEY, Krisern_GOD_Toxic, Klaze, Blue)
Polish Qualifier: Alternate aTTaX (Fey, Exotic_Deer, Nisha, eL LisasH, kacor)
French and Monacan Qualifier: Que la Famille (Tib_, 7ckngMad, Joraal, Cerinn, Sockshka)
Iberian Qualifier: Butterfly Effect (prodigy_conwar, JIJI, runordie, Argoniur, AcidLemon)
WESG Europe and CIS regional qualifiers prize pool
1st place — ¥200,000 (~ $30,067)
2nd place — ¥120,000 (~ $18,040)
3rd place — ¥60,000 (~ $9,020)
4th place — ¥40,000 (~ $6,013)
5th-8th place — ¥20,000 (~ $3,006)
(+ tickets to the WESG Global Grand Finals for the top eight teams)
WESG Europe and CIS LAN Finals: broadcast
The event will be broadcast live from Stereo Plaza in both Russian and English streams.
Russian stream will be provided on the WESG Main channel and by StarLadder
English stream will be provided by StarLadder and BTS