The schedule for WESG Europe and CIS LAN finals has been set for the group stage. Matches will begin bright and early at 09:30 CEST tomorrow for a full day of group stage matches. Twenty teams will be competing in the group stage in Kiev, Ukraine for a piece of the $75,000 prize pool and one of eight spots for the Main event taking place in China during December.
WESG Europe + СIS: Schedule of the LAN-finals' matches#WESG

Details: https://t.co/0iyU3fr4oQ pic.twitter.com/wnVPTDwKVl

— WESG (@WESGcom) October 5, 2016
The schedule for WESG Europe and CIS LAN finals for the group stage has been released one day before the start of the event.
Twenty qualified national teams from around Europe and CIS are gathering at Stereo Plaza in Kiev, Ukraine between October 6 – 9th.
Teams from 15 different countries have been constructed featuring some of the most famous and beloved European and CIS Dota 2 players. A break from their usual composition gives fans the chance to cheer for teams representing national roots and realign their allegiance to their native countries.
The event will begin with four groups of five teams. The top three teams from each – a total of 12 teams – will advance to the playoff stage.
On the line is $75,000. Only eight teams will advance to the main event featuring a $1,500,000 prize pool in China during the month of December.
WESG Europe and CIS LAN Finals: Participating Teams
British, Irish and Icelandic Qualifier: XENEX Gaming (meepor, whatsonwater, Mute242, 1cHiGo_, wonka)
Northern European and Post CIS Qualifier: Paragon eSports (tpecyh4uk1, Lasthero-, PoMaLL1Ka, wejustzik, Palantimos)
South-Eastern European Qualifier: Team Romania (ComeWithMe, bOne7, Ar1sE, Masakary, iLLusionisT)
Benelux Qualifier: woof (Wingblade, SingSing, Bushi, SexyBamboe, Seleri)
Central European Qualifier: NecroRaisers (Mambos, Tipek, craNich, ShapeYourMind, Hssiss)
Adriatica Qualifier: lvlUP (Chivava, kole, pwN, BAJA, Buktop)
Swedish Qualifier #1: Horde (Excalibur, Kefka, Solitude, Pablo, Akke)
Swedish Qualifier #2: Alliance (Loda, Limmp, jonassomfan, EGM, Handsken)
German Qualifier #1: Zero Hoots Given (Jabbz, Chill-, Stormstormer, EDE, HoviteY)
German Qualifier #2: Wombat Gaming (fohu, Winou, ReiGn, Archangel, Arya)
Russian Qualifier #1: Comanche (Chappie, iLTW, XaKoH, Chuvash, Misha)
Russian Qualifier #2: Fantastic Five (Illidan, Bzz, L0lik_O, rmN-, yol)
Ukraine Qualifier #1: Ukraine (Resolut1on, Dendi, GeneRaL, ALWAYSWANNAFLY, ArtStyle)
Ukraine Qualifier #2: Ne RusЬ (ARTES, Pikachu, bd1sh, orbita, CaptainLove)
Danish Qualifier #1: The Imperial (Ace, 13abyKnight, HeStEJoE-RoTTeN, NoiA, Ryze)
Danish Qualifier #2: Denmark (AngeL, Maelk, Fawh, Solen, MasterRisk)
Norwegian Qualifier: Zeta Pegasi (SaloiG, jOOOEY, Krisern_GOD_Toxic, Klaze, Blue)
Polish Qualifier: Alternate aTTaX (Fey, Exotic_Deer, Nisha, eL LisasH, kacor)
French and Monacan Qualifier: Que la Famille (Tib_, 7ckngMad, Joraal, Cerinn, Sockshka)
Iberian Qualifier: Butterfly Effect (prodigy_conwar, JIJI, runordie, Argoniur, AcidLemon)
WESG Europe and CIS LAN Finals: Groups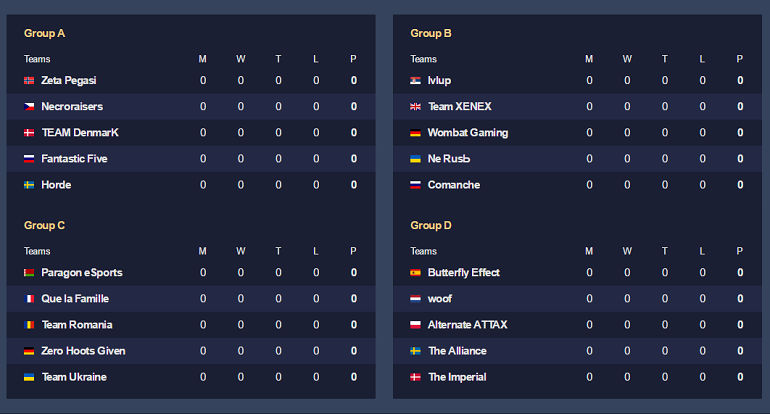 WESG Europe and CIS LAN Finals: Group stage schedule
All times are listed in local time (GMT + 3)
Thursday, October 6th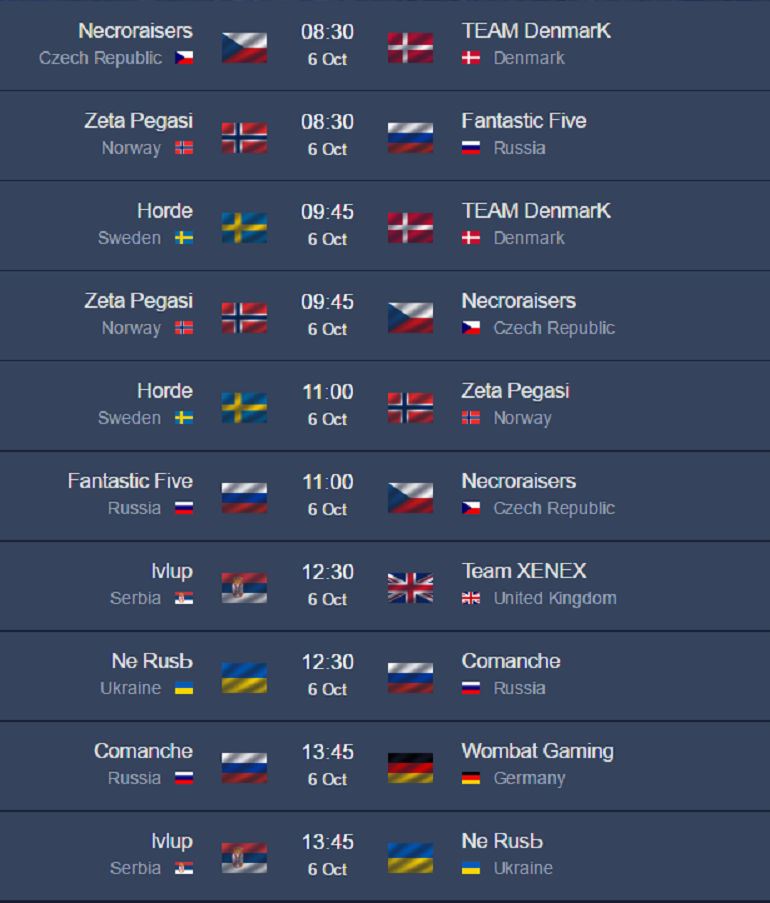 Friday, October 7th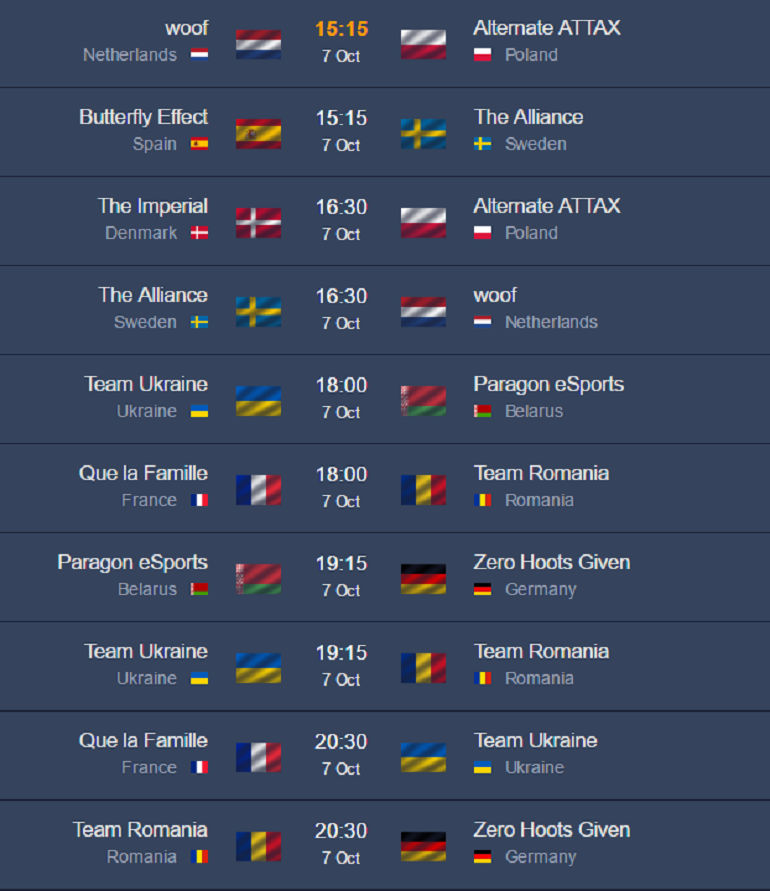 WESG Europe and CIS LAN Finals: broadcast
The event will be broadcast live from Stereo Plaza in both Russian and English streams.
Russian stream will be provided on the WESG Main channel and by StarLadder
English stream will be provided by StarLadder and BTS