WePlay League returns to Dota 2 after a two year hiatus. This time, it brings along a $200,000 prize pool, four sets and a LAN in Kiev. Four regional qualifiers will be held to give four teams an opportunity to join the four invited teams in the Ukraine for the playoffs May 6-8th.
Do you want more our games? We are invited to WePlay League S3 with 200.000$ prize pool! pic.twitter.com/lbs6ID57Y7

— Team Spirit (@Team__Spirit) January 17, 2016
WePlay League announced their return for season 3 starting soon.
Four regions -Eastern Europe, Western Europe, Asia and Americas- will host group phase qualifiers. The group qualifiers will take place between January, 18th – March, 31st.
One team from each region will advance to compete in the LAN playoffs set to be held in Kiev, Ukraine May 6-8th for the $200,000 prize pool.
The four invited teams -EG, OG, Virtus.Pro and Team Secret- are unconfirmed yet.
Season 2 was held in 2013 with Na'Vi being crowned the champions after besting Alliance 3:2. The CIS team walked away with the $25,000 first place prize.
WePlay League Season 3 format
Online qualifiers
The series will take place January, 18th – March, 31st
There will be 4 regional qualifiers with 8 invited participants each
Double round robin format
Best-of-one series
One team from each region will advance to the LAN playoffs
Eastern Europe
Team Empire
Vega Squadron
Team Spirit
Na'Vi
Walrus Punch
Tornado.RoX
Power Rangers
ProDota Gaming
Western Euroe
Team Liquid
Mamas Boys
COOKISS
AD FINEM
No Logic Gaming
London Conspiracy
Wombat Gaming
STEAK Gaming
Asia
Fnatic
MVP.Phoenix
Mineski
Signature.Trust
TnC Pro Team
Taring
Team Redemption
Execration
Americas
compLexity
Digital Chaos
Shazam
Team Archon
Elite Wolves
Enemy GG
Leviathan
Infamous
LAN finals
Evil Geniuses, OG, Team Secret and Virtus.Pro have been invited, yet remain unconfirmed.
The LAN finals will be held in Kiev, Ukraine at the International Exhibition Hall between May 6-8th.
4 qualified and 4 directly invited teams will compete
Double elimination brackets
Best-of-three format
Grand Finals best-of-five series
WePlay League Season 3 prize pool distribution:
The prize pool can be increased by cosmetic set and ticket sales. The share is 10% of total sales; the share of ticket sales is 20% of total.
1st place: $100 000 + 30% of Dota 2 store sales share
2nd place: $40,000 + 20% of sales share
3rd place: $22,000 + 15% of sales share
4th place: $12,000 + 10% of sales share
5/6th place: $8,000 + 7.5% of sales share
7/8th place: $5,000 + 5% of sales share
***Teams, including manager, will also receive:
a paid flight and other travel expenses
a hotel ranked at least 4stars
meals 3 times/day
a practice area with 5 PCs per team
a private players lounge
WePlay League Season 3 sets
Increase of prize pool can be achieved by buying one of the four cosmetic sets created exclusively for WePlay S3
Magnus set details
Sand King set details
Huskar set details
Riki set details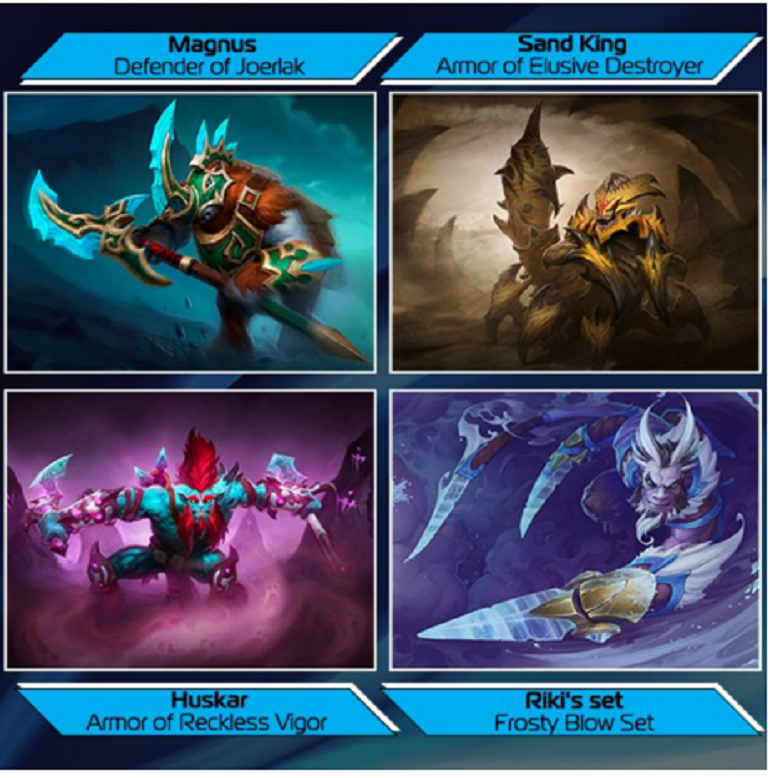 http://www.dota2.com/store/itemdetails/20983?r=c9
WePlay League Season 3 broadcast
The event coverage will be provided by in at least three different languages.
WePlay.TV in Russian, joinDOTA in English, MarsTV in Chinese and partners of WePlay.TV. Partners may be casting in various other languages.