TI6 Winners Wings Gaming rose from the Chinese qualifiers to bringing the Aegis of Champions back to China following a spectacular 3:1 victory over Digital Chaos. On top of the most coveted trophy in Dota 2, they will walk away with the biggest take-home pay in esports: a staggering $9,000,000. Wings ascension to the top transpired over the course of a year, an uplifting and inspiriting journey of five tenderfoot players who learned to soar above the rest.
From unknowns to infamous in the course of one year, Wings Gaming soars above the rest and brings a tale of comradery, innovation and passion to the stage.
Dominating the Upper Brackets of TI6, the Chinese sensations overpowered the world's best with relative ease. Their immense hero pool, unconventional strategies and drafts and mechanical prowess only just start to scratch the surface of what stands out most watching these talents players. Communication, rotation, synergy and teamwork are superior and on point, leaving little room for opponents to find openings and knock down their high spirits and flow.
Besting Digital Chaos in the first round of the upper brackets, they squashed MVP.Phoenix with two successive victories and upset TI5 champions Evil Geniuses to become the first team to advance into the TI6 Grand Finals.
While they came to become TI6 winners starting from the Chinese regional qualifiers, their ascension began before that.
Wings Gaming set out on their adventure only one year ago – in August 2015 as five young and inexperienced players looking to spread their wings and reach new heights.
Their final destination would turn out to be none other than the pinnacle of all tournaments, the zenith of all measurements of Dota 2 success – TI6 champions – a peak that they only dared to dream of as fledglings.
TI6 winners TI6 winners TI6 winners TI6 winners TI6 winners TI6 winners TI6 winners
TI6 winners TI6 winners TI6 winners TI6 winners TI6 winners TI6 winners
TI6 winners TI6 winners TI6 winners TI6 winners TI6 winners TI6 winners TI6 winners
Fledglings in the nest
Wings Gaming was formed in August 2014, but after TI5, the roster made a 100% turnover and has welcomed all new players. The team has stuck together ever since.
These Chinese sensations have only just begun their professional Dota 2 careers between March 2014 and January 2015. For Zhou "bLink" Yang, Zhang "Faith_bian" Ruida and Zhang "Innocence" Liping that journey would begin together with Speed Gaming – a place they would call home together until moving to Wings in August 2015.
Chu "Shadow" Zeyu had started only shortly after – around the time of TI5, trying various teams in the region out as he sought his place.
Meanwhile Li "iceice" Peng was a known pubstar brought into the professional scene by Zhang "xiao8" Ning as part of the team Big God in January 2015. iceice was a rookie on the team of famed and beloved retired players from Team DK, Newbee, and Vici Gaming – xiao8, BurNIng, rOtk, LaNm. Those two months, although having little achievements to show, were invaluable for a new player's experience and exposure.
At the end of August 2015 the current and infamous Wings Gaming roster was born.
TI6 winners TI6 winners TI6 winners TI6 winners TI6 winners TI6 winners TI6 winners
Learning to Fly
TI6 winners TI6 winners TI6 winners TI6 winners TI6 winners TI6 winners TI6 winners
The team took 4th at WCA 2015 in December, where they demonstrated impressive skill and talent and began to win over fans worldwide. They were the first team to take two games from Team Secret in the group stage of the event and quickly made a name for themselves.
They did manage to stun many when they snatched the Chinese qualifier spot for ESL One Manila by sweeping Vici Gaming Reborn, 3-0 and then team made a clean sweep over Team Liquid, 3:0, in the Grand Finals of the main event -to walk away with their first championship title as a team and the $100,000 first place prize.
Despite a disappointing 13-16th place finish at the Manila Major, the following month they were primed to bounce back at Nanyang Championships season 2. It was then that they brought back to the forefront the infamous drafting and strategies that Wings became known for and seized an astounding second place finish.
But they weren't done yet. Only one week later they charged forward through the two time Valve championship team OG, seizing the title for The Summit 5 after a convincing 3:1 victory. This all coming from a team that had generic team t-shirts and were not even a blip on the radar during the time of TI5, one year ago to date.
TI6 winners TI6 winners TI6 winners TI6 winners TI6 winners TI6 winners
Ascension to the top: TI6 winners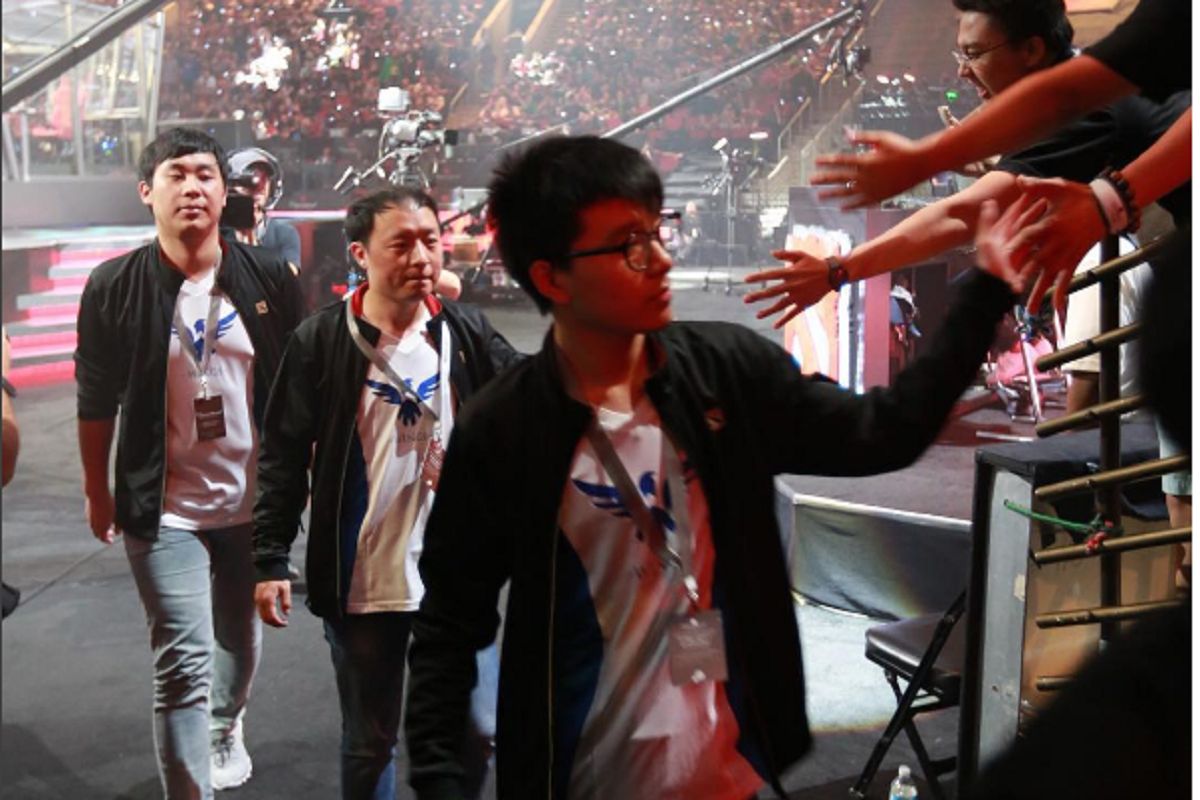 TI6 winners TI6 winners TI6 winners TI6 winners TI6 winners TI6 winners
Wings Gaming was invited to directly participate in the TI6 Chinese regional qualifiers. It was after their astounding ESL One Manila victory and clinching several qualifier spots for major events.
The team was expected to do well and they didn't disappoint. After suffering at a loss at the the hands of IG right out of the gates, Wings then rebounded back to to take their next four matches – CDEC.Youth, TongFu, CDEC and ViCi Gaming.
By the end of the group stage EHOME and Wings had to compete in a tiebreaker for the first place position after they both ended the scheduled matches with a 7:2 record.
When the dust had settled, Wings Gaming has become the first team from China to earn their place at TI6.
This year's Cinderella team and fan-favorites had a somewhat scattered performance during the first day of the TI 6 group stage. After taking the first game out from EG in 35 minutes, they drafted a surprise Pudge in the second match – a choice that didn't work out as planned.
In the second day, they split their series against OG and Wings Gaming set their sights on Alliance. Zhou "bLink" Yang was playing out of his mind – his Alchemist in the second game being too much for the Swedish team to handle. Their 3:1 record for the day has given them a third place spot in the group with two series left, against Na'Vi and LGD Gaming. They were quickly climbing the ladder to the upper brackets.
As the final chances to set the bracket placements drew to an end, Wings Gaming faltered in the first series giving an incredible amount of hope and hype to Na'Vi as the Ukrainians swept through them with a 2:0 victory – the first game ending in only 15 minutes.
Wings didn't let that get their spirits down and were primed for bouncing back and shut out LGD. Following the results of TnC and Na'Vi closely, they found the fourth place spot.
Wings were headed to the upper brackets for the TI6 main event.
Staying true to their nature – defying the meta and choosing both Pudge and Techies in the series against Digital Chaos. A three game adventure would end with Wings Gaming soaring through the upper brackets, dropping DC to the lower brackets to continue their fight.
MVP.Phoenix were no match for Wings Gaming, in the Upper Brackets. The Chinese took the series, 2:0, becoming the first team to advance into The International 6 Upper Bracket Finals and secure a Top 3 placement.
Then in a dramatic series, Wings dropped Evil Geniuses like they were hot to the lower brackets – the second game being a 23 minute stomp out.
By upsetting the TI5 champions and sending them to the lower brackets, Wings Gaming had become the first team to advance to the Grand Finals and secure themselves a top two finish overall.
TI6 winners TI6 winners TI6 winners TI6 winners TI6 winners
Wings Gaming roster:

Zhou "bLink" Yang


Zhang "bian" Ruida


Chu "Shadow" Zeyu


Zhang "Innocence" Yiping


Li "iceice" Peng
TI6 winners TI6 winners TI6 winners TI6 winners TI6 winners TI6 winners