The TI6 Group Stage ended late on August 5th, leaving fans writhing in anticipation for the Main Event scheduled to get underway tomorrow, at 09:00 PDT (18:00 CEST). Sixteen teams answered the call to arms, vying for the coveted Upper Bracket path to the Aegis. Their course took fans on a wild adventure, with 112 games played. DotaBlast put together a selection of TI6 VoDs, top plays and highlights for your viewing convenience.

UPDATE (August 13th):
TI6 final standings, updates and highlights – HERE
Over 12 hours of nonstop action over the course of three days, and 112 matches played – often four series would be broadcast live at the same time. Even with a four-monitor setup and around the clock tabs on social media sources it would be difficult – if not impossible to keep a vigilant eye on everything. And let's not forget about time zones, work schedules, and personal obligations begrudgingly pulling us away from the front row seats.
The TI6 group stage was wrought with upsets, epic comebacks, unrivaled plays and spectacular moments. Shaping up to already be in a class of its own – The International 6 has already delivered breathtaking moments.
Whether you are catching up before the Main Event, hoping to see what the hype is all about, or just reliving some spectacular Dota 2, we are serving up some of the best TI6 VoDs and highlights so far, on a silver platter.

TI6 VoDs: Group Stage highlights

Na'Vi vs. Alliance: El Clásico

After seizing the first match of this highly anticipated series, Alliance started out the second game with a Level 1 Roshan. Jonathan "Loda" Berg was armed with the Aegis by minute one and the Swedes continued to set the pace, eventually wiping out Na'Vi, 2:0.

Na'Vi vs. LGD: 1HP survival

With LGD attacking their base, Na'Vi's defense resulted in a team wipe on the Chinese team and a thrilling bounce back to take the game. Their second match was equally exciting, showcasing Dmitry "Ditya Ra" Minenkov's one HP survival.

Na'Vi vs. Wings Gaming: 15 minute GG

A thrilling first series in Day 3 for Na'Vi resulted in a 2:0 win over Wings Gaming. They absolutely shellacked the Chinese team in the second game – breaking into highground by minute 14 and forcing the "GG" call from Wings by minute 15.

Alliance vs. EG: Impossible victory

Alliance swept through EG, 2:0, in Day 3 – victory which ended up granting the spot in the Main Event Upper Brackets. Alliance's fate and throne were hanging by a thread. Forcing a wipe and triple buy-back, the TI3 championship team would turn the game and claim the victory, as viewers counted only 400 HP left on their throne. This turn of events would give Alliance the much coveted and hoped for place in the Upper Brackets.

DC vs. Team Liquid: Dominance for the upset

Digital Chaos swept through Team Liquid, 2:0, to wrap up their phenomenal run in the Group Stage. Their victory nudged the newly formed squad into the second slot of their group and into the Upper Brackets for the main event.

Team Secret vs. Team Liquid: An unlikely victory

After a disappointing run in the group stage, and on the heels of nine consecutive losses, Team Secret swept through Team Liquid in the last series of Day 3. The result of this upset also sealed MVP.Phoenix's fate. The Koreans took the last spot in the Main Event Upper Brackets.

Evil Geniuses vs. TnC Pro: Bloodbath

TnC might not be starting in the Upper Brackets – which would have been a well-deserved reward for their perseverance and brilliant performances – they easily skyrocketed to the top of the fan-favorite list. Their first match in the series vs. Evil Geniuses lasted a whopping 72 minutes with 115 kills on the board.

OG vs. Wings: A Miracle- Rampage

One of the most competitive match-ups featured the two-time Valve championship team and the ever popular and unpredictable Wings Gaming. After Wings clinched the first match of the series, Amer "Miracle-" Al-Barkawi's Huskar ended with a rampage and tied up the series, 1:1.

TnC Pro vs. LGD Gaming: An army of illusions

LGD Gaming became just another casualty in the wake of the Filipino path. TnC Pro upset LGD Gaming, 2:0, with another set of spectacular performances. After 68 minutes of intense action with an army behind them – Alchemist, Terrorblade armed with Manta style and Shadow Demon's illusions – they overpowered LGD for the victory.

Team Secret vs. Digital Chaos: Another notch in the victory belt

The North-American-based squad outplayed and overpowered Team Secret, 2:0. The second match of this series lasted for more than an hour and featured a spectacular 15k gold comeback. DC's stellar run moved them into the second spot in their group.

Team Liquid vs. Fnatic: MATUMBAMAN's flawless Drow Ranger

One of the last series of the second day featured Team Liquid against Fnatic. Team Liquid had only just started to show signs of trouble. The European team had a series of split results and a full 2:0 loss going into their match against the Malaysians. Lasse "MATUMBAMAN" Urpalainen unleashed a flawless 8:0:11 Drow Ranger.

Fnatic vs. Team Secret: A ray of hope

Fnatic had struggled in their worst way since before the Shanghai Major. Taking loss after loss, their ray of hope shone through the dark clouds in the second series of Day 2 against Team Secret. Fnatic surprisingly upset the European mix with a 2:0 sweep to take their first wins in the tournament.

OG vs. Evil Geniuses: Zai's little ball of light

Two of the top teams in the world locked horns in the first day of the group stage. Although OG would overpower EG in the first match, two extraordinary plays by Ludwig "zai" Wåhlberg on Io will no doubt further the support hero's recent surge in popularity.

OG vs. Alliance: Moon's gem recovery

Armed with tenacity and cheeky plays, OG took both games out from under the Swedes. Worth mentioning is David "MoonMeander" Tan smoking up and recovering the gem in the enemy fountain.

LGD Gaming vs. OG: 20k deficit comeback

LGD Gaming's first game of the series featured a thrilling 20k gold deficit comeback, courtesy of their always collected and patient approach – wearing down their enemies and their defense.

Wings Gaming vs. Evil Geniuses: Just Wings things – Pudge pick

Infamous for their unconventional picks and drafting strategies, Wings Gaming would send the viewers into a pleased uproar as they selected Pudge on the first day, in the first series of the TI6 group stage. Unfortunately, the unexpected hero didn't hook the win in the end.

TnC Pro vs. Wings Gaming: Filipino Pride

The Filipino team's unexpected wipe out of Wings Gaming created much deserved hype around their performance. Most had expected TnC to struggle, as their visa problems caused an extremely delayed arrival to Seattle and their days and nights were filled with distraction and anxiety.

Team Liquid vs. Newbee: Mu is Timbersaw's answer

After dropping the first match, LGD quickly found the answer to Team Liquid's Timbersaw. Zhang "Mu" Pan's Dragon Knight ended up being too much for Liquid to handle as they tied up the series in the first day.

Ehome vs. Team Liquid: ELeVeN's Epicenter

Ehome took control early in the second match and held tight to their slight lead, ending with an incredible Epicenter by Ren "ELeVeN" Yangwei.

Team Secret vs. ViCi Gaming.Reborn: Arteezy's Huskar, invincible

Team Secret plowed through their opening series against ViCi Gaming.Reborn with a two-game dominance. An invincible Huskar played by Artour "Arteezy" Babaev was the highlight of the first match, followed by another stellar performance on the hero in the second match. Arteezy's Huskar only died once, in both games combined.

Digital Chaos vs. MVP.Phoenix: Resolut1on's 40k liquid assets

The North-American-based squad battled it out for an intense 70 minutes before being able to claim their well deserved victory against MVP, with Roman "Resolut1on" Fominok ending with 40k gold worth on Morphling.

MVP.Phoenix vs. Team Secret: MP's Lifestealer

After being overwhelmed by Team Secret in the second series opener, their Lifestealer pick for MP made a resurgence and the Koreans managed to claim their final victory of the night.

Team Liquid vs. ViCi Gaming.Reborn: Jerax's Rubick

Despite taking a 2:0 hit from ViCi Gaming.Reborn, Jesse "JerAx" Vainikka's Rubick stood out with incredible plays.

TI6 Main Event: Sixteen teams will battle it out over the course of six days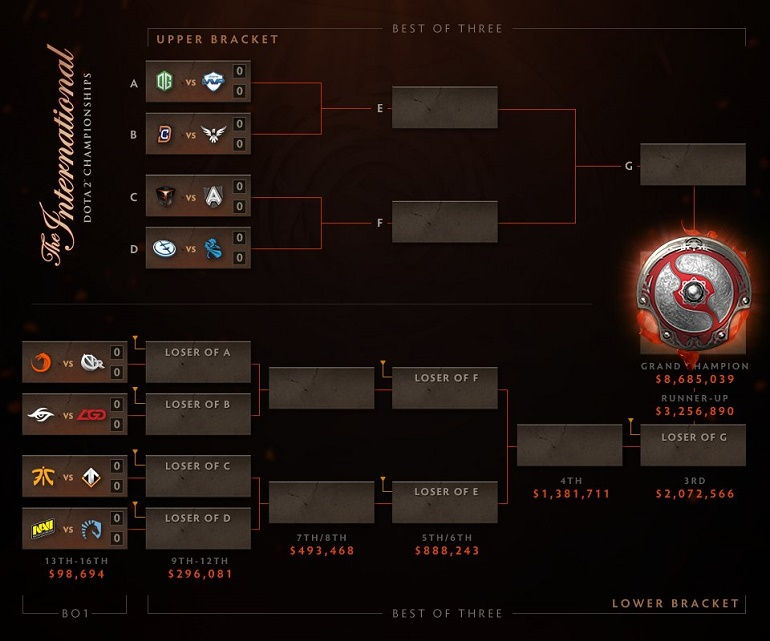 Sixteen teams will play a double elimination bracket, over the course of six days.
Eight teams will start in the Upper Brackets.
The remaining eight teams will start the Main Event in the Lower Brackets.
The first round of the Lower Brackets will be played as a best-of-one elimination series.
All the other encounters will be best-of-three series.
The International 6 Grand Finals will be best-of-five.

TI6 Main Event: schedule (day 1)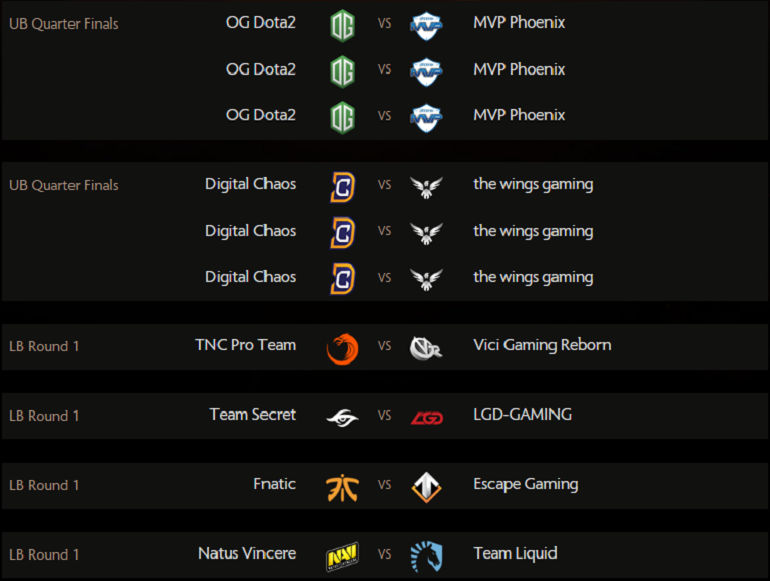 TI6 VoDs TI6 VoDs TI6 VoDs TI6 VoDs TI6 VoDs TI6 VoDs TI6 VoDs TI6 VoDs
TI6 streams
TI6 VoDs TI6 VoDs TI6 VoDs TI6 VoDs TI6 VoDs TI6 VoDs TI6 VoDs TI6 VoDs
TI6 VoDs TI6 VoDs TI6 VoDs TI6 VoDs TI6 VoDs TI6 VoDs TI6 VoDs TI6 VoDs
The International 6
TI6 VoDs TI6 VoDs TI6 VoDs TI6 VoDs TI6 VoDs TI6 VoDs TI6 VoDs TI6 VoDs
The International is the annual Dota 2 tournament hosted by Valve Corporation. The International made its debut in August 2011, with a total prize pool of $1.6 million.
Last year's event, The International 5, took place between August 3rd-8th at the KeyArena – a multi-purpose arena in Seattle, Washington, with a maximum capacity of over 17,000. The Dota 2 community contributed with a staggering $16,829,613 to the $1.6 million base prize pool, making the total prize fund of almost $18,429,613 million the largest in esports history at that time. The International titleholder is North-American team Evil Geniuses.
TI6 VoDs TI6 VoDs TI6 VoDs TI6 VoDs TI6 VoDs TI6 VoDs TI6 VoDs TI6 VoDs
TI6 VoDs TI6 VoDs TI6 VoDs TI6 VoDs TI6 VoDs TI6 VoDs TI6 VoDs TI6 VoDs
This year's main event will take place at the KeyArena in Seattle, Washington, between August 8th-13th. All 16 participating teams will advance to the main event and will receive a share of the TI6 prize pool.
The International 6 prize pool has outpaced The International 5 one from the very beginning. As of July 27th, the total TI6 prize pool has already broken last year's record, thus becoming the largest in esports history.
TI6 VoDs TI6 VoDs TI6 VoDs TI6 VoDs TI6 VoDs TI6 VoDs TI6 VoDs TI6 VoDs TI6 VoDs TI6 VoDs TI6 VoDs TI6 VoDs TI6 VoDs TI6 VoDs TI6 VoDs TI6 VoDs TI6 VoDs TI6 VoDs TI6 VoDs TI6 VoDs TI6 VoDs
TI6 VoDs TI6 VoDs TI6 VoDs TI6 VoDs TI6 VoDs TI6 VoDs TI6 VoDs TI6 VoDs TI6 VoDs TI6 VoDs TI6 VoDs TI6 VoDs TI6 VoDs TI6 VoDs TI6 VoDs TI6 VoDs TI6 VoDs TI6 VoDs